UPDATED 4/22/2022
Pretty much everything about the 1960s was about change: music (The Beatles), movies (James Bond), fashions (take your pick), hairstyles, television sitcoms, and dramas, and sex symbols (hello, Raquel Welch).
Whether you're talking about the big screen or the small, there's no question that there were so many stars — who we absolutely consider fabulous — that caught our attention between 1960 and 1969 (many getting their start before those years, of course), that the time has come for us to take a look back at 50 of them that really had an impact. From Barbara Eden to Raquel Welch, Ann-Margret, Elizabeth Montgomery and so many more.
Do you remember all of them? Give your memory a workout by scrolling down and enjoy this trip back through time.
1. Brigitte Bardot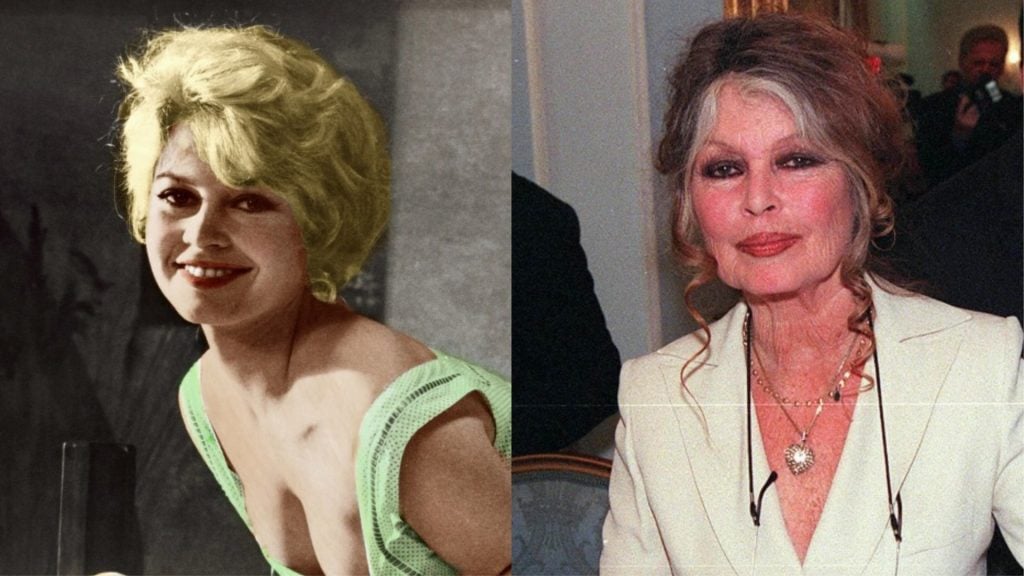 This singer, actress, and animal rights activist was born Brigitte Anne-Marie Bardot on September 28, 1934, in France. She captured the imagination of fans with her debut in 1952's Le Trou Normand. Between that and 1973's The Edifying and Joyous Story of Colinot, she appeared in dozens of French-language films.
'And God Created Woman'
Although she starred in 15 movies before it, the one that is credited with establishing her as a star, as well as a sex kitten, was 1956's And God Created Women, directed by then-husband Roger Vadim.
American Audiences Loved Her, Too
While her greatest success was in Europe, Brigitte was nonetheless embraced as a sex symbol in America as well, many of her films being dubbed in English. One of the most intriguing was her starring in the 1968 Western Shalako alongside Sean Connery, who at the time was trying to break away from his image as James Bond.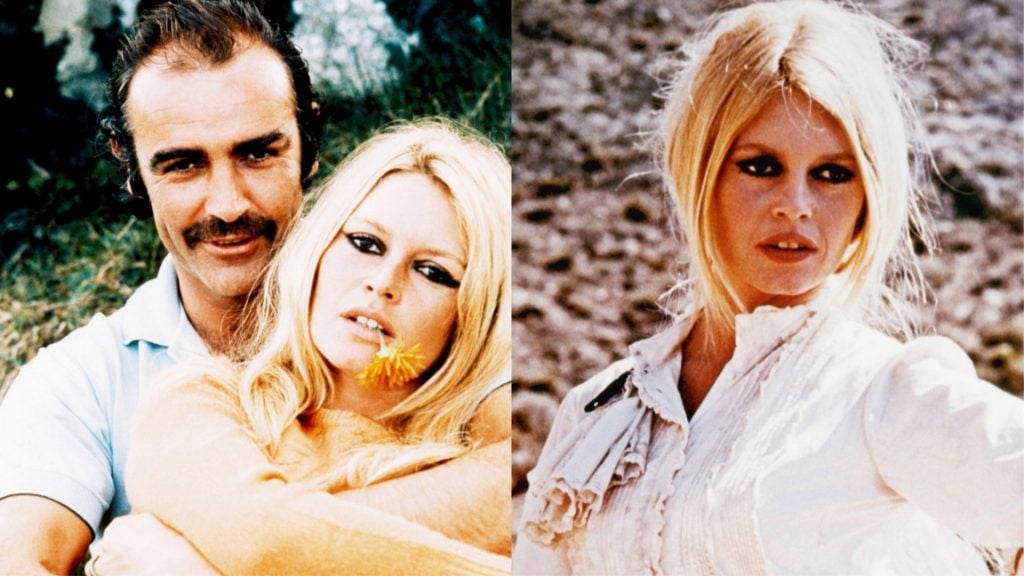 She's a Singer, Too!
In addition to acting, Brigitte recorded over a dozen albums and wrote five books, including her 1996 autobiography Initiales B.B.: Memoires. She announced her retirement from show business in 1973 and in 1986 formed the Brigitte Bardot Foundation, which is devoted to the welfare and protection of animals. In her private life, she has been married four times, is the mother of Nicolas-Jacques Charrier, and is a breast cancer survivor. She is 87.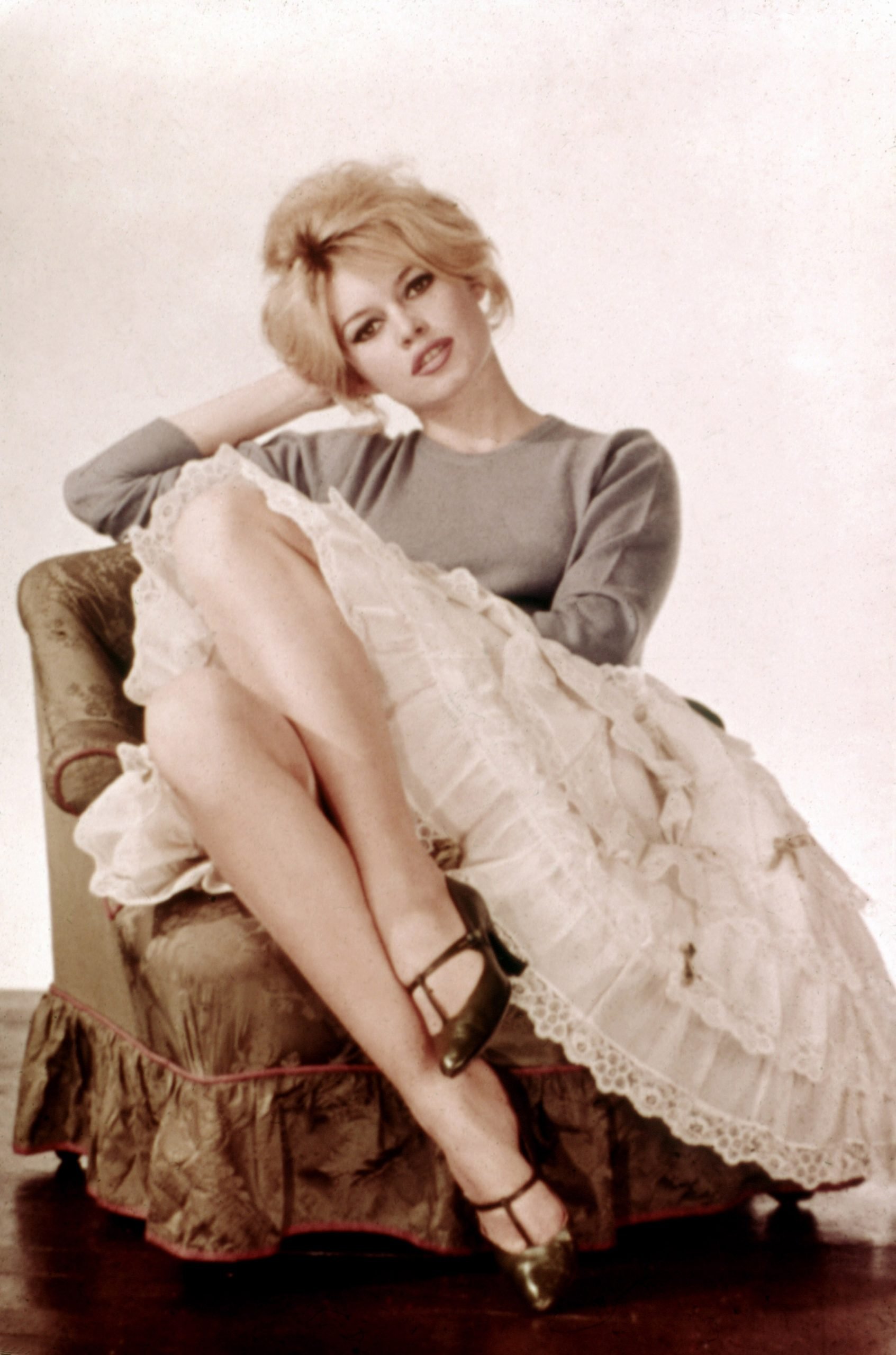 2. Yvonne Craig (1937-2015)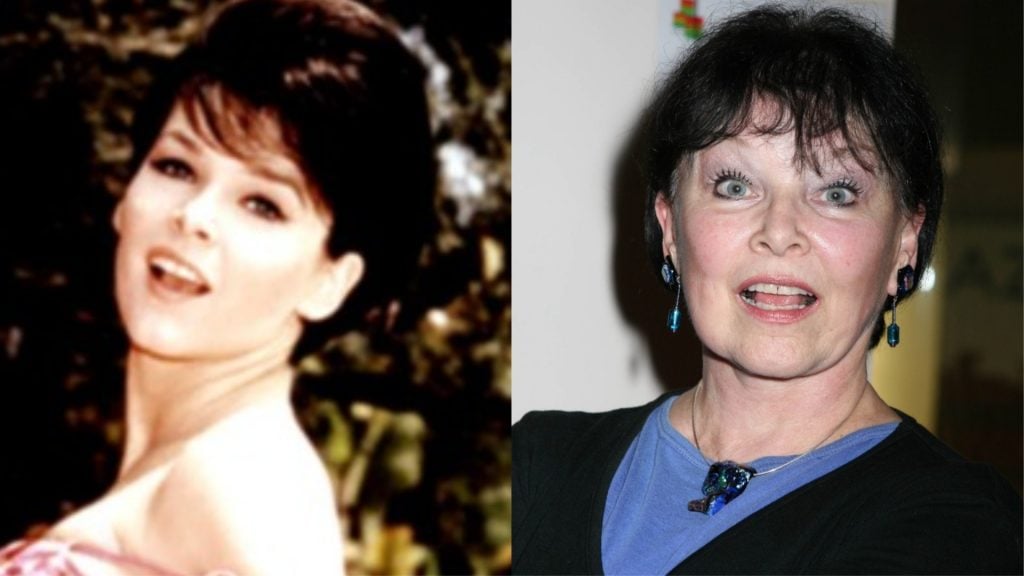 No matter what she did before and after, actress Yvonne Craig will always be famous for bringing the character of Batgirl to life on the Adam West Batman TV show of the 1960s. Born May 16, 1937, in Taylorville, Illinois, she began her professional life with dreams of being a ballerina, but when she moved to Los Angeles to pursue it further, she found herself cast in film roles instead.
The Road to Batgirl
Yvonne made her movie debut in 1957's Eighteen and Anxious, followed by such titles as Gidget (1959), the Elvis films It Happened at the World's Fair (1963) and Kissin' Cousins (1964), In Like Flint (1967), and Don Knotts' How to Frame a Figg (1971). During those years she made many television appearances, including Perry Mason, The Many Loves of Dobie Gillis (six episodes, but all different parts), 77 Sunset Strip, TV Westerns Laramie and Death Valley Days, My Favorite Martian, and My Three Sons.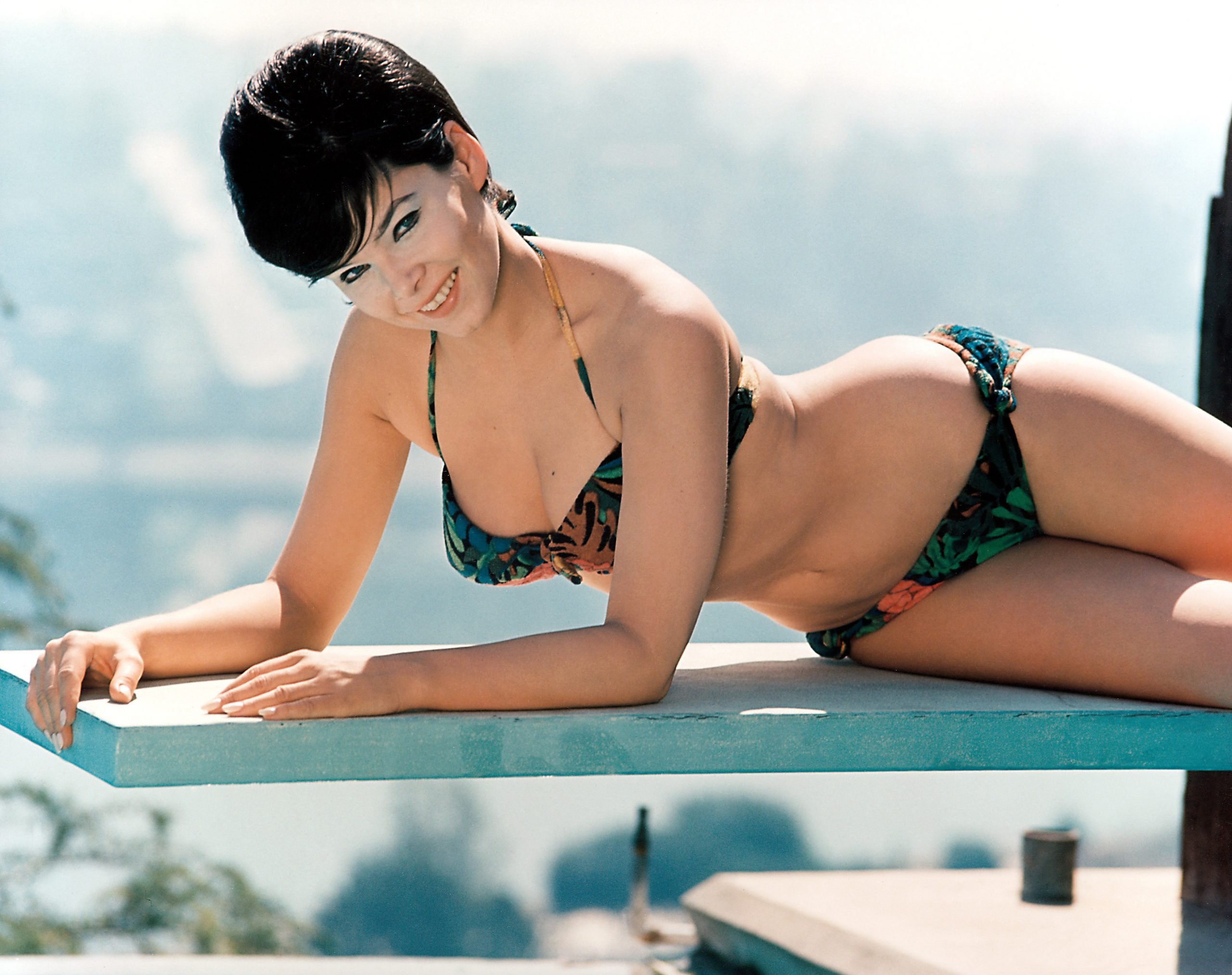 Pow! Zap! Bam!
With ratings starting to decline on what had been one of the hottest shows of the 1960s, Yvonne was brought in to bring the character of Barbara Gordon (daughter of Commissioner Gordon) to life, with everyone being unaware of the fact that she has also assumed the role of Batgirl. Needless to say, as evident in the photo below, she brought something to the show that, frankly, neither Adam West nor Burt Ward (who played Robin) could. Sadly, her casting did not do the trick in terms of ratings and the show was canceled after its third season.
Real Estate, Memoirs, and Reunions
Following Batman, Yvonne began making guest appearances again, including the original Star Trek as a green-skinned Orion slave girl. With roles slowing down, she switched over to real estate for a number of years. Additionally, she participated in a Batman television reunion in the 1990s with West, Ward, and Julie Newmar, who played Catwoman on the show; and she wrote her autobiography, From Ballet to the Batcave and Beyond, which was published in 2000. Sadly, Yvonne, who was married twice, died on August 17, 2015 of metastatic breast cancer that had spread to her liver. She was 78.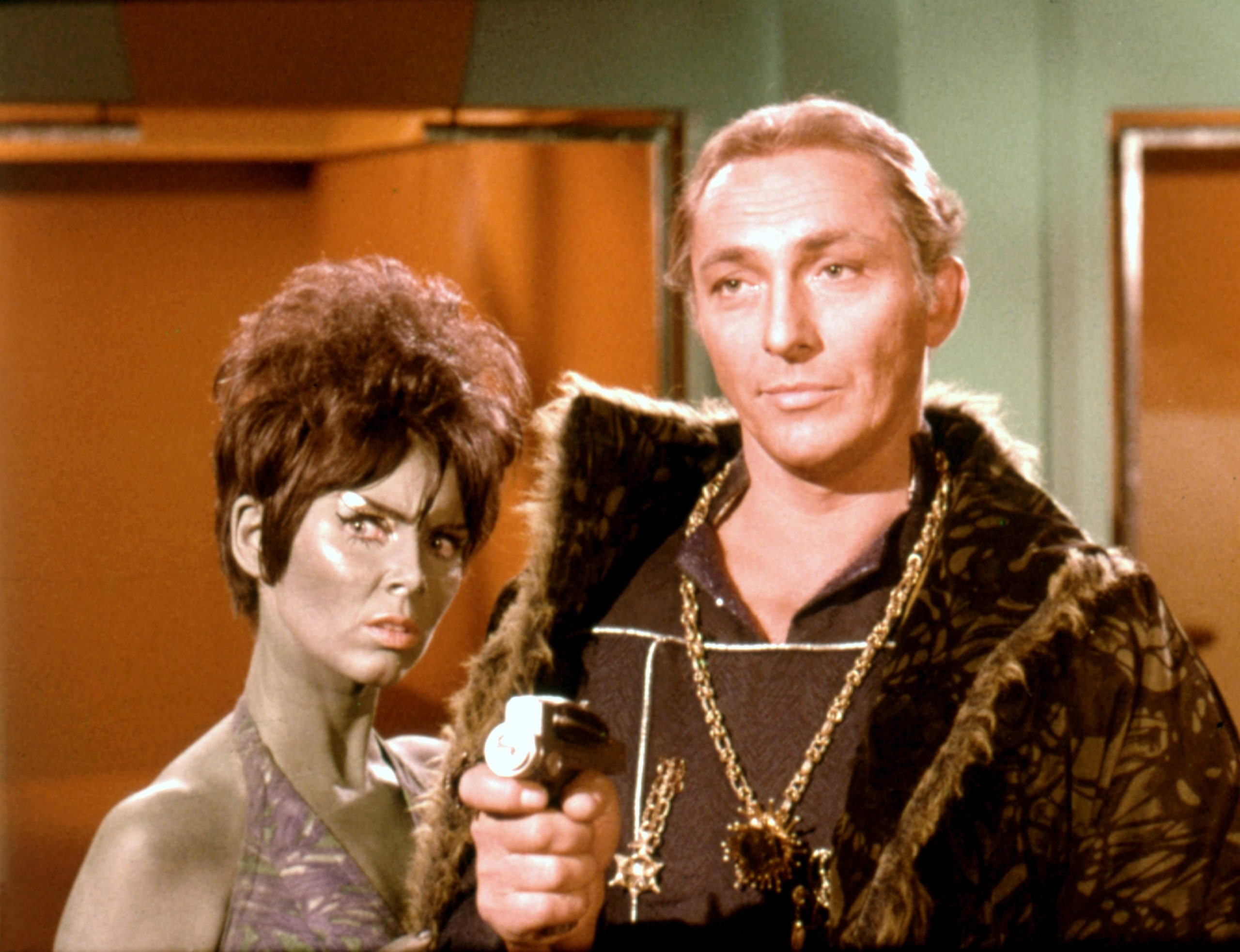 3. Ursula Andress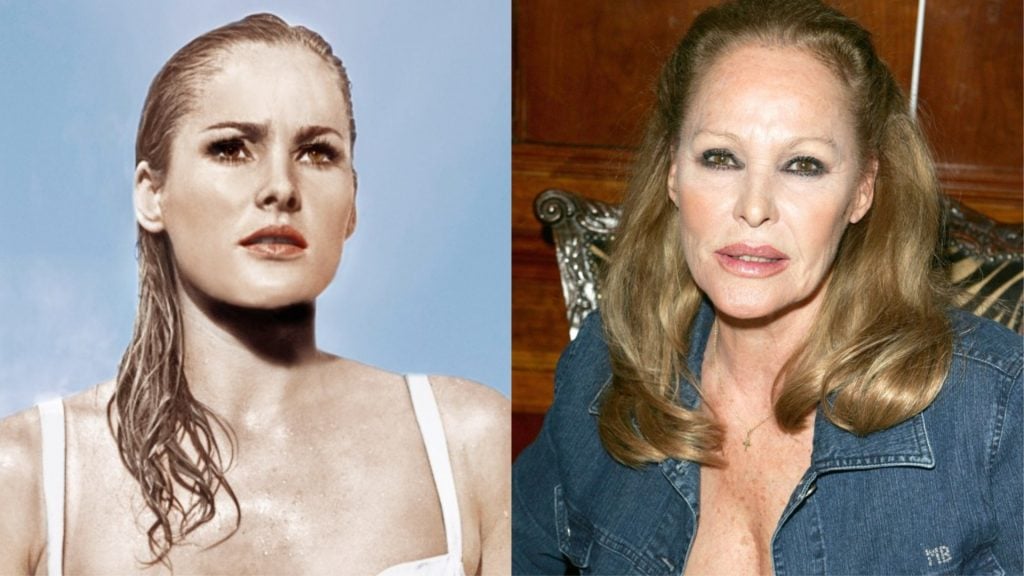 Ursula Andress stepping out of the water in a bikini in the first James Bond movie, Dr. No (1962), created a classic iconic cinematic moment that few have been able to touch. And, it's also the image you're likely to see whenever somebody talks about the Swiss actress. Born March 19, 1936, when she was at a party she met a producer who offered her a screen test — which led to a part in the 1955 Italian film The Sins of Casanova. After a few more films, she was convinced to give Hollywood a shot.
Bond and Beyond
She made her American debut in a 1962 episode of Thriller, starring alongside Alejandro Rey (later part of The Flying Nun). That same year she played Honey Ryder in Dr. No and became an instant star, though one hindrance was the fact that despite speaking three languages, English was not among them, often resulting in her voice being dubbed. Hollywood and the audience didn't seem to mind. In 1963 she co-starred with Elvis in Fun in Acapulco and with Dean Martin and Frank Sinatra in 4 for Texas.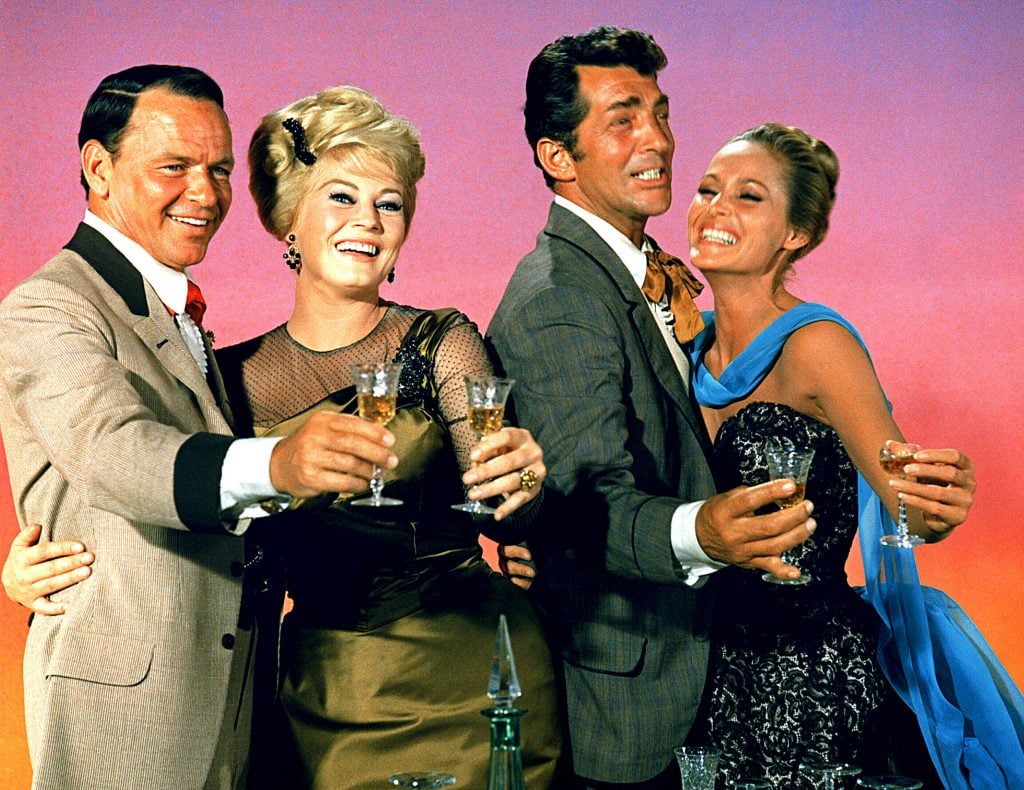 Enjoying Her Time in the Spotlight
For a time, Ursula's stardom continued, co-starring with George Peppard in The Blue Max (1966), Peter Sellers in the James Bond spoof Casino Royale (1967), Charles Bronson in Red Sun (1971), The Sensuous Nurse (1975), and the fantasy Clash of the Titans (1981). After that, there were some TV guest appearances and her return to Italian films. She's been married four times and has one child. She's 86.
4. Audrey Hepburn (1929-1993)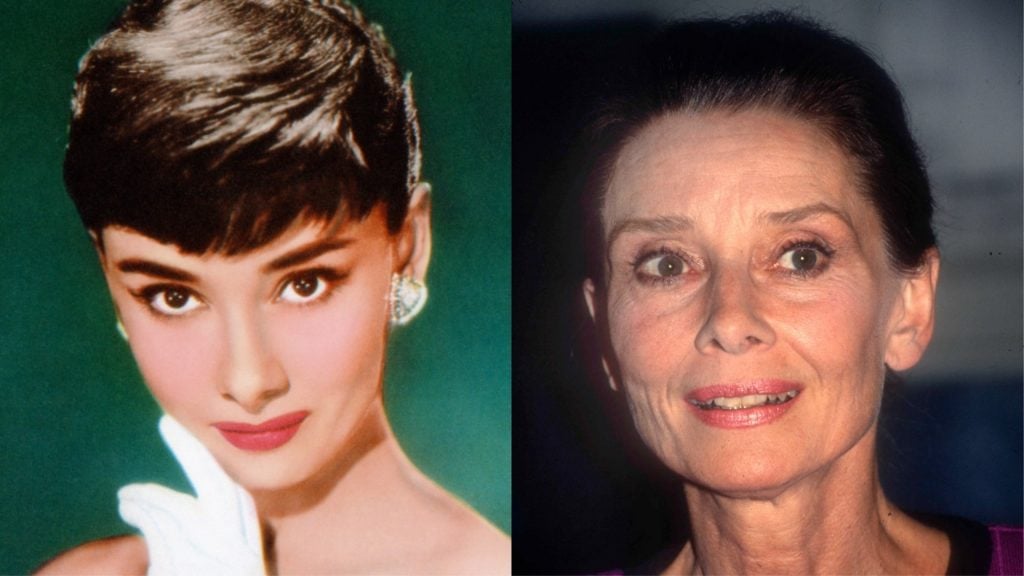 She was born Audrey Kathleen Ruston on May 4, 1929, in Belgium. All told, Audrey Hepburn had a pretty remarkable life: she worked as a part of the Dutch resistance against the Nazis during World War II, spent some time as a ballerina and dancer, but then had to go to work as a cook and housekeeper to help raise money for her family, who had lost their fortune during the war. Realizing she could earn more money acting, that became her focus (reluctantly, as it turns out).
From 'Gigi' to Tiffany's'
Audrey would star in the Broadway stage version of Gigi from 1951 to 1952, but not the 1958 film (Leslie Caron played the part). Her movie credits would include quite a number of classics, among them Roman Holiday (1953), Sabrina (1954), Funny Face (1957), Breakfast at Tiffany's (1961), Charade (1963), My Fair Lady (1967), Wait Until Dark (1967), Robin and Marian (1976) and Always (1989). She was married twice and had a partner for 13 years. The mother of two, she died from cancer on January 20, 1993, at age 63. In her lifetime she was very active in humanitarian efforts, particularly UNICEF.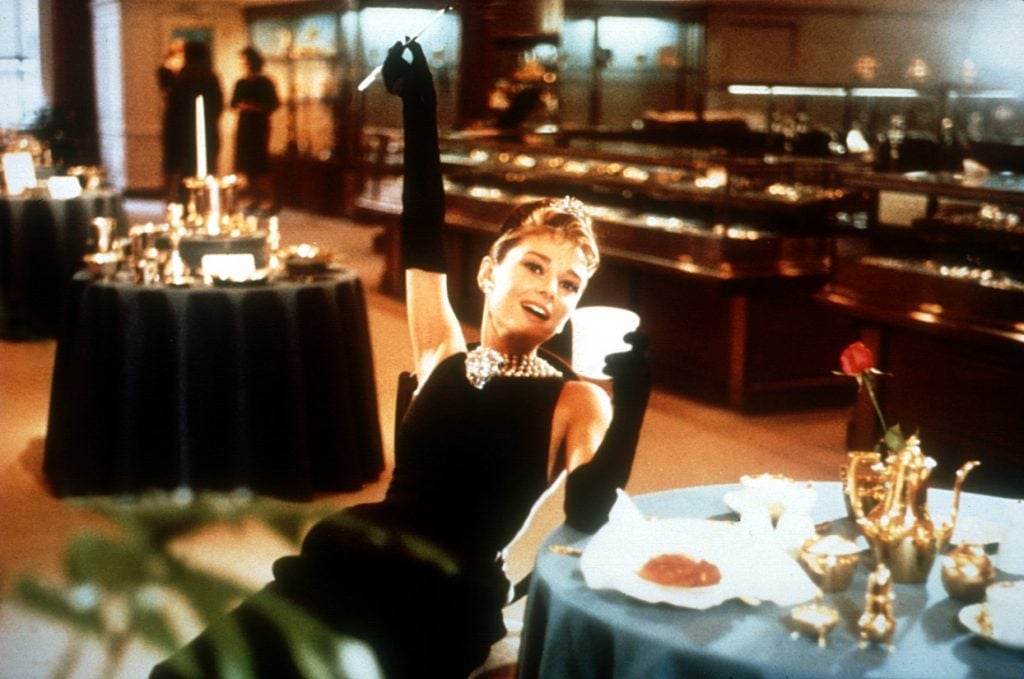 5. Nichelle Nichols

Nichelle Nichols (born December 28, 1932, in Robbins, Illinois) helped break barriers on prime time television for blacks, by playing Lt. Uhura on the original Star Trek. It's a role she would reprise on the 1973 to 1974 animated series and six motion pictures, beginning with 1979's Star Trek: The Motion Picture and concluding with 1991's Star Trek VI: The Undiscovered Country.
Life Off the Starship Enterprise
Beyond Trek, Nichelle worked with NASA for a time, helping with the recruitment of female astronauts, she recorded a pair of albums, has made a number of TV guest appearances (including providing her voice for shows like Futurama and The Simpsons), and appeared in such movies as Truck Turner (1974), The Supernaturals (1986), Snow Dogs (2002), Renegades (2016) and Unbelievable!!!!!! (2020). She's written two books, her autobiography Beyond Uhura and Saturn's Child. She was married twice and has one child. Nichelle is 89.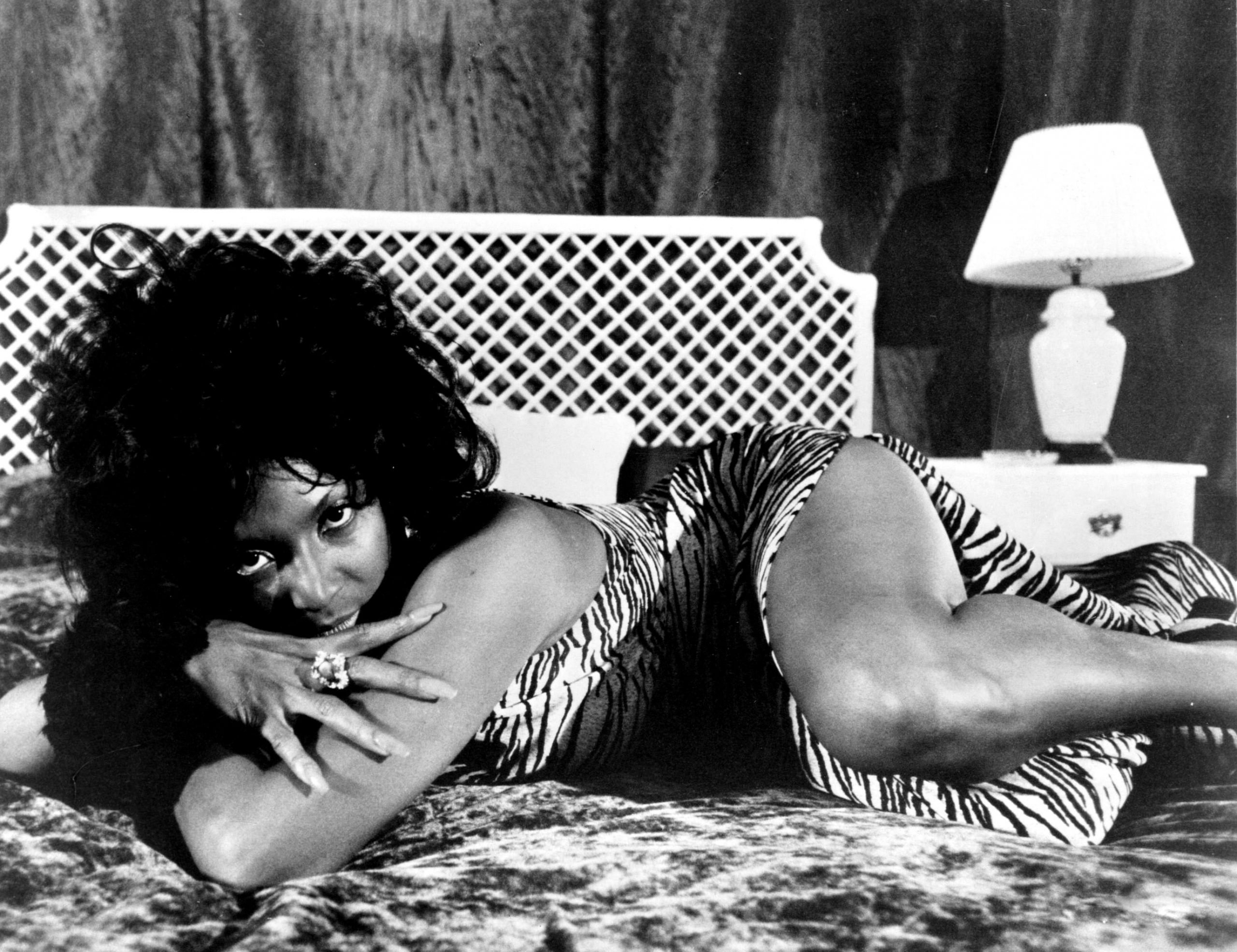 6. Sharon Tate (1943-1969)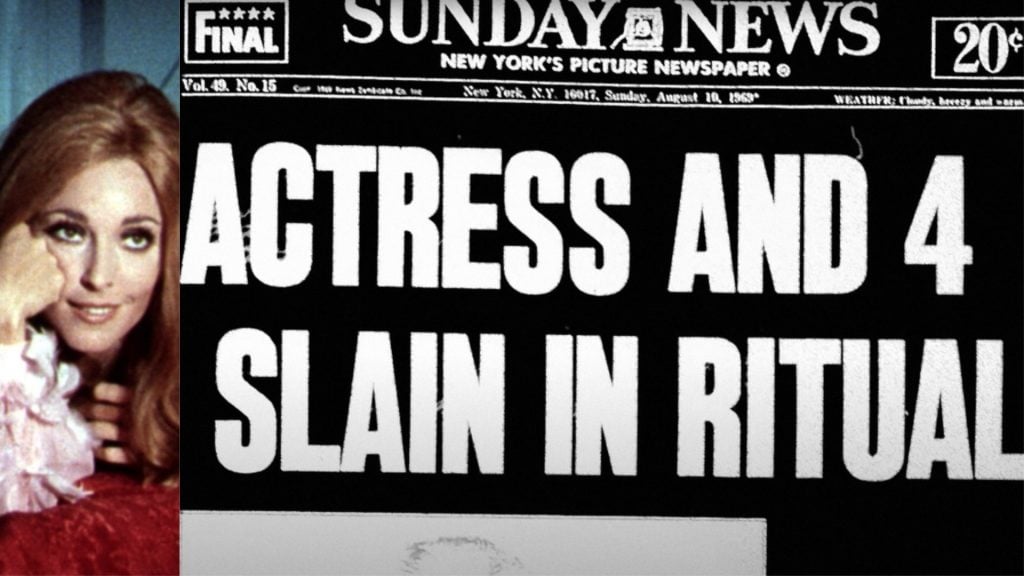 Anyone seeing Quentin Tarantino's Once Upon a Time in Hollywood undoubtedly came away with some knowledge of Sharon Tate, notably the fact that this rising star — as well as her unborn child and others in her home — was murdered by Charles Manson's followers on August 9, 1969. Just horrible.
Rising Star
Throughout the 1960s, Sharon was being heralded as a true presence in Hollywood, whose star was only getting brighter. She was born in Dallas, Texas on January 24, 1943. On television, she portrayed Janet Trego in 15 episodes of The Beverly Hillbillies between 1963 and 1965 and appeared on The Man from U.N.C.L.E. and Mister Ed. Her big-screen credits include Barabbas (1961), alongside Anthony Quinn; and Eye of the Devil (1966).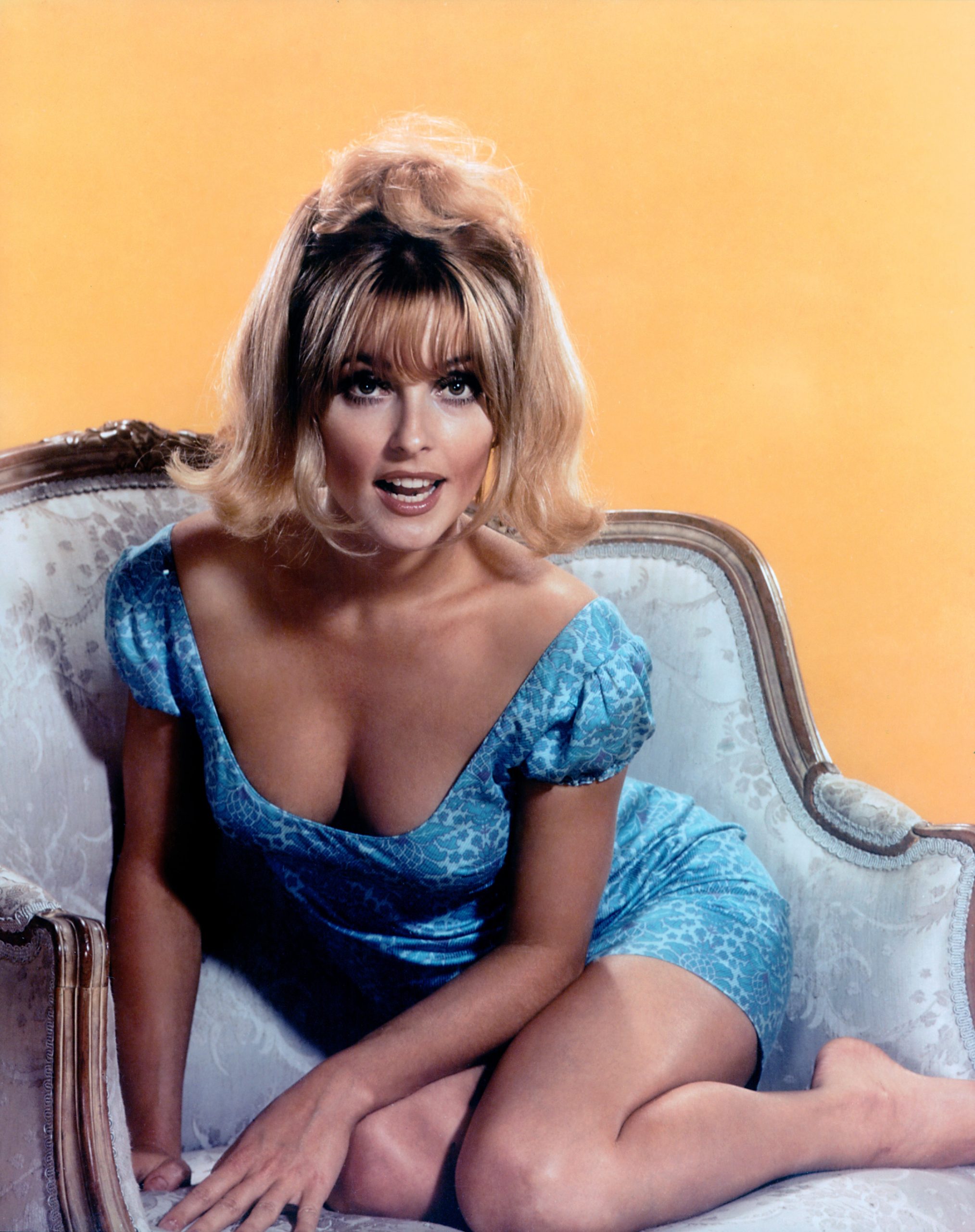 'Fearless Vampire Killers' in the 'Valley of the Dolls'
The goofy horror-comedy The Fearless Vampire Killers arrived in 1967, which was significant for her in that the director was Roman Polanski (who would next direct the classic horror film Rosemary's Baby). The two of them would fall in love, get married and it was his child she was carrying at the time of her murder. Her remaining films were Valley of the Dolls (1967), based on the novel by Jacqueline Susann; Dean Martin's spy spoof The Wrecking Crew (1968), and The Thirteen Chairs released following her death. She was 26-years-old.
7. Angela Cartwright
There's no doubt that, as a youngster, Angela Cartwright had a truly amazing career. She made her movie debut at age 3 in an uncredited role in Paul Newman's 1956 drama, Somebody Up There Likes Me. Then, from 1957 to 1964, played Linda Williams on The Danny Thomas Show (a role she would reprise in the short-lived Make Room for Granddaddy from 1970 to 1971). In between, she managed to co-star as Brigitta von Trapp in The Sound of Music (1965).
'Lost in Space'
Although Angela would make a number of TV guest appearances in the '60s and '70s, she's probably most remembered for playing Penny Robinson in Irwin Allen's Lost in Space (1965 to 1968). In the intervening years, she switched to photography, has co-written and published a number of art-related books, and, with Lost in Space co-star Bill Mumy, wrote the 2018 novel On Purpose: A Novel. She been married Steve Gullion in 1976 and they have two children. Angela is 69.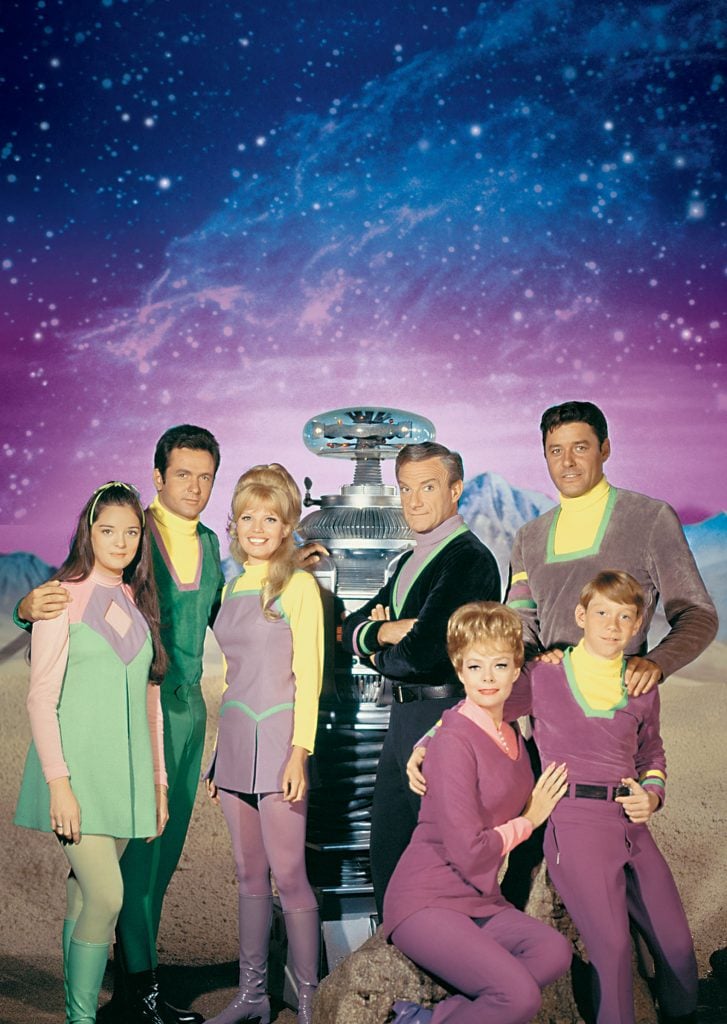 8. Shirley Eaton

There is simply no way to look back at the fabulous stars of the 1960s and not single out most of the actresses who were cast as "Bond Girls" (apologies for the sexism). Ursula Andress from Dr. No was profiled earlier, and Shirley Eaton, who portrayed Jill Masterson in the third 007 film, Goldfinger (1964) is above. She's the one who, after cheating on the bad guy with Bond, is killed and covered head to toe in gold paint.
The Big Screen Beckons
Born January 12, 1937, in England, Shirley was actually a singing star on British television and the stage throughout the 1950s — shows headlined by her. She starred in a number of films, including Three Men in a Boat (1956) and The Girl Hunters (1963), in which author Mickey Spillane played his own character, Mike Hammer.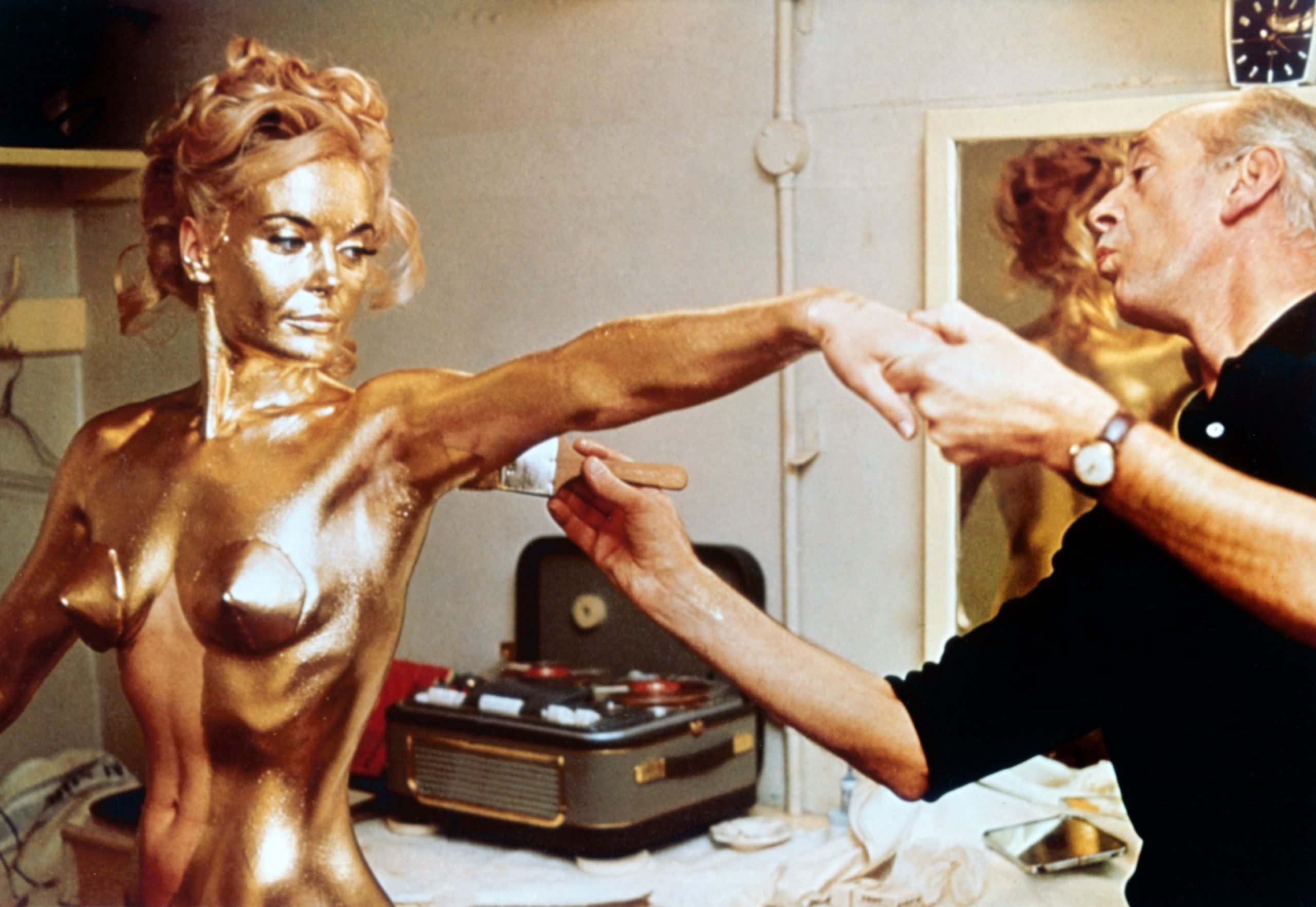 Life Beyond 007
Surprisingly, Shirley only made seven more movies after Goldfinger, from 1965's The Naked Brigade to 1969's The Girl from Rio. She was married to Colin Rowe from 1957 until his death in 1994. She has two children and is 85.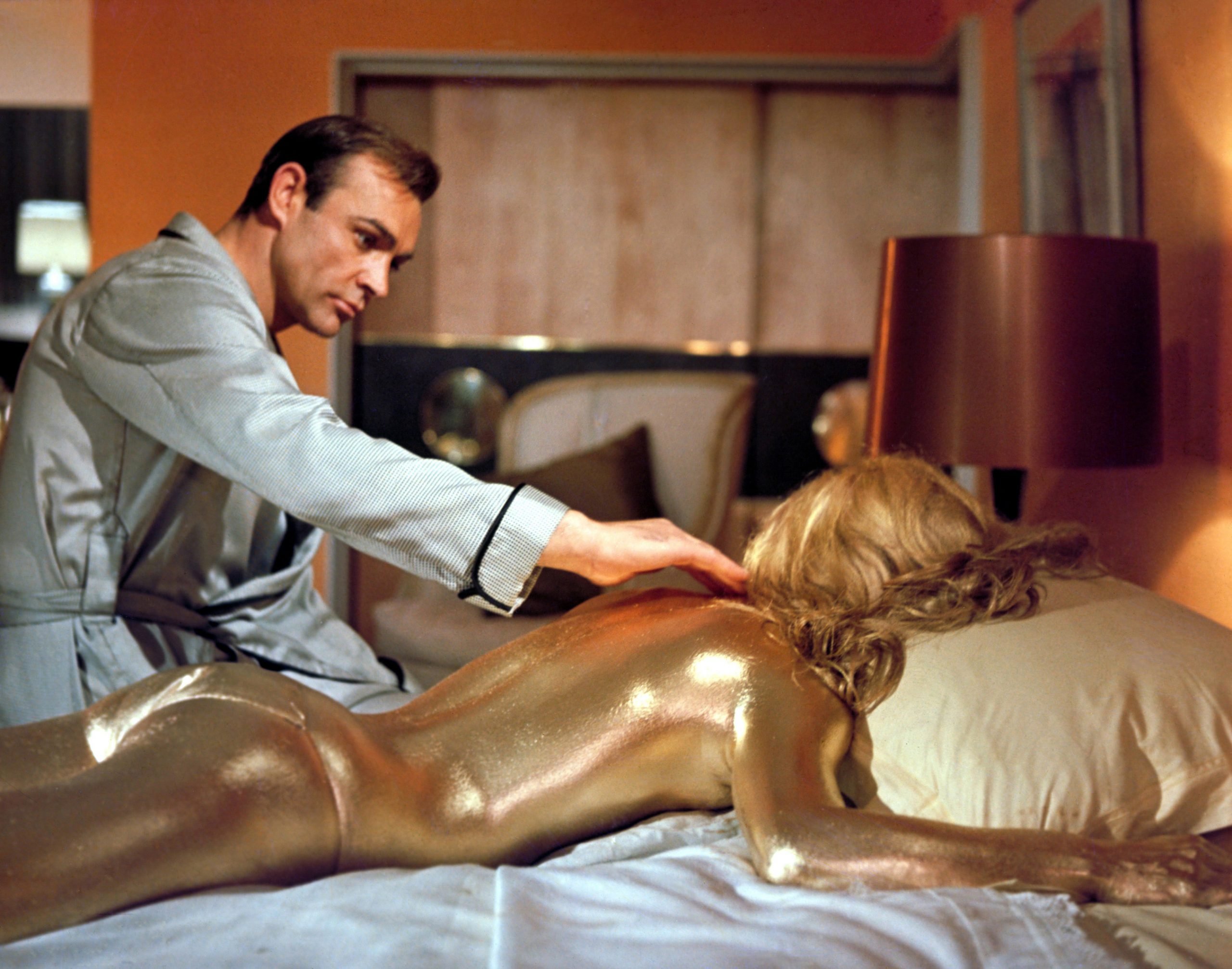 9. Janet Leigh (1927-2004)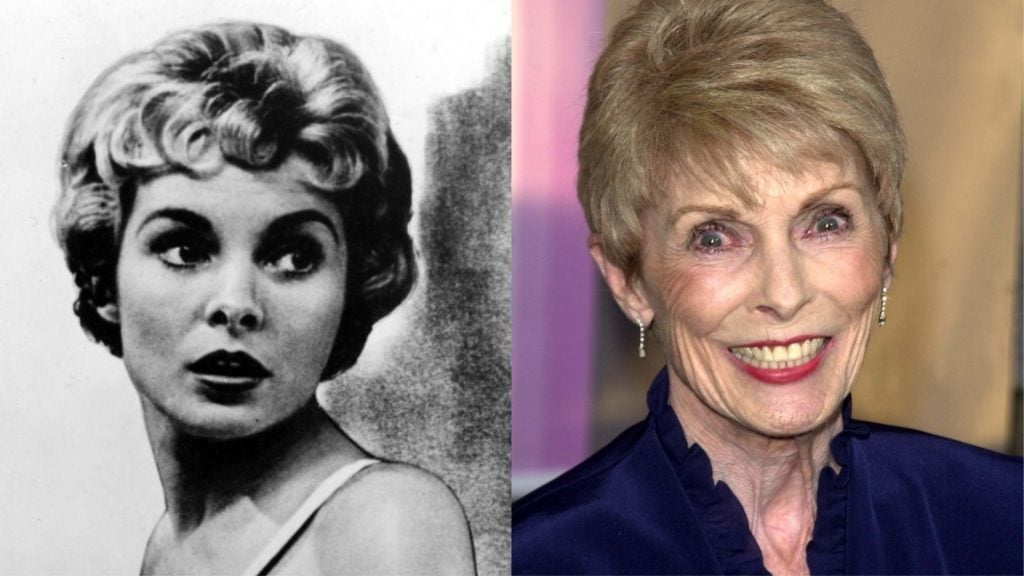 Yes, Janet Leigh accomplished many things over the course of her career. And she had been married to Tony Curtis. And they're the parents of actress Jamie Lee Curtis — but somehow none of that is as historic (if that's not too strong a word for it) as her having played Marion "I Should Have Stayed Out of the Shower" Crane in Alfred Hitchcock's Psycho. It's the most famous shower murder in history and remains terrifying 60 years later.
MGM and 'Psycho'
Janet, who was born July 6, 1927, in Merced, California, began working with MGM on the 1947 Civil War film The Romance of Rosy Ridge, followed by that same year's If Winter Comes. She worked steadily throughout the '50s and '50s, becoming a huge star in the process. That experience and audience awareness is what she brought to Psycho, which could have been dismissed as just an exploitive horror film, but was much more. Particularly with Hitchcock's brilliant idea of killing off Marion Crane mid-way through, completely throwing audience expectations off as the focus shifted to Anthony Perkins' Norman Bates character.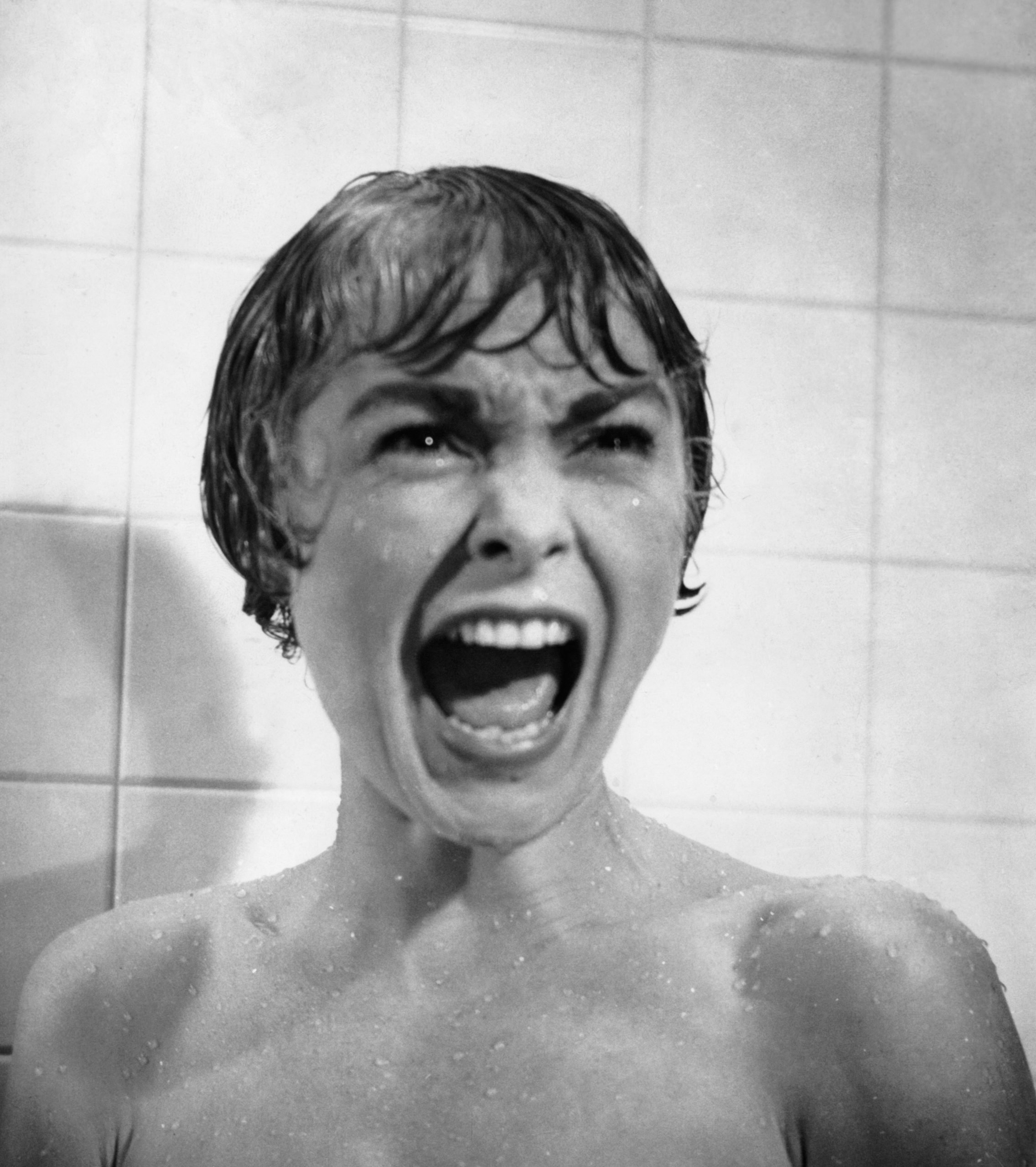 'Bye Bye Birdie'
Following Psycho, Janet just moved from strength to strength, costarring with Frank Sinatra in The Manchurian Candidate (1962), the adaptation of the Broadway musical Bye Bye Birdie (1963) which featured Dick Van Dyke, Paul Newman's private eye film Harper and Jerry Lewis' Three on a Couch (both 1966). Her film roles slowed down after 1980's The Fog, though she did co-star with Jamie Lee in 1998's Halloween H20: 20 Years Later. She did find extensive work in episodic television as well as TV movies. Janet was married four times: John Carlisle (1942, annulled the same year), Stanley Reames (1945 to 1949), Tony Curtis (1951 to 1962), and Robert Brandt (beginning in 1961). Besides Jamie Lee, she is the mother of Kelly Curtis. She died at age 77 on October 3, 2004, of vasculitis.
10. Julie Newmar
She may be remembered by many people as Catwoman on the 1960s' Batman television show, but Julie Newmar has enjoyed a career that has spanned television (numerous guest-starring roles plus her own 1964 to 1965 series, My Living Doll), the big screen, the stage, dancing, singing, inventing (of some lingerie!) and real estate. Quite the incredible lifetime of experience and, at 88, she obviously has no plans of slowing down.
11. Mia Farrow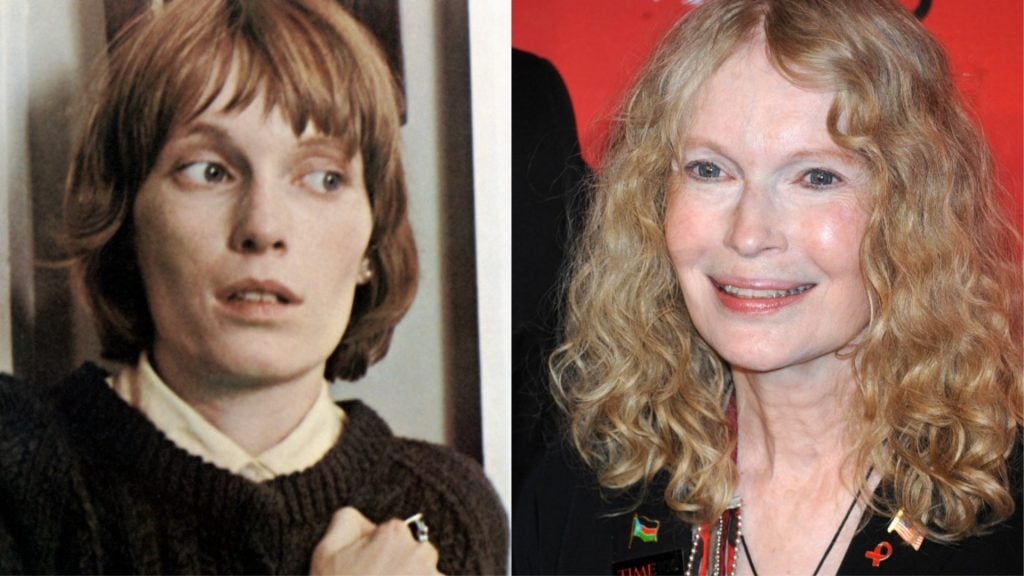 You know, there's more to Mia Farrow than the seemingly endless battles and accusations (both ways) between her and her ex, Woody Allen. A former fashion model, besides being an actress she's an activist and has served as a Goodwill Ambassador for UNICEF. She was born Maria de Lourdes Villiers "Mia" Farrow on February 9, 1945, in Los Angeles.
'Peyton Place'
The first project that Mia was involved with that caught on with the public was the ABC prime time soap opera Peyton Place, which was so popular for a time that it was actually aired as three half-hour installments a week. The show ran from 1964 to 1969 and the actress, who portrayed Allison MacKenzie, was a part of it from the beginning. However, she married Frank Sinatra in 1966 and he apparently didn't like the fact that her focus was anywhere but on him and insisted that she quit that same year. For the record, their marriage ended in 1968.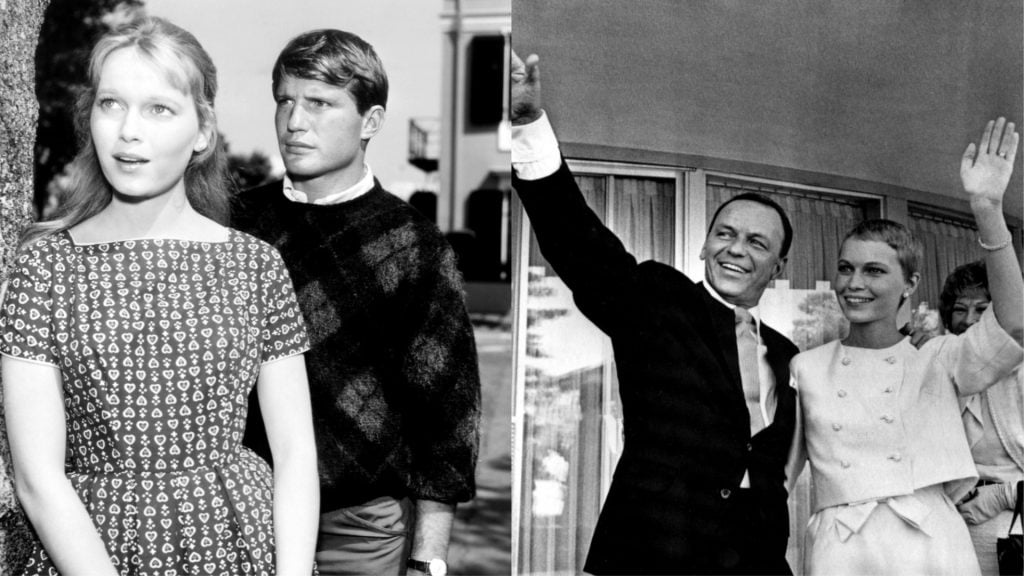 'Rosemary's Baby'
Taking the lead role in 1968's Rosemary's Baby, Mia Farrow found herself a genuine movie star. The film, especially for its time, was a pretty terrifying exercise about a woman who finds herself impregnated with Satan's offspring, and surrounded by members of a satanic cult. Sounds like an old hat now, but it wasn't then and is still effective today. From there, she would shift back and forth between film, TV, and stage performances — many of them highly acclaimed. A romantic relationship with Woody Allen led to her starring in many of his films throughout the '80s and early '90s. In her personal life, after her marriage with Frank Sinatra ended, she married composer and conductor Andre Previn in 1970, though they divorced nine years later. Her relationship with Allen went from 1980 to 1992, when she discovered he was involved in a relationship with her then 22-year-old adopted daughter Soon-Yi Previn. Not a good situation. Mia, 77, has four biological children and nine adopted.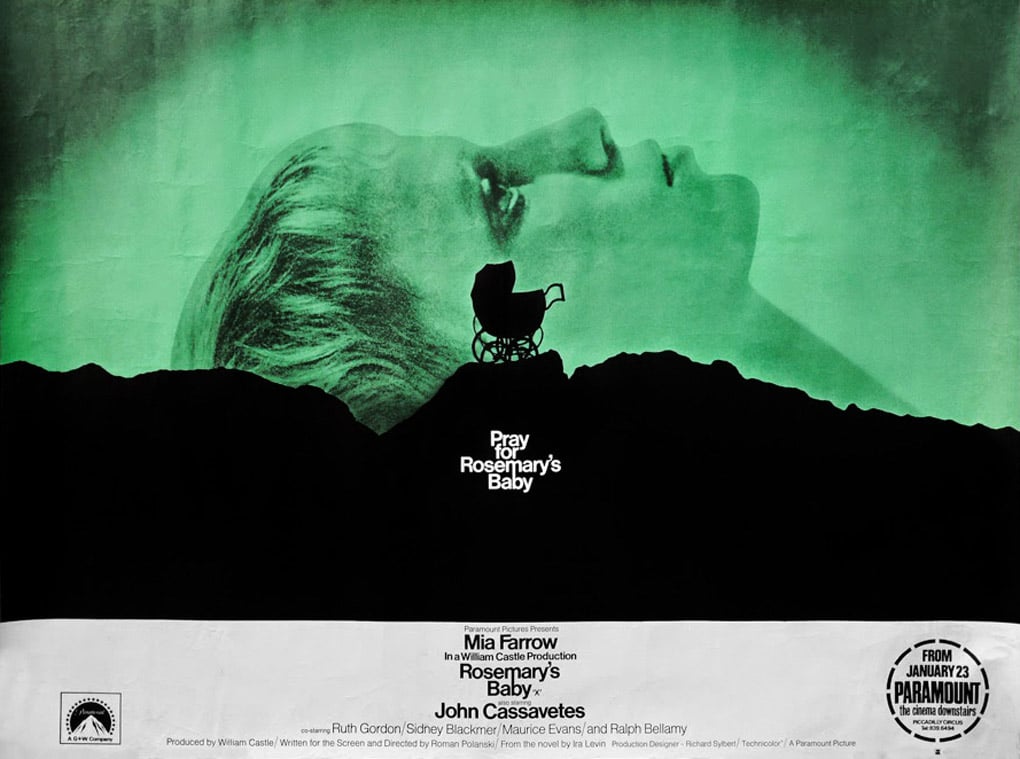 12. Barbara Eden
From singing in her church choir to studying theater, becoming Miss San Francisco in 1951 and four years later becoming a semi-regular on The Johnny Carson Show (not The Tonight Show), followed by numerous TV guest star appearances, a starring role in one (1957 to 1959's How to Marry a Millionaire) and nearly 20 feature films to her credit, Barbara Eden brought a wealth of experience to the table when she was cast along with Larry Hagman in I Dream of Jeannie (playing she who was dreamed of) in 1965.
'Jeannie' to Oh-So-Many TV Movies
With I Dream of Jeannie ending its run in 1970, Barbara never stopped moving. She starred in a wide variety of mostly dramatic TV movies (though there were a pair of pretty bad Jeannie reunion flicks in there) and a few feature films, including 1978's Harper Valley PTA, which spawned her 1981 to 1982 TV series version. She also hit the stage in many productions, most notably in the national production of the musical comedy Woman of the Year in 1984 and, from 2000 to 2004, the national touring production of Neil Simon's The Odd Couple: The Female Version, in which she played Florence Unger opposite Rita McKenzie's Olive Madison. And she recorded two albums. Through it all, she always embraced her legacy as Jeannie, even going so far as celebrating her 85th birthday by donning her old costume for a public event. That's somebody who loves her character.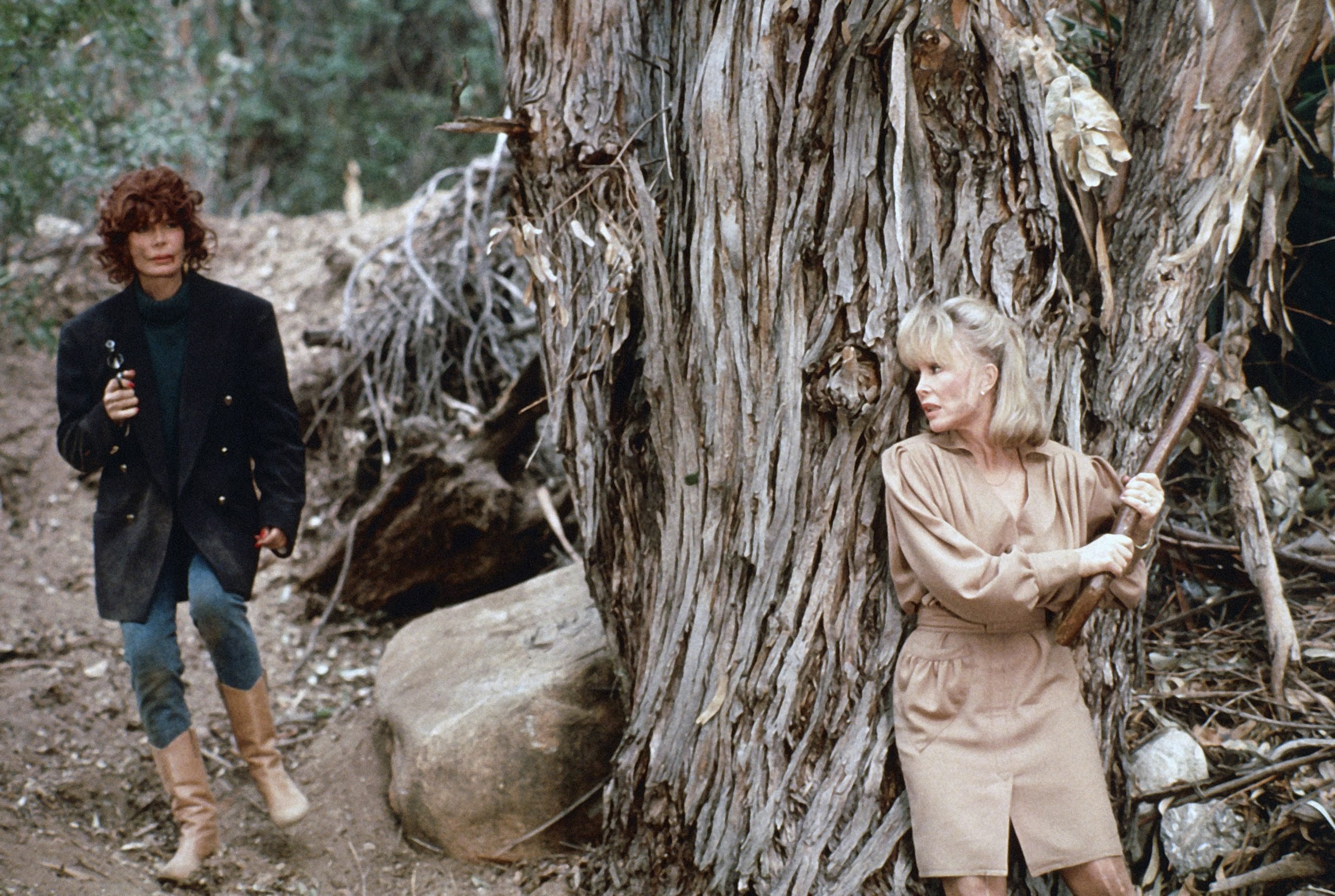 Personally Speaking
Barbara was born Barbara Jean Morehead on August 23, 1931, in Tucson, Arizona. She's been married three times, to actor Michael Ansara from 1958 until their divorce in 1974; Charles Fegert from 1977 to their divorce in 1982, and Jon Eicholtz beginning in 1981. With Ansara, she had one son, Richard, who tragically died of a drug overdose in 2001. Barbara is 90.
13. Angie Dickinson

Angeline Brown (later Angie Dickinson) started out with an interest in business and writing, but ended up coming in second place for a Miss America contest that she also won in the sense that she caught the eye of a casting director, who got her on The Jimmy Durante Show as a "showgirl." Always fascinated with Hollywood, this worked out perfectly for her as she threw herself into acting. Her first dramatic role was on Death Valley Days, which led to guest appearances on dozens of different shows from the '50s through the '90s. From 1974 to 1978 she starred as Sergeant Suzanne "Pepper" Anderson on 91 episodes of Police Woman, 13 episodes of Cassie & Co. (1982), and five episodes of Wild Palms (1993).
Big Screen Success
Her first part in 1954 (Lucky Me) was uncredited, but she kept at it and over the next few years really made a name for herself as she showcased her talents as an actress. Angie finally became a leading lady by starring alongside John Wayne in Rio Bravo (1959) and things just kept going. A handful of her movie credits include the original Ocean's Eleven (1960), The Killers (1964), Point Blank (1967), Sam Whiskey (1969), Big Bad Mama (1974 — hey, they can't all be winners), Dressed to Kill (1980), Sabrina (1995), Pay It Forward (2001) and Elvis Has Left the Building (2004). There were also over two dozen TV movies between 1968's A Case of Libel and 2009's Mending Fences.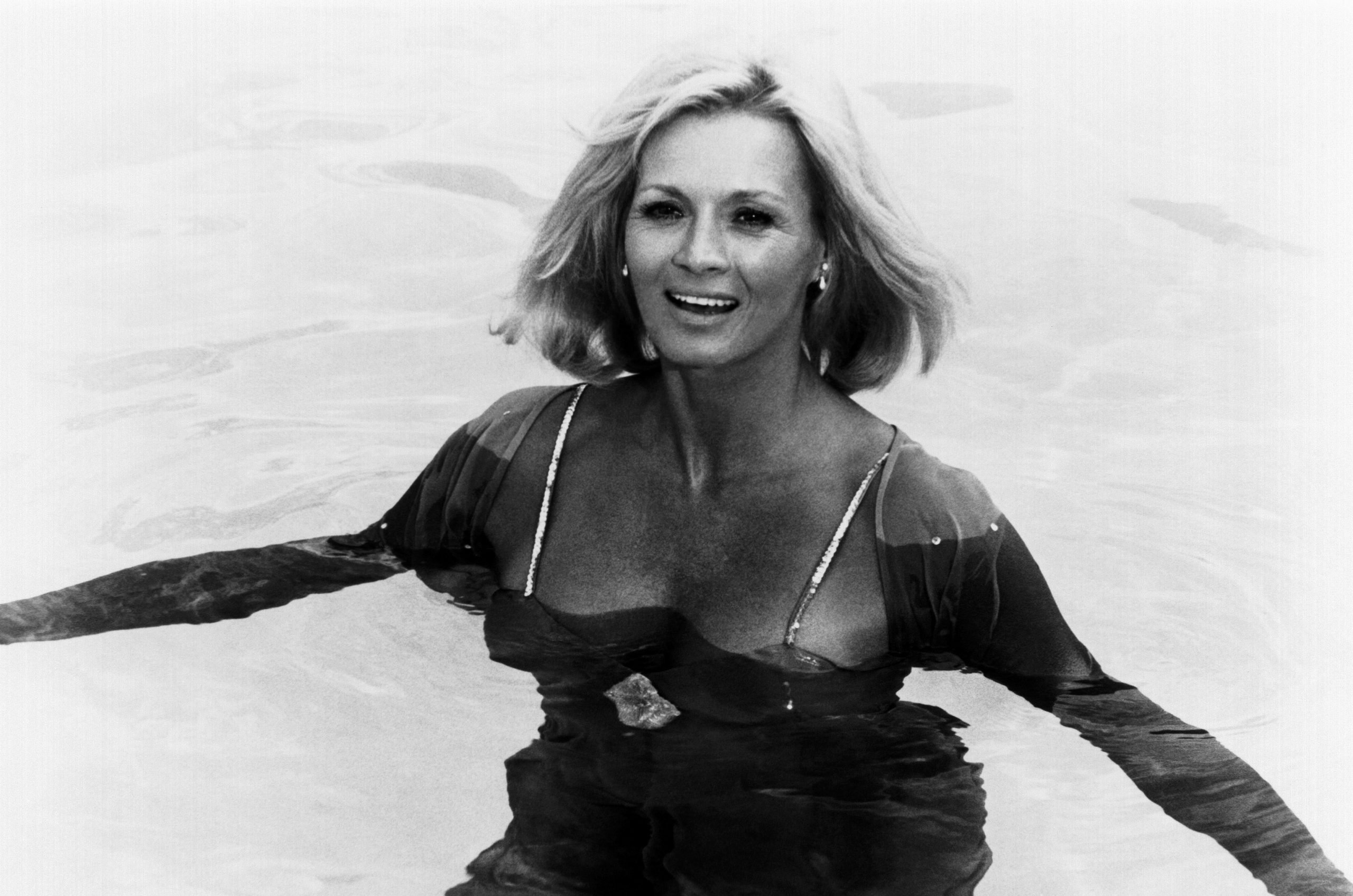 Meanwhile, in Her Real Life
She was born on September 30, 1931, in Kulm, North Dakota. She's been married twice, to Gene Dickinson (hence her name change from Brown), 1953 to 1960; and composer Burt Bacharach from 1965 to 1981, with whom she had their son Lee Nikki Bacharach, born in 1966 and passed away in 2007. Over the years she had affairs with friends Frank Sinatra and Dean Martin, and there are rumors — never confirmed — that she had one with President John F. Kennedy as well. Angie is 90.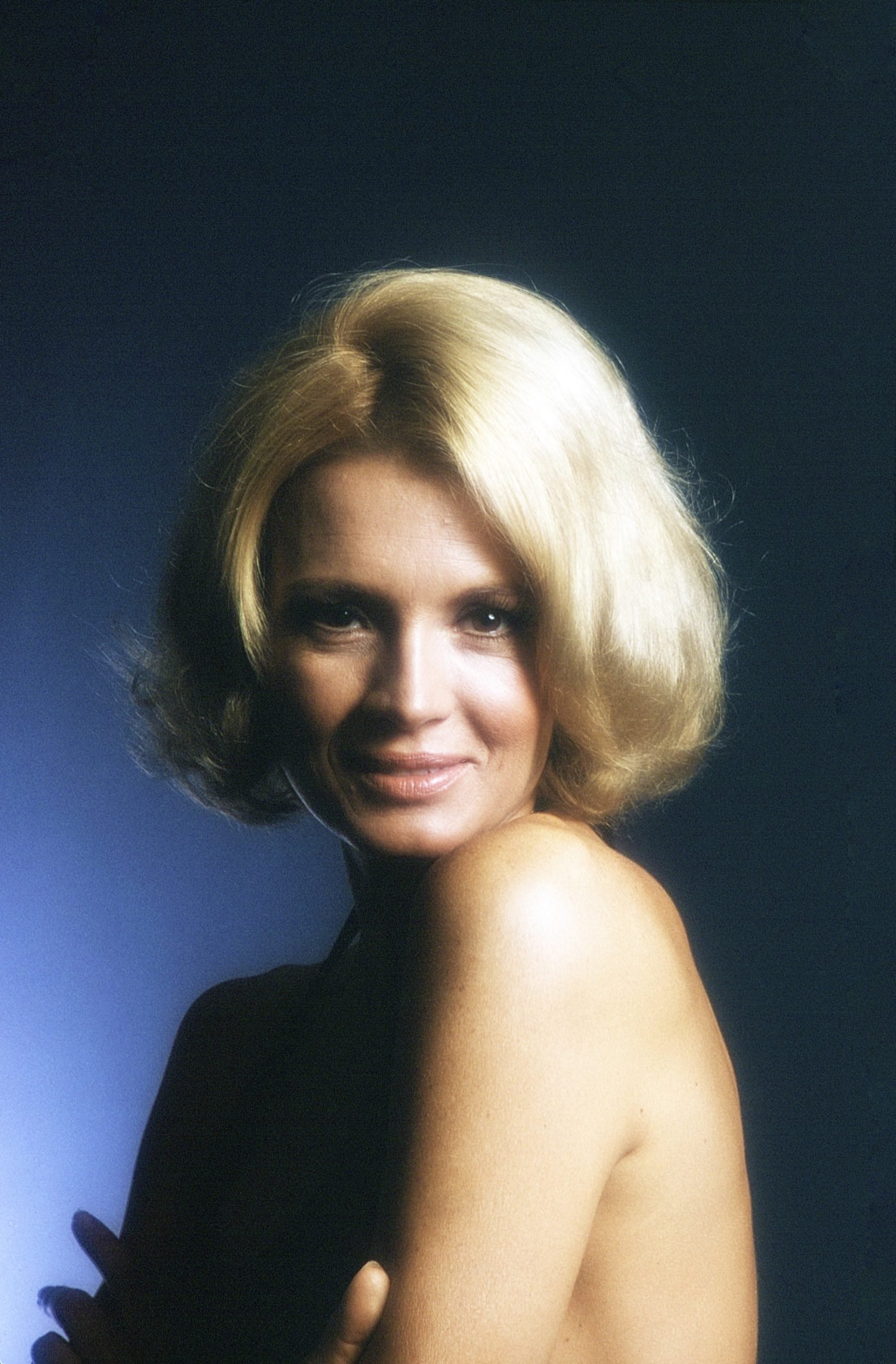 14. Linda Harrison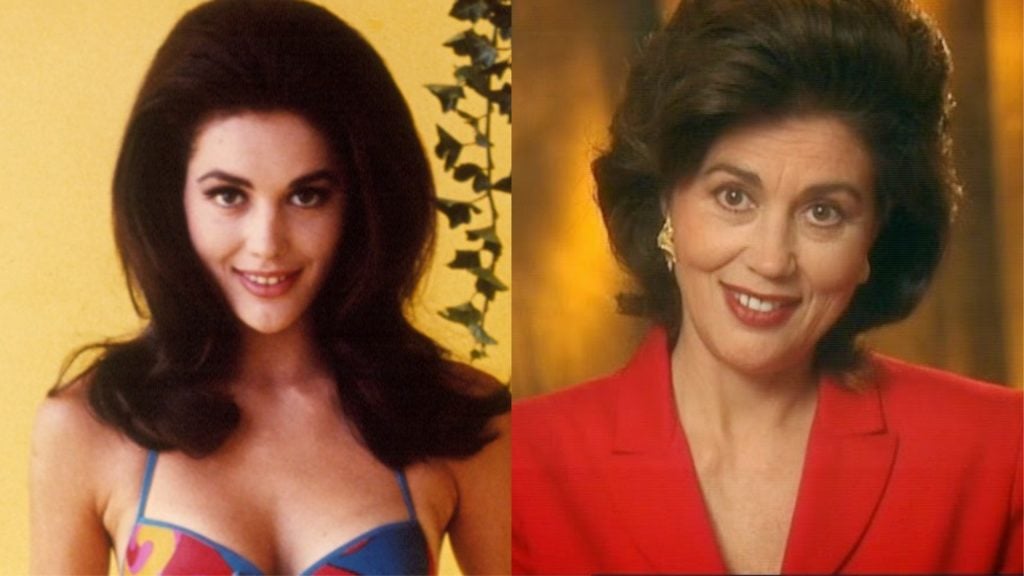 Filled with the desire to break into acting, Linda Melson Harrison (born July 26, 1945, in Berlin, Maryland) decided to enter various beauty contests (and won them). 20th Century Fox signed her to what was considered a standard 60-day option to see if they could find something for her. While she was there, she and then Vice President in Charge of Production Richard Zanuck fell madly in love and would marry in 1969. In between, Zanuck "suggested" her to director Franklin J. Schaffner for the new Charlton Heston film, Planet of the Apes.
Going Super 'Nova'
Planet of the Apes — talking, intelligent apes, mute humans, Statue of Liberty at the end, etc. — was an unexpected hit in 1968 that spawned four sequels, a Tim Burton 2001 remake, and a trilogy of films beginning with 2011's Rise of the Planet of the Apes. In that original film, as well as its 1970 follow-up Beneath the Planet of the Apes, Linda played the mute human Nova, who becomes the love interest of Charlton Heston's 20th Century astronaut George Taylor. After those films, she was a star on 1969 to 1970's Bracken's World, guested on a few others, and appeared in the films Airport 1975 (released a year earlier), Cocoon (1985), Cocoon: The Return (1988), Wild Bill (1995), had a cameo in Burton's Apes film and Midnight Massacre (2020). She and Zanuck divorced in 1978 and she's the mother of two children. Linda is 76.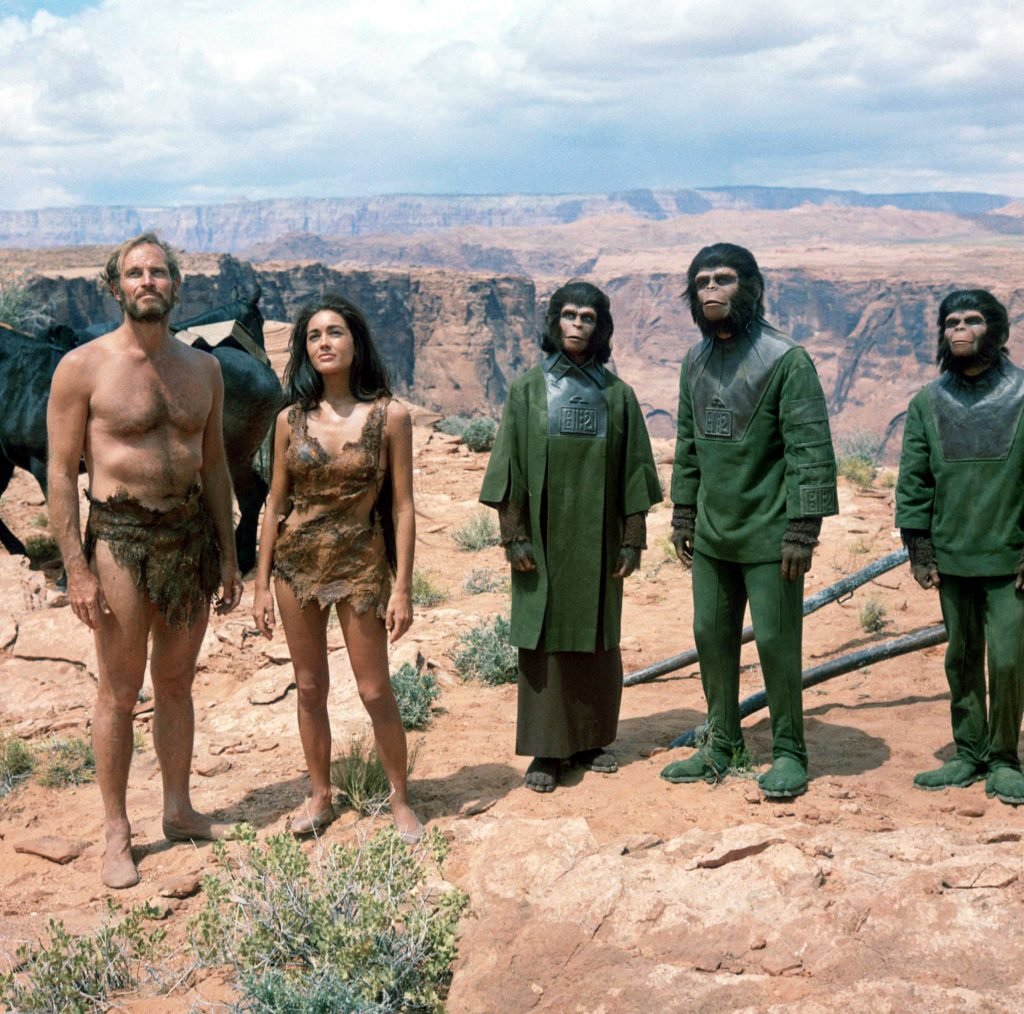 15. Ali MacGraw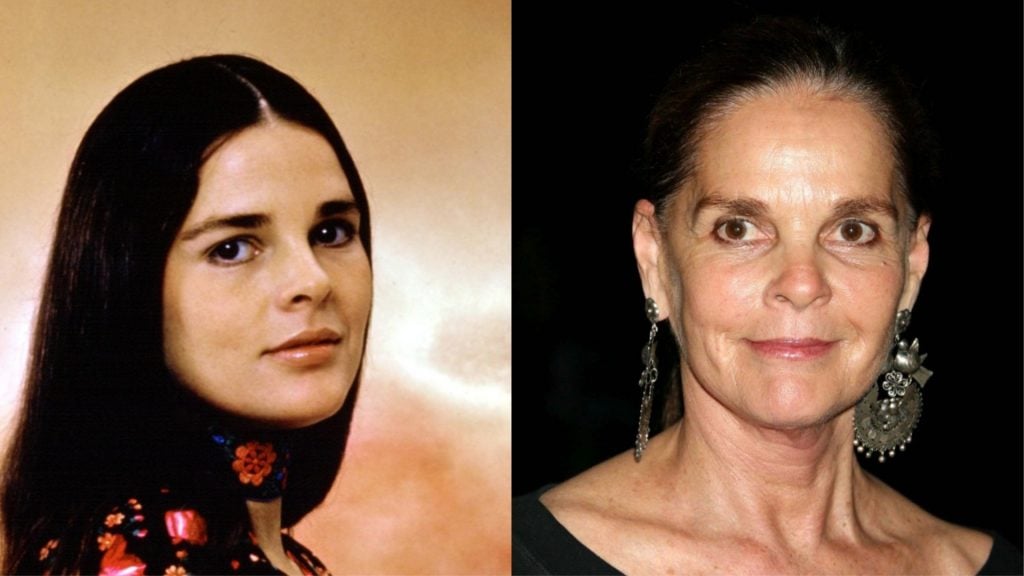 Ali MacGraw had a pretty impressive introduction to movie audiences, beginning in 1968 with A Lovely Way to Die and, more importantly, for Goodbye, Columbus (1969), for which she won the Golden Globe in the category of Most Promising Newcomer — Female. Then, in 1970, she starred with Ryan O'Neal in the ultimate of movie tearjerkers, Love Story. After that? Co-starring (and falling in love) with Steve McQueen in The Getaway (1972), followed by films like Convoy (1978), Murder Elite (1985), and Glam (1997). Her credits include the massive hit miniseries The Winds of War (1983) and 14 episodes of Dynasty (which she admitted she did for the money).
Her Off-Screen Life
Ali also appeared on Broadway in Festen (The Celebration) and reunited with Ryan O'Neal in Love Letters, but didn't really stay with acting beyond the above. She has been involved with animal activism over the years and has been married three times, to Robin Hoen from 1961 to 1962, producer Robert Evans from 1969 to 1972 and Steve McQueen from 1973 to 1978. She has one son, Josh Evans. In her autobiography Moving Pictures, she admits that she has dealt with both alcoholism and sex addiction. Ali, who was born Elizabeth Alice MacGraw on April 1, 1939, is 83.
16. Mary Tyler Moore (1936-2017)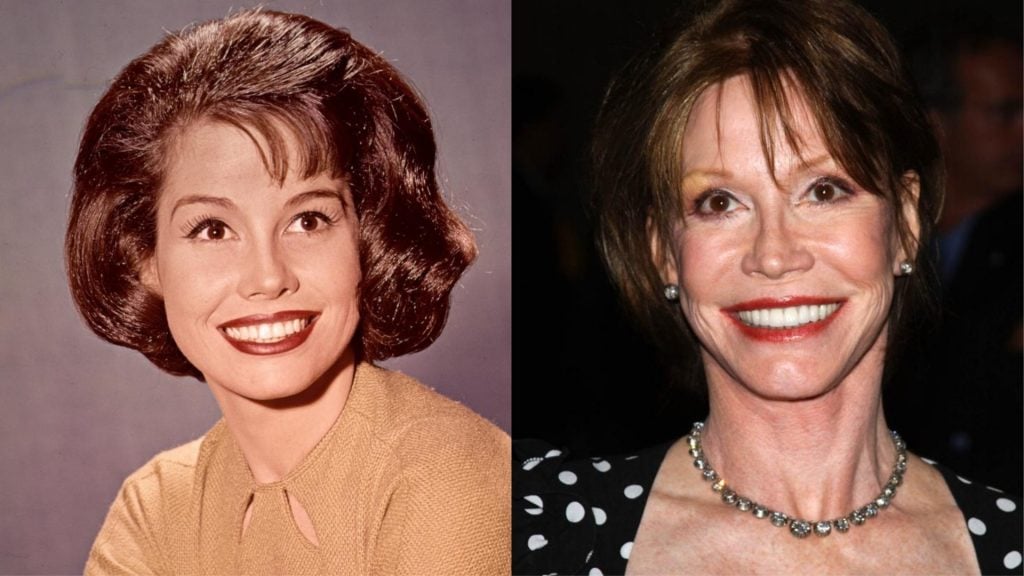 She could turn the world on with her smile, but that wouldn't be until the 1970s! When she was 17, Mary Tyler Moore decided that she wanted to be a dancer, which would lead her to shoot 39 television commercials as "Happy Hotpoint," a tiny elf who would dance on the top of appliances made by Hotpoint. That gig came to a close when she became pregnant and outgrew her costume. Some modeling followed, and then her legs and voice — but that was it — made their way into seven episodes of Richard Diamond, Private Detective (1959). She did score a number of other TV guest spots before Carl Reiner cast her in The Dick Van Dyke Show.
'The Dick Van Dyke Show'
From 1961 to 1966, America was in love with The Dick Van Dyke Show, and especially Mary and Dick as Laura and Rob Petrie. Winning an Emmy Award for Outstanding Actress in a Comedy Series drove home the impact she'd made. When the show ended, she would star in the films Thoroughly Modern Millie (1967), What So Bad About Feeling Good? (1968), Don't Just Stand There! (1968) and, as a nun in what is considered one of the worst Elvis movies, Change of Habit (1969). In 1970, however, she would take the next major step in her career.
The MTM Years
The Mary Tyler Moore Show (1970 to 1977) was viewed as the next major step forward for women on television, and it offered up a show that was an instant classic thanks to its writing and the ensemble that Mary had surrounded herself with. The show also took home an amazing 29 Emmy Awards. Besides many appearances on other shows, Mary would star in Mary (1978), The Mary Tyler Moore Hour (1979), another series named Mary (1985 to 1986), Annie McGuire (1988), New York News (1995), and The Naked Truth (1997). There would be many TV and theatrical films that allowed her to brace more dramatic roles (check out 1980's Ordinary People). She starred in several Broadway shows, including Whose Life Is it Anyway.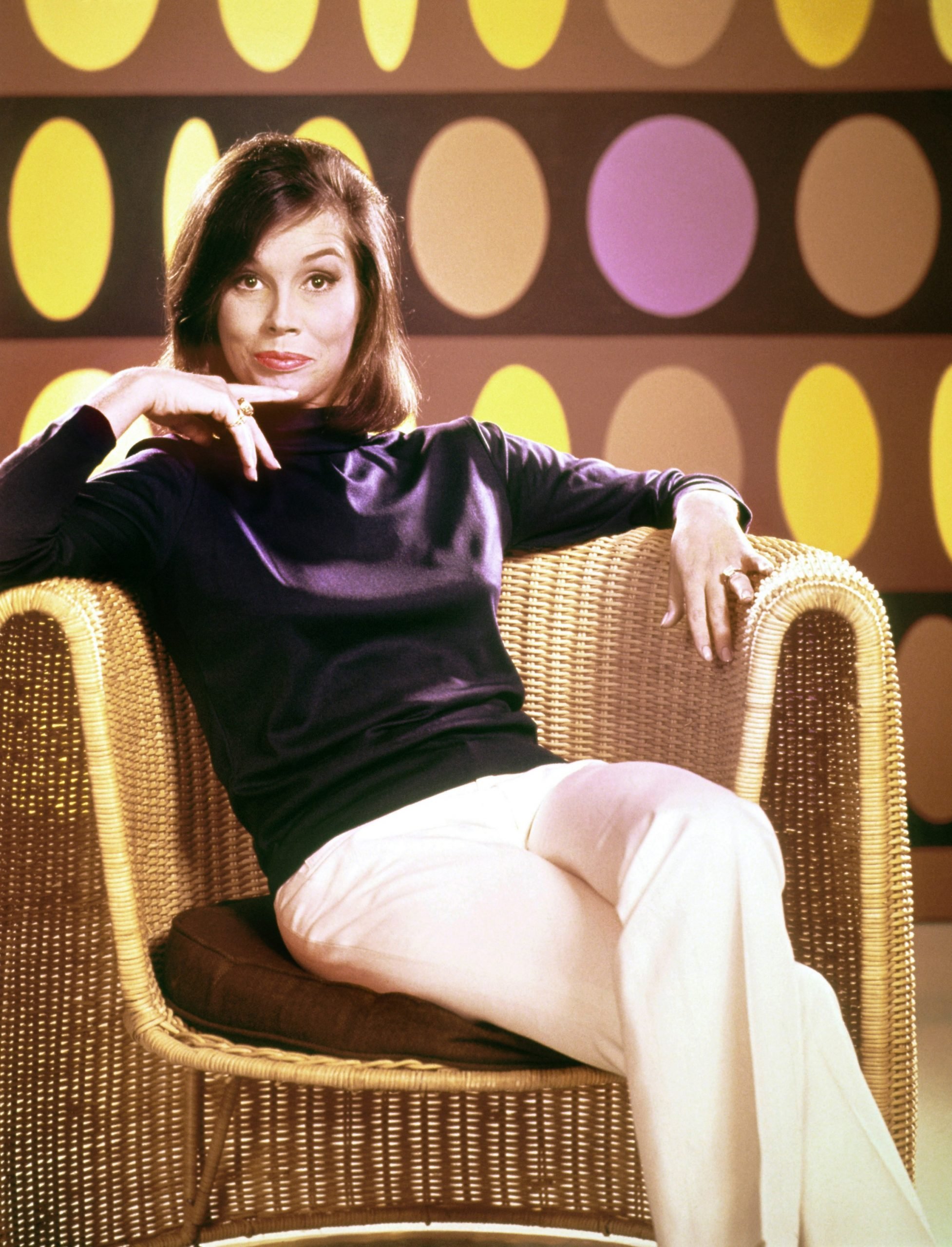 Personal Struggles
Mary was married three times, to Dick Meeker from 1955 to 1961, Grant Tinker from 1962 to 1981, and Robert Levine from 1983 until her death. In 1980, her son Richard died of an accidental gunshot wound to the head and she herself suffered from alcoholism and Type 1 diabetes, which she was diagnosed with in 1969. Mary died On January 25, 2017, at the age of 80.
17. Jane Fonda
Jane Fonda credits Lee Strasberg of The Actor's Studio — and his realization that she had genuine talent — with filling her with determination to become an actress. She started on the stage, including Broadway, but then burst onto movie screens in the 1960s and continued into the early '70s with films like Cat Ballou (1965), Barefoot in the Park (1967), Barbarella (1968), They Shoot Horses, Don't They? (1969), Klute (1971) and A Doll's House (1973). And then she risked losing it all.
'Hanoi Jane'
In 1972, Jane, an outspoken critic of America's war in Vietnam, had gone to Hanoi, where she was photographed sitting in a North Vietnamese anti-aircraft gun. The result was the nickname "Hanoi Jane' and what has been described as blacklisting in Hollywood at the time, is difficult to see from a 2020 vantage point. She absolutely took a lot of heat for that, but the work — much of it critically acclaimed — kept on coming. The '70s were rounded out with Julia (1977), Coming Home (1978), Comes a Horseman (1978), and The China Syndrome (1978) — and the list continues.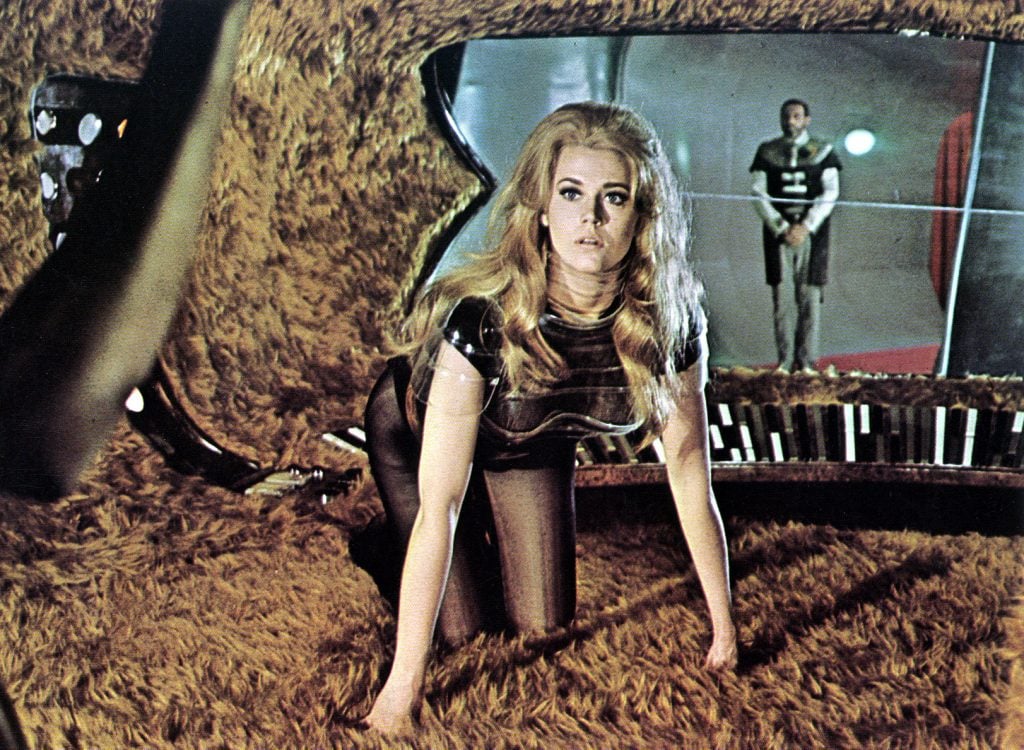 'Jane Fonda's Workout'
In addition to movies, she also became an exercise guru in the '80s, much of the '90s, and picked it up again in 2010 when she launched a series of videos that kicked off with 1982's Jane Fonda's Workout. This series was incredibly popular at the time. In more recent years, she has moved over to television in the form of The Newsroom (2012 to 2014) and her series with Lily Tomlin, Grace and Frankie (2015 and still going). Jane, who is 82, was married to her Barbarella director Roger Vadim from 1965 to 1973, Tom Hayden from 1973 to 1990, and Ted Turner from 1991 to 2001. Richard Perry was her partner from 2009 to 2017. She has three children and is 84.
18. Yvonne De Carlo (1922-2007)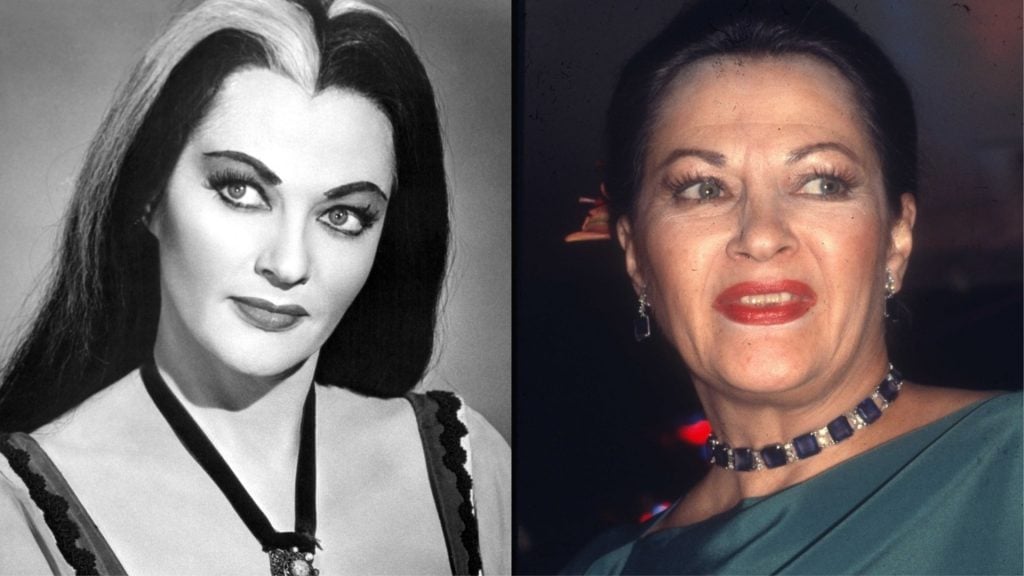 Prior to becoming Lily Munster on The Munsters (1964 to 1966), Yvonne De Carlo enjoyed great success on the big screen in the Golden Age of Hollywood. When she was younger, she wanted to be a writer, having won a contest in school for a poem she'd written when she was seven. From there, she used to write her own short plays that were staged in her grandparents' house. It was actually her mother that encouraged her to get into show business and, to help this happen, enrolled her in a local dance school and then the two of them moved to Los Angeles. There, Yvonne would dance in nightclubs and enter beauty contests. Well, it worked and by the early 1940s, she was working on short films and then movies — helped by her looks, which were considered exotic.
The Road to Mockingbird Lane
The first role where Yvonne caught people's attention was the title character in Salome, Where She Danced (1945), followed by films like Slave Girl (1947), Hurricane Smith (1952), Fort Algiers (1953), Flame of the Islands (1956) and, significantly, as Sephora in Cecil B. Demille's The Ten Commandments (1956). All told, she appeared in 60 movies between 1941's Harvard, Here I Come, and 1964's A Global Affair. Many of these films seemed to elevate her in Hollywood, but somehow it didn't last and by the mid-1960s she was in need of something more steady financially, which is the point that The Munsters entered her life.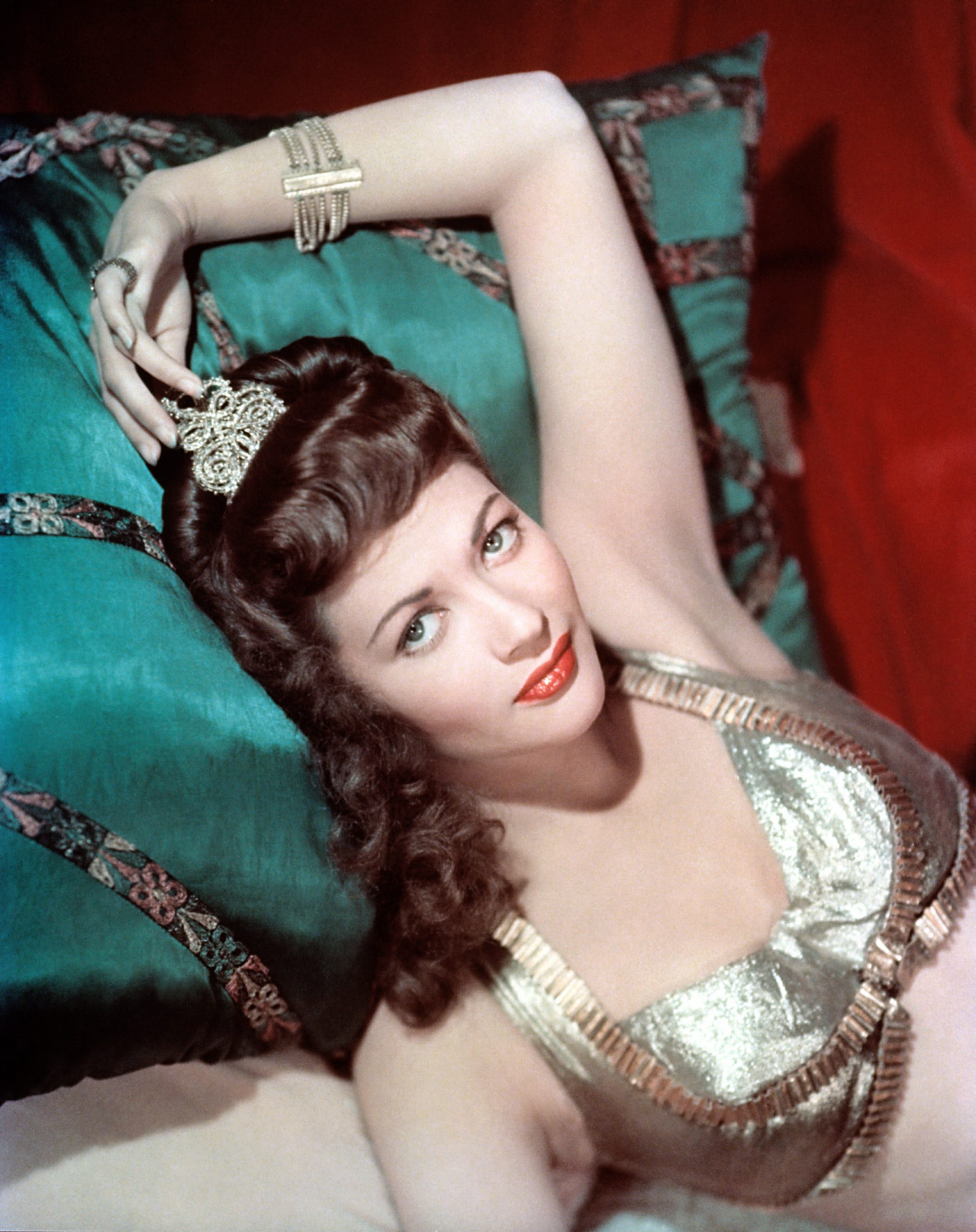 Moving On
Following The Munsters, typecasting made it difficult for Yvonne to get cast in other shows beyond guest star appearances, and film roles that were followed were fairly minor. She did, however, really embrace stage work, particularly musicals. Enjoying the new generation of fans who grew up watching reruns of The Munsters, she wrote her autobiography, which was published in 1987. Married to Robert Drew Morgan from 1955 to 1973, she had two children. Yvonne died of heart failure on January 8, 2007, at age 84. Interestingly, she was given a pair of stars on the Hollywood Walk of Fame, one for her contribution to television and the other for motion pictures.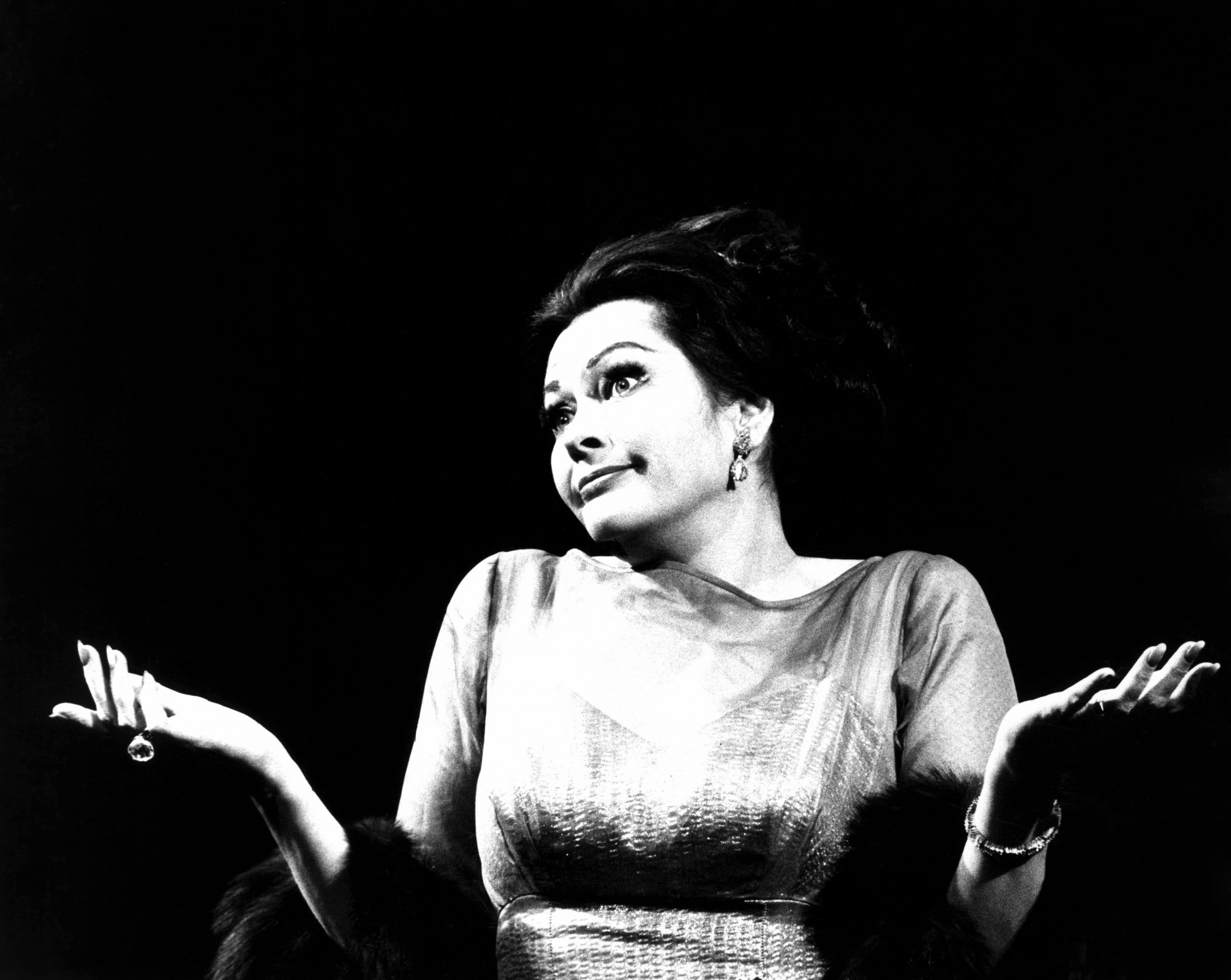 19. Daniela Bianchi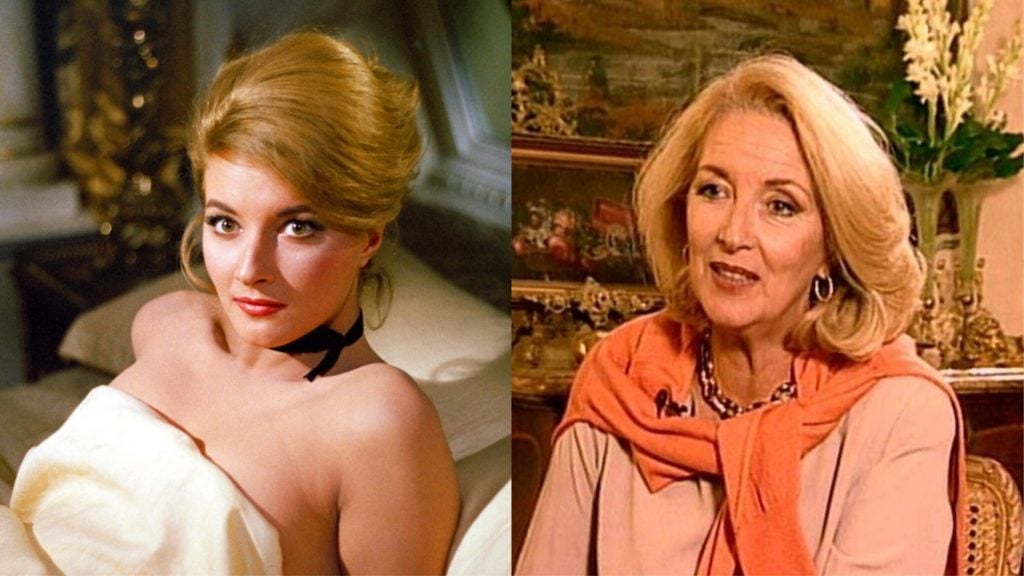 "Bond Girl" No. 2 was Daniela Bianchi, who starred with Sean Connery in the second Bond film, From Russia With Love (1963) as Tatiana Romanova. She was born on January 31, 1942, in Rome. Her voice dubbed in the 007 film due to her accent, she mostly starred in French and Italian films throughout the rest of the 1960s. She retired from acting in 1970 when she married Alberto Cameli, who died in 2018. Daniela is 80.
20. Donna Douglas (1932-2015)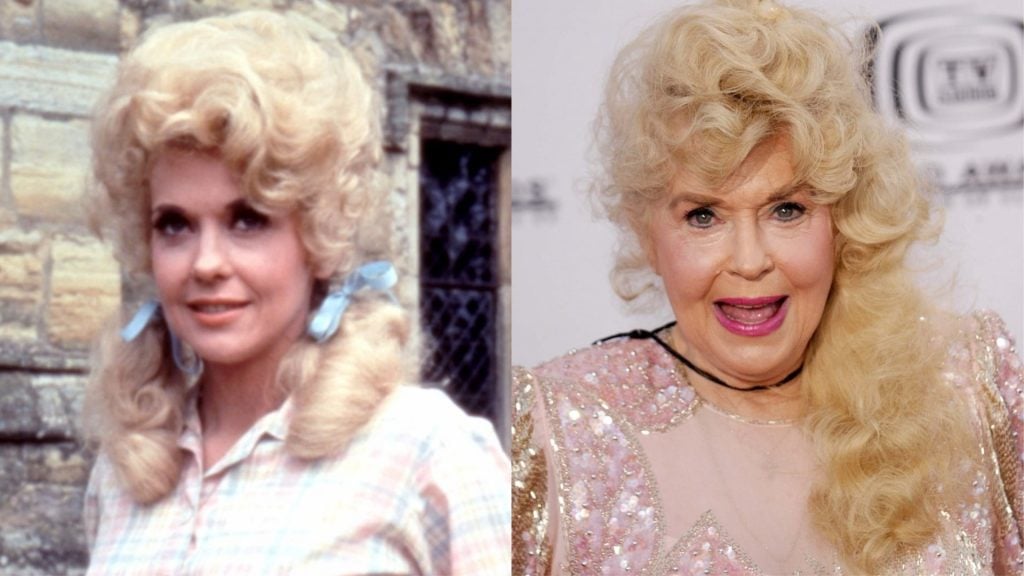 Fans of Classic TV know and love her as Elly May Clampett on The Beverly Hillbillies (1962 to 1971). Donna Douglas, who was born Doris Ione Smith on September 26, 1932, in Pride Louisiana, guested in many TV shows in the 1950s and 1960s (including the classic "Eye of the Beholder" episode of The Twilight Zone). Film credits include Li'l Abner (1959), Lover Come Back (1961), and Frankie and Johnny (1966). Her last film role was in Chronicles of Life Trials (2013). After The Beverly Hillbillies, she dabbled in real estate, became a gospel singer, did charitable work for Christian children's homes, recorded a few albums, and authored a children's book. Married twice, she had one child. Donna died from pancreatic cancer on January 1, 2015 at age 82.
21. Patty Duke (1946-2016)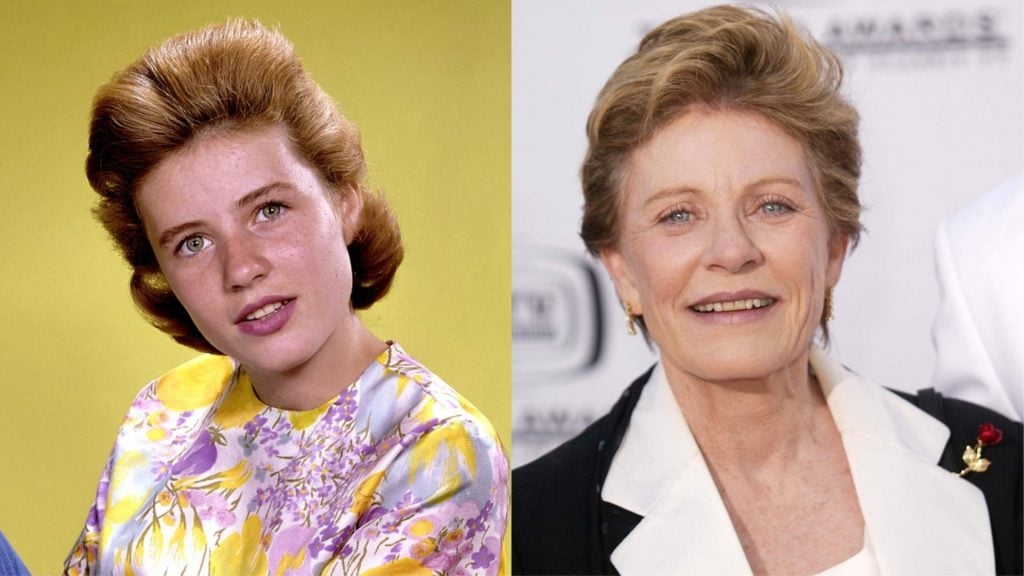 When she was only 15, Anna Marie "Patty" Duke (born December 14, 1946, in New York City) won the Academy Award for her portrayal of Helen Keller in The Miracle Worker (1962), a role she'd originated on Broadway. The following year, Sidney Sheldon (who would go on to create I Dream of Jeannie in 1965) created the concept for The Patty Duke Show, in which the actress would play identical cousins whose personalities couldn't have been more different — a concept inspired by his noticing she seemed to have two personalities. Unfortunately neither he, Patty, or anyone else could possibly know that she was actually suffering from bipolar disorder. It's something that would haunt her for most of her life.
Entering the 'Valley of the Dolls'
The Patty Duke Show ended its run in 1966, and in response she turned back to movies, beginning with Valley of the Dolls, an over-the-top adaptation of Jacqueline Susanne's novel. She was Neely O'Hara, a singer addicted to alcohol and drugs. While the film earned money, Patty didn't get the greatest of reviews, largely because of her previous image and what she was trying to do here. Moving back to television, she started making TV movies, which garnered her three Emmy Awards. As was the case with so many of the actresses on this list, TV movies became a way of life as she starred in dozens of them. Additional series were It Takes Two (1982 to 1983), Hail to the Chief (1985), and Karen's Song (1987). Patty was married four times, including to The Addams Family star John Astin.  She had three sons, two of which (Sean and Mackenzie Astin) are actors. She died March 29, 2016, of sepsis from a ruptured intestine. She was 69.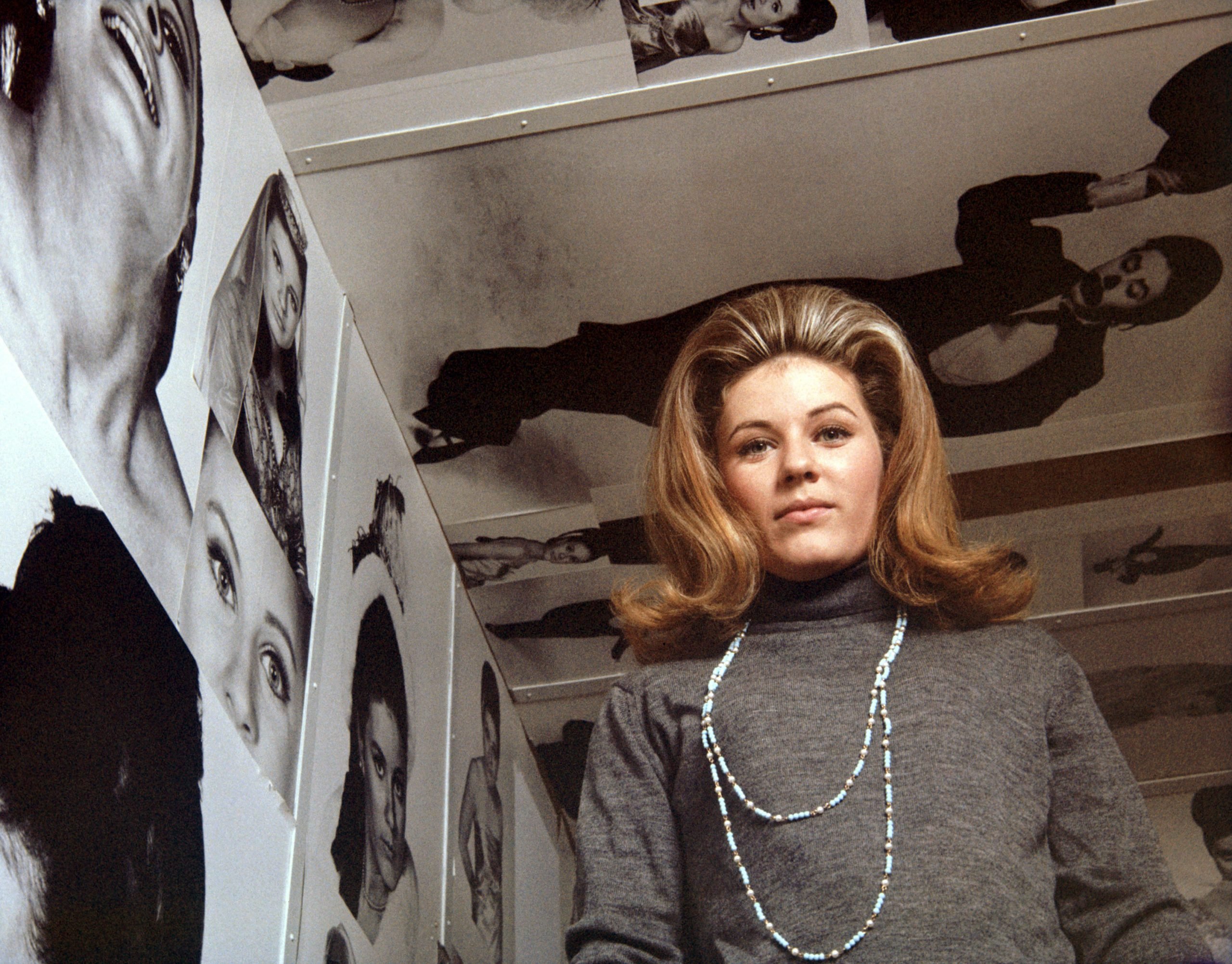 22. Carol Burnett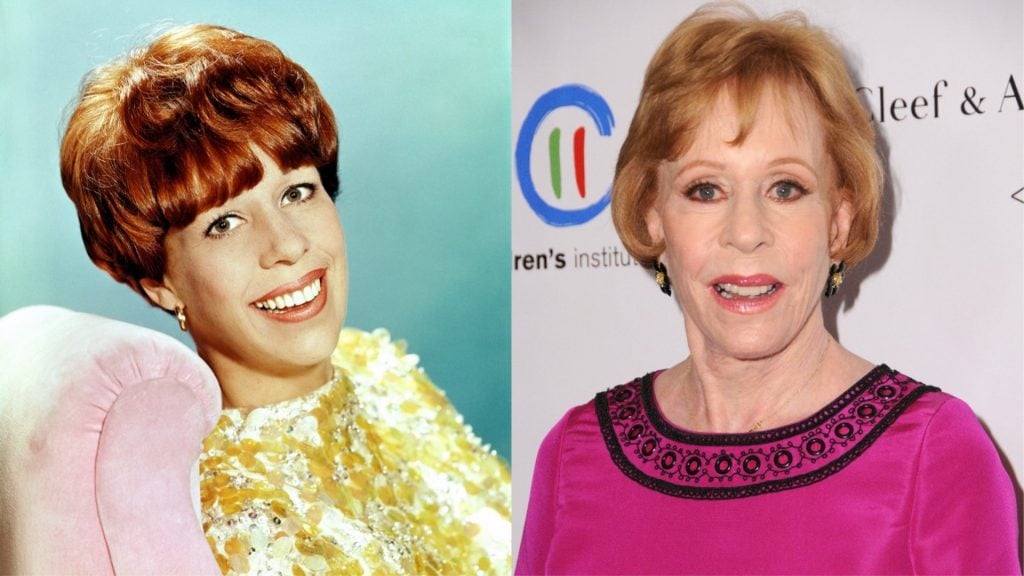 In a way we're giving short shrift to Carol Burnett in that if you had to boil her career done to one thing, it would undoubtedly be The Carol Burnett Show (1966 to 1978), arguably the greatest comedy variety show ever produced. Born April 26, 1933, when Carol went to college she wanted to study to be a playwright but found she also had to take an acting course. Releasing all inhibitions, she found that the people she performed in front of roared with laughter and she suddenly found her calling. Making her way to television, she appeared on variety shows and made guest appearances on episodes. All of which led to CBS producing her variety show, which would go on to win 25 Emmy Awards and bring together the likes of Harvey Korman, Tim Conway, and Vicki Lawrence.
Expanding Her Horizons
Afterward, Carol continued appearing on a variety of series (including good friend Lucille Ball's The Lucy Show), TV movies (some dramatic), and features (the film version of Annie among them). She also produced and recurred in Mama's Family, based on the skit from her show. She's written a number of memoirs and non-fiction books. Carol was married three times, to Don Saroyan from 1955 to 1962, Joe Hamilton from 1963 to 1984, and Brian Miller in 2001. She has three children. Carol is 88.
23. Doris Day (1922-2019)
The legendary actress, singer, and animal activist was born Doris Mary Anne Kappelhoff on April 3, 1922, in Cincinnati, Ohio. Plans to become a dancer were derailed by a car accident. While she was recovering, she started singing along to the radio and people noticed for the first time that she had a wonderful voice. Doris Day started singing with a small band and eventually went on tour with Les Brown, spending two years performing on Bob Hope's radio show. This would lead to a contract with Warner Bros to make movies and while many of them weren't very good, the moments when she got to sing? Everyone was blown away.
That's More Like It!
With her contract ended, Doris became an independent agent and started making great films, like James Cagney's Love Me or Leave Me, Alfred Hitchcock's The Man Who Knew Too Much, and the Bob Fosse-choreographed The Pajama Game. And as though she hadn't already impressed people, she made yet another shift and started making her sex comedies with Rock Hudson, like Pillow Talk; and similar films with Cary Grant, James Garner, and Rod Taylor.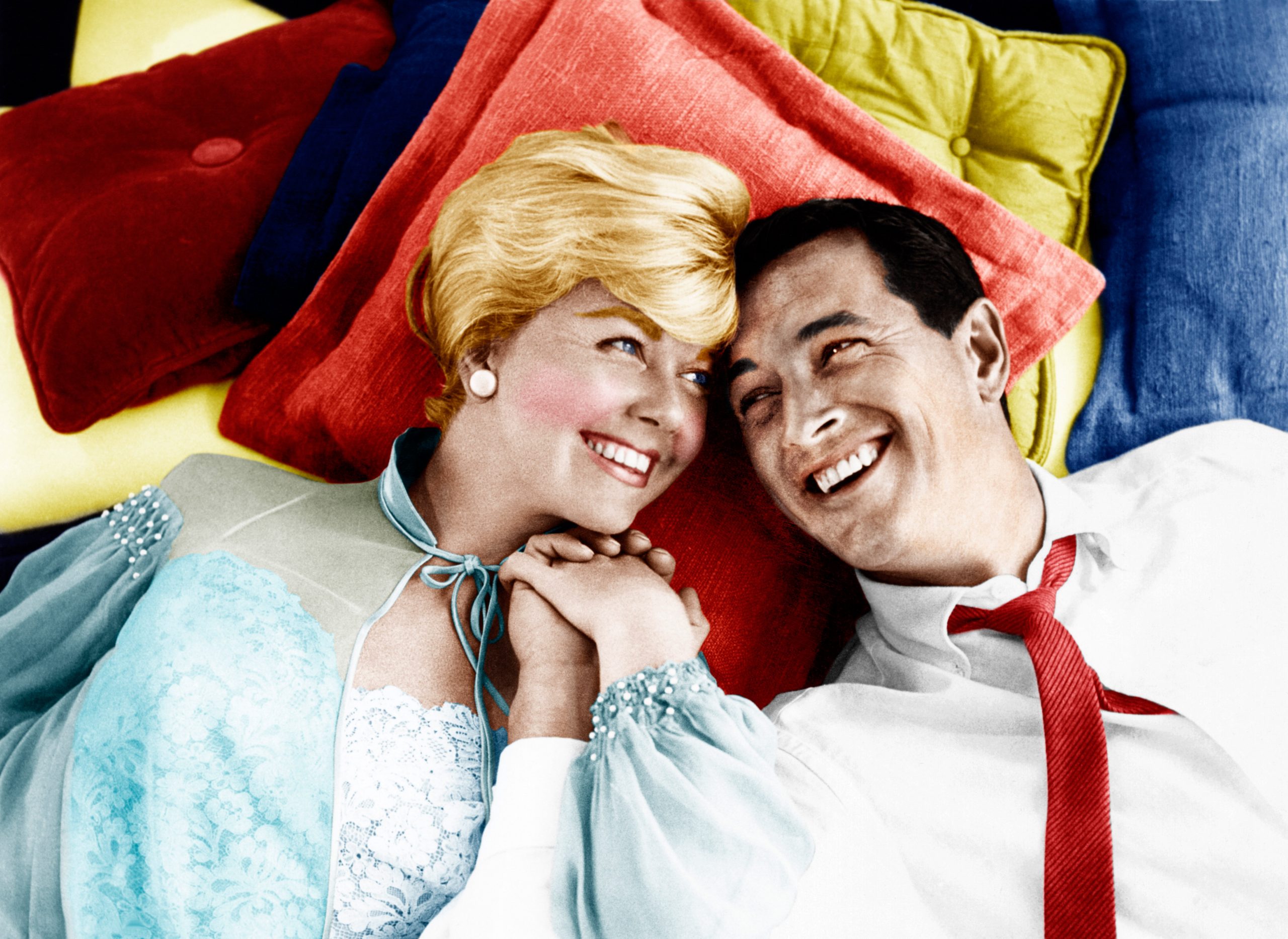 Changing Times Take Their Toll
By the late 1960s, society was changing. A lot. Doris' films suddenly felt dated and corny, and the situation wasn't helped by a dwindling quality of the scripts. As it would turn out, her husband, Martin Melcher, made terrible deals for her, because he needed the money. He actually went through much of her fortune without her even realizing it. After he died, she was told that she was actually $50,000 in debt. And on top of that, she was signed to star in a sitcom. That turned into The Doris Day Show, which ran from 1968 until March 1973; and a pair of specials. While her reason for doing all of that was nothing she wanted to deal with, the truth is that she made a lot of money with them, which took her out of debt.
Life without Hollywood
When these commitments behind her, she turned her focus to animal activism, although she did also host a talk show on CBN called Doris Day's Best Friends, which went 26 episodes between 1985 and 1986 — including one featuring Rock Hudson. One important episode was the one featuring Rock Hudson (though he didn't acknowledge that he was suffering from AIDS at the time).  She was married four times between 1941 and 1982 and had one son. After contracting pneumonia, Doris died on May 13, 2019, at the age of 97.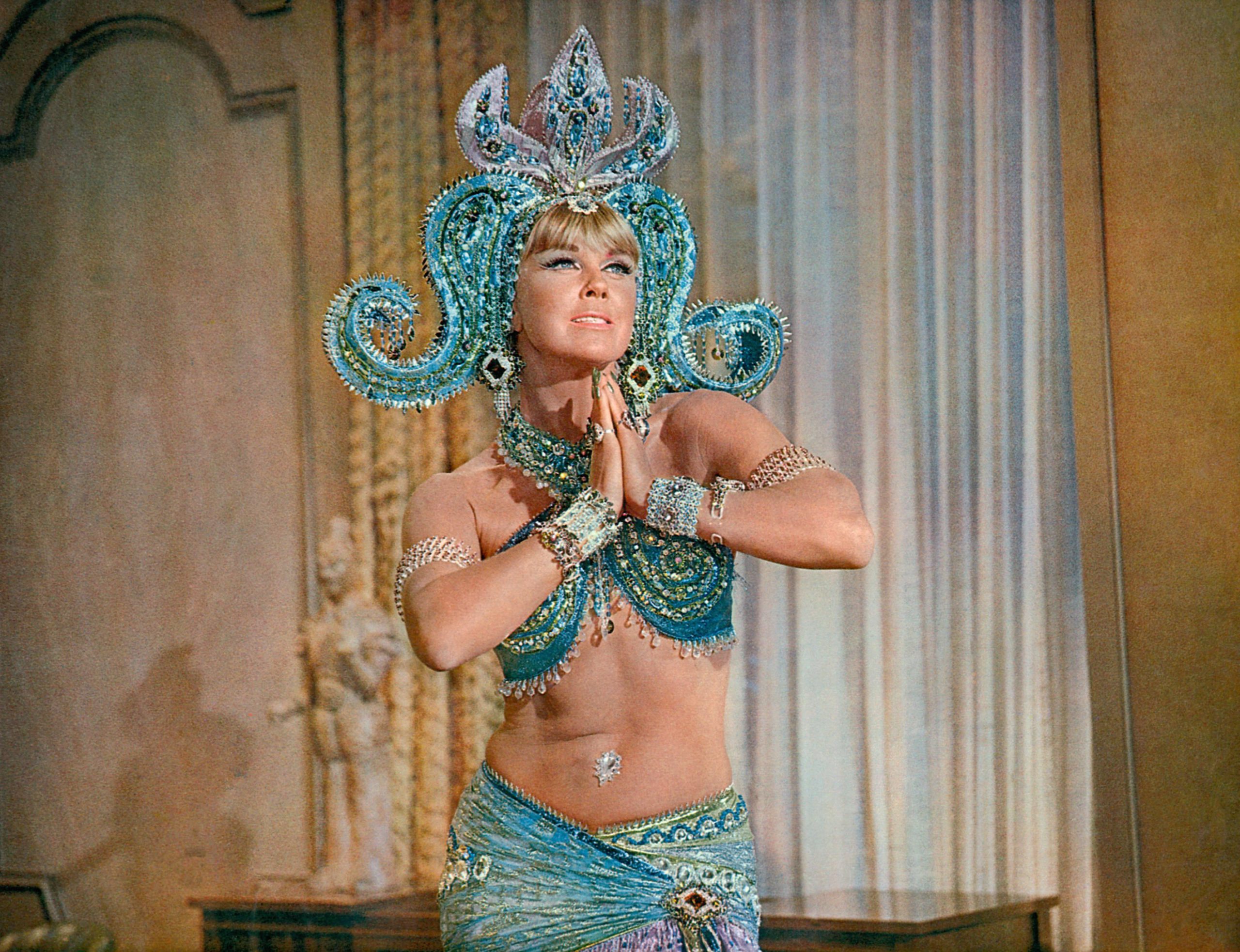 24. Barbara Feldon
If you've noticed, for the past couple of decades you haven't heard much from Barbara Feldon, our Agent 99 from Get Smart, and she's absolutely fine with that. Her first hire in show business was as a showgirl in a revival of the Ziegfeld Follies — leading her to be a contestant on TV game show The $64,000 Question in 1957 and winning the grand prize. Somehow, though, it destroyed her fledgling image as an actress, and she went into a retirement of sorts. She was eventually able to get a foothold in the worlds of modeling and television commercials.
Would You Believe …
A contract with Revlon followed as did commercials, which were so popular that it led to guest star appearances on many series, including The Man from U.N.C.L.E. That, in turn, led to James Bond spoof Get Smart along with Don Adams as Maxwell Smart, Agent 86 for CONTROL. For her part, she liked the idea of having a "family" that she could be with every day making the show.
Not Quite So 'Smart'
Get Smart came to an end in 1970 after five seasons and 138 episodes. Over the years following it, Barbara not only guest-starred on different shows (Cheers and Mad About You among them), but 15 TV movies, including Get Smart Again (1989). Needless to say, she reprised the role of 99 for that film and did so once more in a short-lived show simply titled Get Smart, with she and Don Adams taking a rear position to the characters' son, Zach (Andy Dick). In 1980 she appeared on Broadway in Past Tense. In recent years she hasn't done much, which she's thrilled about, no doubt emphasized in her book Living Alone & Loving It: A Guide to Relishing the Solo Life. She was married to Lucien Verdoux-Feldon from 1958 to 1967, and with partner Burt Nodella from 1968 to 1979. Barbara is 89.
25. Honor Blackman (1925-2020)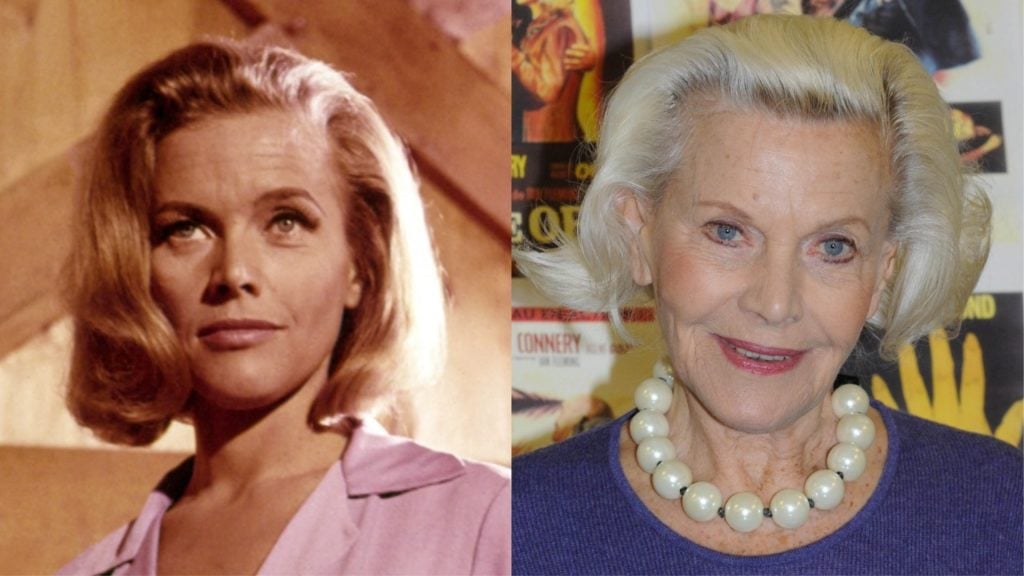 There is an amazing moment in the James Bond film Goldfinger when Sean Connery's 007 awakens after being knocked out on a plane. In front of him is a woman aiming a gun at him. "Who are you?" he asks. She responds, "My name is Pussy Galore," to which Bond, without missing a beat, offers, "I must be dreaming." Legendary! Bringing that character of Pussy Galore to life is Honor Blackman, best known in the early 1960s for her role as Cathy Gale on the British series The Avengers (which has nothing to do with Iron Man, Captain America, and those guys).
'You're a Woman of Many Parts, Pussy.' — James Bond
Born August 22, 1925, in England, Honor Blackman took the acting lessons her parents offered her to part and began studying at the Guildhall School of Music. After graduating, she became an understudy for the play The Guinea Pig, being held on London's West End. More roles followed and then she made the shift to British-shot movies. In the 1960s, she began taking judo lessons in preparation for The Avengers. She was part of the show from 1962 to 1964 and left to shoot Goldfinger.
Enjoying the Single Life
In the years to come, she would be back on stage on numerous occasions (including a 1981 production of The Sound of Music and, in 2007, Cabaret), in films and on television, both in America and Britain. Honor also recorded some music and participated in a Doctor Who audio drama. She was married twice, to Bill Sankey from 1948 to 1956 and Maurice Kaufmann from 1961 to 1975. After their divorce, she stayed single, stating that she enjoyed that lifestyle better. She died of natural causes on April 5, 2020, at age 94.
26. Annette Funicello (1942-2013)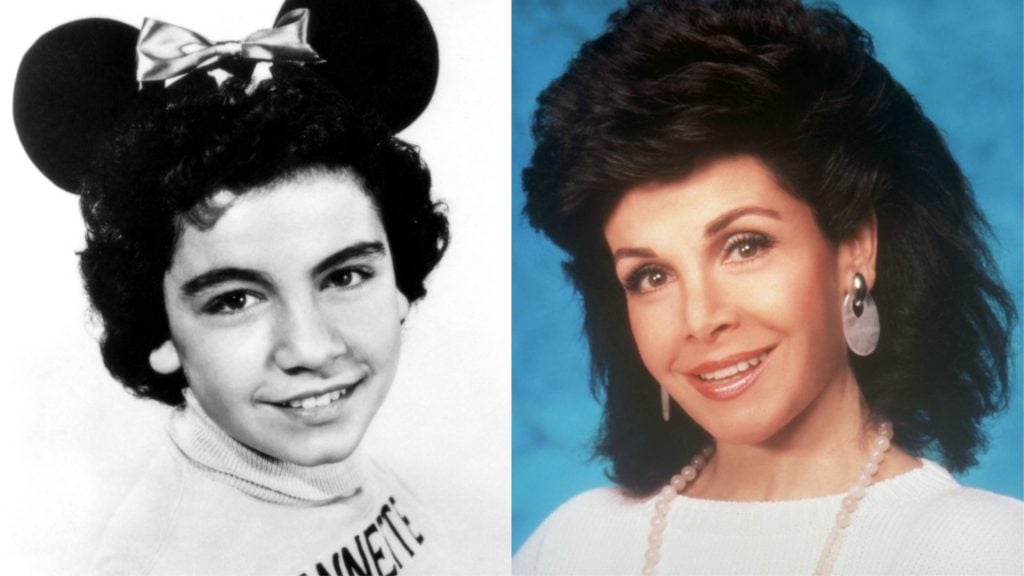 In the 1950s, America fell in love with Annette Funicello when she was a part of TV's The Mickey Mouse Club, and that love affair continued in the 1960s when she co-starred with Frankie Avalone in a number of "Beach Party" movies. Having sung as a Mousketeer, she decided to keep that going and recorded the singles "O Dio Mio," "Tall Paul" and "Pineapple Princess," and can be heard on 20 albums.
'Back to the Beach'
Annette appeared on TV in episodes of The Danny Thomas Show, Zorro, Wagon Train, Love American, Style, Growing Pains, and Full House (with Frankie Avalon). Then there were movies like The Shaggy Dog (1959), Bikini Beach (1964), Fireball 500 (1966), and Thunder Alley (1967). She and Frankie reunited for the campy Back to the Beach (1987). She's written her autobiography (A Dream is a Wish Your Heart Makes) and several entries in The Annette Mysteries. A longtime spokesperson for Skippy peanut butter, in 1992 she announced that she was suffering from multiple sclerosis. Married twice to Jack L. Gilardi from 1965 to 1981, and Glen D. Holt in 1986 until her death on April 8, 2013, at age 70.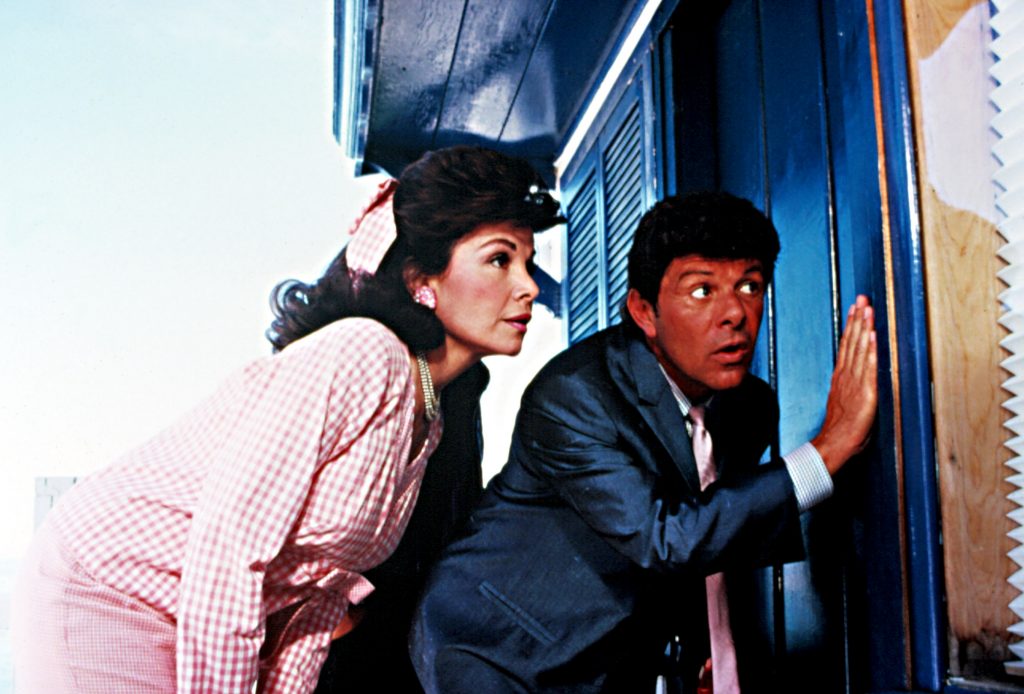 27. Tippi Hedren
Working as a model and appearing on television commercials in the late 1950s and early 1960s, Tippi Hedren (actually born Nathalie Kay Hedren on January 19, 1930) caught the attention of director Alfred Hitchcock, who signed her to a seven-year contract. The result was that she would star in his 1963 horror film The Birds and the disturbing psychological drama, Marnie (1964), starring Sean Connery. In many ways, Hitchcock put her through hell and, especially on Marnie, was as obsessed with Tippi as Connery's character was with hers. After two films, she and the director went their separate ways.
'Lions, Lions and More Lions'
In 1969, Tippi and her then-husband, Noel Marshall, were in Africa shooting the film Satan's Harvest. After a game warden moved out of a house there, they watched a pride of lions essentially move in and adapt to living there. As a result, Noel wrote a script called Lions, Lions and More Lions (later retitled Roar). They somehow got permission to shoot the film on a ranch they'd purchased in Acton and it took many years and $17 million to produce it involving real animals (accompanied by real life-threatening maulings). When it was over, Tippi was determined to come up with the money to help the animals and did by creating The Roar Foundation, a non-profit whose sole purpose was to take care of them. To raise funds, she would take any project that was offered to her, no matter how low budget. What this means is that there are far too many titles to try and list here.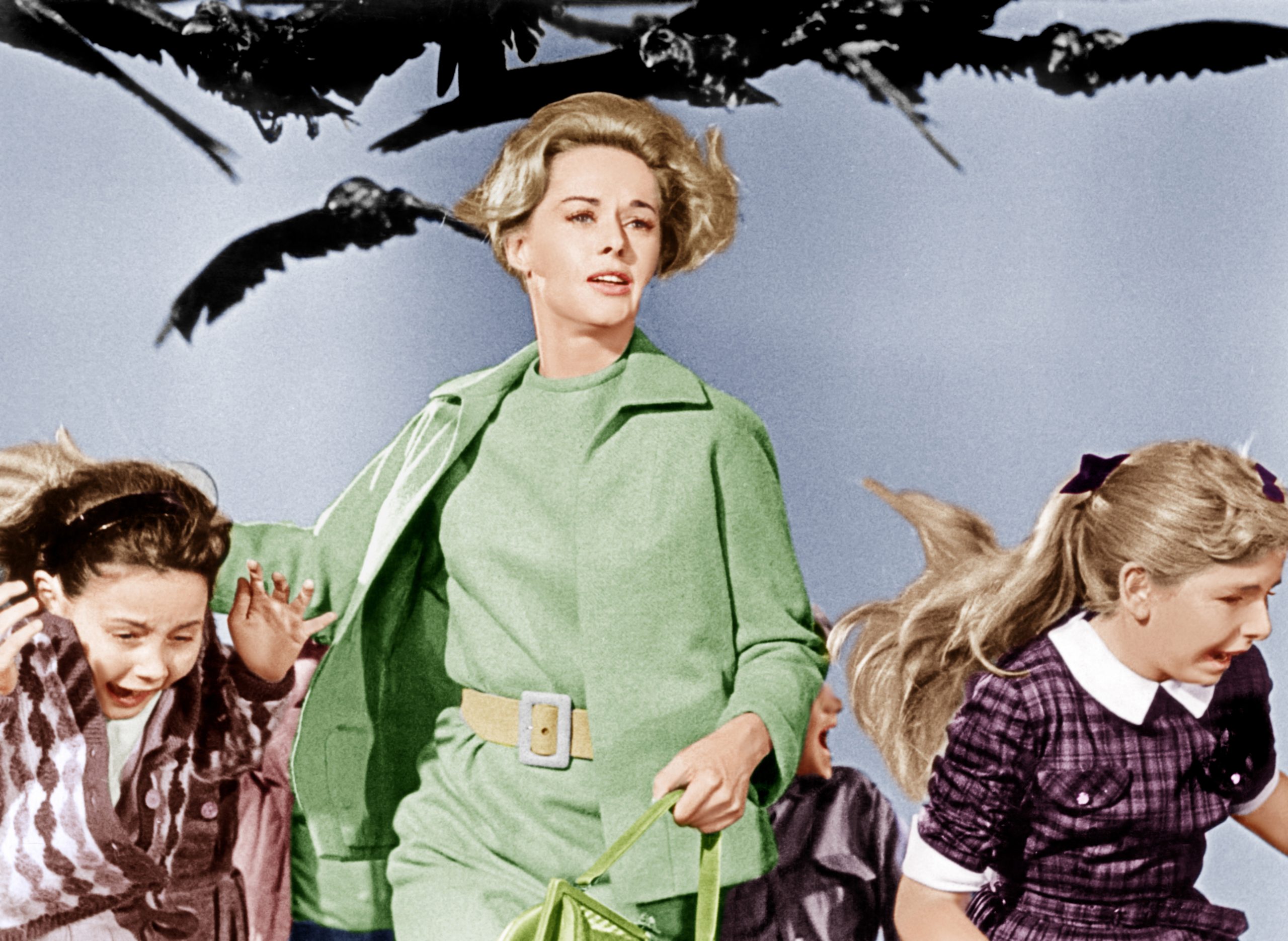 The Personal Stuff
Tippi has been married three times, to Peter Griffith from 1952 to 1961, Noel Marshall from 1964 to 1982) and Luis Barrenechea from 1985 to 1995. She is the mother of actress Melanie Griffith and the grandmother of Dakota Johnson. A true acting dynasty! Tippi is a trippy 92.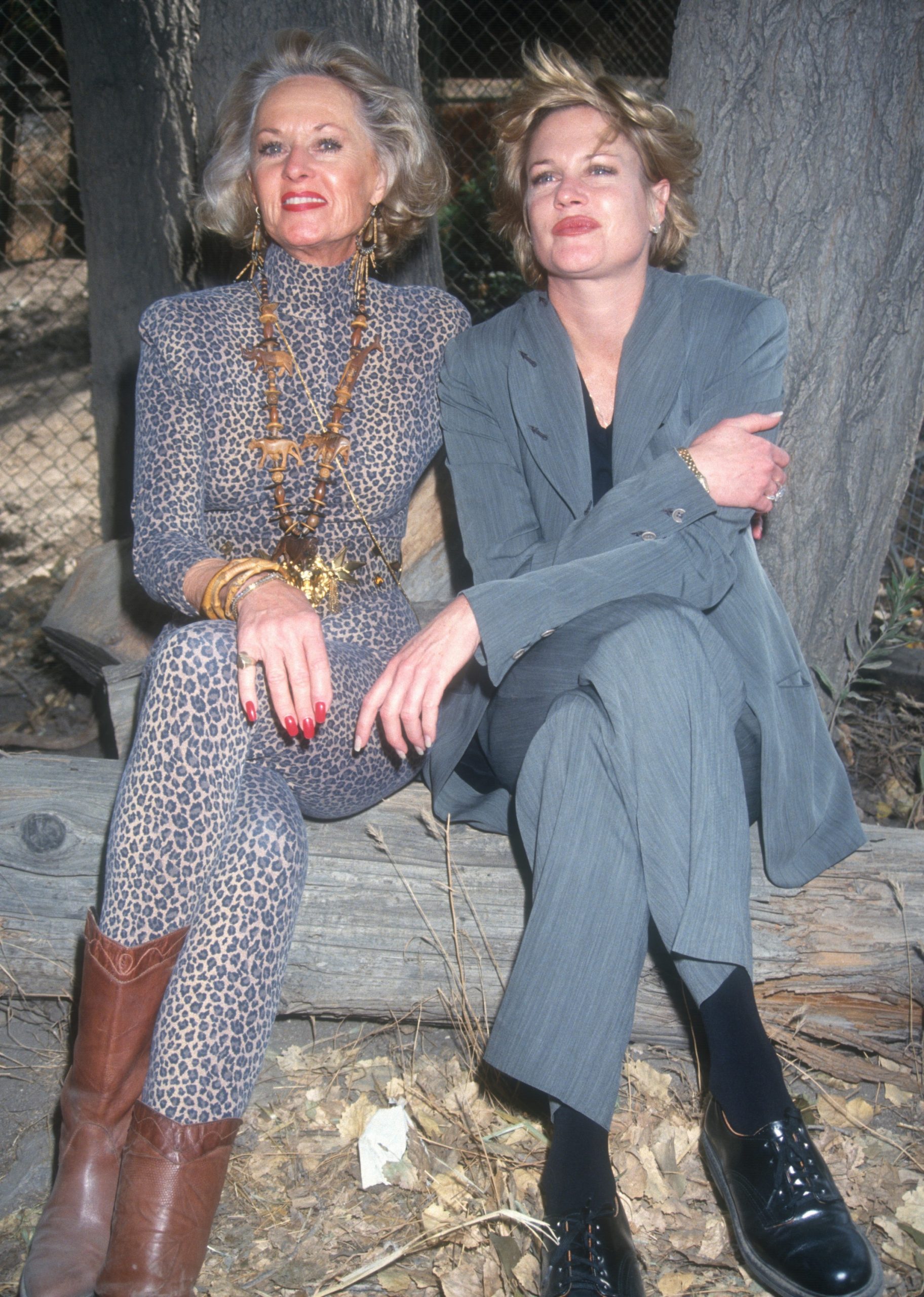 28. Sally Field

There's no doubt that Sally Field must have felt massive vindication when she won Academy Awards for her performance in (especially) Norma Rae and Places in the Heart. She got her start on the sitcom Gidget (1965 to 1966), which she looks back at fondly. This is diametrically opposed to her feelings about The Flying Nun (1967 to 1970) — in essence, she has virtually nothing good to say about it. Her frustration stems from the fact that she wasn't allowed to grow up or play a character that in any way reflected the changing society of the late 1960s. Her third show, The Girl with Something Extra (1973 to 1974), was pretty forgettable. But her frustrations over all of this changed her life.
'Sybil' and the 'Bandit'
Sally went to study at The Actor's Studio with Lee Strasberg, who helped guide her to let go of what her career on television had been and move on to the next level — which happened almost immediately. In 1976 she starred in the TV movie Sybil as a character suffering from multiple personality disorder that was so powerful, Sally brought home the Emmy Award and everybody noticed. Moving to the big screen, she starred with Burt Reynolds in the major hit Smokey and the Bandit, two years later it was the film about union organizer Norma Rae and from there a shift back and forth the next couple of years between comedies and dramas, including the previously-mentioned Places in the Heart.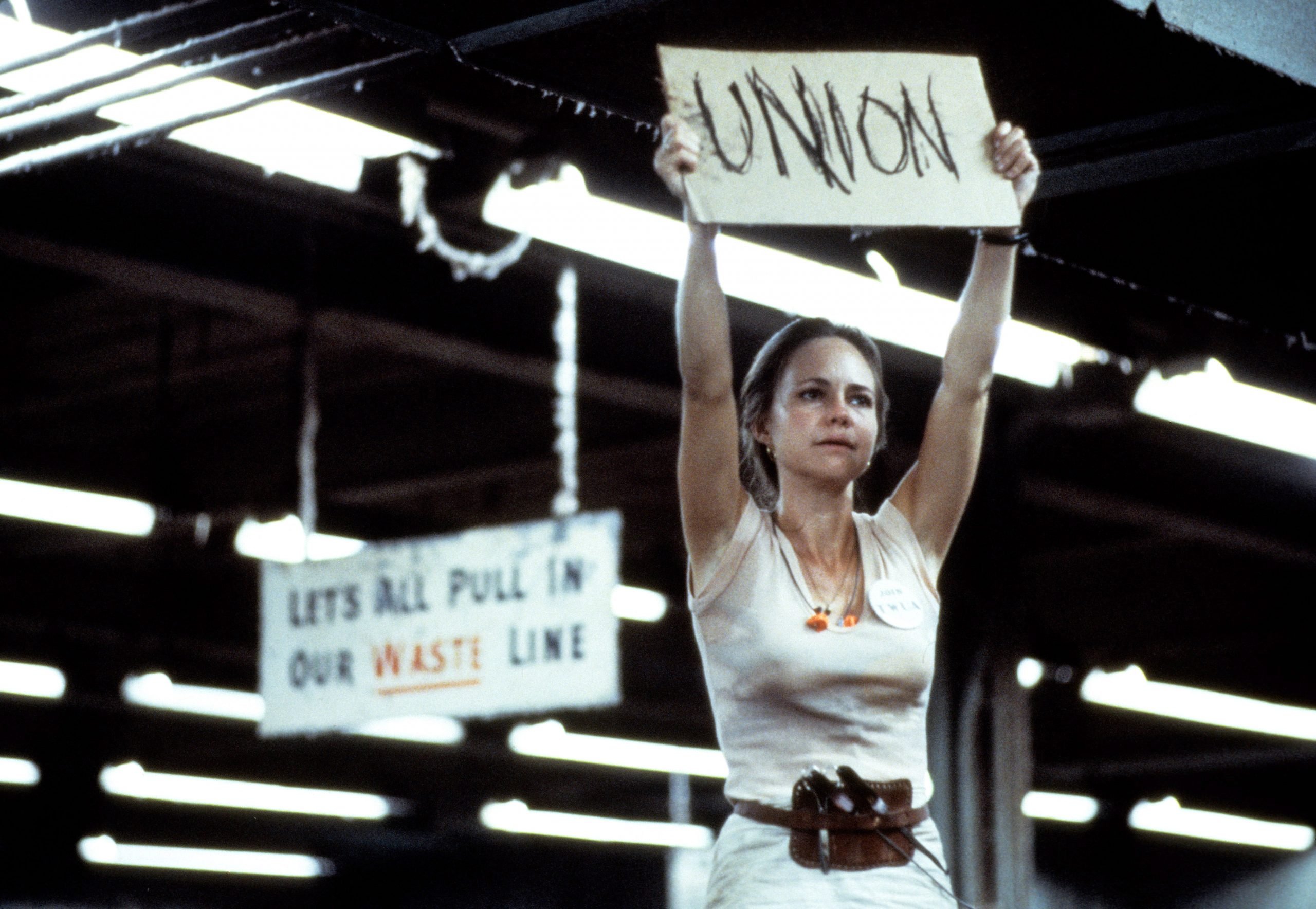 A Welcome Return to Television
Many other films followed over the decades, both dramas and comedies. And when she did return to television, it was a far more complex medium than the one she left. Sally had a recurring role on ER, appearing on 12 episodes between 2000 and 2006; and was the matriarch of Brothers & Sisters (2006 to 2011). Sally, born November 6, 1946, was married to Steve Craig from 1968 to 1975 and Alan Greisman from 1984 to 1993. She was romantically involved with Burt Reynolds from 1977 to 1980. She has three children. Sally is 75.
29. Tina Louise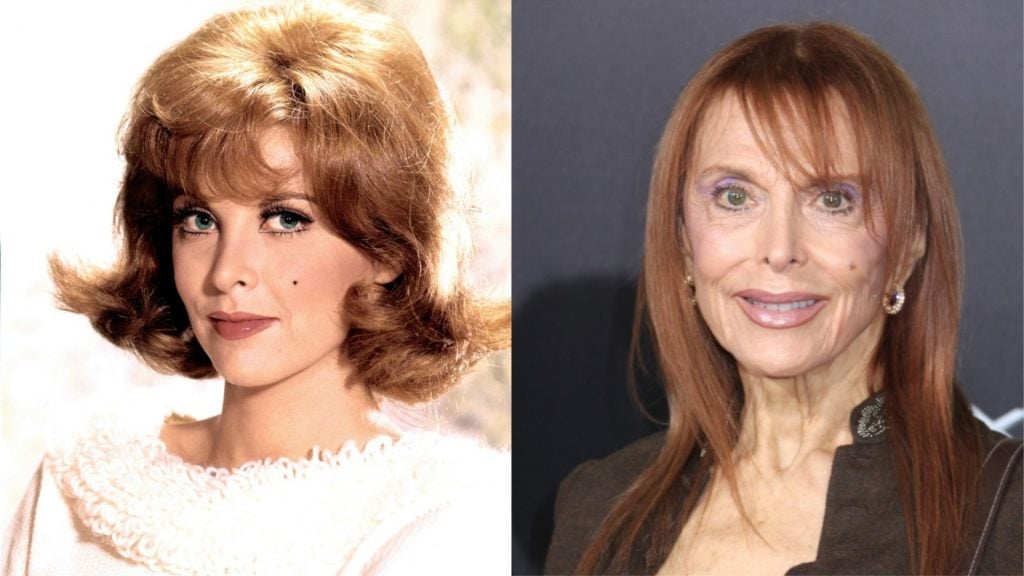 When you think of Tina Louise — as is the case with all of her co-stars — it's impossible not to have images of the Gilligan's Island TV series come to mind. But the truth of the matter is, Tina actually accomplished an awful lot prior to playing Ginger, "The Movie Star," and even after, despite all of those rumors about typecasting.
An Active Star
In the years leading up to Gilligan's 1964 debut, she appeared in eight feature films beginning with 1958's God's Little Acre. There were also a dozen television appearances during this time, alternating between dramas and comedies. And she was on Broadway in the musical Fade Out — Fade In, when she had to leave for California to start filming the series.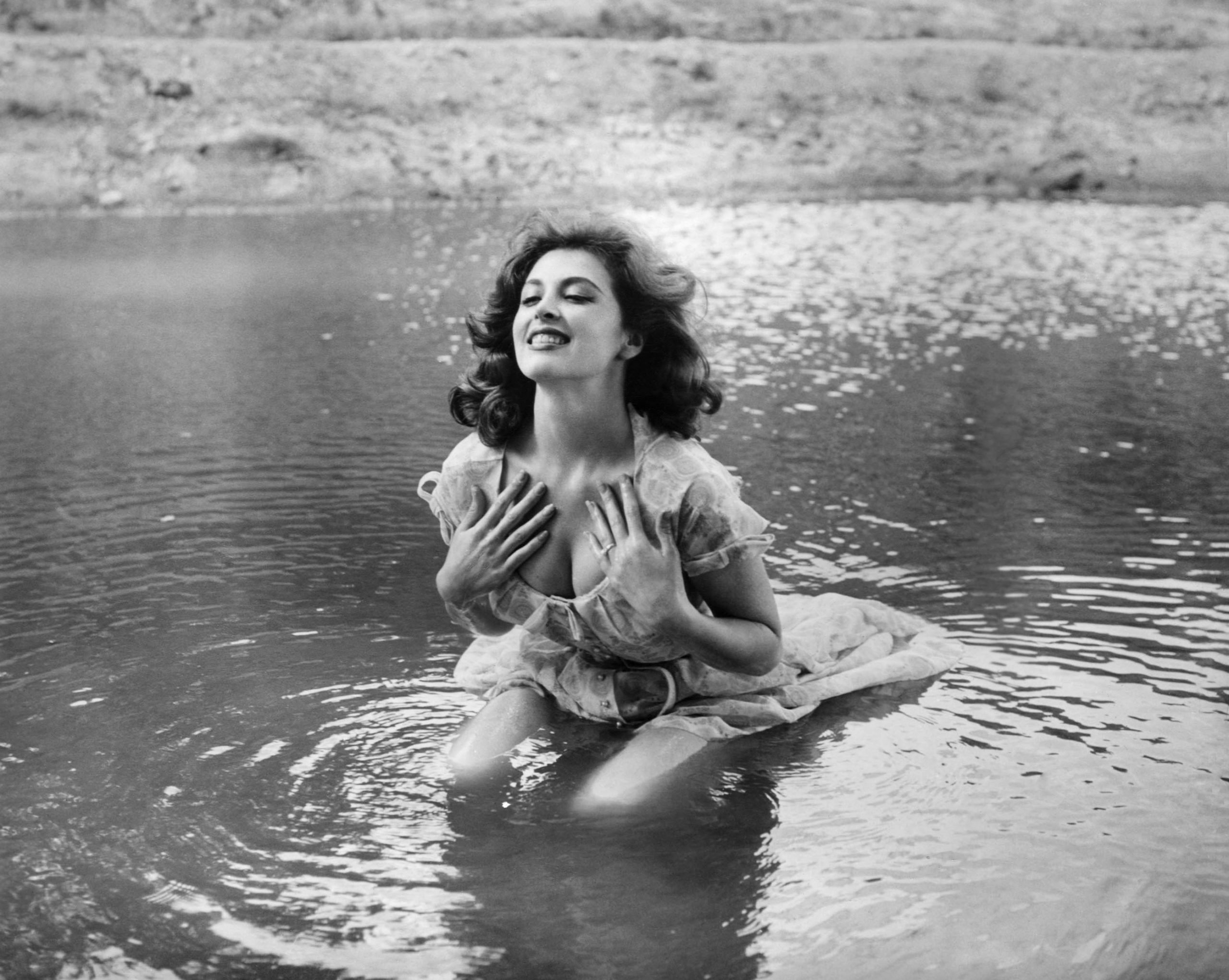 Leaving the 'Island' Behind
There's no secret in the fact that Tina grew tired of the material give to her on Gilligan's Island, and refused to appear in the three reunion movies that would be filmed in the late '70s and early '80s, but she certainly kept working. Over the years, among her movie credits are Dean Martin's Matt Helm adventure The Wrecking Crew (1968), But I Don't Want to Get Married! (1970), The Stepford Wives (1975), Hell Riders (1984), Welcome to Woop Woop (1997), and Tapestry (2019). And then there were dozens of TV appearances in terms of movies and episodes, some of them very dark compared to Gilligan's Island. She was married to Les Crane from 1966 until 1971 and has a daughter named Caprice Crane. Tina is 88.
30. Carolyn Jones (1930-1983)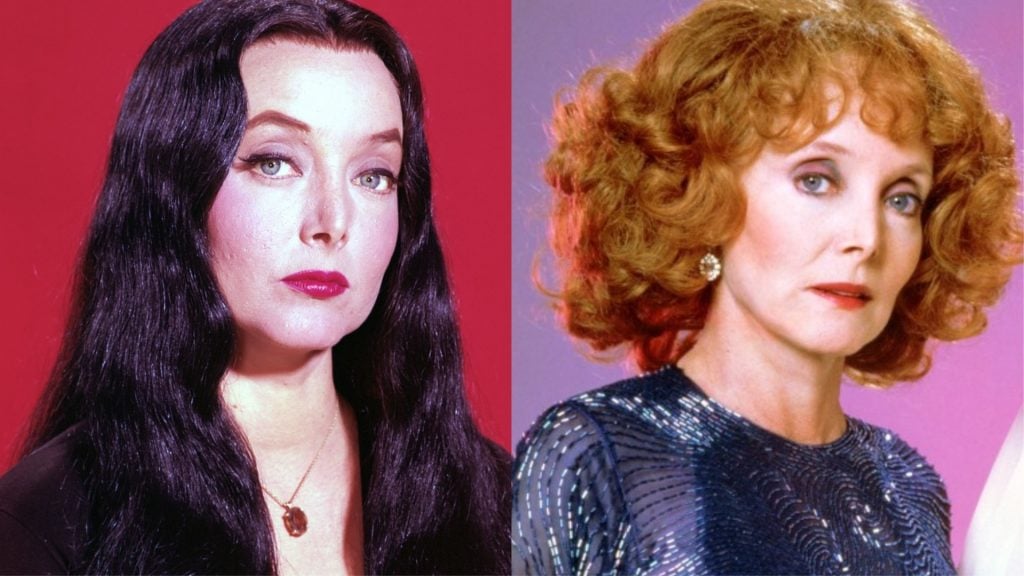 While Carolyn Jones was shooting The Addams Family, she told the media the reason she signed on because of a lack of movie work, though she did comment, "The show has brought me a whole new set of fans — the teenagers. As for getting typed, I'm not worried. I was a star in films before I was a star on TV. People should remember that. I hope." Well, they kind of didn't; as far as most people are concerned, Carolyn Jones is Morticia Addams. But we'll remember now.
Classic Credits
For The Bachelor Party (1957) she was nominated for the Academy Award for Best Supporting Actress, she appeared in the sci-fi classics The War of the Worlds (1953) and Invasion of the Body Snatchers (1956), was in Marilyn Monroe's The Seven Year Itch, was part of Alfred Hitchcock's The Man Who Knew Too Much (1956) and co-starred with Elvis in King Creole (1958) and Dean Martin and Shirley MacLaine in Career (1959).
'The Addams Family'
Carolyn played Morticia on The Addams Family from 1964 to 1966, nicely generating sexual chemistry with co-star John Astin as Gomez. When the show was over, she appeared in four films, the final one being 1979's Good Luck, Miss Wyckoff; and many TV shows, including five episodes of the Batman TV show as Marsha, Queen of Diamonds. She reprised the role of Morticia on the 1977 TV movie Halloween and the New Addams Family. Her final acting role was on eight episodes of the daytime soap opera Capitol as Myrna Clegg. Between 1950 and 1982, Carolyn was married four times (including to future producer Aaron Spelling). In 1982, she was diagnosed with colon cancer and died on August 5, 1983. She was only 53 years old.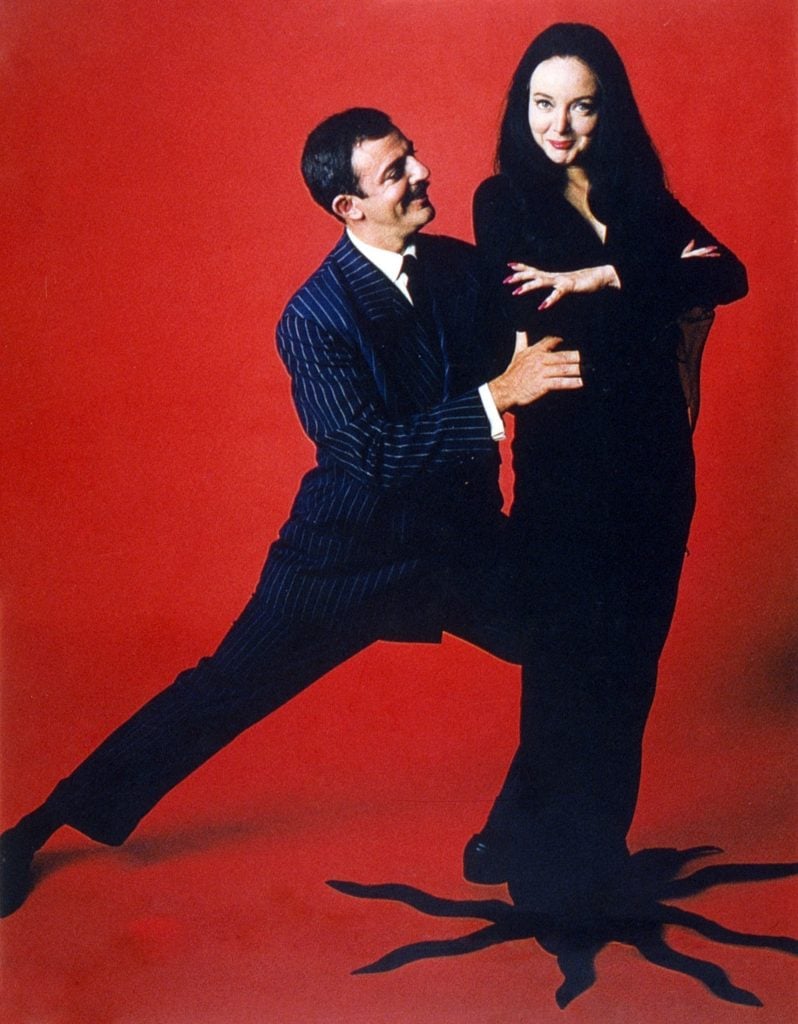 31. Lara Parker
One of the big sensations of the 1960s, though there really were a lot of them — The Beatles, James Bond, Batman, etc. — was the daytime horror soap opera Dark Shadows. With the success of Jonathan Frid as vampire Barnabas Collins, the writers came up with all sorts of supernatural beings, one of which was Angelique, the witch played by actress Lara Parker. You would be hard-pressed to find anyone as delighted at being evil as Lara is. She brought the character to the big screen in 1971's Night of Dark Shadows, and when the show ended that same year, she began appearing on many different TV shows. She's taken stage roles in Woman is My Idea, Lulu, and A Gun Play. But Dark Shadows has never been far from her. She's written three novels inspired by the show, and been voicing the character in a series of audio dramas. She's been married twice and is the mother of three. Lara is 83.
32. Molly Peters (1942-2017)
Admittedly Molly's role in the fourth James Bond film, Thunderball (1965), was a short one, but it was a lot of fun. When Bond (Sean Connery) is almost killed at a health spa, he manages to shrug off the pain when he realizes that employee Patricia Fearing could get in trouble if he says anything. Not that he's being a nice guy, he just figures it's reason enough for her to sleep with him. Hmm. Probably couldn't get away with that today. Her career was very limited, appearing in just six additional films and two guest star appearances on TV. Molly died on May 30, 2017, at the age of 75.
33. Elizabeth Montgomery (1933-1995)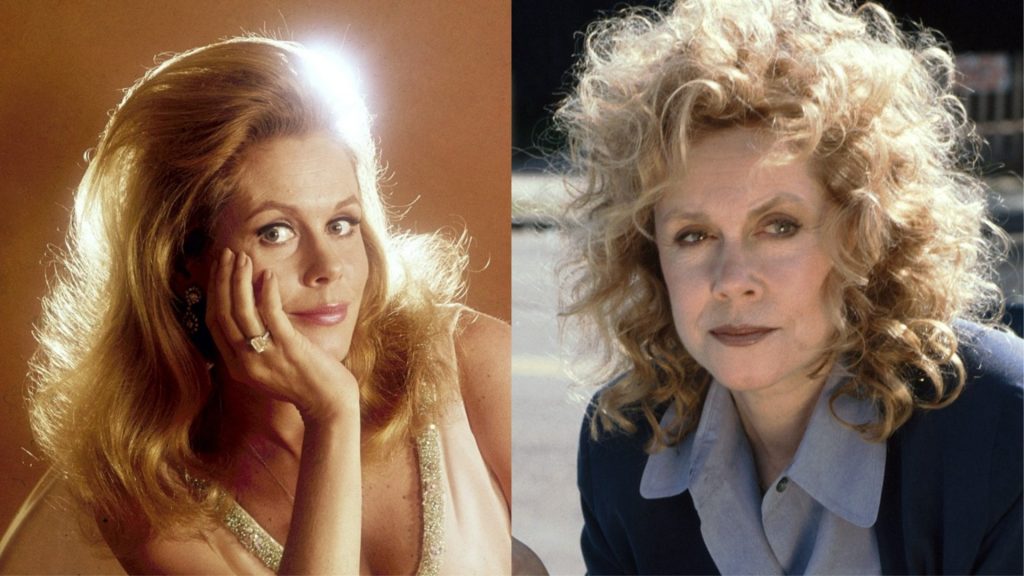 The daughter of actor Robert Montgomery, Elizabeth Montgomery decided to chart her own destiny and — without daddy's help (although she did make her debut on his TV show Robert Montgomery Presents) — started scoring film roles, which fairly quickly led to her starring on the Classic TV sitcom Bewitched. That show ran from 1964 to 1972 and continues to delight audiences today in this tale of a witch and a mortal trying to make their marriage work. After the show, she devoted herself to dramatic TV moves in order to shake off the role of Samantha Stephens. She was married four times and had three children. Unfortunately, Elizabeth died on May 18, 1995, at age 62 of cancer. For much more on the actress's life and career, please click HERE.
34. Julie Christie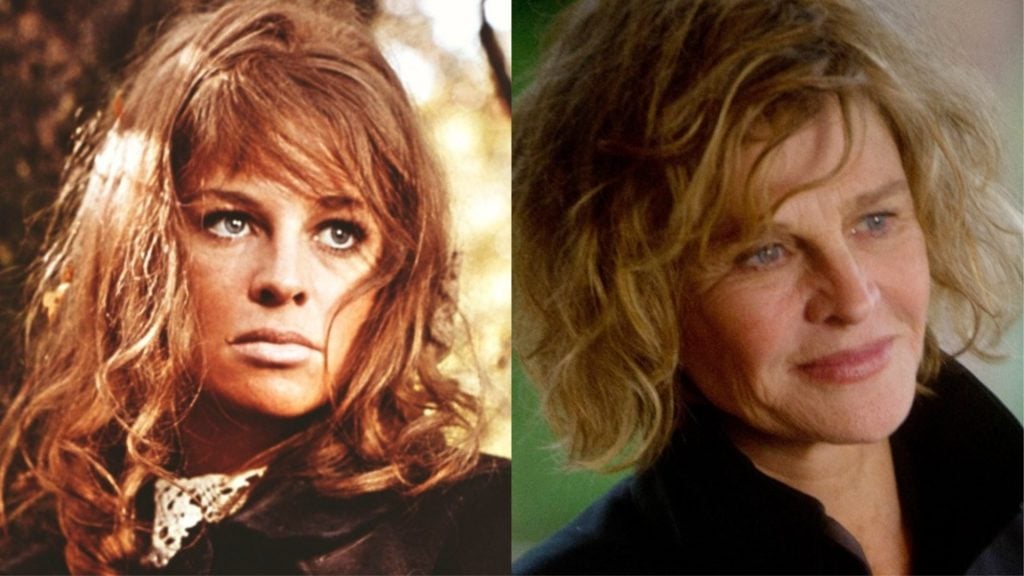 Everett Collection (2)
Born April 14, 1940, in British India, Julie made her stage debut in 1957 followed by a few British TV appearances. She was in the running for the role of Honey Ryder in the first James Bond movie, Dr. No, which went to Ursula Andress (who just happens to be towards the top of this list). Her early roles include Billy Liar (1953), Darling (1965), for which she won the Academy Award for Best Actress; Doctor Zhivago (1965), Fahrenheit 451 (1966), McCabe and Mrs. Miller (1971), Academy Award nominee; Shampoo (1975), Golden Globe  Award winner for Best Actress; The Return of the Soldier (1982) and the list goes on. Her most recent film is 2012's The Company You Keep. Married to Duncan Campbell, Julie is 82.
35. Diahann Carroll (1935-2019)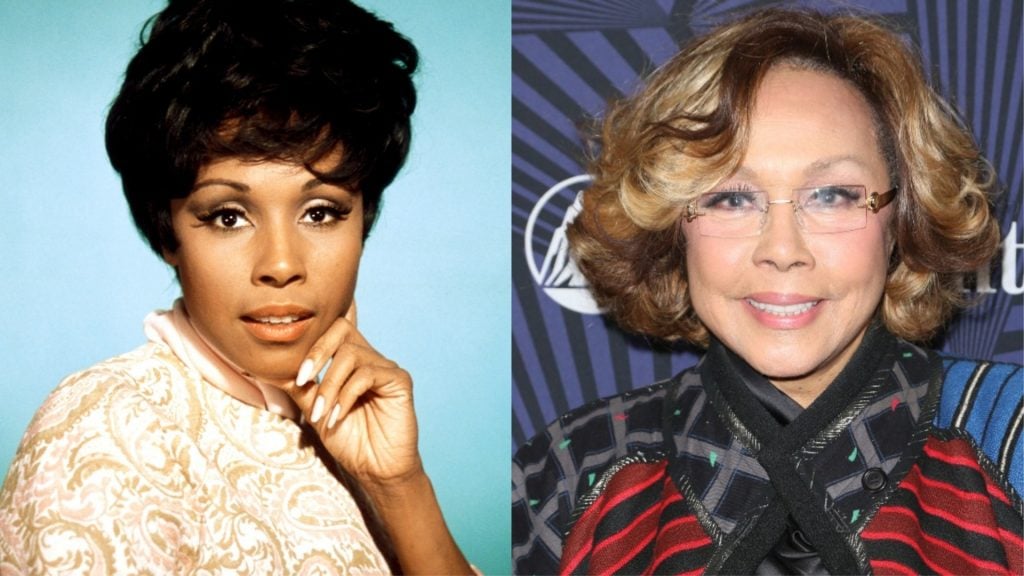 Diahann Carroll achieved a number of firsts in her lifetime. For starters, she won the 1962 Tony Award for best actress for her role in the Broadway musical No Strings, the first black woman to do so. In 1974, she starred with James Earl Jones in the film Claudine and was nominated for an Academy Award as Best Actress. And then, in 1968, there was her leading role in the sitcom Julia, the first American television series to have a black woman at its center, particularly in a non-stereotypical role. All truly amazing achievements and there was so much more in a career that spanned from 1954 to 2011.
Her Destiny Was 'Dynasty'
Her credits in film, TV, and on stage are extensive, and beyond them, she can be heard singing on about a dozen albums. Next to Julia, the television series that got her the most attention was Dynasty as Dominique Deveraux. She was married four times, to Monte Kay (1956 to 1963), Fred Glusman (1973 — divorced the same year), Robert DeLeon (1975 until his death in 1977), and singer Vic Damone (1987 to 1996). She was also romantically involved with Sidney Poitier (1959 to 1968) and David Frost (1970 to 1973). She had one child. Born on July 17, 1935, in the Bronx, New York, she died on October 4, 2014, at the age of 84 from breast cancer.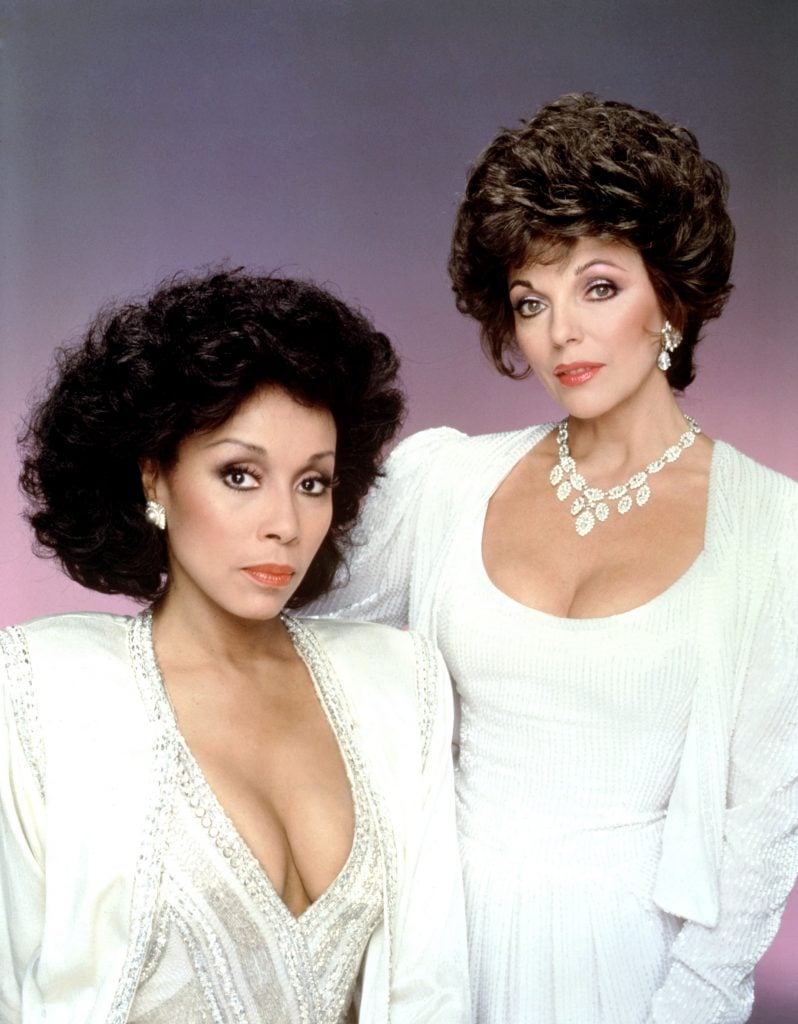 36. Natalie Wood (1938 to 1981)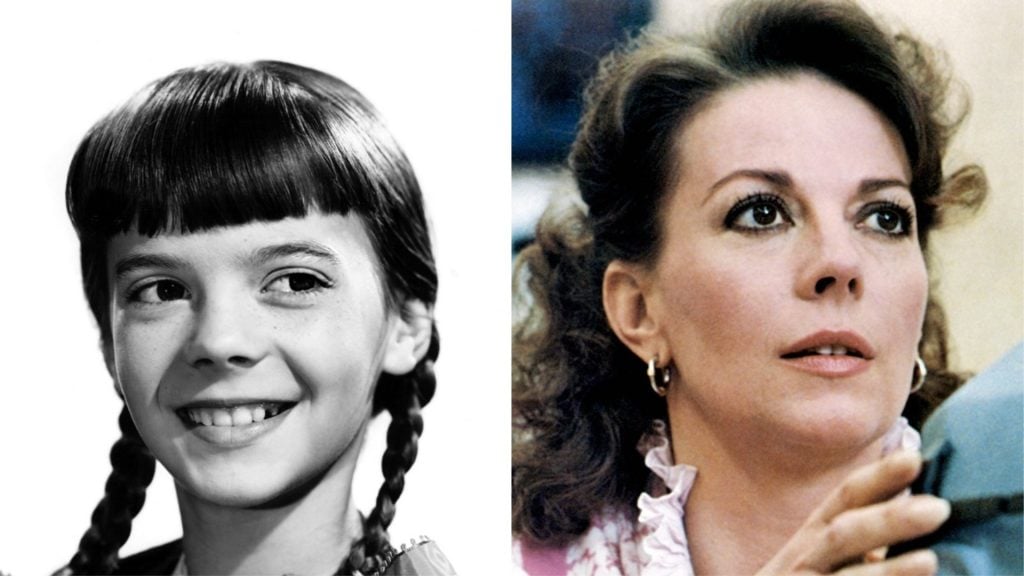 Natalie Wood died on November 29, 1981, under mysterious circumstances, having accidentally fallen off a boat she was on with then-husband Robert Wagner and friend Christopher Walken. What exactly happened? No one knows for sure, and it's not something being explored here. Just wanted to get that out of the way. What will be explored is the fact that Natalie, who was 43 when she died, had a pretty extensive career. Born July 20, 1938, in San Francisco, she made her debut as a 4-year-old in a fifteen-second sequence in Happy Land (1943). Next, at 7 she was cast opposite Orson Welles and Claudette Colbert in Tomorrow is Forever (1946), then with Maureen O'Hara in Miracle on 34th Street (1947). And then with Fred MacMurray in Father Was a Fullback (1949), Margaret Sullivan in No Sad Songs for Me (1950), James Stewart in The Jackpot (1950), Joan Blondell in The Blue Veil (1951), and Bette Davis in The Star (1952). Needless to say, even as a child she was a star!
A Career on Fire
Given her success on the big screen, it's a little surprising that she took on the TV sitcom The Pride of the Family from 1953 to 1954. The following year, when she was 16, she was back on the big screen with James Dean and Sal Mineo in Rebel Without a Cause, for which she was nominated for an Oscar in the category of Best Supporting Actress. There were a few rough years there, but she rebounded with Splendor in the Grass (1961), which garnered her a nomination for an Academy Award, Golden Globe Award, and BAFTA Award — things were turning around. Next up, West Side Story (1961), based on the Broadway musical as was her following film, Gypsy (1962).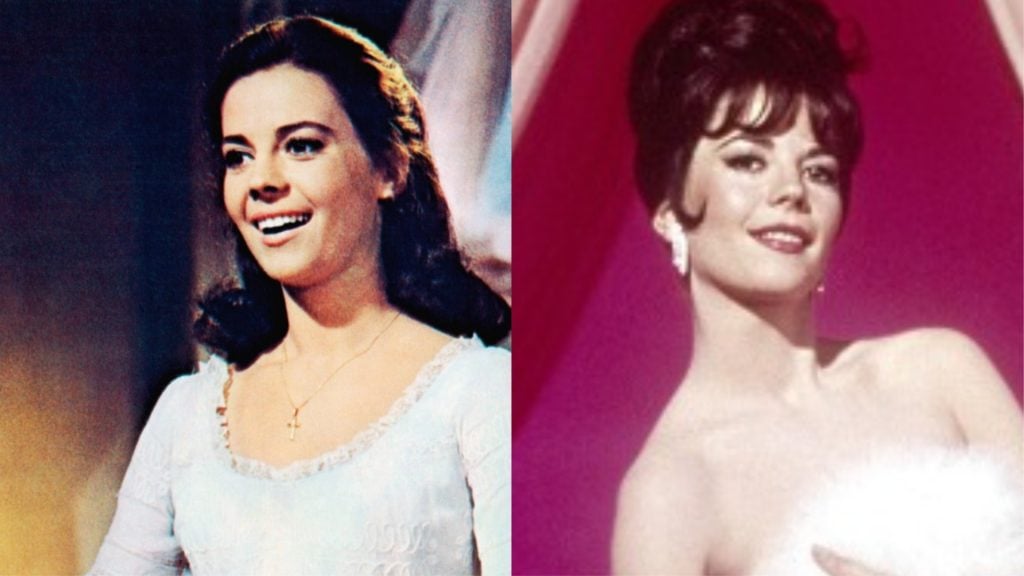 A Daughter, an Emmy and, Sadly, the End
She rounded out the 1960s with the sexual liberation comedy Bob & Carol & Ted & Alice (1969). After the birth of her daughter, Natasha Gregson, Natalie took a six-year break from acting. On returning, she made a few moderately successful films, but found juicier roles on television, including a remake of From Here to Eternity (1979), for which she took home a Golden Globe Award for Best Actress. At the time of her death, she was shooting the science fiction film Brainstorm (released in 1983) and had already mapped out plans for her next few projects, including her stage debut. Natalie was married twice, to Robert Wagner from 1957 until 1962 and then again in 1972 until her death; and Richard Gregson from 1969 to 1972. She had two children. At the time of her death she was 43.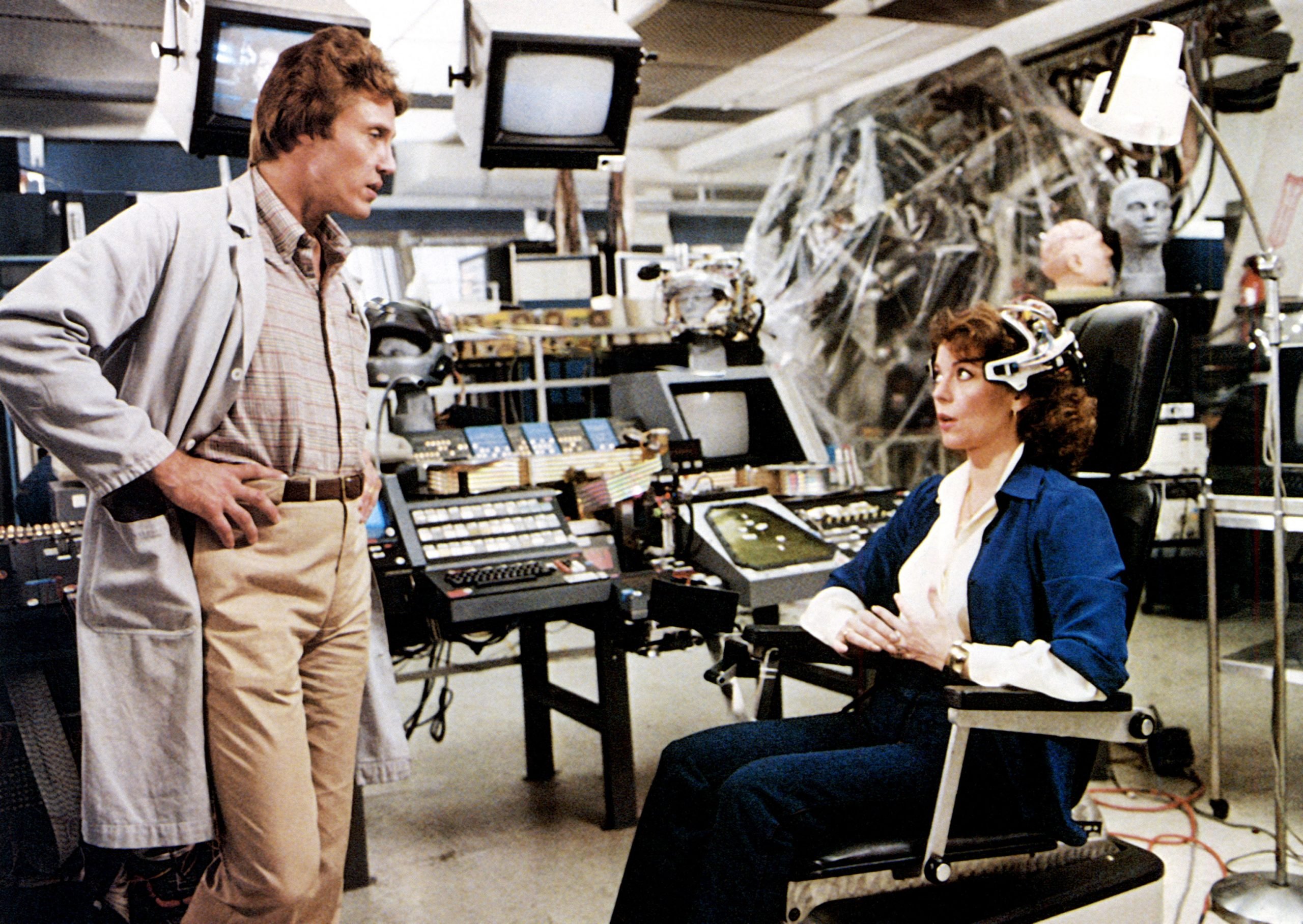 37. Peggy Lipton (1946-2019)
When she was 15, Peggy Lipton — who referred to herself as a "Topanga Canyon hippie" — became a model for the Ford Agency, which led to her first TV guest-starring role on Bewitched. Seven others as well as the feature film Blue followed prior to her being cast in her most famous role, "hippie cop" Julie Barnes on The Mod Squad (1968 to 1973). And then? She married producer Quincy Jones and took 15 years off to raise their kids, Kidada and Rashida Jones. She reprised the role of Julie in 1979's Return of the Mod Squad but didn't really come back full force until 1988, with the feature film Purple People Eater and, then, in the TV series Twin Peaks (1990 to 1991). Her final roles in 2017 were on A Dog's Purpose on the big screen and There's … Johnny! on the small. She recorded a pair of albums and five singles. Peggy died May 11, 2019, of colon cancer at age 72.
38. Kathryn Leigh Scott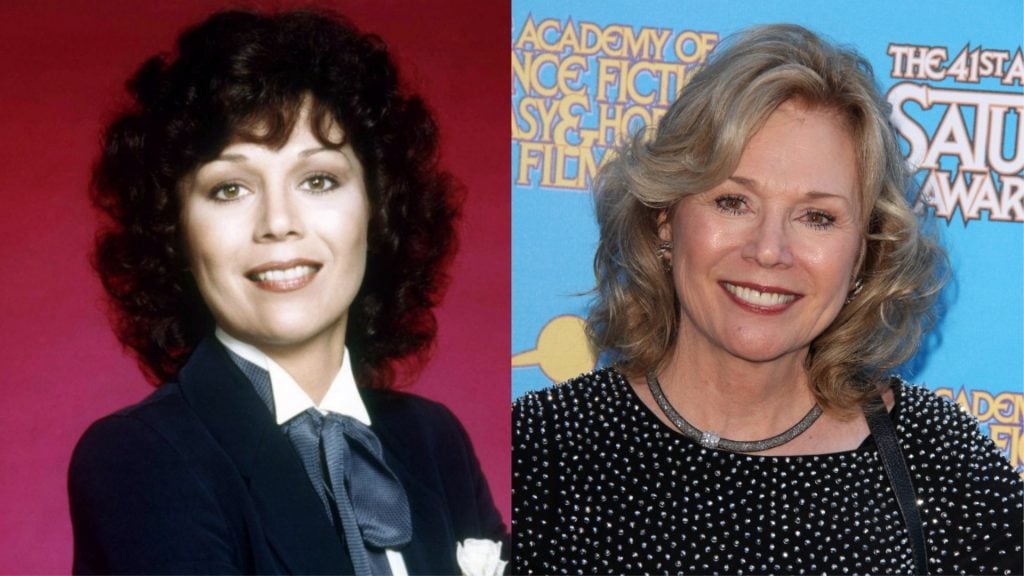 The other most prominent actress on Dark Shadows besides Lara Parker was Kathryn Leigh Scott, who played Collinsport waitress Maggie Evans, who would turn out to be the reincarnation of vampire Barnabas Collins' lost love, Josette du Pres. Born January 26, 1943, Kathryn had been working as a Playboy Bunny in the original New York Playboy Club. Upon graduation from the American Academy of Dramatic Arts, she was hired to play Maggie on Dark Shadows through the full run of 1966 to 1971. She also played the character in the 1970 feature film, House of Dark Shadows. Besides appearing in various films and TV series over the years (the most recent being 2018's A Rainy Day in New York), she is also the creator and operator of independent publisher Pomegranate Press, for which she's written books about Dark Shadows, her Playboy Bunny years and much more. She's voiced the character of Maggie and others in a series of Dark Shadows audio dramas from Big Finish Productions. She's been married twice, to Ben Martin from 1970 to 1990 and Geoff Miller from 1991 to his death in 2011. Kathryn is 79.
39. Diana Rigg (1938-2020)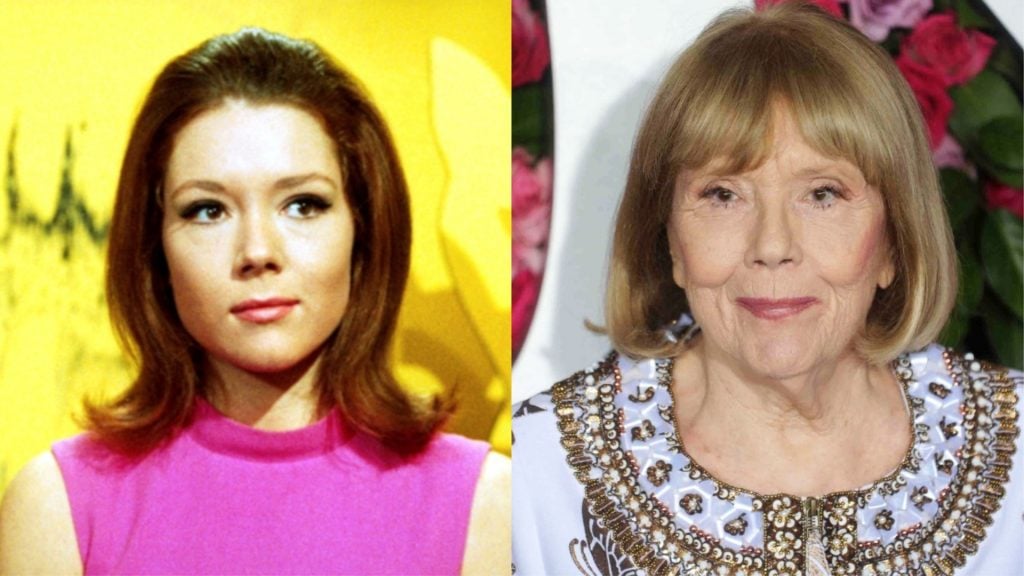 British born Diana Rigg, who only passed away on September 10, 2020, made her stage debut in 1957 in The Caucasian Chalk Circle. So impressive was she that just two years later she had joined the Royal Shakespeare Company, which would lead to a wide variety of shows and a stage career that would last most of her life, as early as King Lear in 1964 and as late as My Fair Lady in 2018.
'The Avengers'
She was far from limited to the stage, however, There was certainly British television, starting (appropriately enough) with a 1959 TV movie version of A Midsummer Night's Dream and going on to Black Narcissus, which she shot shortly before her death, but hasn't been scheduled yet. Her breakout role that caught the mainstream audience's attention was Emma Peel, alongside Patrick Macnee, in the spy adventure The Avengers. That particular gig lasted from 1965 to 1968.
Marrying James Bond
Like Honor Blackman before her — who had gotten scooped up from The Avengers to play Pussy Galore in Goldfinger — Diana essentially went from the show to the sixth James Bond movie, On Her Majesty's Secret Service (1969) The first without Sean Connery, it featured Australian model George Lazenby as 007, and was a very different entry in the series — Bond falls in love with Diana's Tracy di Vicenzo, they marry as she's murdered by Bond's enemy, Ernst Stavro Blofeld. Very heavy stuff for one of those films and Diana remains one of 007's favorite leading ladies. More recently, Diana appeared in 18 episodes of Game of Thrones as Olenna Tyrell. She was married twice, to Menachem Gueffen from 1973 to 1976 and Archie Stirling from 1982 to 1990. She's the mother of Rachael Stirling. Diana died of cancer on September 10, 2020 at age 82.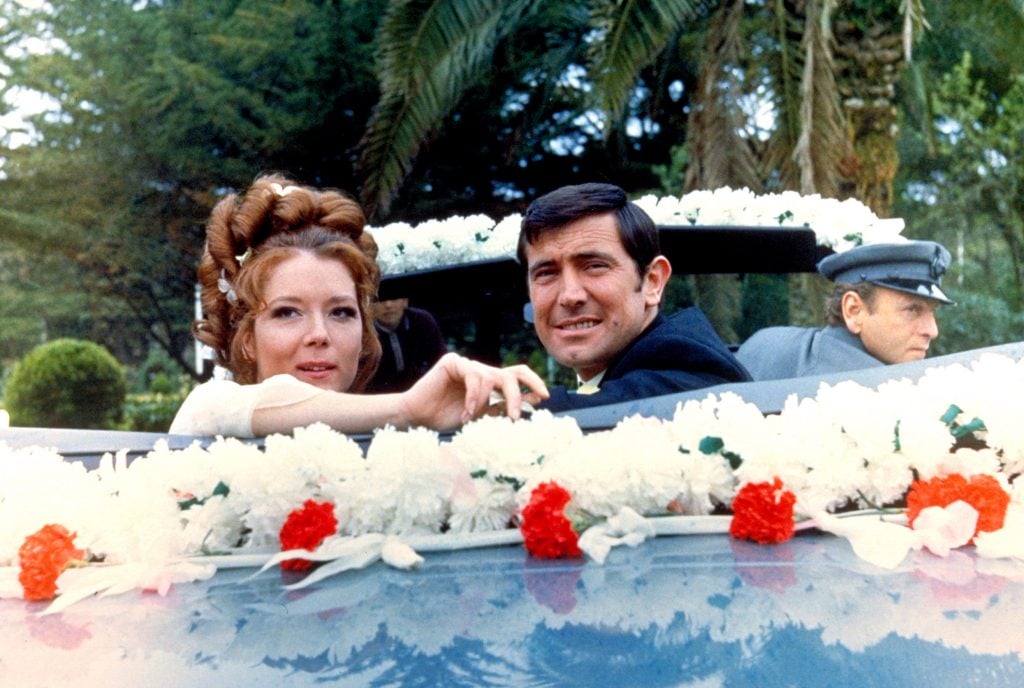 40. Gail Fisher (1935-2000)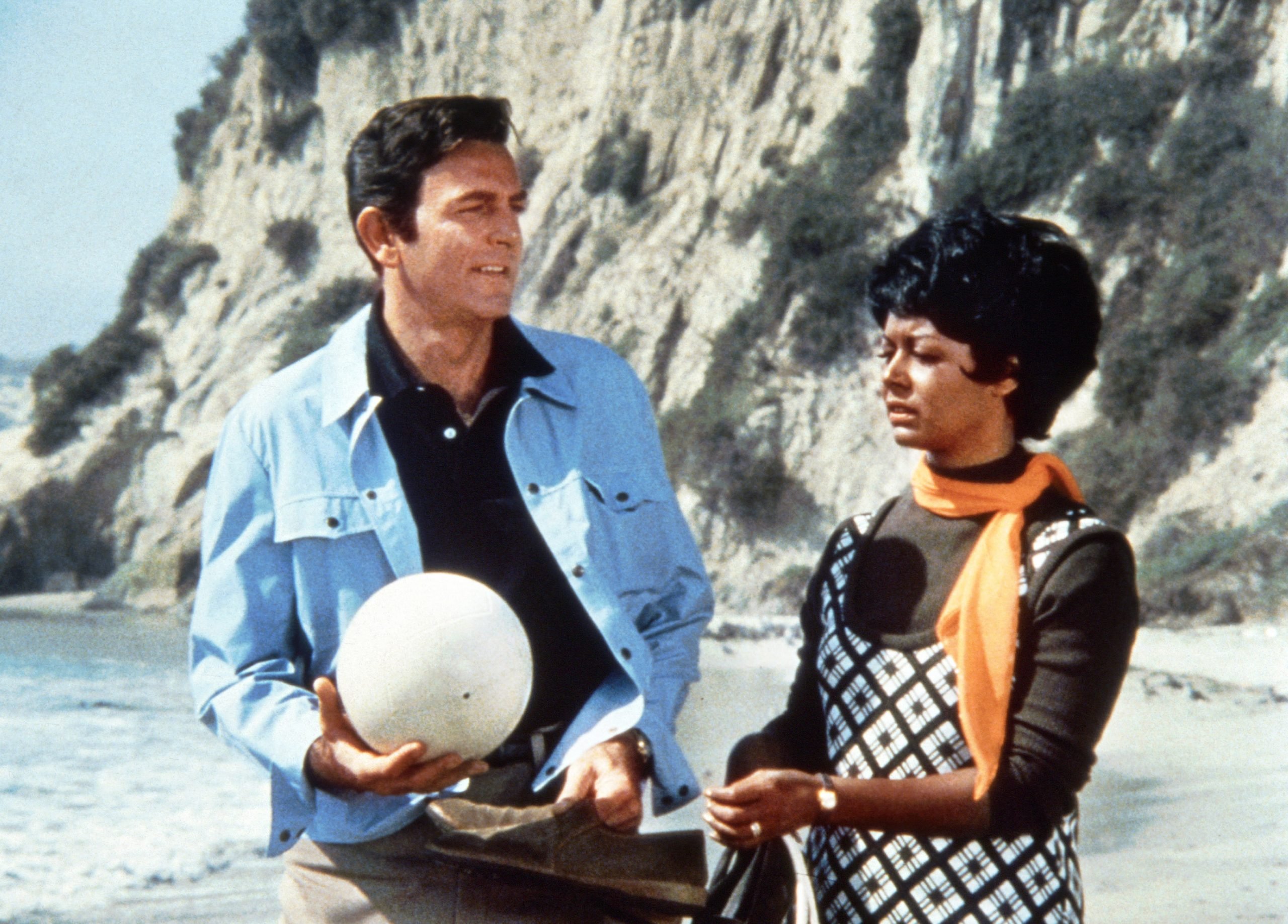 As was the case with Nichelle Nichols and Diahann Carroll, it's important to highlight actress Gail Fisher as one of the few black actresses to have a prominent role on primetime series in the 1960s. In this case, the show is Mike Connors' Mannix, a private detective series. Gail played his secretary Peggy Fair on the show that ran from 1968 through 1975. It was a part for which she won both a Golden Globe Award and Emmy Award, the first black woman to win either. She was born August 18, 1935, in Culver City, California, and was put on the road to acting by winning a contest sponsored by Coca-Cola that gave her the scholarship to study at the American Academy of Dramatic Arts.
Her Road to Acting
Gail appeared on two episodes of The Play of the Week between 1959 and 1960 and followed with The Defenders in 1962. She had a recurring role on The Doctors in 1963 and made a few other guest appearances until she got the part on Mannix. When the show concluded in 1975, she made a few more guest appearances, the last being on 1986's He's the Mayor. She was married twice, to John Levy from 1964 to 1972 and Robert A. Walker in 1973. She had two children. Gail died December 2, 2000, of kidney failure. She was 65.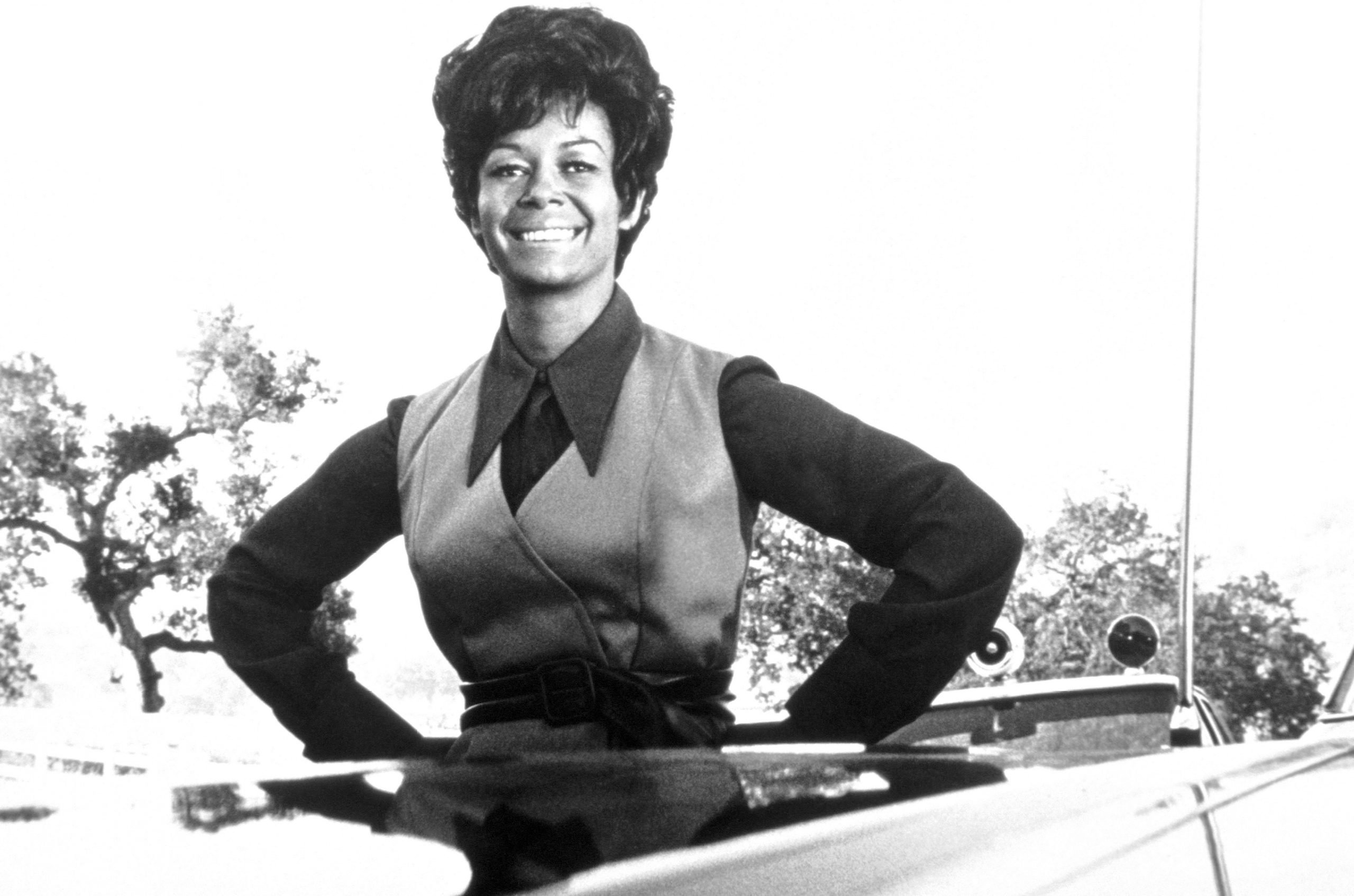 41. Erin Murphy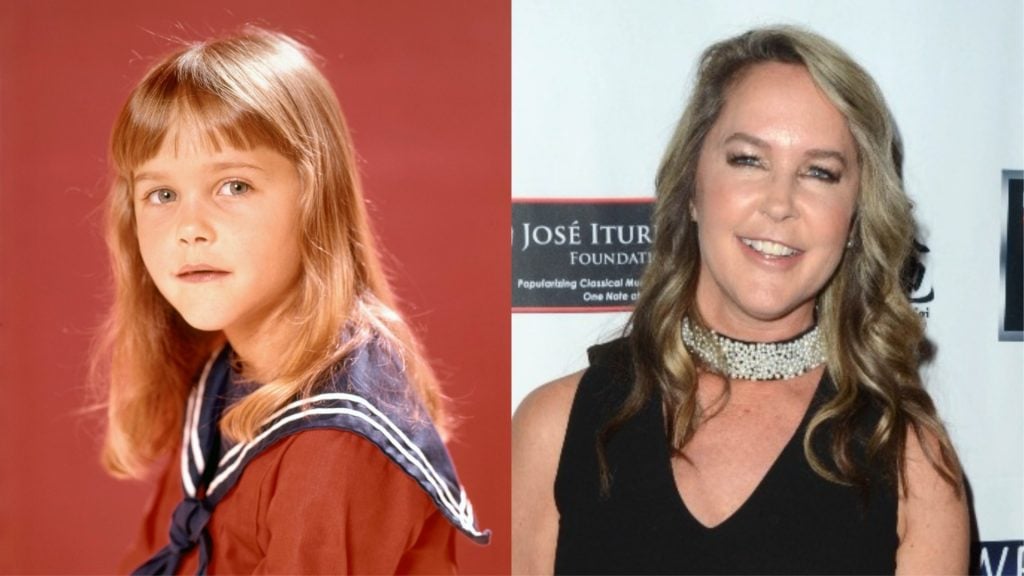 There is a solid history of child actors growing up to have train wrecks of an adult life, but there are exceptions. The go-to, of course, is Ron Howard from The Andy Griffith Show, but another amazing example is Erin Murphy, who played young Tabitha Stephens on Bewitched and in every way seems like an amazing human being. Born Erin Margaret Murphy on June 17, 1964 (along with fraternal twin sister Diane), at the age of three she joined the show and appeared in a total of 103 episodes. In the first season, for about 18 episodes Erin shared the Tabitha role with Diane, but when their looks started to differ, producers decided to go with Erin. Since that time she's starred in numerous commercials, worked as a casting director, makeup artist, stunt double (for actress Virginia Madsen), acting teacher, motivational speaker, and a model for Hang Ten swimwear. On top of all that, she's been a correspondent for TVLand and the Fox Reality Channel. She's been married three times, to Terry Rogers from 1984 to 1989, Eric Eden from 1993 to 1998, and Darren Dunkel since 1998. She has six children.
42. Ann-Margret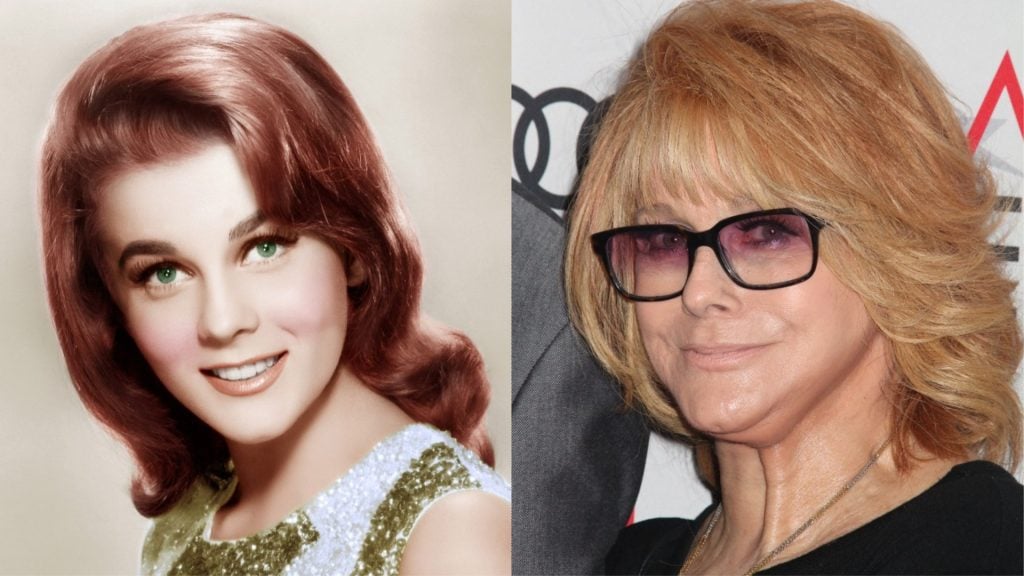 Ann-Margret, who is the subject of a mini-profile in the companion piece to this gallery devoted to the '70s, was born Ann-Margret Olsson on April 28, 1941. Initially intent on being a dancer, she eventually switched over to singing and, then acting. She recorded 14 albums over the years, the first being 1961's And Here She Is … Ann-Margret, which was accompanied by the singles "I Just Don't Understand" and "It Do Me So Good." Also in 1961, she was signed to a seven-year contract by 20th Century Fox.
'Ann-Margrock Presents'
The amazing thing about Ann-Margret is that her career kicked off in the 1960s with films like Bye Bye Birdie (1962), Viva Las Vegas (1964), which triggered her romantic relationship with Elvis; Dean Martin's Murderer's Row (1966), and The Prophet (1968), but it's never stopped! Between big screen and TV movies, she has worked consistently, most recently in Papa (2018) and the currently-filming Welcome to Pine Grove!. There have also been some (not an overwhelming) amount of TV appearances, though few can be compared to her 1963 appearance in animated form on The Flintstones, in the episode "Ann-Margrock Presents."
Getting Personal with Ann
Besides Elvis, Ann-Margret was romantically involved with Eddie Fisher. She was married only once, to actor turned (her) manager Roger Smith. They wed on May 8, 1967, and they were together until his death on June 4, 2017. While she didn't have any children of her own, she is stepmother to Roger's three kids. She is 80.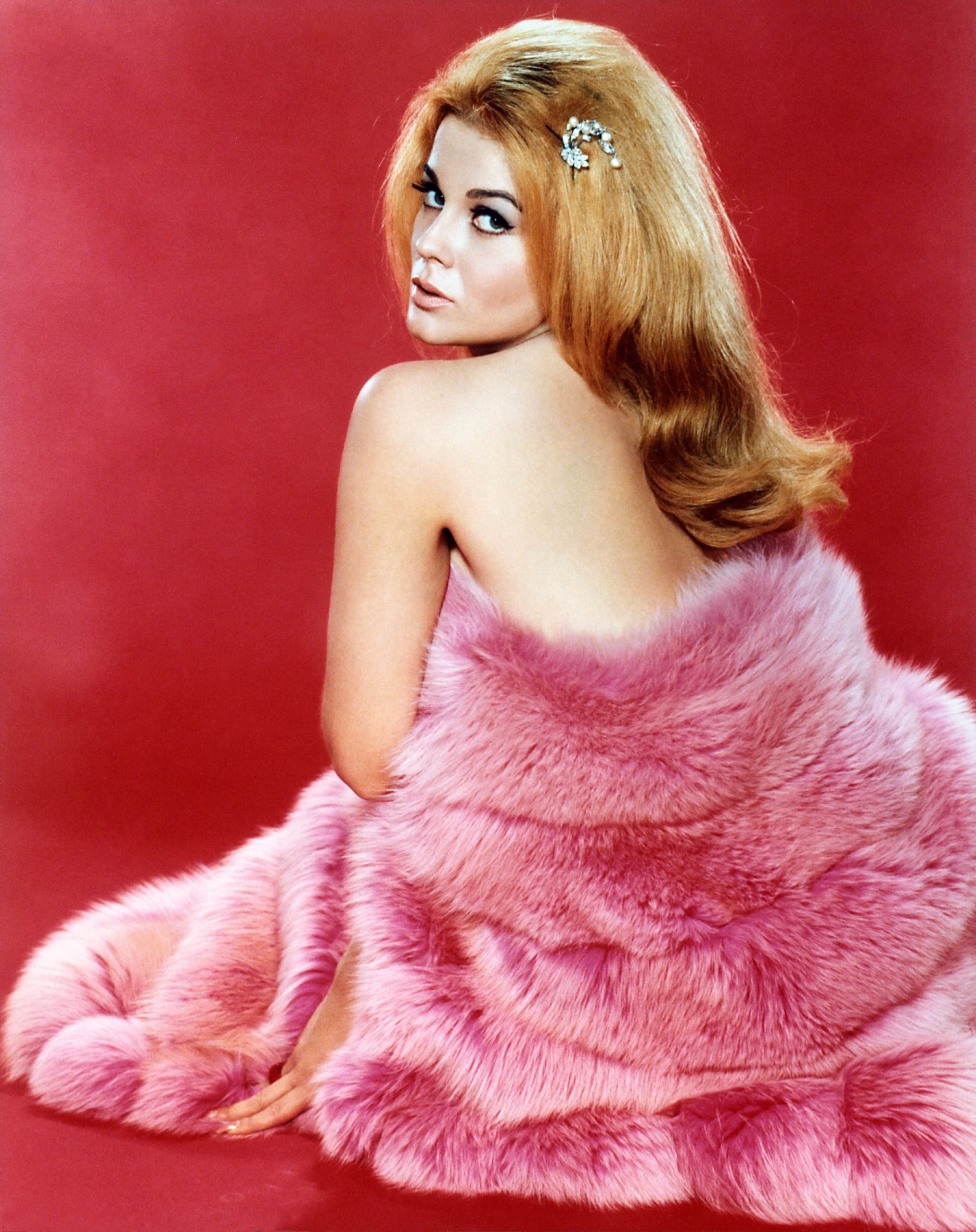 43. Marlo Thomas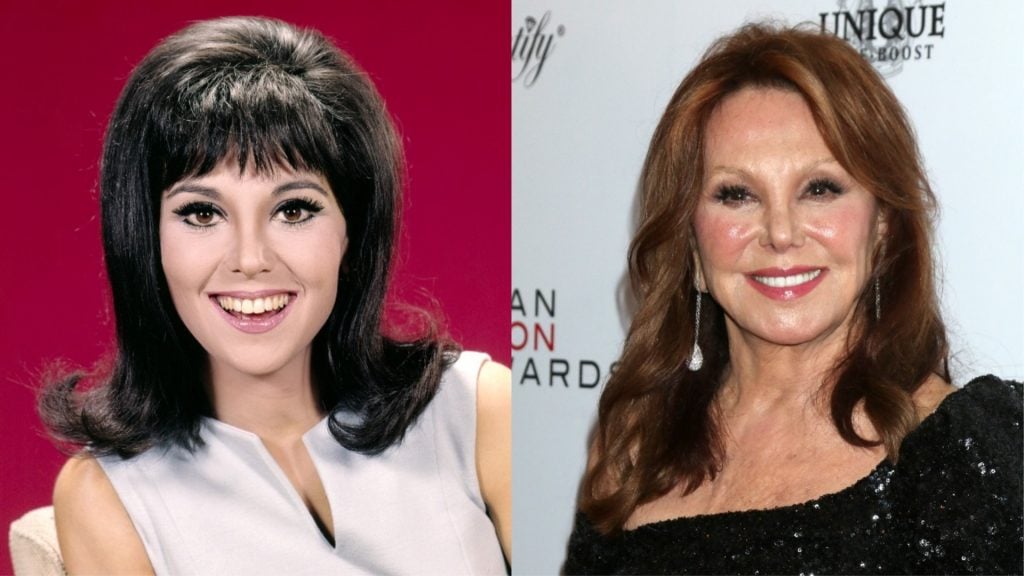 Margaret Julia "Marlo" Thomaswas born November 21, 1937, in Detroit, Michigan. The daughter of actor/singer/producer Danny Thomas, she launched her own career on television in the '60s, beginning with an episode of The Many Loves of Dobie Gillis and followed by, among others, Bonanza, My Favorite Martian, The Donna Reed Show and Ben Casey. But then, pretty unexpectedly, she showed up in her own series, That Girl, playing aspiring actress Ann Marie.
Changing Role of Women on TV
That Girl remains an important show in the history of television, especially when it comes to the showcasing of strong, independent women. There's an actual evolution from June Cleaver on Leave It to Beaver to Ann Marie, Mary Richards on The Mary Tyler Moore Show, Ally McBeal in the show of the same name, and so on. Ironically, Marlo accomplished everything she wanted to with the show during its 1966 to 1971 run, but in a sense, she also felt trapped by it and had to fight back a bit in terms of other roles. She did, in 1972, write a children's book titled Free to Be … You and Me, which inspired recordings and TV specials as well. The next year, she and Gloria Steinem, among others, launched the Ms. Foundation for Women, which presented "liberal women's voices in communities nationwide."
Moving Back and Forth Between Movies and TV
Marlo made her movie debut in 1970's Jenny and would go on to appear in 10 others by the time she got to 2018's Ocean's 8. There have been many TV movies over the years and guest star appearances, including a recurring role as Rachel's mom, Sandra Green, on Friends; and Judge Mary Clark on Law & Order: Special Victims Unit. She's been married to former talk show host Phil Donahue since 1980 and is the stepmother of five. Marlo is 84.
44. Shirley Jones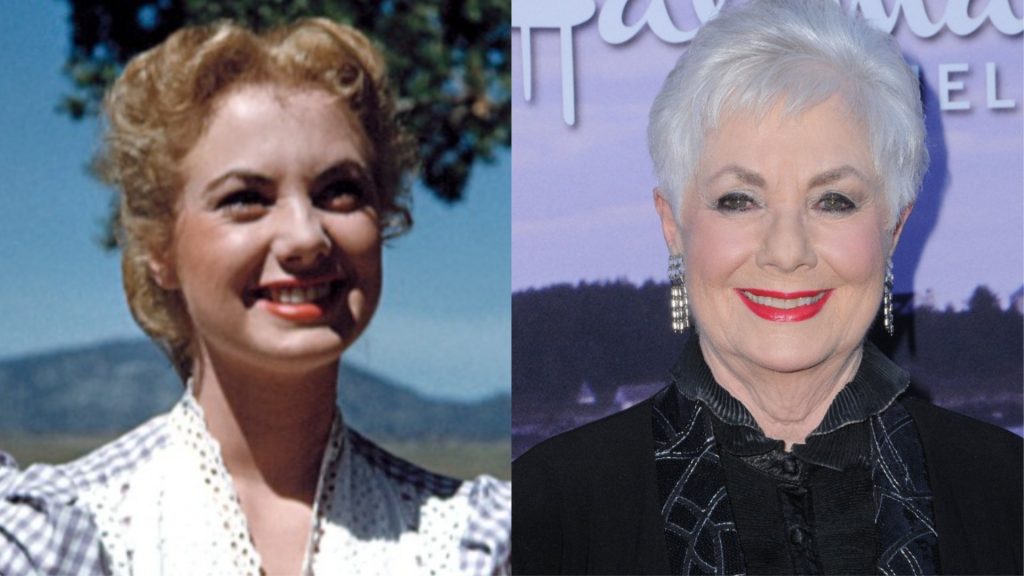 For Shirley Jones, these days remain a festive time in the fact that The Partridge Family has passed its 50th Anniversary and there are still so many people who care deeply about that show. But obviously, there is a lot more to Shirley's career than that. She was born March 31, 1934, in Charleroi, Pennsylvania. Things got off to an impressive start for her when she went to a bi-weekly open casting call through which songwriters Richard Rodgers and Oscar Hammerstein would find talent for their musicals. Her audition was so impressive that Rodgers and Hammerstein signed her to a personal contract — the only time they had ever done such a thing.
The Rodgers & Hammerstein Musicals and More
Shirley was put into the movie adaptation of musical Oklahoma! (1955), followed by Carousel (1956), April Love (1957), and The Music Man (1962). In between, she went far more dramatic in Elmer Gantry (1960), which earned her an Academy Award for Best Actress. The film roles continued, including 1963's The Courtship of Eddie's Father, culminating right before The Partridge Family with James Stewart's The Cheyenne Social Club. After the show, there weren't that many until the 2000s. Like everyone else of that era, she made numerous guest star appearances both before and after her star vehicle, her most recent being a 2016 episode of Children's Hospital. She did stay busy on the stage, acting in 20 different shows, with 2012's The Music Man being the most recent.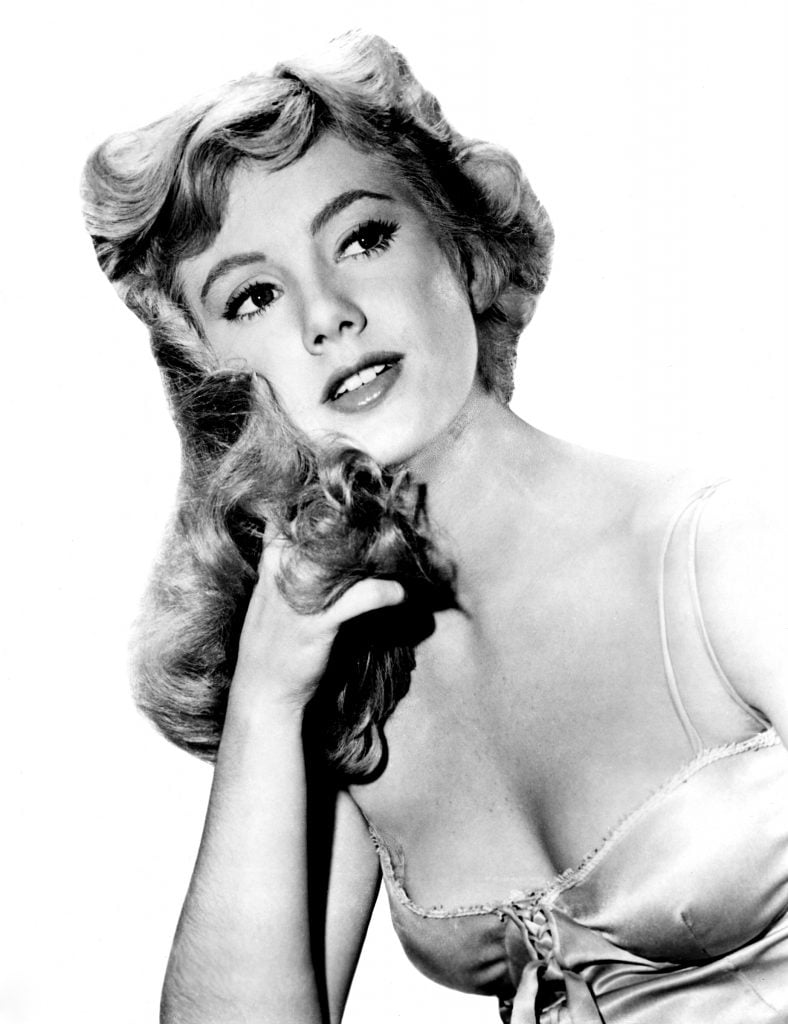 And Then There Was Her Music
She enjoyed an extensive recording career, having made eight albums with first husband Jack Cassidy; six of her own in addition to appearances on nine soundtracks. Shirley was married to actor Jack Cassidy from 1956 to 1974, making his son, David, Shirley's Partridge Family co-star, also her stepson; and, then, to Marty Engels from 1977 until his death in 2015. She has three children of her own, including Shaun and Patrick Cassidy; and is a grandmother of 10. She's 88.
45. Dawn Wells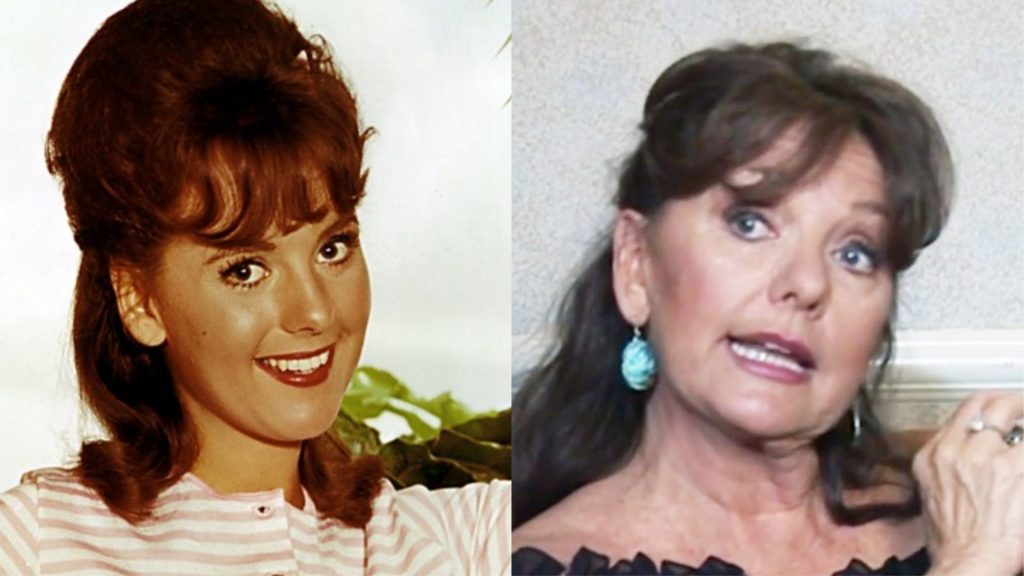 We've already given you "Ginger," so now it's time for "Mary Ann," and if you're a true fan of '60s Classic TV, you know that you have to choose one or the other. Dawn Wells was born on October 18, 1938, in Reno, Nevada. Crowned Miss Nevada in 1959, she moved to Hollywood and began appearing on different TV shows like Wagon Train, The Everglades, Maverick, 77 Sunset Strip, Hawaiian Eye, Bonanza, Laramie, and The New Interns. Then, of course, came Gilligan's Island — on which she played Mary Ann Summers — which ran from 1964 to 1967. After it ended, she could be seen on many shows over the years, reprising the character vocally for the Saturday morning series The New Adventures of Gilligan/Gilligan's Planet (1982 to 1983) and then playing her again in the TV movies Rescue from Gilligan's Island (1978), The Castaways on Gilligan's Island (1979) and The Harlem Globetrotters on Gilligan's Island (1981). She's written or co-written two books: Mary Ann's Gilligan's Island Cookbook and What Would Mary Ann Do? A Guide to Life. She's very active in charitable organizations. She was married to Larry Rosen from 1962 to 1967. Dawn passed away on December 30, 2020 at age 82.
46. Stefanie Powers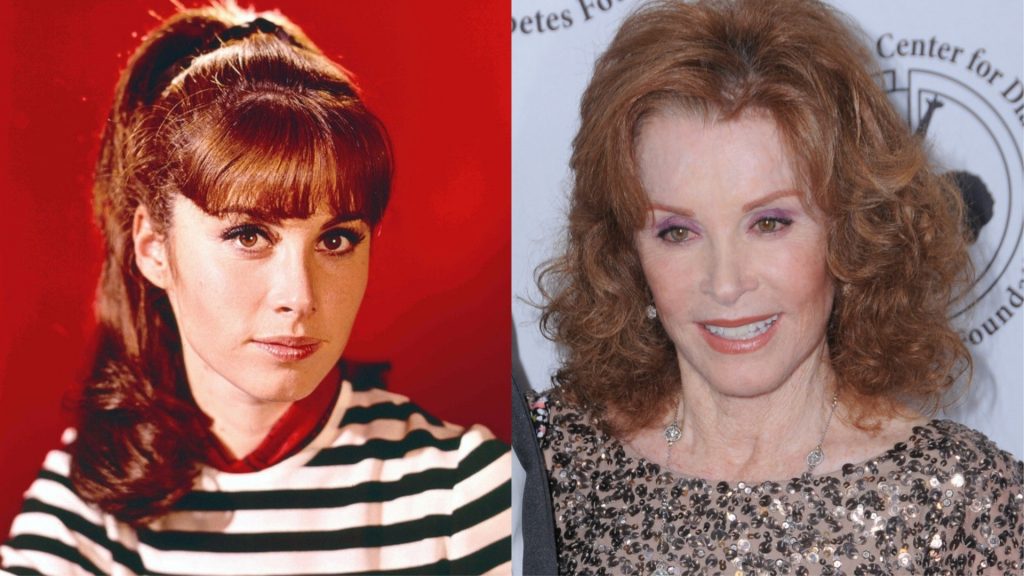 She's probably best known for her co-starring role with Robert Wagner in Hart to Hart from 1979 to 1984, as well as a number of TV movies in the 1990s, but Stefanie Powers has been working a lot longer than that. She was born November 2, 1942, in Hollywood and was put under contract at Columbia Pictures when she was 16. Through the '60s she appeared in numerous movies, though it was usually in a small role. That changed in the 70s, most notably with Disney movies The Boatniks (1970) and Herbie Rides Again (1974).
'The Girl from U.N.C.L.E.'
The 1960s were filled with spies thanks to James Bond, the influence spilling over to the small screen as well. One of the hot shows of the time was The Man from U.N.C.L.E., which spun off The Girl from U.N.C.L.E. starring Stefanie. It ran from 1966 to 1967 for a total of 29 episodes. She made many other TV guest appearances over the years, memorably as alien Shalon on a couple of popular Bigfoot episodes of The Six Million Dollar Man and The Bionic Woman. It would be, of course, Hart to Hart that allowed her to make the biggest impression on the audience. Stefanie has been married twice, to actor Gary Lockwood from 1966 to 1972 and Patrick De La Chenais from 1993 to 1999. Her romantic partners were actor William Holden from 1972 until his death in 1981, and Tom Carroll from 2000 until his death in 2014. She is 79.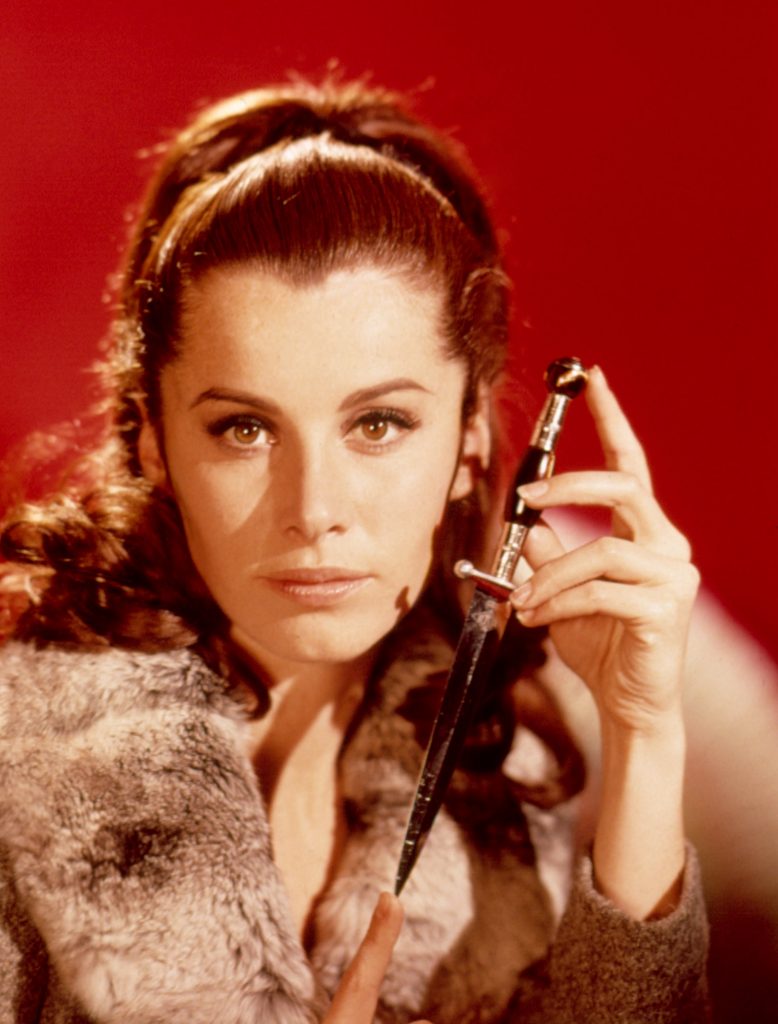 47. Eva Gabor (1919-1995)
Eva Gabor, born February 11, 1919, in Budapest, is one of the three Gabor sisters, the others being Magda and, of course, Zsa Zsa. Moving to America, she appeared in quite a number of films between the 1940s and 1950s and on the Broadway stage five times between 1950's The Happy Time and 1983's You Can't Take It with You. In 1953, she had a self-titled variety show on TV and appeared on several other series. Then she was cast alongside Eddie Albert in the enormously popular Green Acres (1965 to 1971), which was part of a "shared universe" that includes Petticoat Junction and The Beverly Hillbillies. After that show, she made a number of guest star appearances and did co-star in the 1990 reunion movie Return to Green Acres. Eva was married five times. She died at age 76 on July 4, 1995, of respiratory failure and pneumonia.
48. Elizabeth Taylor (1932-2011)
Everett Collection; ImageCollect
When you think screen legend, no doubt Elizabeth Taylor comes to mind. Born in England, she began her career as a child actress in Lassie Come Home (1943). At age 12 she was cast in National Velvet (1944), but would eventually be cast in more adult projects, like James Dean's Giant (1956) and adaptations of Tennessee Williams' Cat on a Hot Tin Roof (1958) and Suddenly, Last Summer (1959), for which she won a Golden Globe Award; BUtterfield 8 (1960), turning her into an Oscar winner; and then there was 1961's Cleopatra.
'Cleopatra': An Epic Disaster
At the time, Cleopatra was the most expensive movie ever made and it was a financial disaster that nearly destroyed 20th Century Fox. Behind the scenes, however, things were more scandalous as Elizabeth and co-star Richard Burton began a widely-covered extramarital affair and they became the couple to watch. In 1964, they were married and had a tumultuous relationship, though they did appear in 11 films together. Her film career would begin sputtering in the 1970s and while she would continue to work, largely by moving over to television and the stage, it became more about Elizabeth Taylor the icon rather than the actress. And the pitchwoman, as she was the first celebrity to launch her own perfume line, Passion. She was also very much involved in HIV/AIDS activism. She was married eight times (twice to Richard Burton) and was the mother of four. She died of congestive heart failure on March 23, 2011, at age 79.
49. Karen Valentine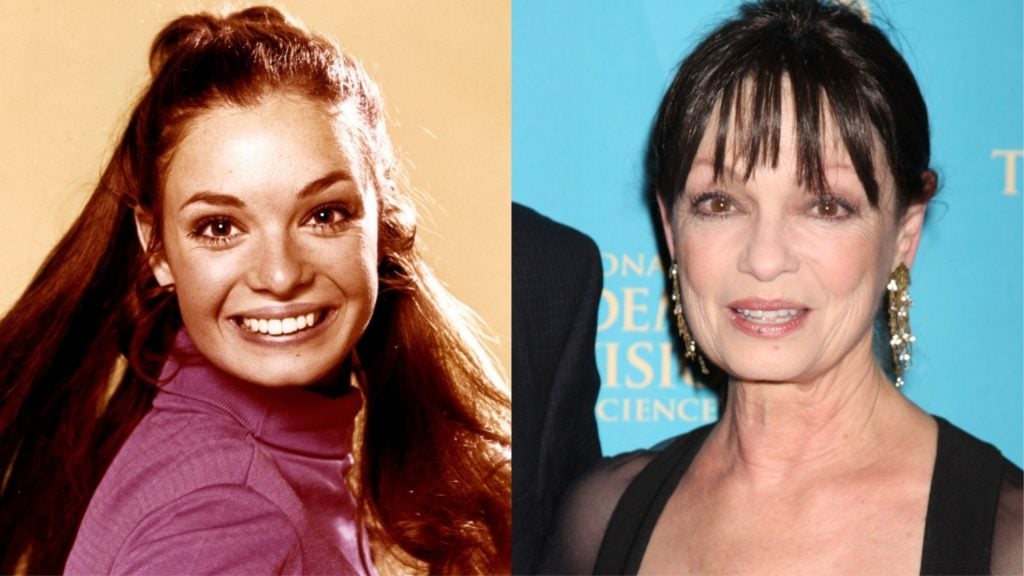 Last year Room 222 celebrated its 50th anniversary, which was pretty special for actress Karen Valentine since it was the show that really brought her to people's attention. Born May 25, 1947, in Sebastopol, California, she won the Miss Teenage America Contest, the prize of which was to appear on the biggest variety series of the day, The Ed Sullivan Show. Somehow this led to her participating on an episode of The Dating Game, the guy she chose absolutely taking this too seriously and expecting a lot on their date. In 1969 she was cast in the TV movie Gidget Grows Up, which was a pilot that didn't go to series, and then Room 222.
'Room 222'
Running on ABC from 1969 to 1975, Room 222 is set at the fictional Walt Whitman High School in Los Angeles, a school marked by racial diversity when that wasn't the norm on TV. Karen played English teacher Alice Johnson and won an Emmy for her portrayal. When the series ended, she starred in her own short-lived Karen in 1975, appeared in a couple of lighthearted features (one being The North Avenue Irregulars), but found greater opportunities in TV movies, such as playing a decoy cop in Muggable Mary, Street Cop. She was a frequent participant on The Hollywood Squares and has spent considerable time acting on stage as well. Karen's been married twice, to Carl MacLaughlin from 1969 to 1973 and Gary Vema since 1977. She's 74.
50. Raquel Welch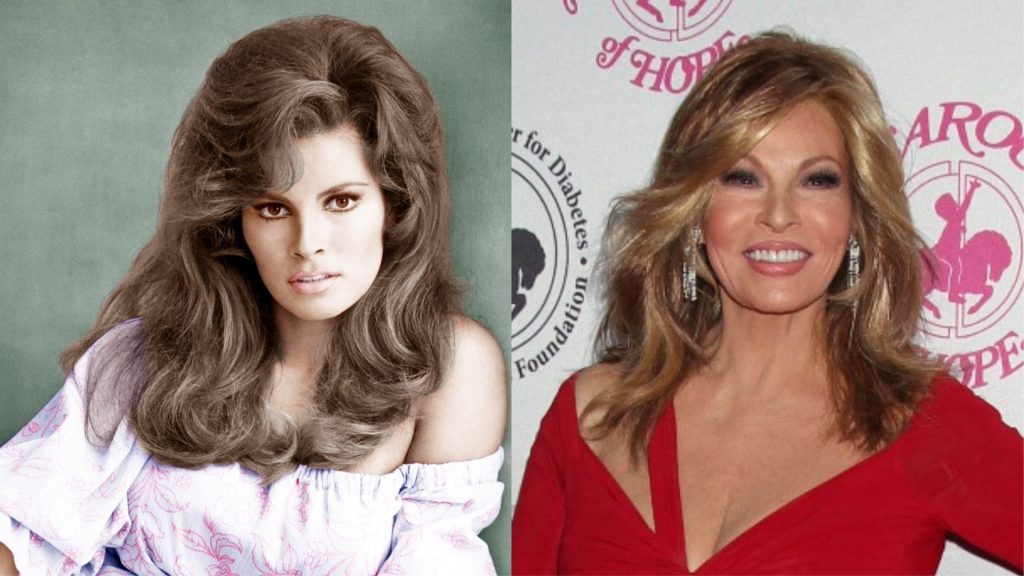 There is no star from the 1960s who is more fabulous than Raquel Welch, who ushered in a whole new idea of what a Hollywood sex symbol was, shifting away from the Marilyn Monroes and Jayne Mansfield's of the past. She was born Jo Raquel Tejada on September 5, 1940, in Chicago and studied ballet — until an instructor told her she had the wrong body for that. Annoyed, she decided to make the body she had work for her and began entering (and winning) beauty contests. After scoring some TV roles, she actively decided to become a sex symbol and geared everything towards that.
The '60s Sex Symbol
This would bring her through the '60s engaging the imagination of the audience along the way in movies like the sci-fi adventure Fantastic Voyage (1966), driving cavemen and dinosaurs alike to distraction in her fur-bikini in One Million Years BC (1966), Fathom (1967), Bedazzled (1967), Lady in Cement (1968), 100 Rifles (1969), Flareup (1969) and The Magic Christian (1969). It would continue in the '70s, though she became increasingly frustrated that she couldn't take on projects with more substance to them. Not surprisingly, she found that opportunity in TV movies in films like The Legend of Walks Far Woman (1982) and Right to Die (1987). Around that time she also had a series of books and videos as part of The Raquel Welch Total Beauty and Fitness Program, which were very successful. And she took over Lauren Bacall's role on Broadway in the musical Woman of the Year. Between 1959 and 2004 she was married a total of four times and has two kids: Damon and Tahnee Welch. Raquel is 81.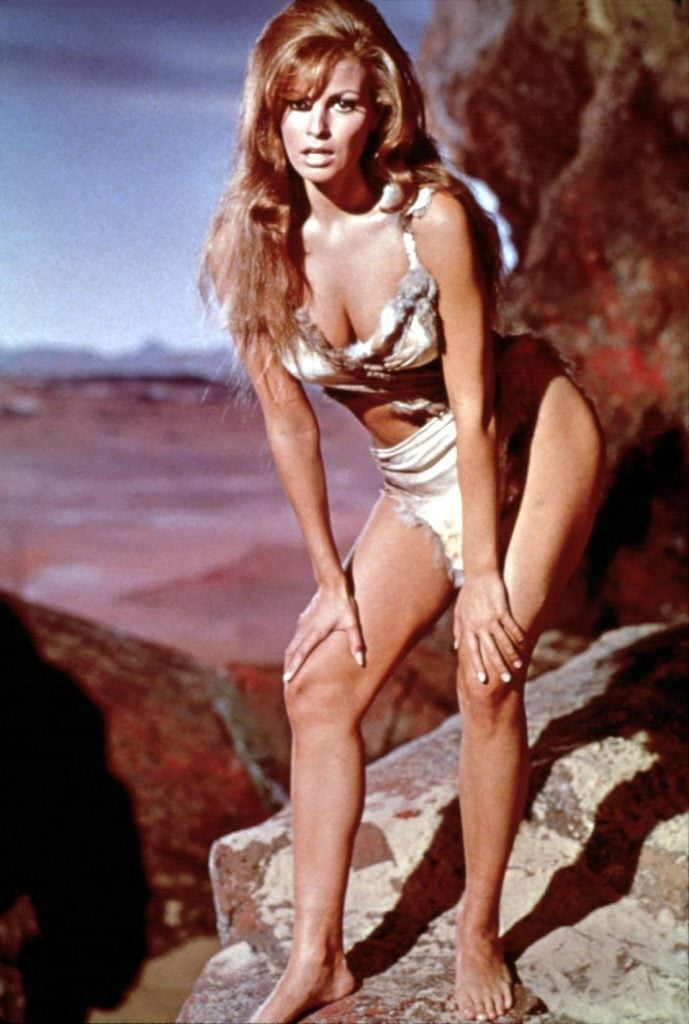 Do you remember any of these famous faces? Who was your favorite from back in the day, and are they still your favorite bombshell now? Let us know!