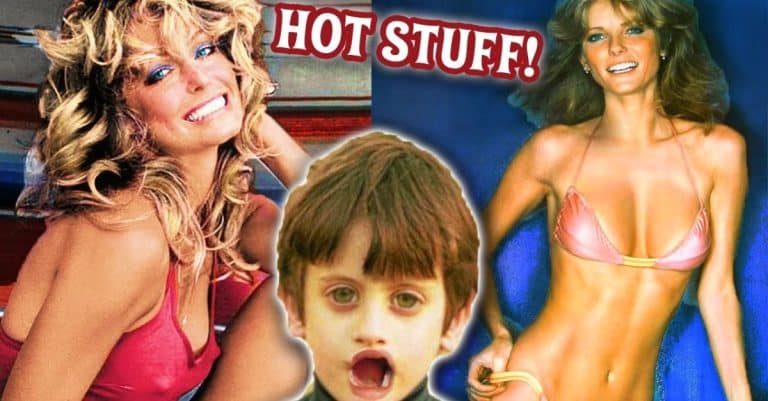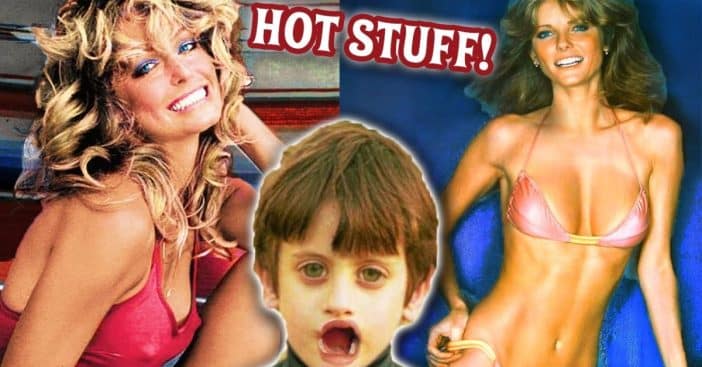 There were plenty of 1970s TV shows that gave new meaning to the term "boob tube," but it would be a few more years before everyone had VCRs in their homes. The only way to take a longer look at these small screen goddesses was lingering at the magazine rack while the clerk eyeballed you impatiently and tapped his foot. But that all changed in 1976 when Pro Arts released its iconic poster of Charlie's Angels star Farrah Fawcett in a red one-piece swimsuit. This would not be the end of posters of the beautiful women who won our hearts throughout the 1970s.
To be sure, Farrah Fawcett's poster became the best-selling poster in history and launched a cottage industry. Ted Trikilis became the king of posters, and A-List actors and models started lining up to book photoshoots. We'll be taking another look at these famous posters, and you won't even have to sneak into your older brother's room to check them out! Now, it's time to travel back in time to K-Mart to flip through the racks and revisit the posters that turned boys into men in the 1970s.
Farrah Fawcett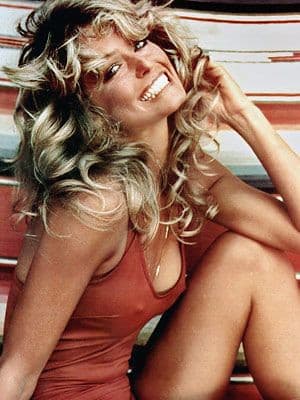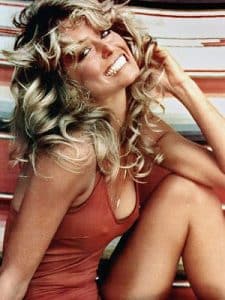 Farrah Fawcett was still a relatively unknown actress when Ted Trikilis found out that his neighbor's kids and their friends were buying fashion magazines to get her photos. Trikilis saw a business opportunity and quickly commissioned a photoshoot.
Photographer Bruce McBroom used a blanket he kept in his car for the background, and Farrah did her own hair and makeup without a mirror. McBroom used 40 rolls of film during the session, and Fawcett chose her six favorites. Pro Arts made the final decision, and their phone soon began ringing off the hook. Everyone with a wall wanted that poster! Including Tony Manero from Saturday Night Fever and Dirk Diggler from Boogie Nights.
Cheryl Ladd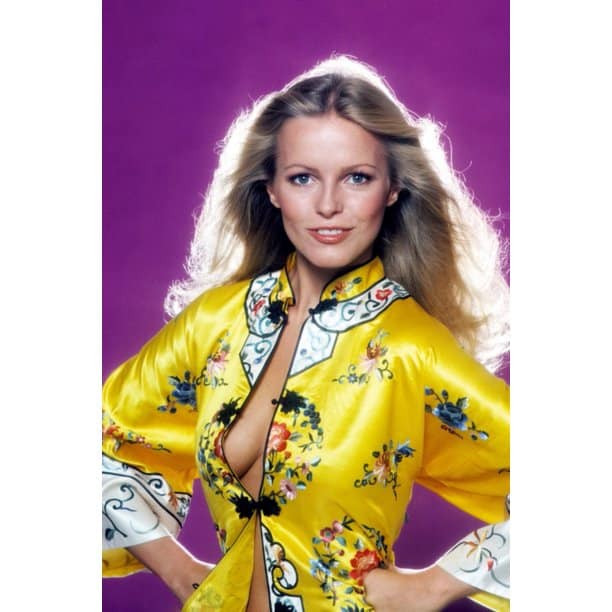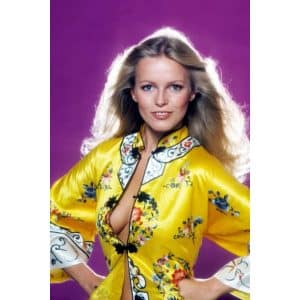 When Farrah Fawcett left Charlie's Angels, Cheryl Ladd was cast as Chris Munroe, Jill's younger sister. Cheryl was featured in several Pro-Arts posters, but our favorite featured the actress sporting a yellow kimono, which she apparently forgot to button up. The waistband of her red shorts was visible in the first poster, but it was cropped out for the second printing.
A listener wrote into Casey Kasem's "American Top 40" radio show In 1978 and asked Cheryl Ladd to his senior prom. When she personally phoned in to let him down easy, he believed his friends were playing a prank on him.
Cybill Shepherd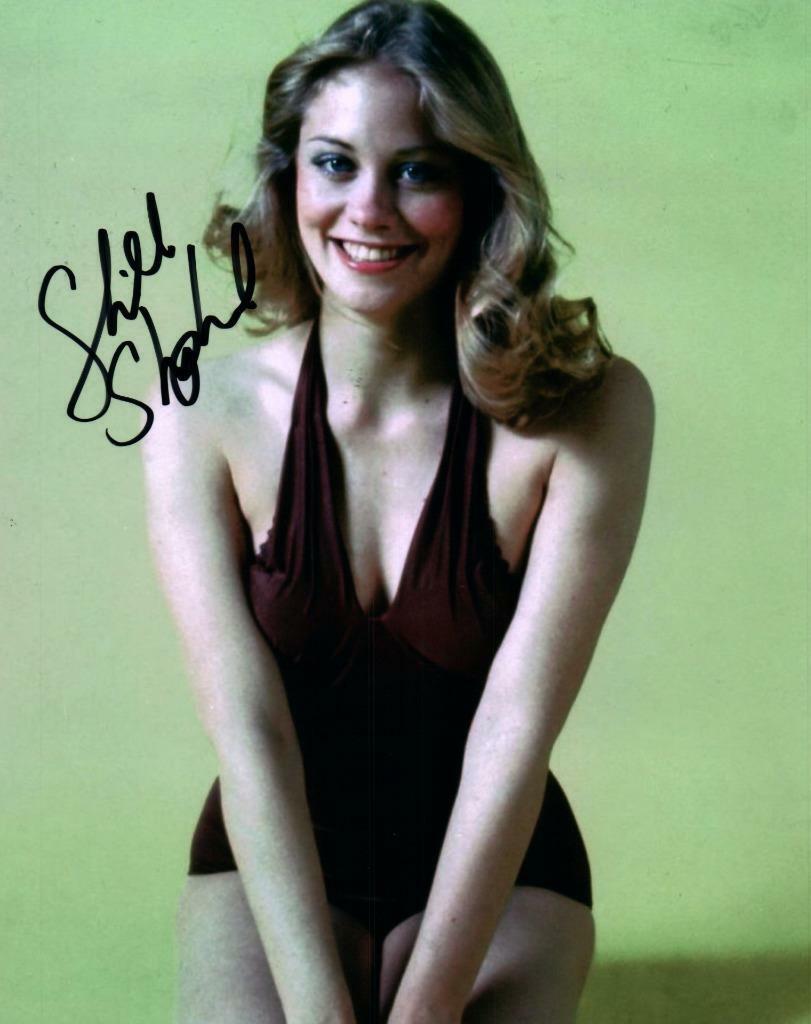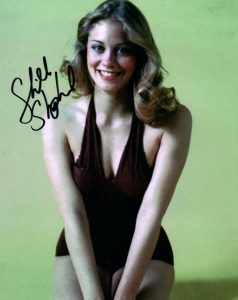 Director Peter Bogdanovich spotted Cybill Shepherd on the cover of Glamour magazine in the grocery store checkout line and immediately cast her in The Last Picture Show. Paul Schrader also wrote the role of Betsy in Taxi Driver with her specifically in mind.
Shepherd grew up in Memphis, Tennessee, and confirmed that she briefly dated Elvis in her autobiography Cybill Disobedience. The former Miss Congeniality also claimed that she introduced the King to some new sexual techniques. Thank you very much, Cybill!
Bo Derek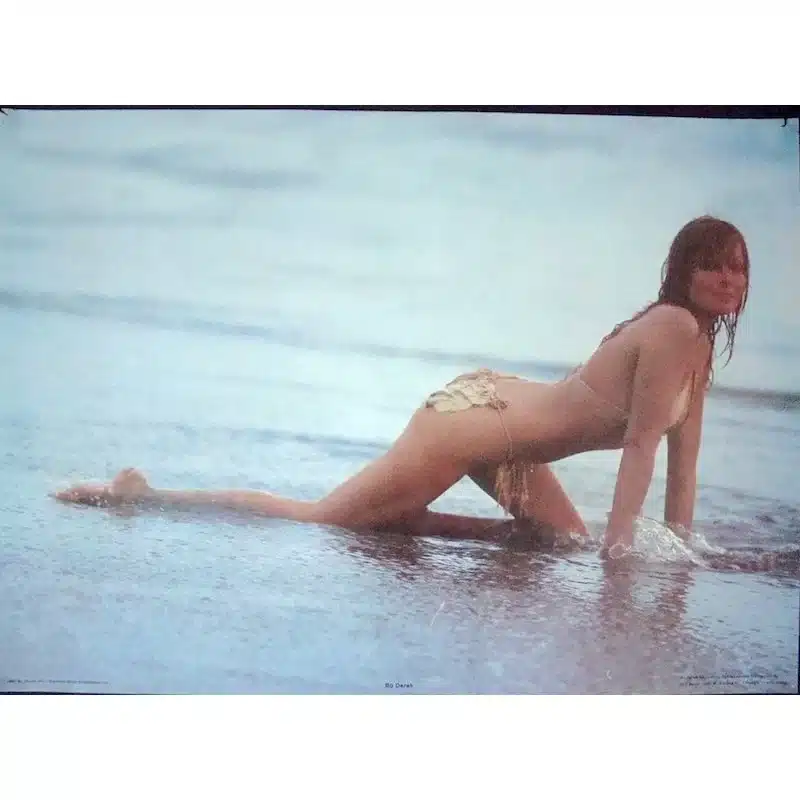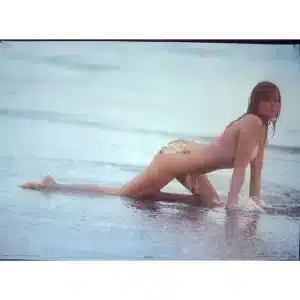 Blake Edwards' film 10 features Dudley Moore pursuing Bo Derek, who he believes is the most beautiful creature he's ever seen. We agree, especially after watching her run on the beach. Edwards felt like she nailed it on the first try, but he made her do three takes "just to be sure."  Her iconic cornrow hairstyle took two women ten hours to braid each day, and they used Elmer's glue to keep all the beads in place.
A poster of the actress kneeling in the surf had already sold over half a million copies, and when she came in to audition, Blake Edwards and his co-producer Tony Adams crossed their fingers and thought, "Let her be able to act – please let her be able to act!'"
Lynda Carter
Wonder Woman was every little girl's hero in the 70s, and plenty of dads daydreamed of being tied up with the lasso of truth. But Lynda Carter claimed her Pro-Arts poster was "just a dumb photograph," and she wasn't crazy about people hanging up her picture in their bedroom or living room.
She must have been really disappointed when her famous belly button poster sold over a million copies and became Pro-Arts' top seller in 1978.
Loni Anderson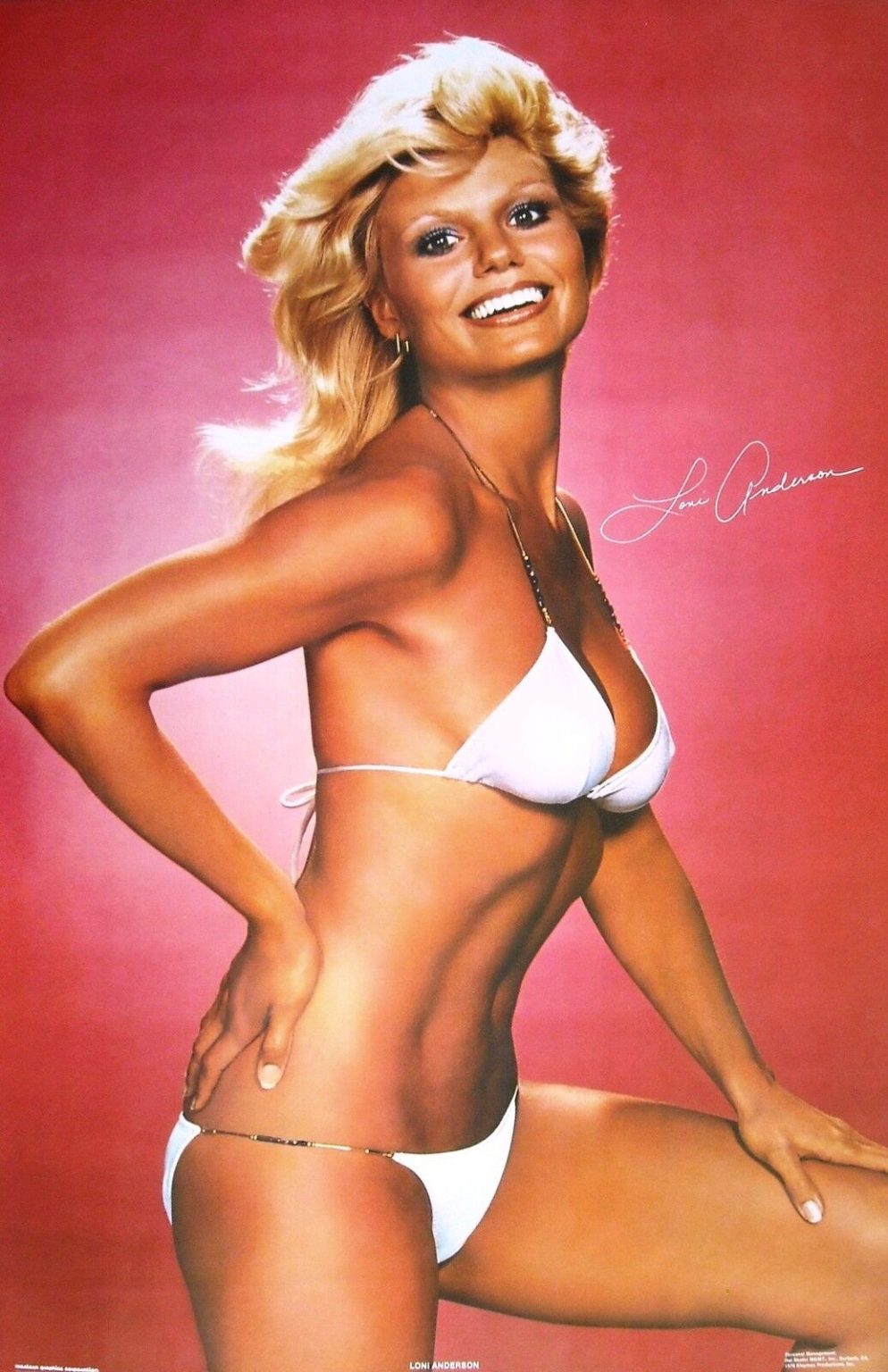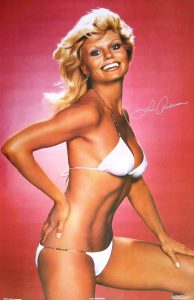 WKRP in Cincinnati was moved to different time slots during its four-year run and canceled due to sagging ratings. But nothing sagged on Loni Anderson, who played a receptionist who was "all that and brains too!" WKRP creator Hugh Wilson offered Loni the gig after seeing her 1978 bikini poster and said that "she had a body like Jayne Mansfield and the overall sex appeal of Marilyn Monroe."
When Loni was a teenager, her mother saw Burt Reynolds on television and told her he was the kind of guy she should marry. Their ill-fated six-year marriage ended in 1994, and they had one son together. Anderson remarried in 2008 and most recently starred in the series My Sister Is So Gay on the Logo cable network.
Adrienne Barbeau
Adrienne Barbeau began her career as a New York City go-go dancer in the 1960s, and she co-starred as Bea Arthur's daughter Carol on the hit sitcom Maude. Barbeau married legendary horror film director John Carpenter in 1979 and cemented her reputation as one of our favorite "scream queens" while starring in four of his films.
Photographer David Alexander took the photo of the actress in a purple teddy, and I think we can all agree that she has a pair of really large, round, beautiful….eyes.
Morgan Fairchild
Look at her 💘 She's so perfect pic.twitter.com/XhdEvbalwL

— Morgan Fairchild (@morganchildfair) August 26, 2016
The term "sideboob" was popularized by gossip columnists in the early 2000s and became an official entry on the Urban Dictionary website in 2005. We might not have had a word for it yet, but it was hard to miss in Morgan Fairchild's Pro-Arts poster, created by photographer Harry Langdon.
The Texas beauty once said she would have become a paleontologist had acting not panned out, and we're pretty sure her one-piece swimsuit is made from an actual saber-toothed tiger pelt. Eat your heart out, Wilma!
Lola Falana
Lola Falana was known to her fans as "The Black Venus," but her 1977 Pro Arts poster was simply entitled "Lola." The poster is as classy as it is sexy, and the multi-talented entertainer basks in the moonlight in a strapless white dress.
Falana's brilliant career was tragically shortened when she suffered from multiple bouts of multiple sclerosis, but it's currently in remission, and she credits her strong Catholic faith for her recovery.
Christie Brinkley
Christie Brinkley was the first model to appear on three consecutive covers of Sports Illustrated's annual swimsuit edition. She also had a busy year in 1983, appearing as the title character in then-husband Billy Joel's "Uptown Girl" music video and making her film debut in National Lampoon's Vacation as "The Girl in the Ferrari."
Brinkley's 25-year contract with CoverGirl cosmetics was the longest modeling contract in history, and she also launched her own line of cosmetics. Playboy readers chose Brinkley as one of the 100 Sexiest Women of the 20th century in 1998, and she gets our vote for the 21st century, too! Her unique one-piece swimsuit appears to be missing a little fabric, but so far, no one has complained. In fact, it's one of the most iconic 1970s posters out there.
Raquel Welch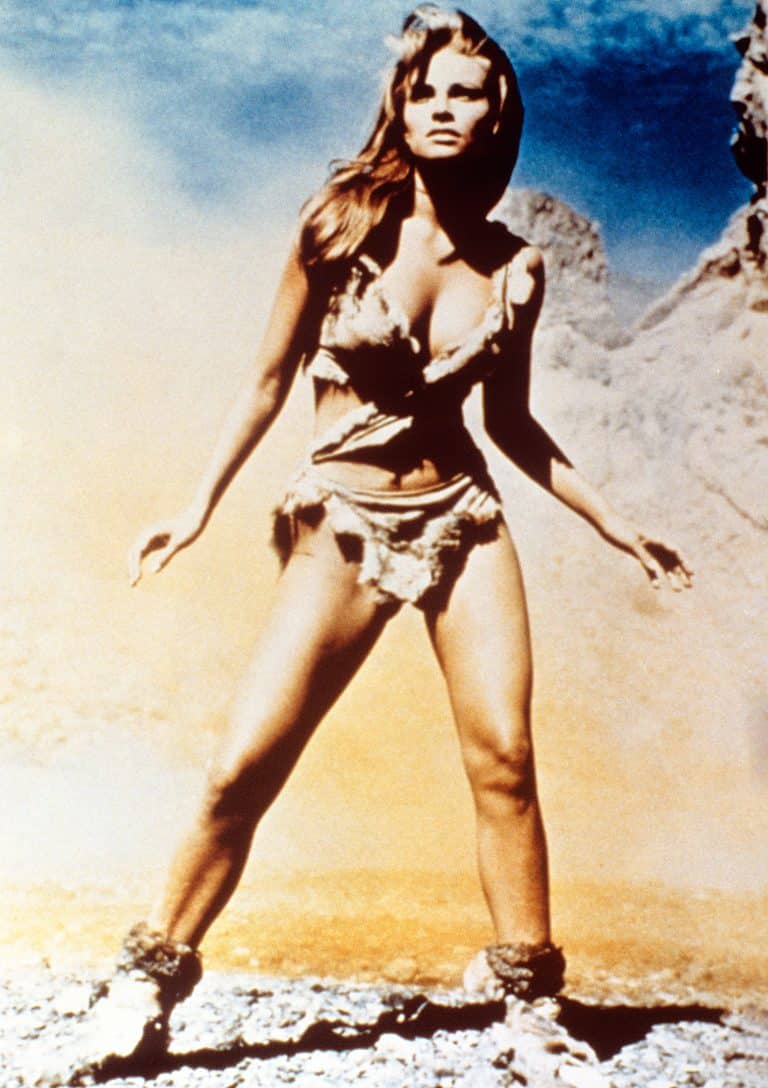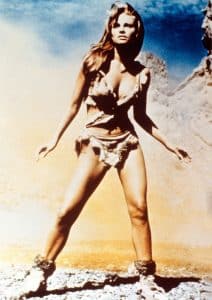 Racquel Welch's acting skills were often parodied, but she's credited as one of the first actresses to break out of Hollywood's 1960s "blonde bombshell" stereotype and play strong female characters. Her posters in the 1970s show not just beauty, but also unabashed strength. Her movie poster from One Million Years B.C. was even a plot device in the 1994 film The Shawshank Redemption when it was used to conceal Andy Dufresne's escape tunnel.
Racquel Welch passed away in early 2023, but the actress will live on through her acting and modeling work. We're pretty sure they'll still be talking about her in one million years A.D.!
Susan Anton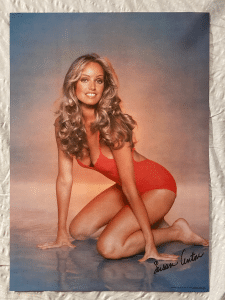 Susan Anton is a former Miss California, and she got her start as the spokesperson for Muriel Cigars and Serta Mattresses. Anton made tabloid headlines in the 80s while having an alleged affair with then-married Sylvester Stallone. She also dated Dudley Moore in the '90s, and the 5'11' actress towered over the pint-sized Brit.
Anton co-starred in an ill-fated variety show with country music legend Mel Tillis, which was canceled after only four episodes, and she appeared on The Merv Griffin Show over 30 times. Her Pro-Arts poster also seemingly foreshadows her appearance in 13 episodes of Baywatch in the '90s.
Cannonball Run II fans will remember Susan Anton as one of the sexy Lamborghini babes, and her co-pilot hardly requires an introduction.
Catherine Bach
Cutoff denim shorts are now commonly known as "Daisy Dukes," but there's nothing like the original! Catherine Bach created most of her own costumes and knew how to give viewers what they wanted. The suits made Bach wear pantyhose under her signature cutoffs, and her legs were insured for $1,000,000 while she was shooting The Dukes of Hazzard.
Bach's Daisy Duke poster sold five million copies, but it caused a little controversy when she gave a copy as a gift to one of her former schoolteachers who was working at the White House. But Nancy Reagan liked it, and that's good enough for us!
Cheryl Tiegs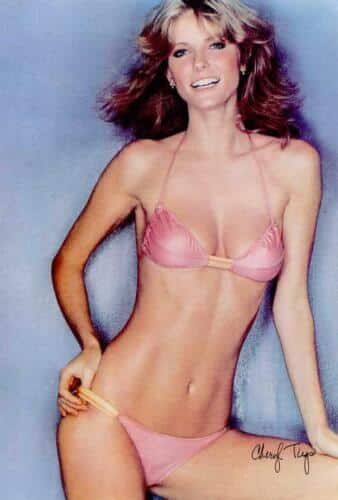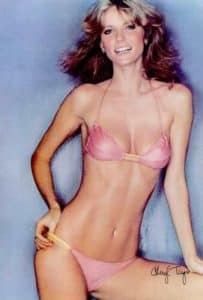 Cheryl Tiegs' 1978 poster is nearly as iconic as Farrah's, and her signature bikini bottom side tug has often been imitated but never duplicated.
Tiegs began appearing on the covers of fashion magazines, including Glamor, Seventeen, and Vogue, at 17. She was the first model to appear on the cover of the Sports Illustrated swimsuit issue three times, and she also appeared on the cover of Time four times.
Tiegs is currently actively supporting environmental causes, and she appeared on Celebrity Apprentice in 2012, with proceeds from her participation benefiting the Farrah Fawcett Foundation.
Pro Arts had a deal with K-mart to provide half a million posters, and Ted Trikilis planned on installing 2000 poster racks a year at K-Mart and other retailers. But Pro-Arts released a tribute poster after Elvis died in 1977 and was subsequently sued by a rival company that claimed it had already purchased all of the King's post-death poster rights. Pro-Arts won the lawsuit, but the lengthy legal defense bankrupted the company. In his tell-all book The Unindicted: From Farrah to Fraud, the True Story, Trikilis claims the mob, double-crossing lawyers, and incompetent federal judges all played roles in the demise of Pro Arts.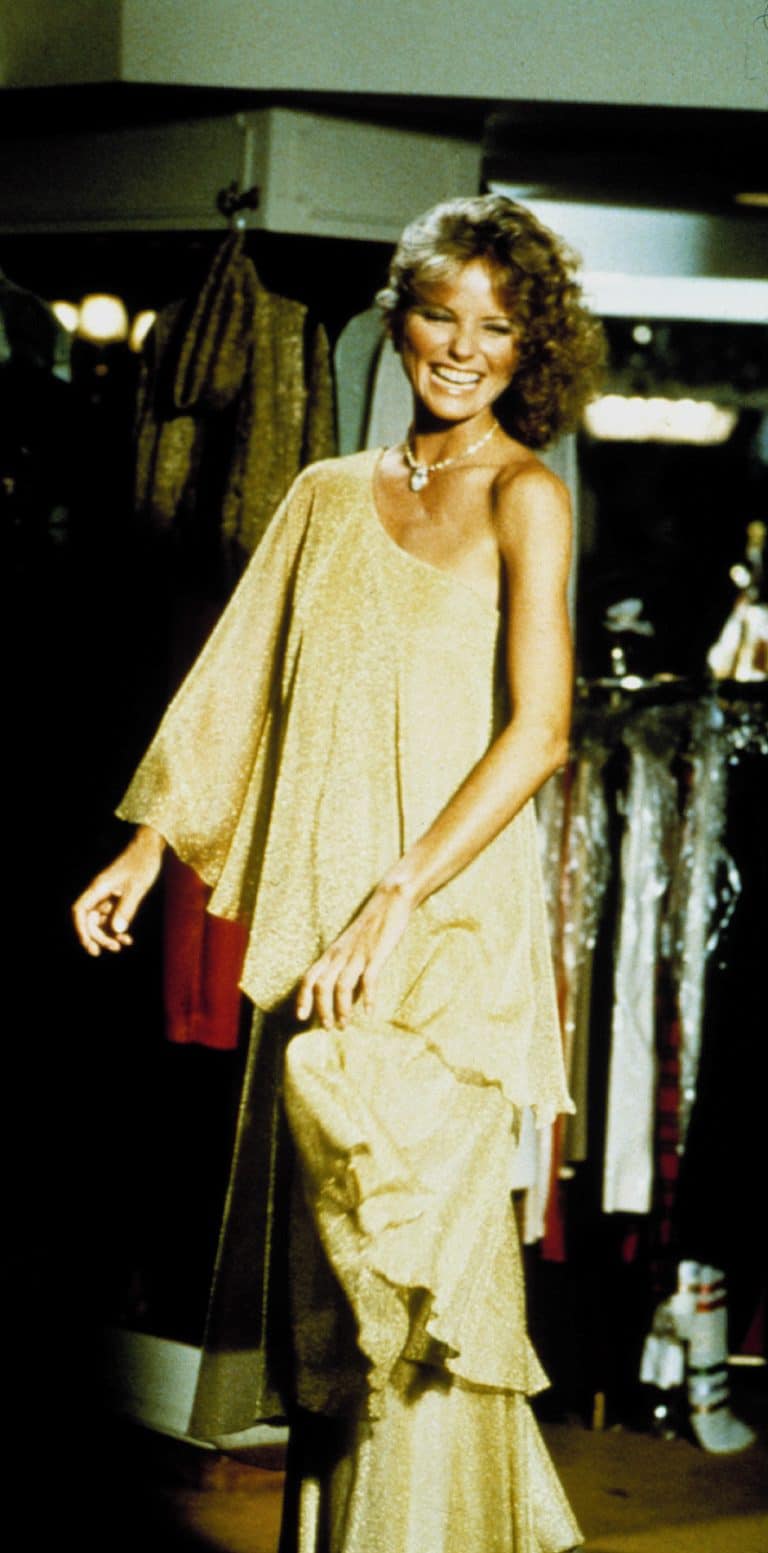 That's been our look at the posters that turned boys into men in the 1970s, and now it's time to hear from you! Which of these posters did you have hanging on your wall? Did we fail to include your favorite Pro Arts Poster? Get in the comments and let us know!