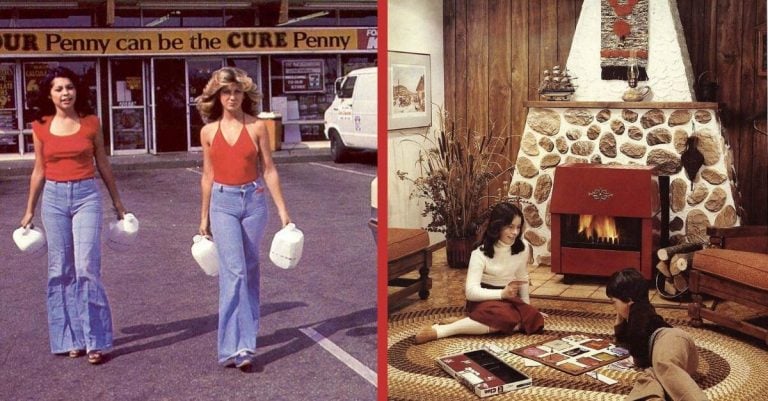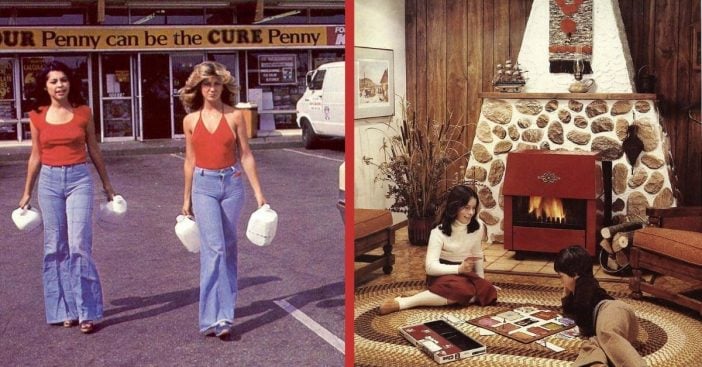 Decades past had plenty of cultural icons. Numerous elements shaped life and Americans reacted to the world's events by expressing themselves in many ways. They forged an independent identity and bonded with a community through clothes, hairstyles, actions, and products. Nothing offers a vivid, visual exploration of American culture through the 1970s than vintage photos.
The right picture can tell a whole story with just one frame. A quick glance can show you what people wore, valued, wanted, and did. Vintage photos such as these can display trends that show what America was going through at the time. And even if the subject of that picture is an outlier, that is still an integral part of history told right there. Take a look now and walk through memory lane. Do you recognize any big trends?
The 1970s brought people's focus inward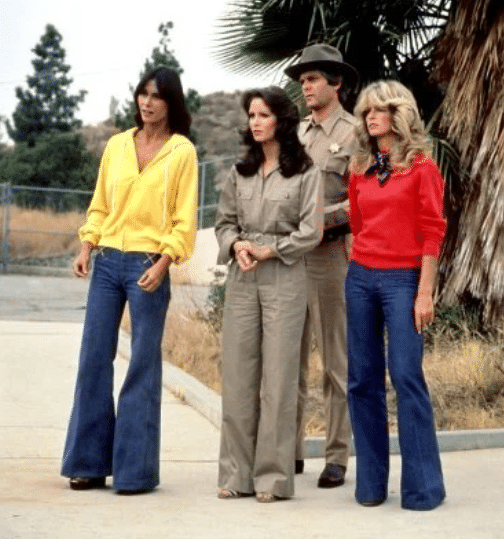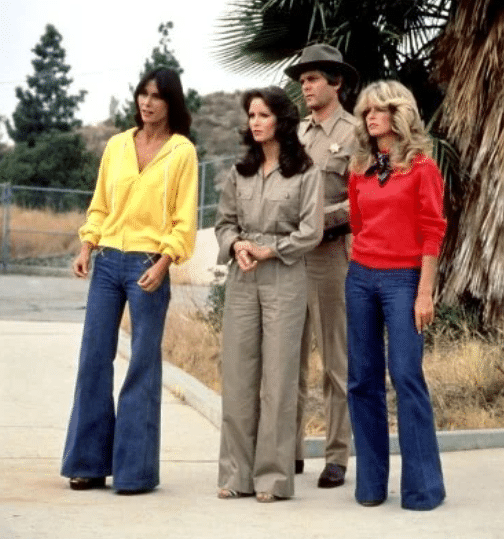 Mankind is full of remarkably understandable contradictions. We want to feel unique but yearn for a place among others. We don't care what others say but want it to be good. Order is important but so is defiance. Remarkably, that is pretty well reflected in the fashion of the time.
RELATED: Check Out These Ten Nostalgic Photos Of Miami During The '80s
The 1970s saw some interesting cultural movements, some established, others new, churn around and vie for attention. So came the era of fashion trends – but unique ones! Ones that did not follow any set rules but had certain laws even among the colorful anarchy in every stitch.
New styles for an old favorite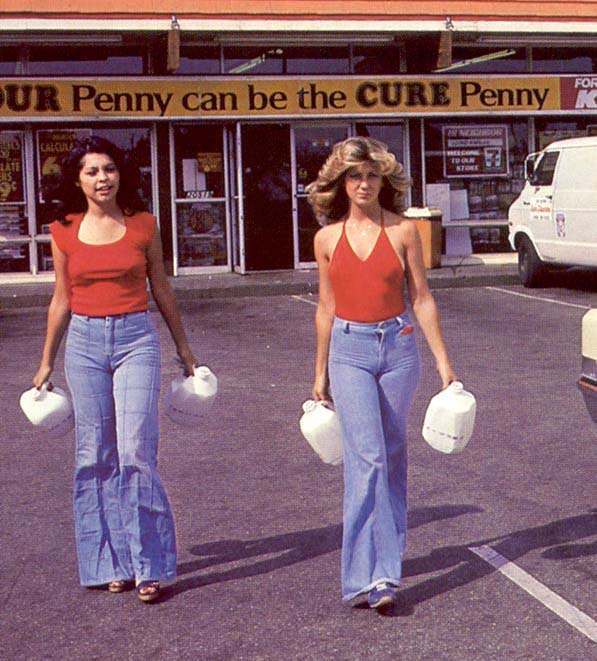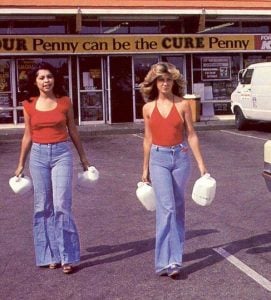 Pants as a garment for women had gained popularity over the decades leading up to the 1970s. Even First Ladies followed this growing trend, so pants themselves were not inherently new, even for women. Couple that with pantsuits and the newfound fun to be had with the miniskirt and such items may not seem too extraordinary.
But even so, they represented a cultural movement gaining momentum in the U.S. It manifested in the Education Amendments of 1972. This was part of the Title IX prohibitions against sex-based discrimination. Following that year, girls did not have to wear dresses to school. And plenty of females took advantage of this increasingly accepted trend, as seen above.
Even hair had an impressive presence
Often enough, an outfit's colorful palette called attention to the owner. But other times, the elaborate hairstyles did that on their own. By the '60s and '70s, culminating in the '80s, hair got some big attention. Literally.
The stylings also changed accordingly. Instead of careful hairdos tying and pinning those locks up, women instead let them flow free – and thick. It took a fair amount of maintenance, but the results always turned heads and looked impressive.
If 1970s clothes weren't colorful, they were light and flowy, making for some dramatic pictures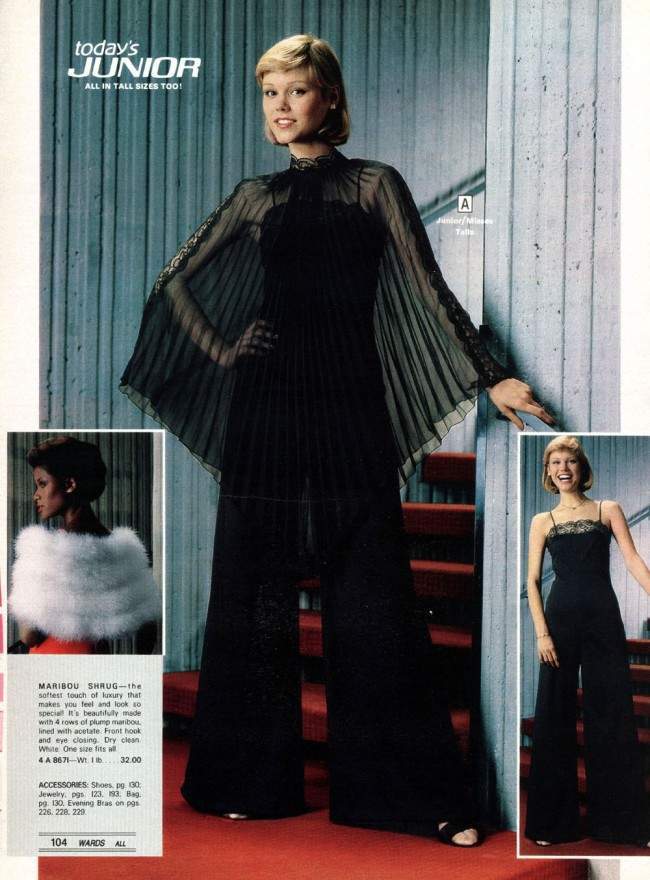 Flowy clothes made for some very impressive pictures. And boy, did clothes have a lot of volume back then! We see from that vintage 1970s picture with the jeans above. But the fabric was not always strictly opaque. Sometimes it was much thinner, like the picture here.
This itself is consistent with another trend for 1970s fashion, which called for loose blouses that would not look out-of-place during some summer stroll.
Colors, conflicts, and closeness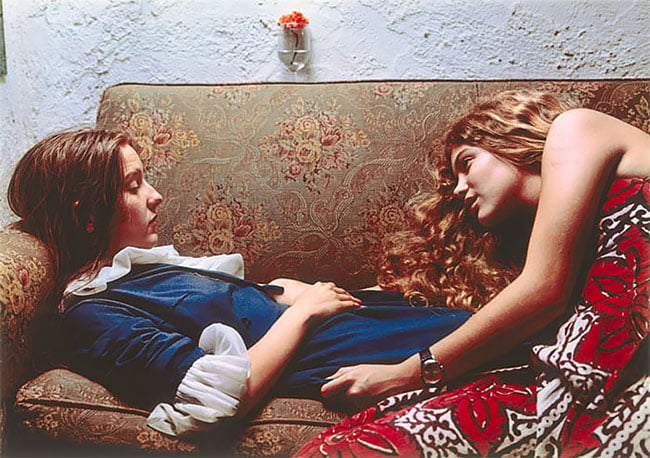 The 1970s and decades surrounding it were times of very memorable decorating choices. Patterns dominated every free space, whether they coordinated or not. Couches wore intricate detailing and floral displays on otherwise plain expanses. Walls featured roughly the same thing with unrelated colors.
We wore what we lived in, in a way: a lot of colorful patterns. But we were unafraid to come together as friends, in part because it felt like we really needed one another to weather whatever timely storm was afoot then. Americans just wanted to love one another.
Vintage photos still saw the birth of smaller trends as they developed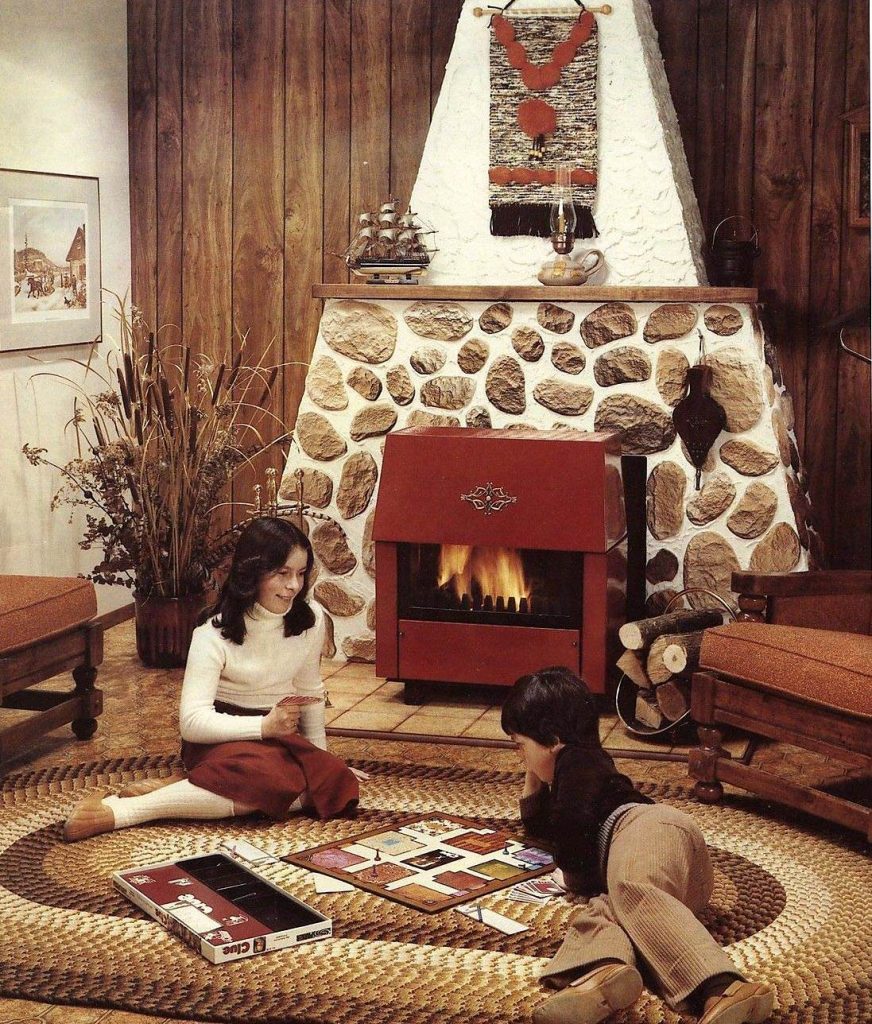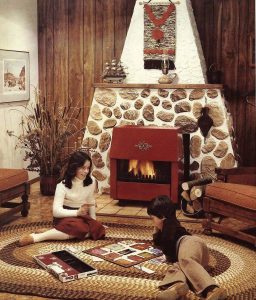 For all those conflicting patterns, though, homes did not remain like that constantly throughout the decade. In fact, living rooms, in particular, went through a phase of color neutrality. Within this space, eyes got a break from particularly wild color schemes and instead got to relax with earth tones.
Neutralizing rooms with brown earth tones made accents, like the red fireplace above, stand out even more intensely. This itself spread throughout the house, so everything worked with everything. This unique example of 1974 decor reflects how Americans wanted to dress up their shelters from the chaos of the outside world, which eventually involved keeping things tame at first, to offset all that business everywhere else.
The family that eats together stays together…forever, in this vintage photo of the 1970s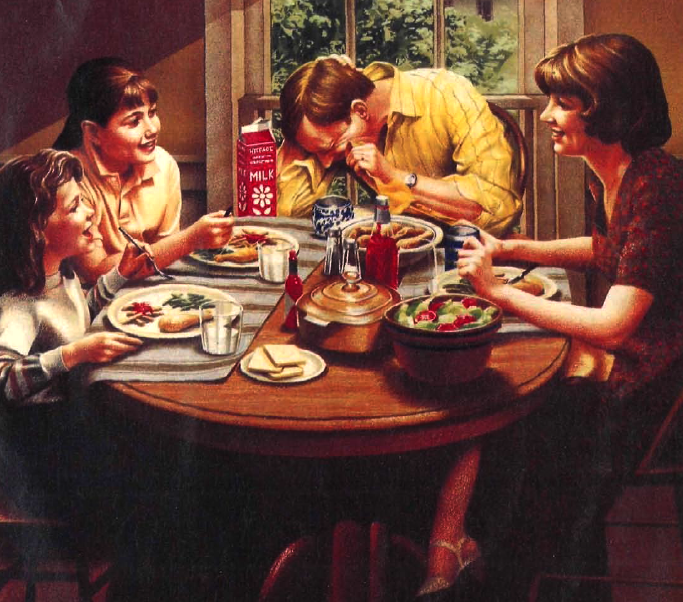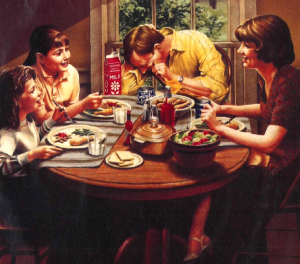 Images like this are a rarer sight today. Unfortunately, it reminds us how disconnected with one another people are and how connected they are to their digital devices. Yes, they provide some very useful ways of doing things efficiently and readily. But that comes with a sense of distance, especially at the dinner table.
What makes this photo feel really vintage is how close everyone is around their dinner table, enjoying a meal together, all while entirely and truly present. Hopefully, scenes like this will become more common again in the future.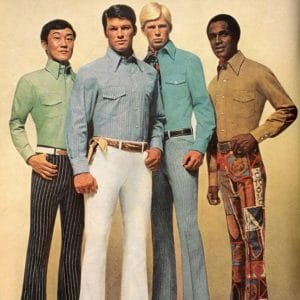 At the end of the day, a lot of outfits had a certain class to them. Even with some bright colors and fun patterns, some men insisted on looking put-together. This coupled with earlier pictures reinforces how contradictory styles could be in the 1970s, as different cultural movements formed independently of one another.
Sometimes, they also formed in response to other things. Not everyone wanted to be a flowery, loosely-clothed hippie. Likewise, others preferred flower crowns to suits. Others fell somewhere in the middle and all these groups morphed in response to society around them and their own wishes.
Gather around the communal fondue table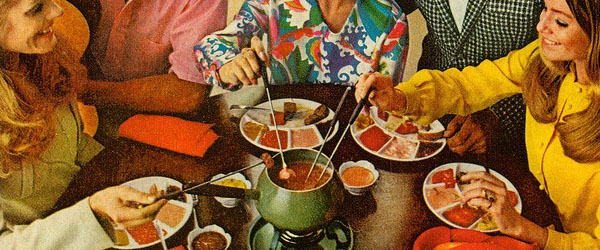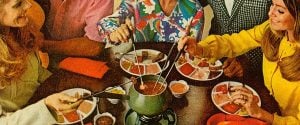 Fondue makers used to populate wedding registries instead of garage sales or storage bins. These hit explosive numbers in terms of popularity over the years, especially in the 1970s. In those years, people couldn't wait to get a fondue maker then share their creations with friends.
This once again harkens to the importance of coming together for an uninterrupted, focused, unplugged meal. People congregated, cooperated, ate, and had fun thanks to these simple but beloved devices.
Muscle cars had a strong presence in a lot of vintage 1970s photos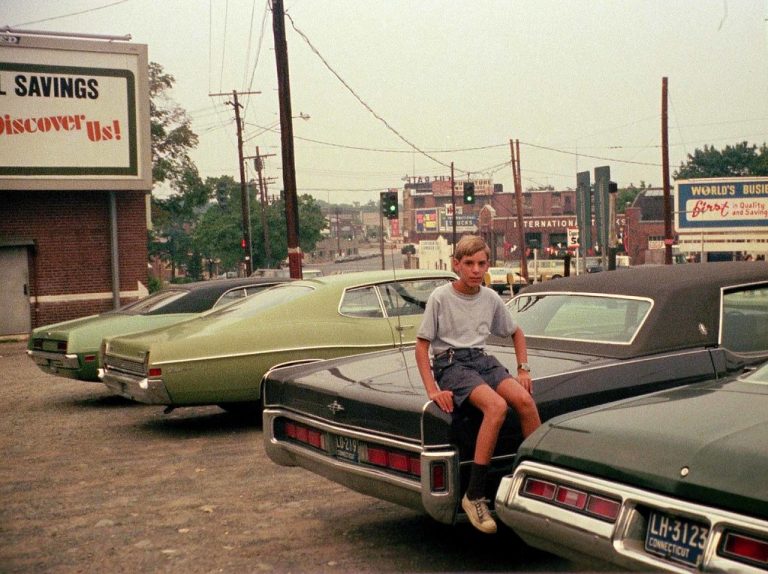 Back in the 1970s, wherever there was a muscle car, there was also someone to sit on it for a photo opportunity. The term for muscle cars came about in the '60s and '70s when they gained traction as the ride. They became especially popular for drag racing. Typically they are rear-wheel cars, which are not the most popular today because of safety and reliability.
From 1964 to 1970, muscle cars hit their greatest popularity, so they didn't stick around long to see the '70s. But they became an easy favorable because they offered good performance for an affordable cost. Plenty of trends come and go, immortalized only in pictures. But the memories from other old favorites linger on, such as the old favorite M*A*S*H, which debuted in 1972. Reminisce on this decade some more with the video below!