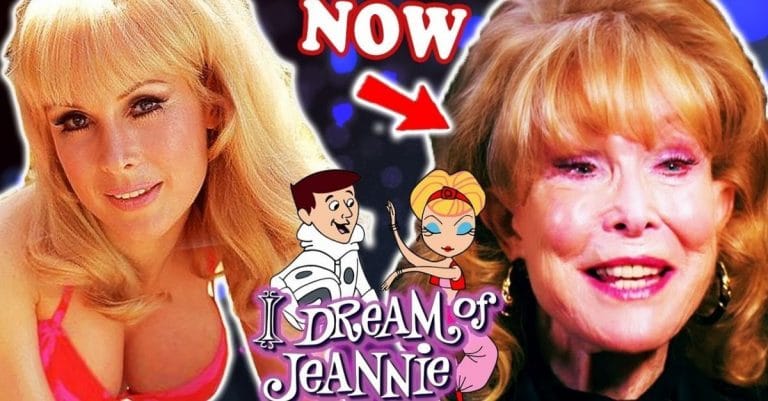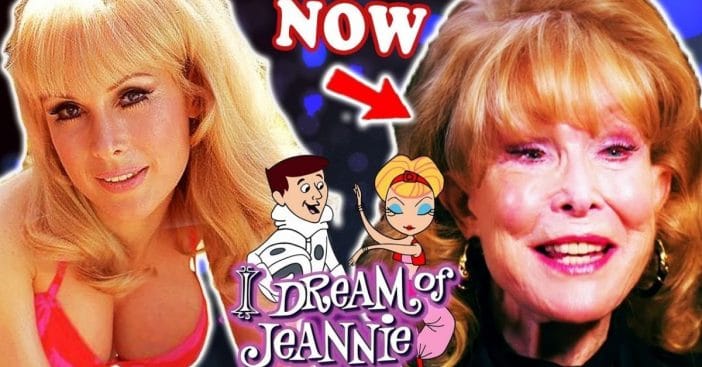 UPDATED 3/8/2023
Readers might think they went further into orbit than planned if they're seeing the cast of I Dream of Jeannie. But this rewind promises a magical game of catch-up that will address everyone's wish to hear the latest from this memorable sitcom and a cast that includes Barbara Eden and Larry Hagman.
During its ascent to fame, I Dream of Jeannie often drew comparisons to another show featuring a magical blonde who confounds her mortal friends: Bewitched. For all the parallels, though, it sported its own unique cast that brought their talents into making Jeannie a household name. Catch up with them here.
Barbara Eden (Jeannie)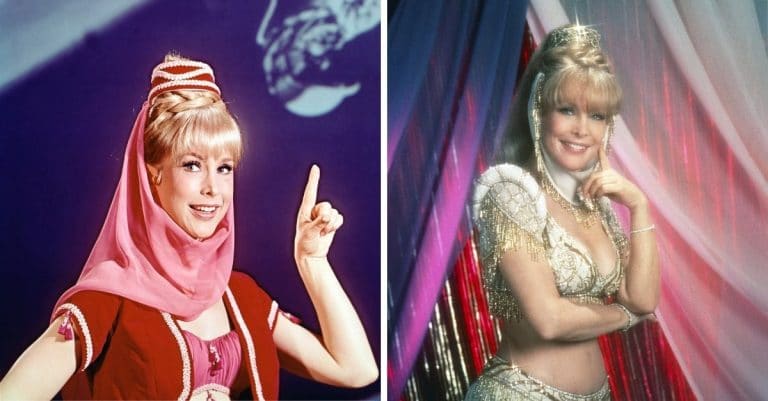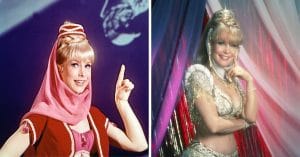 The Lady in the Bottle herself, Jeannie filled her days trapped in that bottle doing a whole lot of nothing for a whole lot of years — 2,000 to be exact. All of that changes when a marooned pilot frees her after a crash-landing on his return from outer space. When human and genie lock eyes, it's love at first sight — for her, at least. One quick stowaway mission later, Jeannie becomes an inseparable part of Captain Nelson's life with the sole goal of fulfilling her master's wishes.
Barbara Eden, 91, probably had a lot of wishes she'd have liked granted growing up. The Great Depression hit her family very hard. Through the struggles interrupting her childhood, her mother sang to Eden and her sister to lift their spirits. This paved the way for Eden's own interest in singing, and her first public performance on the Chicago news. Eden's first break was using her charm on Desi Arnaz and making Lucy rather jealous on a 1957 episode of I Love Lucy. That very same year she booked her own series, How to Marry a Millionaire.
With this success, Eden could move to motion pictures, joining 20th Century Fox. This gave her the chance to star alongside the King himself in 1960's Flaming Star. When 1964 came around, it brought the ascent of Bewitched, so Sidney Sheldon recruited Barbara Eden for the cast of I Dream of Jeannie.
Jeannie came and went between 1965 and 1970, but Eden kept herself busy — even with her former Jeannie co-star Larry Hagman — for the 1971 made for TV-horror, A Howling in the Woods. Then, in '78, Eden went on to star in Harper Valley PTA, based on the popular country song, which was successful enough that it spawned the 1981 to 1982 television series. When things seemed to slow down, she would reprise the role of Jeannie in a TV movie. This did not feature all of the I Dream of Jeannie cast because Hagman was busy terrorizing Southfork as oil baron J.R. Ewing Dallas. This movie didn't get a great reception, but it was successful enough that it spawned a sequel. But fans still knew her for that famous arm pose — and for her remarkable singing voice she showed off alongside Bob Hope and Jerry Lewis, and in numerous live performances.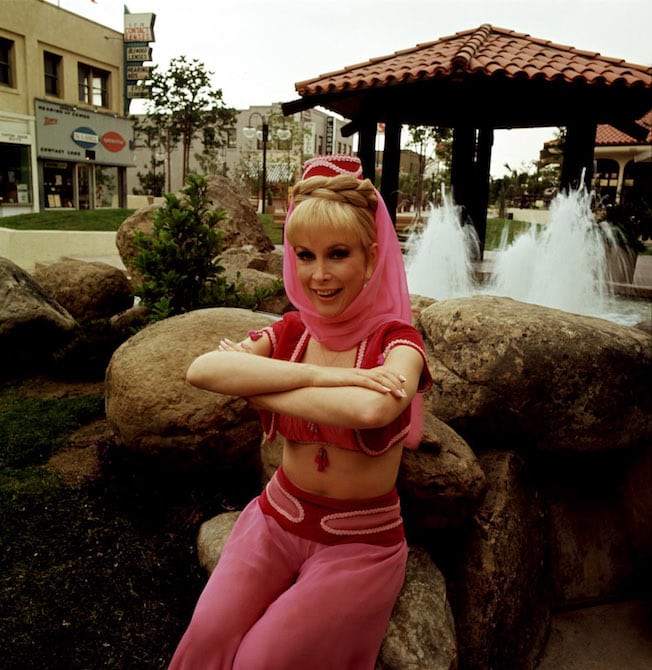 More juicy details came from Eden's book, Jeannie Out of the Bottle and she's stayed loyal to her biggest show, going as far as to defend it against claims of sexism on Oprah. Not everything was magical for Eden, though, as she suffered a breakdown following the death of her only son Michael via drug overdose. Through a lot of hard-earned poise, she endured and at 90 she's still working. Her biggest recent credit came from 2019's My Adventures with Santa where she played Mrs. Claus. Still as magical as ever!
Larry Hagman (Tony Nelson)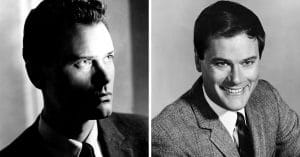 Space, the final frontier — wait, that's Star Trek. But Captain Tony Nelson probably thought his biggest adventures would happen in outer space, not crash-landing on a deserted island. His crash-landing put him right in a world of wonder and magic, though he and most men didn't really complain with Jeannie as the genie.
Larry Hagman himself was no stranger to magical women. His own mother was Mary Martin, who won a Tony Award for her Peter Pan in 1954. His own career began in 1957 when he appeared three times on Lloyd Bridges hit show, Sea Hunt. 1964 proved a very good year for Hagman when he acted alongside a young Jack Nicholson in Ensign Pulver, and then with Henry Fonda in Fail-Safe. Just a year later, he struck gold and his career rocketed — literally — by joining the cast of I Dream of Jeannie.
No amount of genie magic could make things run completely smoothly, sadly, since Hangman wrestled with alcoholism through much of the show. After a while, he couldn't turn on that chipper personality and Eden had to fight to help him keep his spot among the cast.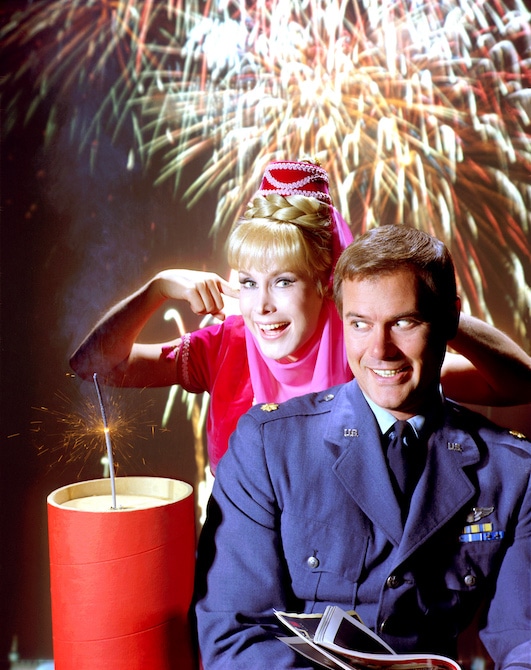 For some, Hagman is purely the lovable, anxious astronaut Captain Nelson — displaying incredible physical comedy and manic mannerisms. For others, he's the despicable and hateful JR Ewing from Dallas. Thanks to him, viewers around the world got one of the most popular cliffhangers in TV history. Absolutely everyone was asking: who shot JR Ewing? Even world leaders and royalty couldn't wait to find out. And for those who ever wanted to hear an astronaut-turned-oil-tycoon sing, look no further than Hagman's very own single, Ballad of a Good Luck Charm.
Hagman himself said, JR could get away with bribery, blackmail, and adultery. But he couldn't get past cancer, and in 2011, he died at the age of 81. Rest in peace, Captain.
Bill Daily (Roger Healey)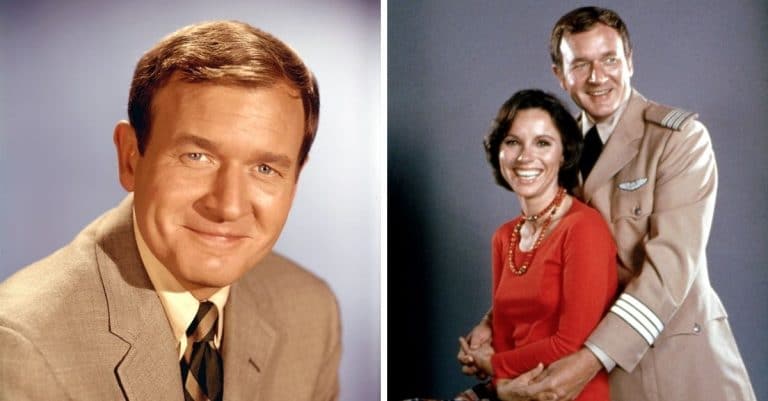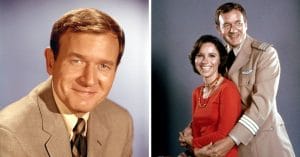 With friends like these, who needs enemies? Captain Roger Healey likely never expected best friendship with Nelson to result in dangerous shenanigans with an actual genie. But here we are — and here he is, transported to the arctic, or atop a missile, and always with an echoing "Jeanie!" yelled passed his lips. As the resident womanizer, his character didn't undergo much development, but he was an indisputable riot with his comedic timing and wit.
Things started very seriously for actor Bill Daily after he joined the Korean War, first in the artillery, then with a proper place in the entertainment unit. Even after returning stateside, Daily continued with standup comedy. While preparing for a Chicago-area Emmy Award telecast, he asked a young Bob Newhart to come up with a routine with him. So began a fruitful relationship.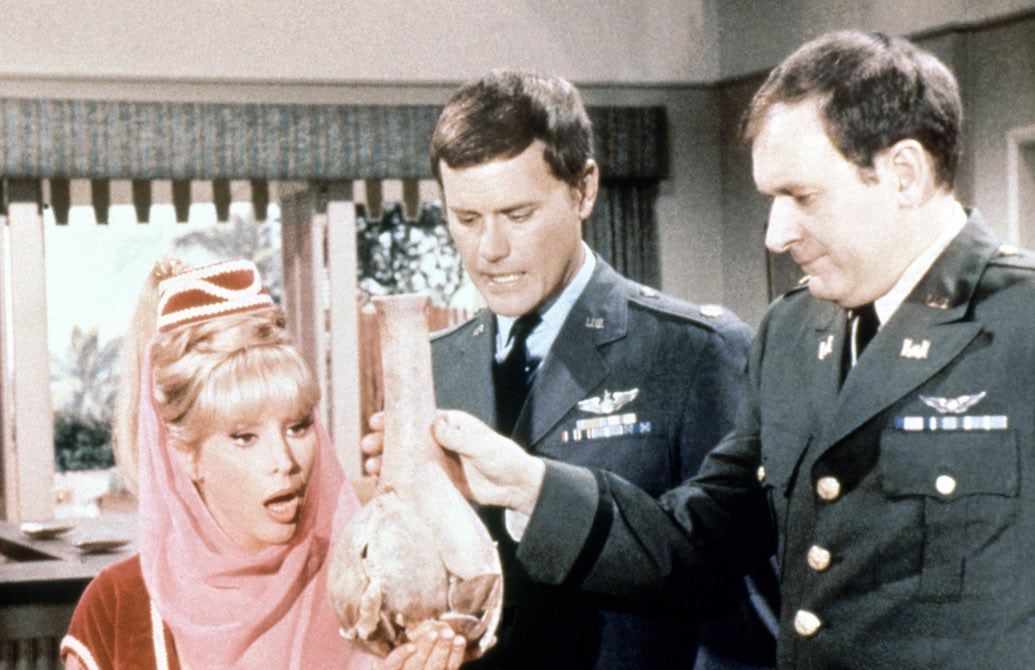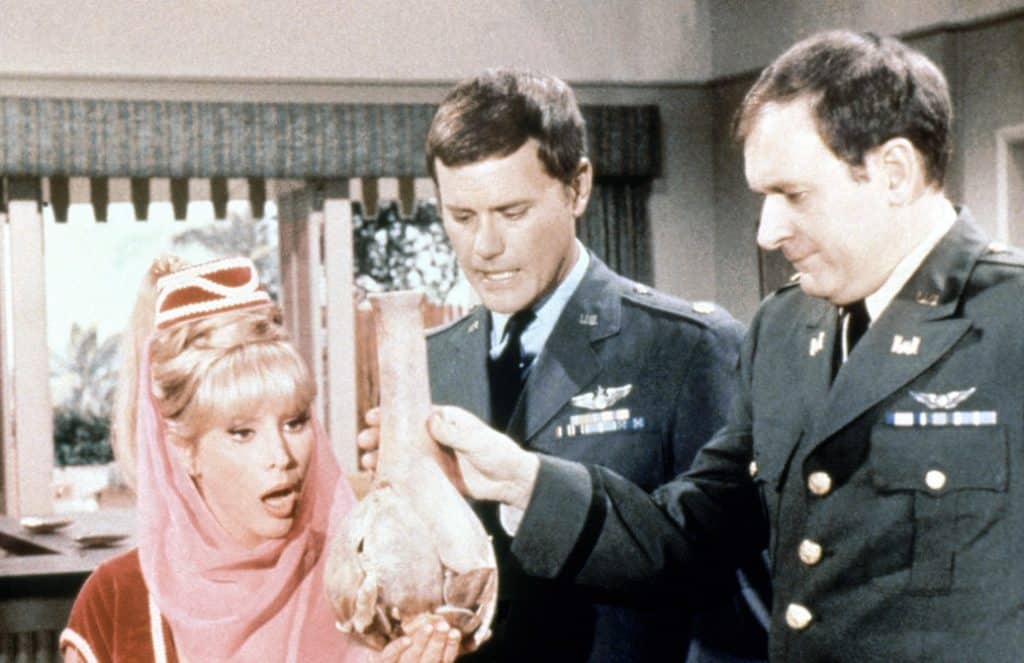 Eventually, the magic ran out for the I Dream of Jeannie cast, but Daily didn't stay wanting for long. His friendship with Bob Newhart became vital as he became Howard Borden on The Bob Newhart Show. This would become Daily's legacy. Though, his most notable post-Newhart role was another supporting character, that of Larry the psychiatrist on the cult favorite ALF.
After a very long and eventful life, Daily passed away in 2018 at the age of 91. It was a sad day never hearing another, "Hi Bob."
Hayden Rorke (Dr. Bellows)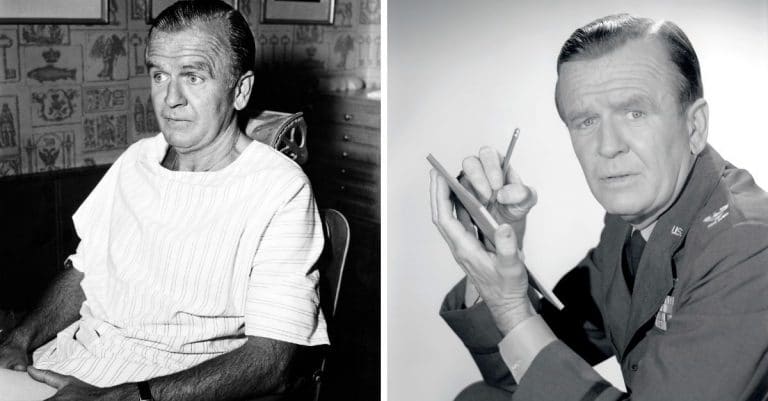 Nelson and Jeannie both had to watch their backs around Dr. Bellows, NASA's relentless psychiatrist who was dead set on proving Tony crazy, lying, or both. Never was there a funnier doctor in television history than the hilariously prissy Bellows, managing to make acute skepticism and dread amusing.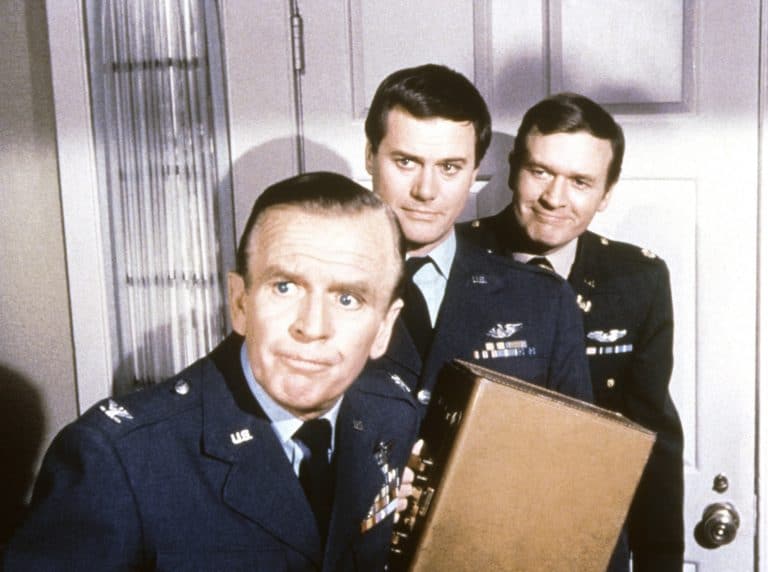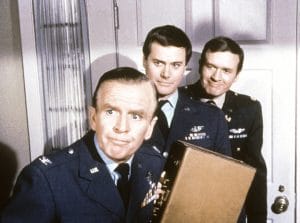 For Hayden Rorke's part, during World War II he enlisted in the Army, where he made his film debut in the musical This Is the Army starring not-yet-president Ronald Reagan, for which he was uncredited as the stage manager and as a fellow soldier. Such a small part meant his name didn't get any real spotlight, though. Playing the big baddie Arne Mason in The Lone Ranger finally got Rorke some fame. Then, in 1957, Rorke played Steve in a nine-episode arc on Mr. Adams and Eve.
Joining the I Dream of Jeannie cast proved the most lucrative for his career and name recognition. Indeed, 1965's Dr. Bellows that made Rorke recognizable to the world, and he had no qualms leaning into that, so when the reunion movie launched, he put the lab coat back on with gusto. He and his boyfriend would also have the Jeannie cast over for parties. Overall, he acted like a prince to everyone he met. So it's sad to learn this kind soul was among the first in the Jeannie cast to die in 1987. He was 76 years old.