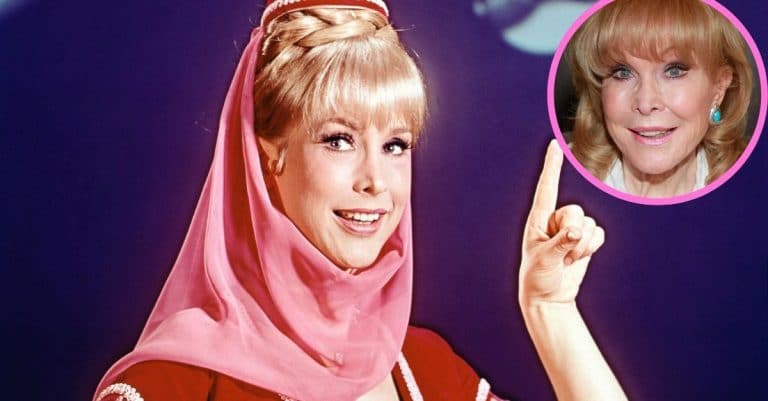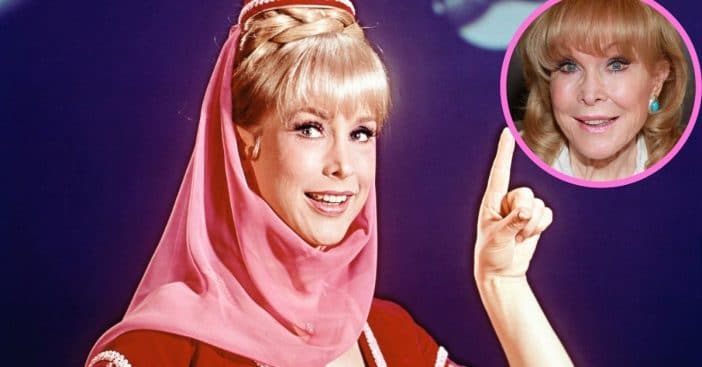 Whatever Master wishes, Jeannie shall grant, especially if it's for a look back on the cast of I Dream of Jeannie. This magical comedy put Barbara Eden front and center as the titular genie, Jeannie. It also pitted two supernatural blonde stars against one another as Bewitched and I Dream of Jeannie tried to answer the age-old question: djinn or witch, who is superior? None of this could be possible without Eden balancing quirky and powerful, while also working to reshape television norms. But what did she get up to after the show?
Barbara Eden could probably have used a genie like Jeannie in her own life growing up. She was born on August 23, 1931 and the Great Depression had hit her family hard. Eden's mother sang to Eden and her sisters to keep their spirits high when stomachs grew empty and morale low. Despite its heartbreaking origins, Eden's interest in singing likely came from this practice of her mother's. Indeed, she soon after started singing in church choirs, even earning a solo. Then, she graduated to performing for Chicago News. More performances gained her more attention, and soon, Eden found herself rising above the harsh conditions she was born into.
Wishes do come true
Barbara Eden's first break came when she disrupted the Ricardo family, her charm on Desi Arnaz, making Lucille Ball jealous on a 1957 episode of I Love Lucy. That very same year she booked her own series, How to Marry a Millionaire. She wasn't done with big breaks, though, transitioning to motion picture by joining 20th Century Fox. With this, she starred alongside the King himself in Flaming Star (1960).
RELATED: 'I Dream Of Jeannie' Cast Then And Now 2021
Jump to 1964, and Bewitched is the #2 show in the whole country. When Sidney Sheldon wanted to create a competing show, he sought to recruit the best. Originally, Jeannie was supposed to be a brunette, to at least avoid a visual resemblance to Samantha Stephens (played by Elizabeth Montgomery). None of the brunettes quite brought the energy and performance Sheldon wanted, but fortunately, when he had to concede and recruit a blonde, he had the talent of Barbara Eden to justify it.
What is Barbara Eden doing now?
Eden switched gears rather dramatically – literally – after Jeannie and dove into the drama genre. Though, she did reunite with her former I Dream of Jeannie costar Larry Hagman for the 1971 made-for-TV horror, A Howling in the Woods. Then, starred in the feature film Harper Valley PTA, based on the popular country song. She then starred in the subsequent TV series it spawned in 1981. Just when work started slowing, Eden reprised the role of Jeannie for a TV movie. Sadly, she and Hagman would not reunite this time, as he was busy scheming and securing oil as J.R. Ewing in Dallas.
When not appearing on the silver or small screen, Eden reminded everyone of her musical background by rocking the stage with the likes of Bob Hope and even Jerry Lewis. Her 2011 book Jeanie Out of the Bottle opened a bottle of all the secrets to her life and the show that helped make her uniquely famous. Just as her previous roles and subsequent book prove, she's very loyal to the show. When debates arose calling Jeannie sexist, she defended the series by noting everything happened first and foremost because of Jeannie; she was always in control, and any seemingly submissive actions were simply because she was a genie. Today at 89, Barbara Eden still has a propensity for the magical, as she played Mrs. Claus in 2019's My Adventures with Santa. What a perfect Mrs. Claus, still magical!