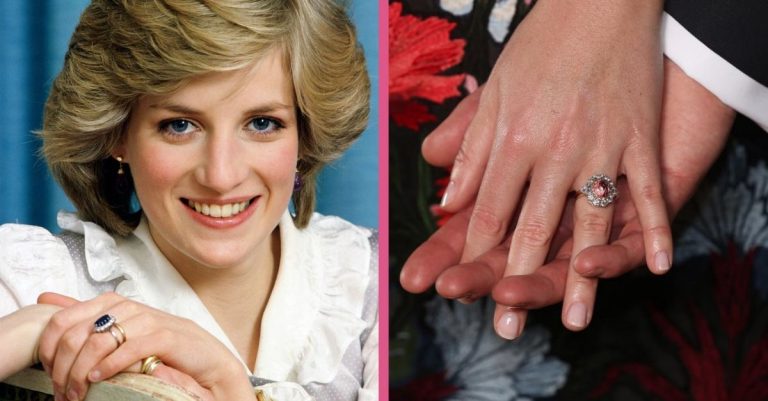 Engagement rings certainly turn heads and dazzle onlookers for multiple reasons. Not only do they speak of promised love between two souls, but they also can be breathtaking displays of beauty. No matter the size or make, such jewelry can easily inspire a sense of joy when seen. The same is true when seeing the engagement rings by members of the British Royal Family.
With centuries of wealth behind them, they are able to readily invest in some very dazzling pieces that seem to capture the light and all surrounding colors in just a few glistening gems. Between intrigue, rumors, and debates, taking a look at these pieces of wearable art sported by the royal family is very refreshing.
Sarah Ferguson, Duchess of York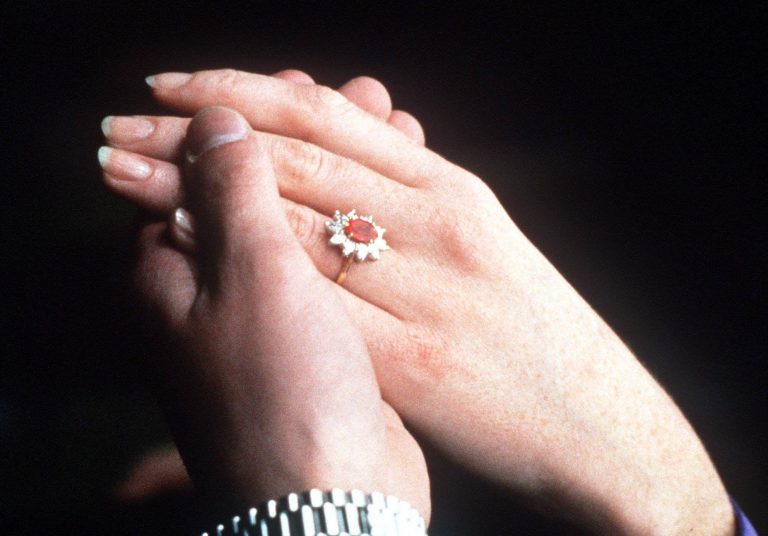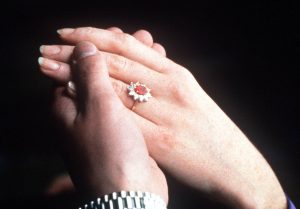 In 1985, Prince Andrew proposed to Sarah Ferguson with a sizable Burmese ruby. Reportedly, he chose a ruby as a nod to her vibrant red hair. An arrangement of diamonds situated in a floral pattern, like petals, frame that ruby.
RELATED: Prince Harry And Meghan Markle 'Odds Are They Will Be Adopting Second Child'
Adding to the warm, fiery theme of the ring is the setting, that of a simple, bright gold band. Traditional engagement rings bring to mind diamonds as the dominating presence, but rubies are a very tough gem, similar to diamonds. This ring may be an inspiration behind her daughter Princess Eugenie's ring later on, emphasizing a familial bond through the British Royal Family engagement rings.
Princess Eugenie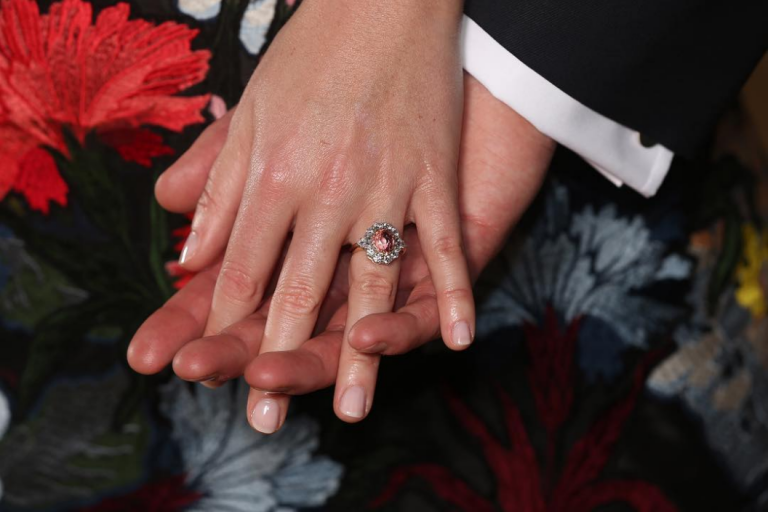 On January 1, 2018, Princess Eugenie became engaged to Jack Brooksbank. That day, she was presented with a very unique stone. Padparadschas are a very rare type of sapphire with a unique color somewhere between pink and yellow.
Ten diamonds frame the padparadscha. Princess Eugenie's ring is a bit more involved than her mother's, as two other pear-shaped diamonds sit on the ring's "shoulders." Even with this difference, the resemblance to Duchess Sarah's is noticeable, and rumors stating the couple designed the ring themselves emphasize the parallels.
Princess Beatrice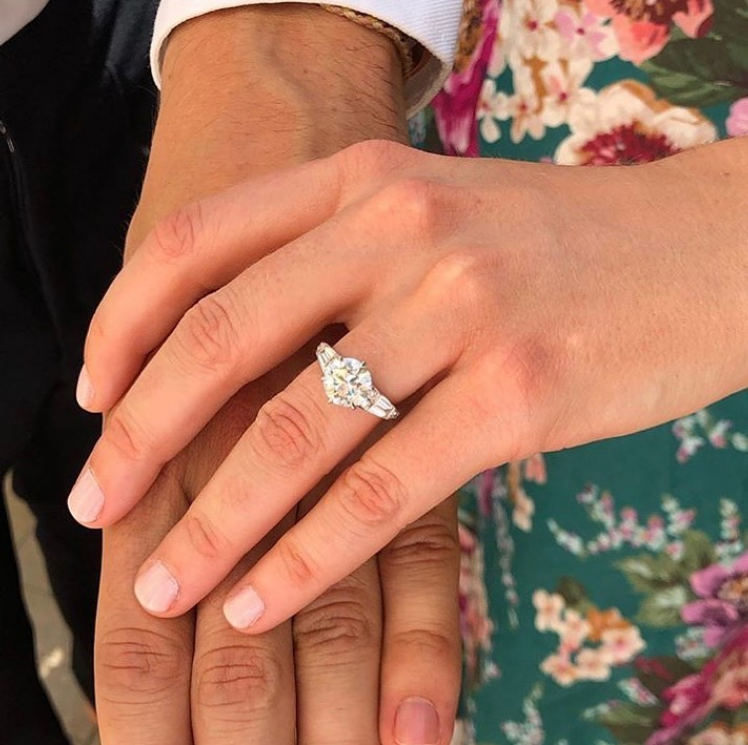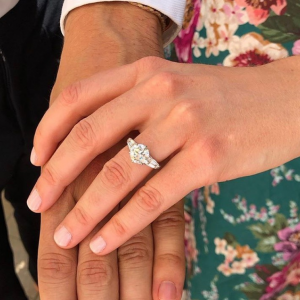 We see a return to diamonds among the British Royal Family's engagement rings with Princess Beatrice's ring. Recently, she and property tycoon, Edoardo Mapelli Mozzi announced their engagement. After an 11 month courtship, the couple announced plans to wed in 2020.
Princess Beatrice now wears a diamond sidestone ring. Diamonds frame yet another diamond, this one a solitaire right in the middle. Based on appearance, the setting is likely platinum. When it catches the light, sunspots may dance before the viewer's eyes.
Camilla, Duchess of Cornwall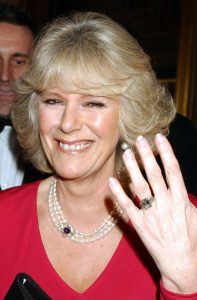 Duchess Camilla's ring has very noteworthy origins, even among other members of the royal family. Her ring originally belonged to the Queen Mother and was presented to her in 2005 by Prince Charles. Once again, it features diamonds as the main presence on the band, which is platinum as the ultimate sign of prestige.
In this case, the diamond displays as a long emerald cut. Overall, the ring bears a distinct Art Deco design, and the size and materials make it one of the most expensive of the British Royal Family's engagement rings.
Queen Elizabeth II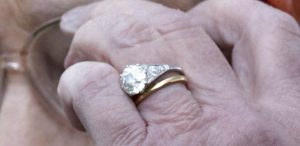 The Queen wears an impressive ring befitting of her important title. Prince Phillip proposed to her in 1947 with a 3-carat diamond ring using diamonds from Prince Philip's mother's tiara. Their relationship stands out as unique among royalty and their ring does the same, even though it does follow the tradition of using sentimental gems and a custom design.
Also set in platinum, the central diamond is flanked by additional diamonds along the band. Though not always upfront about her feeling before the public eye, Queen Elizabeth is wearing a ring very emblematic of her strong sense of compassion for those she cares about – and those who care for her, particularly Prince Phillip.
Wallis Simpson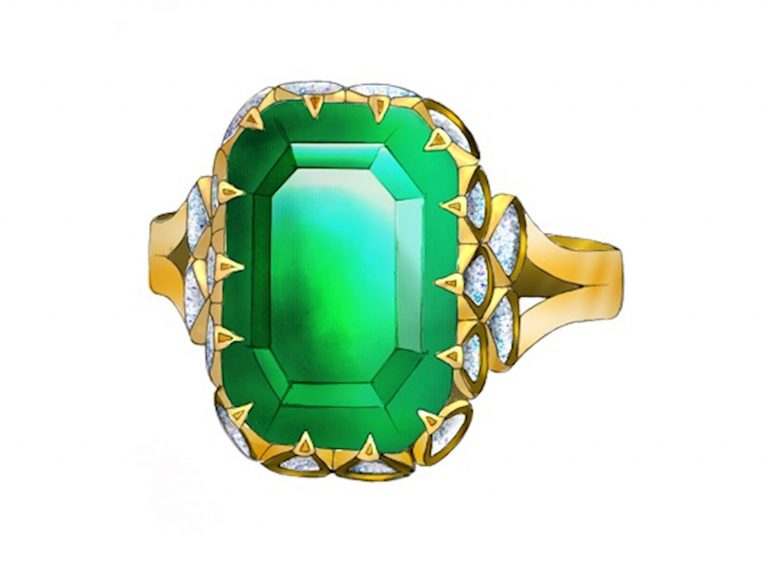 Even when trying to get away from rumors and uproars surrounding the Royal Family, a bit of scandal still creeps in. Fortunately, this particular upset is simply a case of following one's heart to pursue love. These days, we see more and more cases of royalty marrying non-royals, but one early case of this was Edward, Prince of Wales, marrying American actress Wallis Simpson. He even abdicated the throne in 1937 to be with her.
Even back then, we see different gemstones apart from diamonds take center stage on a British Royal Family engagement ring. This time, it features a 19.77-carat emerald. The inside of the band featured "We are ours now 27 x 36," referencing the day Prince Edward proposed to her.
Queen Victoria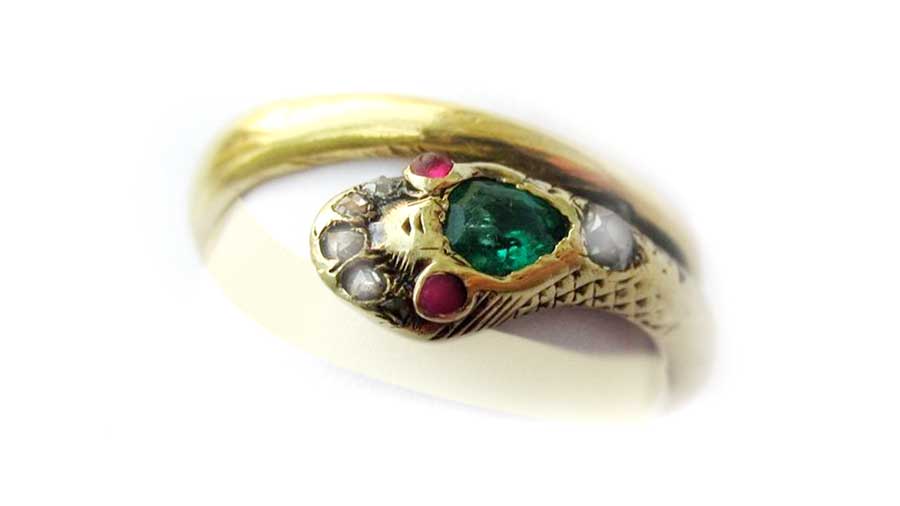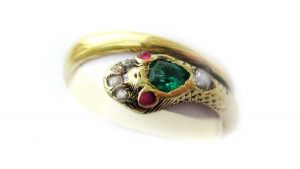 Before Queen Elizabeth passed her great-great-grandmother's record in 2015, Queen Victory had been the longest-reigning British monarch. Not only did she reign for a long time, but she was from a totally different time. In her days, a ruling female monarch proposed to her prospective fiancé, not the other way around.
Much as a serpent can wind round and round seemingly without end, Queen Victoria's engagement ring coiled around her finger in the same way. Symbolically, the serpent had represented wisdom, loyalty, and commitment. All are important traits not just for a queen but between spouses. Between this important meaning and the personal importance to the queen of emeralds, rubies, and diamonds, this serpentine ring meant a lot to her.
Princess Margaret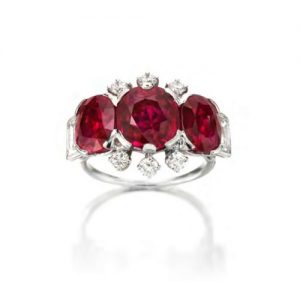 Once again, a British Royal Family engagement ring took inspiration from the woman to wear it. This time, inspiration came from Princess Margaret's middle name, Rose, which is represented by the rubies completely surrounded by diamonds.
Princess Margaret's ring features symbolism similar to Queen Victoria's. Their intense color makes rubies representative of royalty and passion. Both are befitting such a noble engagement, which is likely why its designer, her future husband, Anthony Armstrong-Jones, made this choice. Further taking advantage of their appearance, he had the stones arranged to resemble a rosebud.
Meghan Markle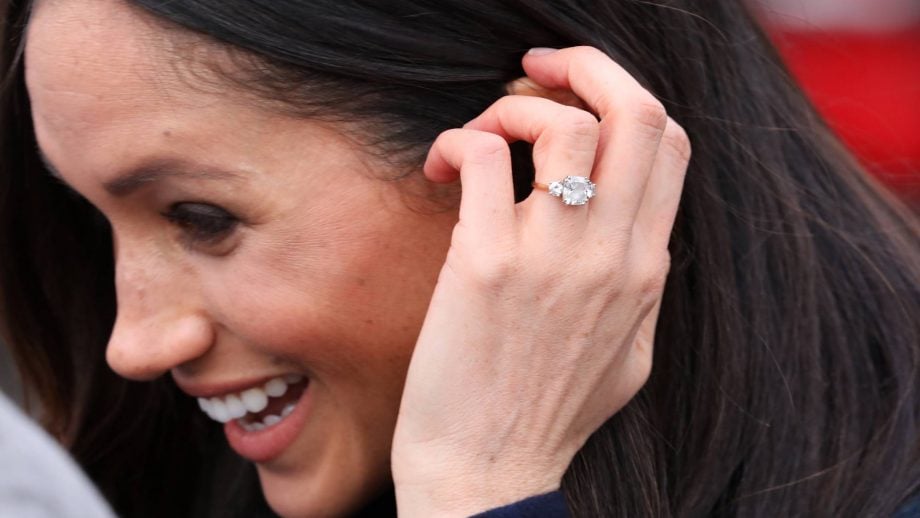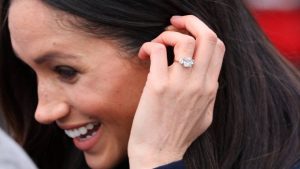 The engagement of Prince Harry to actress and now Duchess Meghan Markle is our own more recent bout of intrigue from the royal family. Reportedly, Prince Harry spent half a year designing Duchess Meghan's ring, and those were six months well-spent because the resulting diamond trilogy ring is as stunning as she is.
For all the tension tabloids like to hint at, Meghan herself enjoys plenty of classic things. In some cases, she has no qualms against breaking royal tradition, but for her engagement ring, she was more than content with a yellow gold setting. The sunny color better emphasizes the stones from Botswana, where the couple has done much conservation work together.
Princess Diana and Kate Middleton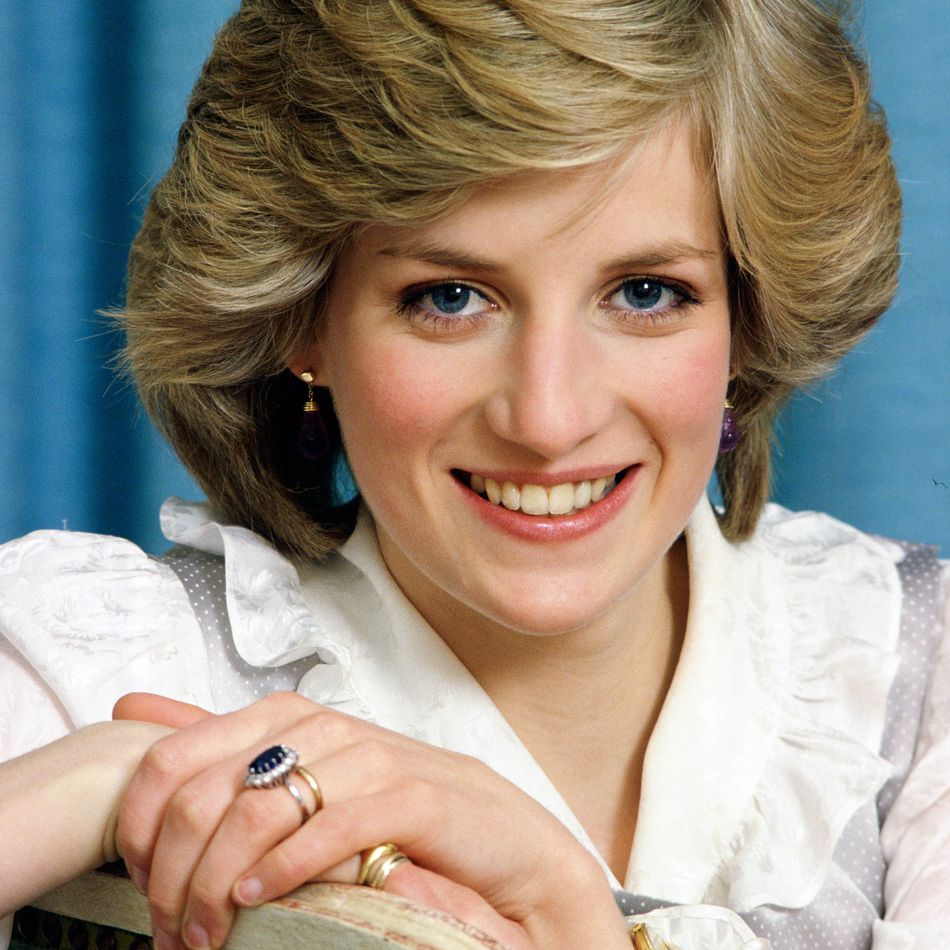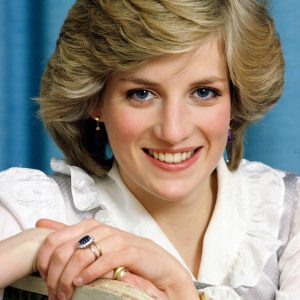 Prince William wished to preserve his mother's memory and honor her impactful legacy. To do this, he used her engagement ring for such an important moment in his life as his own engagement. As a result, this ring sits on Duchess Kate's finger, still dazzling onlookers with its classy layout and stunning jewels.
The 12-carat sapphire sits nestled amidst fourteen solitaire diamonds. Ever the trend-setter, though it was not the custom-design ring typical of royal engagements, Diana longs for that particular ring. Her decision further solidified the mounting trend for gemstone engagement rings, especially among the royal family.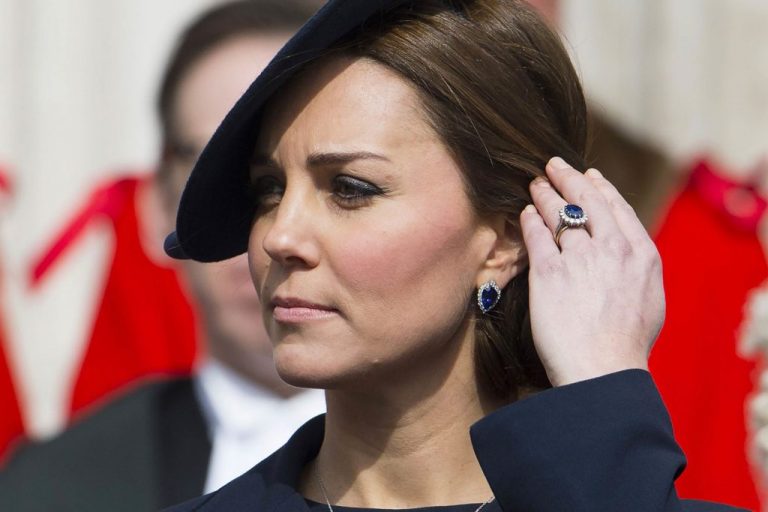 RELATED: Prince Harry Following In Princess Diana's Footsteps By Visiting Angola Landmine Field