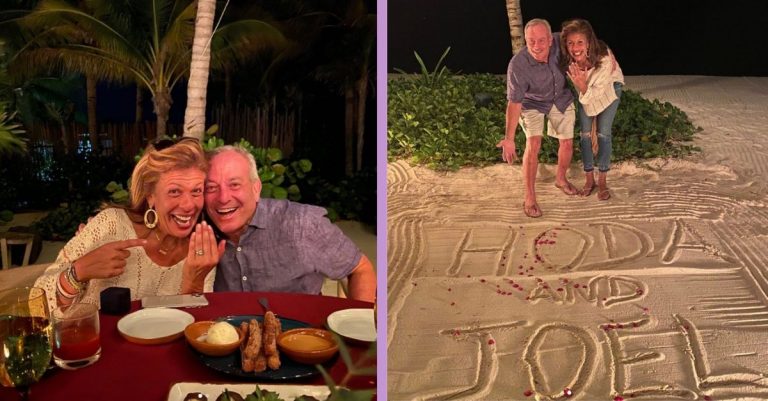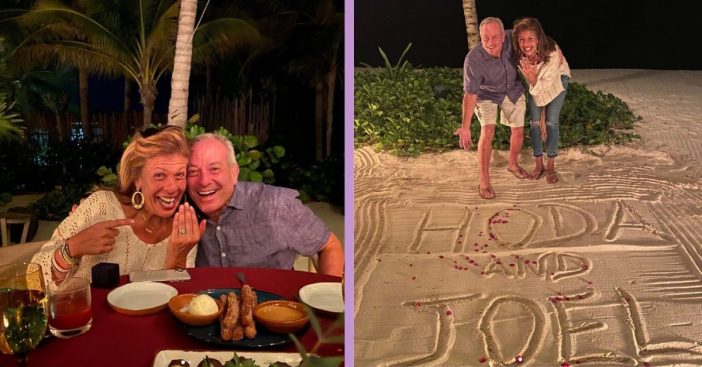 Today co-anchor Hoda Kotb revealed harbored a secret she just couldn't keep anymore. Coworkers, audience members, and especially Kotb felt positively giddy when announcing her engagement to Joel Schiffman. She announced the news on her show this Monday, barely able to contain her excitement.
"I have to tell you something that a friend of mine, a friend of ours, asked me to let you guys in on a secret. I'll give you her initials. Her initials are Hoda Kotb, and she's engaged," she announced on her show. Finally, she pulled her hand from its hiding place behind the desk and show off her engagement ring.
She didn't see this engagement coming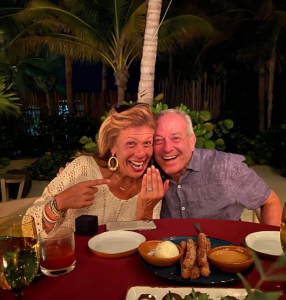 No one was quite as surprised by this engagement as Hoda Kotb, that's how discreet Joel Schiffman was. Everything about the atmosphere was perfect. The two sat at a tasty dinner on the beach while vacationing in Mexico. There, he showed his appreciation for the woman he'd been with for six years.
"And he was like, 'I have something else I would like to say,'" she said. "He said some beautiful things and then he got down on one knee. He said 'Would you be my wife?"' Then presented her with a large, dazzling engagement ring. Looking back, Kotb admits to being totally unsuspecting. "He's good," she said. "He had a good poker face." Ultimately, that night's shock and joy deeply affected her in the best of ways. "My heart has literally been pounding," she stated.
Hoda Kotb and Joel Schiffman have had a strong relationship for years
The now engaged couple shares a love that spans six years. In that time they became parents via adoption to Haley Joy, 2, and their infant daughter Hope Catherine. Hope became the newest member of their happy family in April. Ever the outrageous and fun personality, Kotb joked that they would tell their children, "Your parents are going to get married."
In 2007, Kotb became the first host of Today's first fourth-hour weekday morning broadcast at 10 A.M. She met New York financier, Joel Schiffman in 2013. Her show became a vehicle for announcing spectacular news some years ago. She announced her first adoption in 2017. Two years later, she went onto Today via phone to announce Hope Catherine's adoption. This couple is no stranger to success. According to his LinkedIn, Schiffman is Head of U.S. Defined Contribution and Insurance Sales at an investment management company. As the two shine in their careers and family life, we're sure they'll do the same in their marriage!