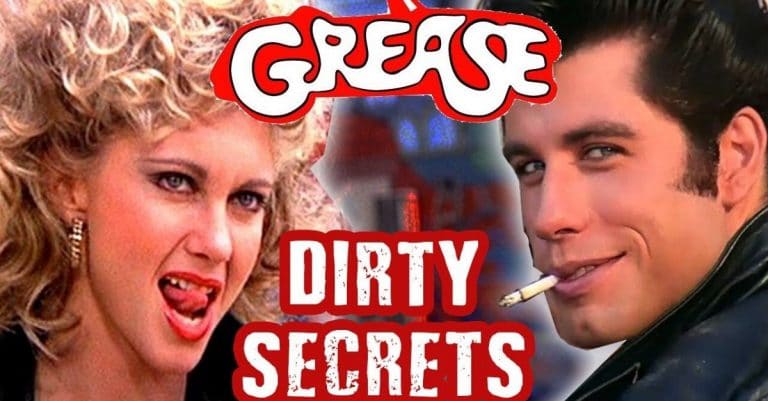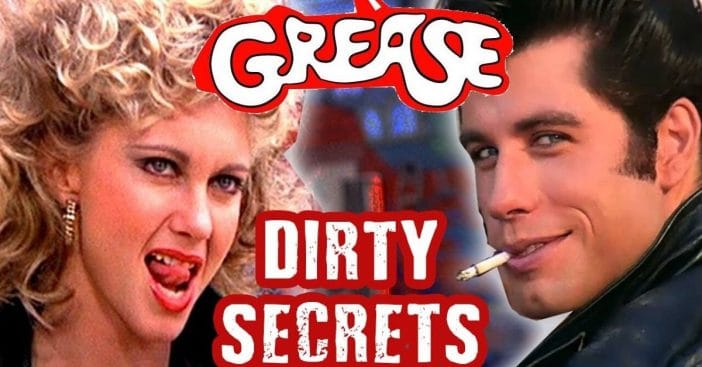 UPDATED 4/18/2023
If you've ever found yourself singing along cheerfully to a Grease classic, you might be surprised what you're actually singing about. Today we're talking about the secrets and scandals that even some of the most seasoned fans may not know about this 1978 classic. Many of the songs in the movie have lyrics that point to obvious and not so obvious sexual innuendos behind the scenes. After all the movie was filmed over two sizzling hot months, at Venice High School in Los Angeles. 
The location that would later inspire Britney Spears' "One More Time". With no air-conditioning you could say this young-adult cast was in heat, giving a whole new meaning to iconic lines about "a hickey from Kenickie" and "Where you going, to flog your log?" Remember although the movie was set in the '50s, it was made post-'60s sexual revolution. It's like the Teen insider movie that couldn't have been made in the time it portrays. The title of the motion picture paid tribute to the 1950s culture of greasy food, greasy hair, and what else? And if you think we're making something out of nothing, it was no secret in Mexico, where it did particularly well, Grease was literally translated as Vaselina. Let's dive right into the hidden secrets and scandals behind the Grease soundtrack!
1. "Greased Lightnin'"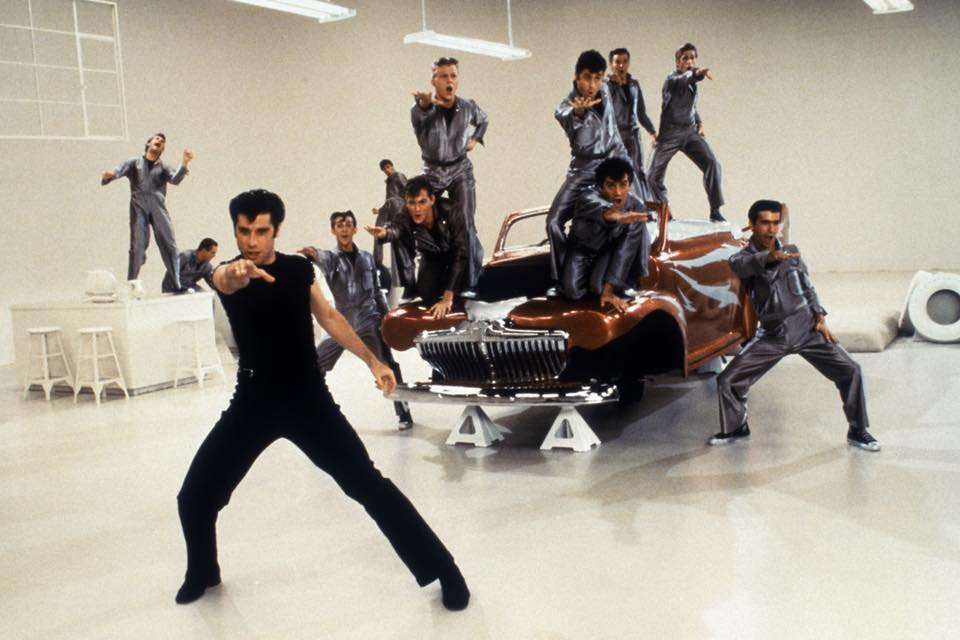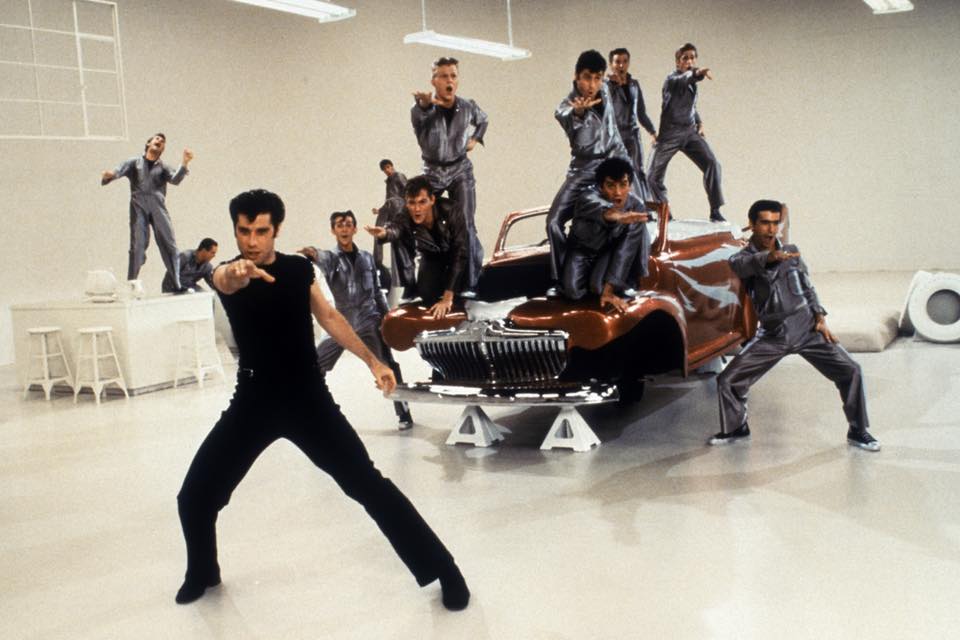 Nothing like starting out with arguably the most popular song in the film. "Greased Lightnin.'" Let us remind you the stage version of Grease was meant for more mature audiences. In the stage version, The T-birds wield real switchblade knives but in the movie, these are replaced by much more kid-friendly pocket combs. The original stage version of the song is about turning an old-fashioned 'Buick into a bedroom.' We definitely get that implication! The lyrics are chock full of sexual innuendos so if you catch one of the many high school play versions taking place across America on any given day, you'll notice some lyrics toned down a bit in order not to be inappropriate.  The lyrics "the chicks will cream"  are changed to "the chicks will scream," and "She's a real pussy wagon" is changed to "She's a real dragon wagon".
RELATED: This Is What The Cast Of 'Grease' Looks Like 40 Years Later
Did you ever notice John Travolta rubbing saran wrap on his crotch? Most people miss this reference but Back in the '50s, many misinformed teens would use saran wrap as a contraceptive when they were unable to buy condoms. Perhaps Danny Zuko was one of those misinformed teens.
John Travolta's real-life crush was in fact Olivia Newton-John, he even lobbied for her to play his love interest. He added: "She was like Marilyn Monroe mixed with some motorcycle chick. I thought it was the bomb." Originally Danny Zuko was supposed to commit suicide, in a more Romeo Juliet-esque ending. We're happy they killed this idea. Yikes!
Henry Winkler a.k.a 'The Fonz' actually turned down the role of Danny Zuko because he was already playing a similar role on Happy Days. What's even more interesting is that The Beach Boys were originally supposed to sing the song in a garage. Can you imagine how different the song would've sounded?
2. "Sha Na Na – Born to Hand Jive"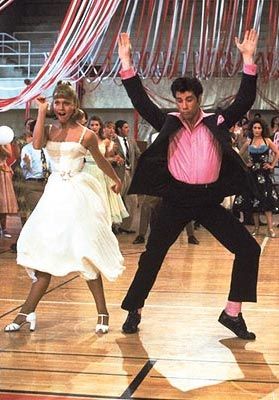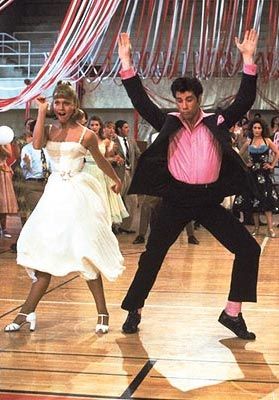 There's a dance-off going on over at Rydell High and you've guessed it, between the hip thrusts and dress twirls, it's another place to stick in some suggestive antics. Patricia Birch, the choreographer of the scene said, "we wanted it to be as raunchy and funny as possible." To start, Susan Buckner's character gets her dress pulled over her head by Kenickie. Seems innocent enough but this stunt was practiced many times. No wonder, real-life Jeff Conaway, later brought Susan back to his trailer. This was admitted by Susan herself.
We also can't forget Cha-Chas suggestive moves that nearly steal Danny away from goodie two shoes Sandy. There's a bit of drinking going on as well in the midst of it all. And Vince Fontaine, host of the dance-off, can't seem to keep his hands to himself. In this scene, a much older Fontaine, played by 77 Sunset Strip actor Edd Byrnes, takes his shot at nearly every high-schooler in the room. He seems to have the most chemistry with enthralled teenager Marty. All was going well until we later find out she caught him trying to slip aspirin in her drink. Yikes!
The scene ends with a beautiful full moon…you know what we're talking about.
3. "The Drive-In"
Do you remember when Danny took Sandy to a drive-in movie following the dance drama? She was already pretty annoyed that he and Cha-Cha danced together and then he goes in to make a move, it appears, in front of everyone. This is where Travolta got his big solo number. Of course, he doesn't go in for the move before giving Sandy his ring to try and patch things up from the night before, thinking he'll make it right. "Stranded at the drive-in, branded a fool, what will they say Monday at school?" Danny sings after Sandy leaves him in the drive-in parking lot.
Remember, Travolta actually had a pretty big crush on Newton-John. Originally, Newton-John wasn't even sure she wanted to play the role of Sandy. She actually wanted to see screen-test footage first before committing to anything.
While we're at the drive-in this seems like a good time to talk about another high sexually tensioned romance. It's clear that Rizzo has a lot of feelings for Kenickie, and at the beginning of the movie, often tries to seem tough in front of him and others. Some of her best lines are presented when she's all rough and tough.  Even as she confesses this to Marty, she seems to not care, when in reality, we find out that she has a lot more than meets the eye in the song "There Are Worse Things I Could Do." 
Oh, and did you know that the "hickey from Kenickie" was actually a real hickey? Nothing like being authentic, right? More on Rizzo later, in her "Sandra Dee" number.  As mentioned earlier Kenickie apparently got around quite a bit on set. Didi Conn reveals this, saying "Aw, bless our Kenickies' heart – his trailer was rocking and rolling all day long!" There's just something about Rizzo (and Kenickie, too!) that gives Grease an extra edge!
4. "Beauty School Dropout"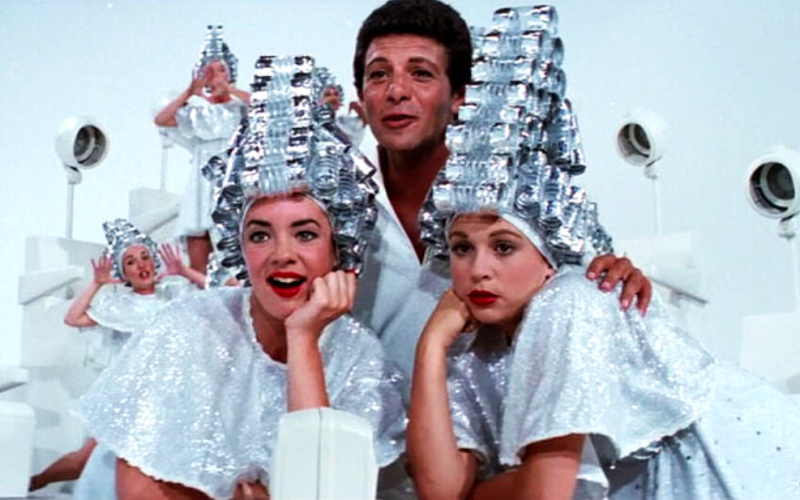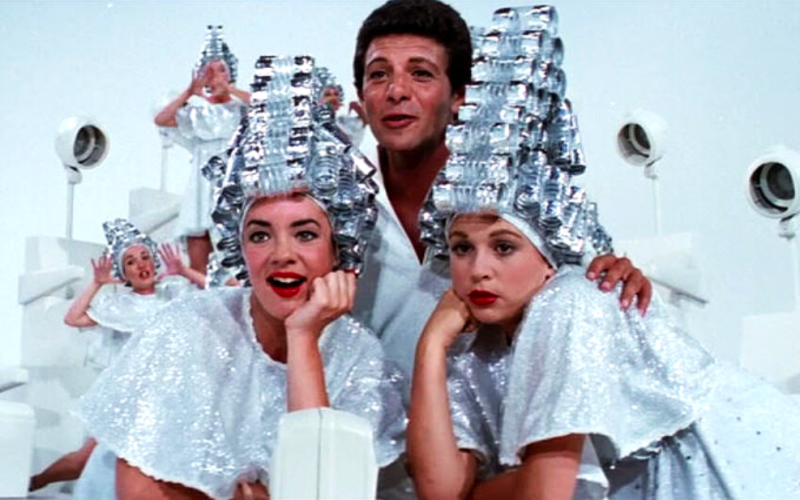 Didi Conn describes filming the "Beauty School Dropout" scene with Frankie Avalon, who was 40 years old at the time the movie premiered. It was no acting, Frenchy really was salivating over Frankie Avalon. She reveals that the T-Birds had some issues with filming the angel scene towards the end of the song, and you'll laugh when you find out why!
"The boys said they weren't afraid to go up high but they didn't know the harnesses would be so tight around their privates. They were in such pain!" Didi says. Jeff Conaway, who played Kenickie in the movie, injured his back during the sequence, leading to an addiction to painkillers that would follow him for the rest of his life. Didi Conn, said: "They had to keep the windows closed because next door was a pork plant. "It was so smelly, noisy and so very, very hot but everybody was just having fun, dancing and trying new things — you had to or you'd faint from the heat."
This song is also guilty of having a suggestive lyric as well. Do you remember which line it was? Oh yeah, that 'hooker' line! Another fun fact from Didi? She admits that the wrap-up party when the movie was finished was a bit of a blur.  "I don't even remember the wrap party because somebody made some brownies. There was something in it! I won't mention names… I just remember laughing a lot!" Sounds like the whole cast had a lot of fun that day!
5. "Look At Me, I'm Sandra Dee"
This is a turning point for the audience as we get to witness Rizzo in all her shameless glory – making fun of Sandy being a goodie two shoes. There's a lot of lyrics in this that point to making fun of Sandy being a virgin, afraid of sex, and not being able to smoke a cigarette without coughing.
We also can't forget that infamous ending line… "Hey, fongool… I'm Sandra Dee," which actually means saying "f*ck you" to someone. This line is typically removed from television versions of the movie. Rizzo is one of the most interesting characters in that we get to see not only her exterior edginess but her interior softness. 
6. "You're The One That I Want/We Go Together"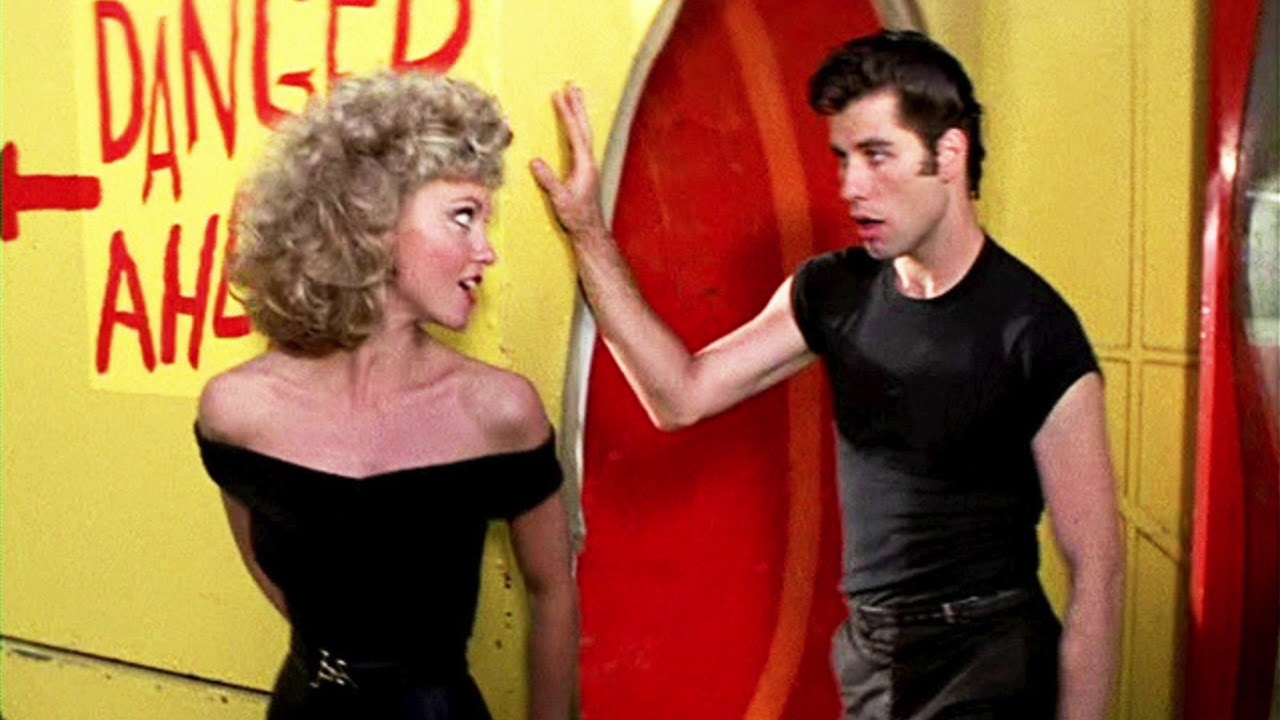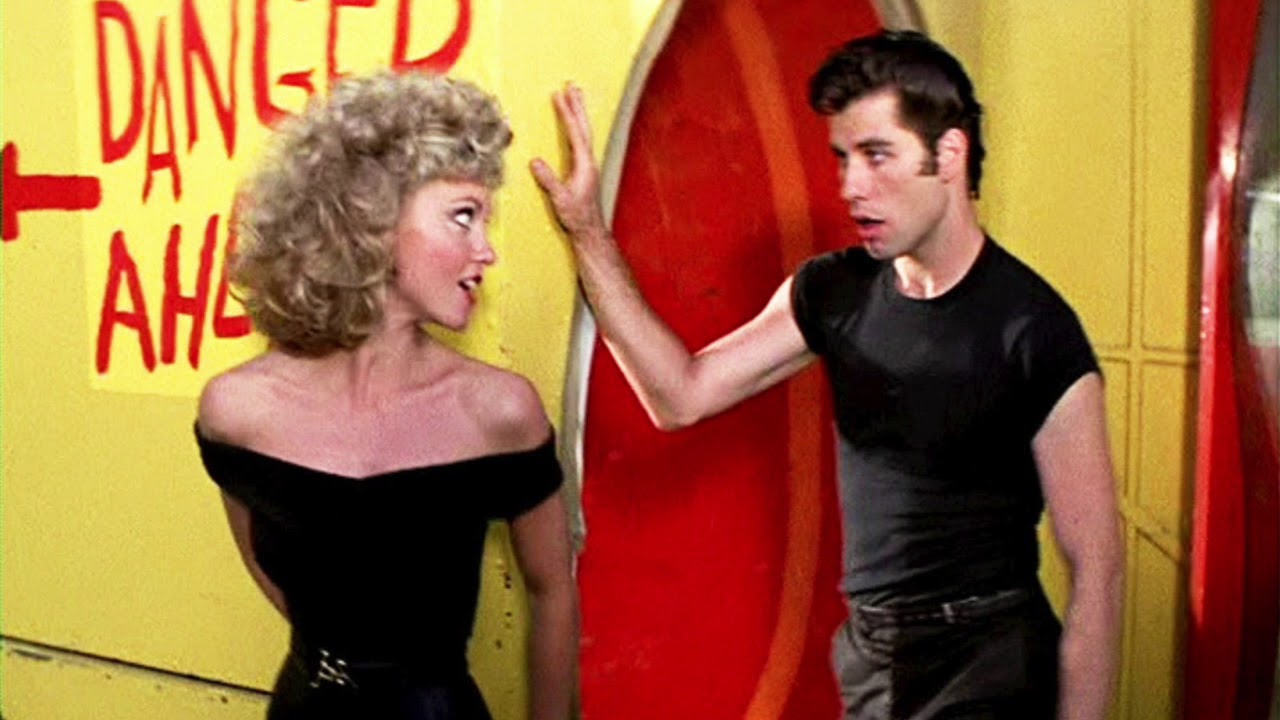 This scene is a ground-breaking moment in the film where goodie two shoes Sandy Olsson transforms into what is now known as "Bad Sandy." Could this be a nod at Sandy's transition into womanhood? Olivia Newton-John has said herself that when she finally put on the black leather costume for the end of the movie, she was treated differently by her male co-stars, giving her much more attention. Newton-John also reveals that she actually had to be sewn into the outfit because it was so tight-fitting! She was super nervous to be putting on that costume, too, unsure if she was doing the right thing.
Director Randal Kleiser admits that when he first saw Newton-John in her black leather outfit, he didn't even know it was her at first. "When we were shooting at the drive-in, that's when they first put together her makeup and her outfit and showed me how she was going to look for the ending. There was all this noise and this girl coming toward me with this wild hair, and I said, 'Who's that?' I couldn't tell it was Olivia." He continues, "I thought it was just some extra they had brought up. I said, 'What? Olivia! Wow, this is gonna work,'" he says.
Can you believe all the interesting and surprising secrets you may or may not have known about Grease? It's hard to believe so many of these secrets have been kept under the radar for so long. Comment your favorite secrets you learned from this video about the 1978 film!
FAQs
Who wrote the songs in Grease?
The songs in the musical "Grease" were written by Jim Jacobs and Warren Casey. Some of the most famous songs from the musical include "Summer Nights," "Greased Lightnin'," and "You're the One That I Want."
How many songs are in Grease?
There are a total of 24 songs in the original stage production of Grease. However, for the 1978 film adaptation, a few songs were added and a few were removed, so the exact number of songs depends on the version. The film version features a total of 24 songs, including some new additions like "Hopelessly Devoted to You" and "You're the One That I Want."