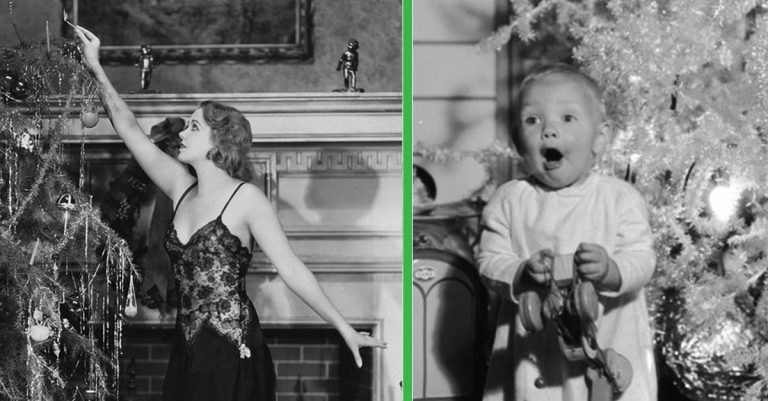 As we gather to celebrate the winter festivities, we may not immediately see how different things are from years ago. In the grand scheme of history, 100 years ago isn't too far back. But looking at how things looked then versus now, we see some remarkable differences, including with Christmas trees.
Even a quick glance back a few decades shows some remarkable differences. We seek to capture that fondness for a simpler, more familiar time. Is that feeling still present when we look at how our parents, grandparents, and great-grandparents celebrated Christmas? They carried their traditions to us, so the answer may very well be yes. Let's take a look at how Christmas trees looked 100 years ago.
Christmas trees bore very different decorations 100 years ago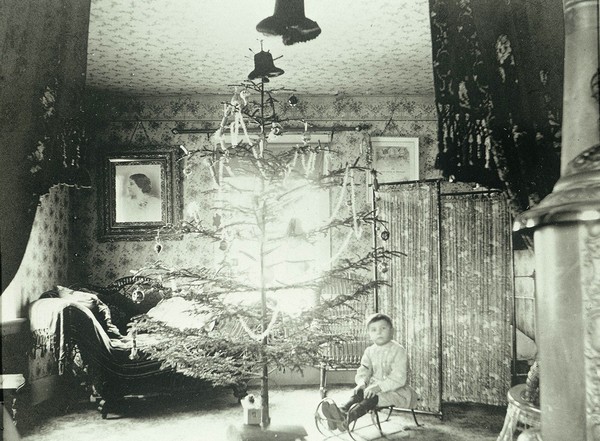 Some differences are very immediately present. This is easily explainable first by looking at what technology was available at the time. Around 1880, when this first picture was taken, string lights didn't enjoy as much circulation as they do these days, a bit like the odd tree shortage currently taking place here.
RELATED: Do You Remember These Popular Christmas Ads From The '50s, '60s, & '70s?
Instead of string lights and shiny ornaments, people made their trees twinkle in different ways. They resorted to using actual candles. While certainly atmospheric and quaint, this strategy presented an obvious and very hazardous problem. After fires continued to be an issue over the years, we finally see candles disappearing from trees. Real ones, at least.
Christmas tree owners really wanted their trees to shine, though, so they found other ways
Bringing Christmas trees into the house spans back over 100 years. Placing the tradition geographically is a little tricky, but generally, Germany is credited with starting the tradition as we know it in the 16th century.
Even with this long history of arboreal worship, there wasn't a set of rules in America for how to decorate the tree. As a result, owners got creative with finding safe ways to make their tree glisten and glow. Tinsel became a popular means of achieving that look. The photo above shows the popularity of that trend from the 1890s. The hanging strands catch the firelight as a perfect replacement for candles.
Even so, some people tried their hand at the old tradition
This 1900s photo lets us get a glimpse at Christmas tree decorating and fashion habits from 100 years ago. We even can see the return of those infamous candles. At least the family is all together for this holiday.
There's no denying there is something magical about seeing the delicate sticks with their single sparks of light nestled lightly on the branches. It looks like something only Santa's magic could achieve, but this family seems to be enjoying it quite a bit.
Sometimes going forward means going back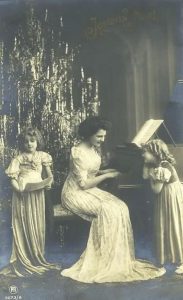 Here is another family willing to risk a fire to see those candles glowing on their Christmas tree some 100 years ago. Fortunately, though the subjects of the photo left the candles unlit. Instead, the photographer likely used some technique to add a lighted effect.
That's all fine, really, because not only is that safer, but this photo presents some beautiful composition. That makes sense because this image reportedly inspired future Christmas cards. Likely, this contributed to the association we have between Christmas and old Victorian aesthetics. Pictures like these solidified that relationship well.
That old, cozy aesthetic is still present, but now we see some creative Christmas tree ornamentation we're familiar with even 100 years ago. Now, popcorn tinsel adds some fluffiness and body to what hangs around the tree.
What's more, the strands are draped tastefully back and forth across the branches. This is very different from the simple way tinsel used to hang, like really mimicking those abandoned candlesticks. This 1910 picture from Dayton, Ohio gives us a lot to feel excited about!
All the color and vibrancy came from the tree alone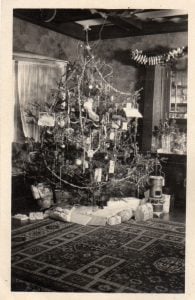 If you look closely, you'll notice some subtler differences between a Christmas tree from 100 years ago and one today. Having the photo be in black-and-white makes it a bit hard to notice, but it's there.
Here's a hint: look below the tree. Flashy patterns and wild colors are totally absent. That's because many people wrapped gifts in plain paper. Everything eye-catching went towards the tree. Patterned paper like what we use didn't become popular until sometime later.
Not everyone brought in a big tree for the big day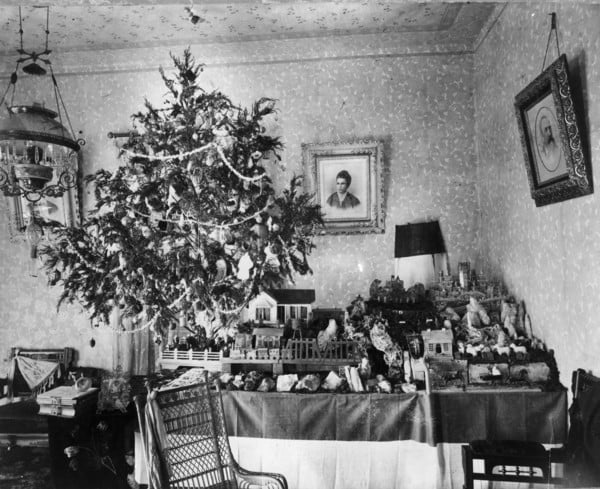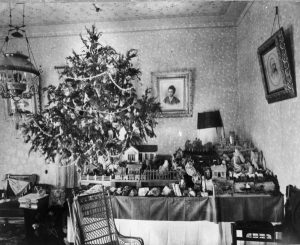 One big difference between Christmas trees now and 100 years ago is the size. Sometimes, smaller trees worked just as well. This allowed the trees to go on tables to be decorations there.
There, they could be enjoyed alongside other various ornaments and items. What says Christmas more than a delicious dessert, quaint decorations, and a tree all in one corner? It's a pretty good idea. Today, we do something similar with fake, stylized trees. Clearly, this habit stuck.
The decor may be different, but some approaches are the same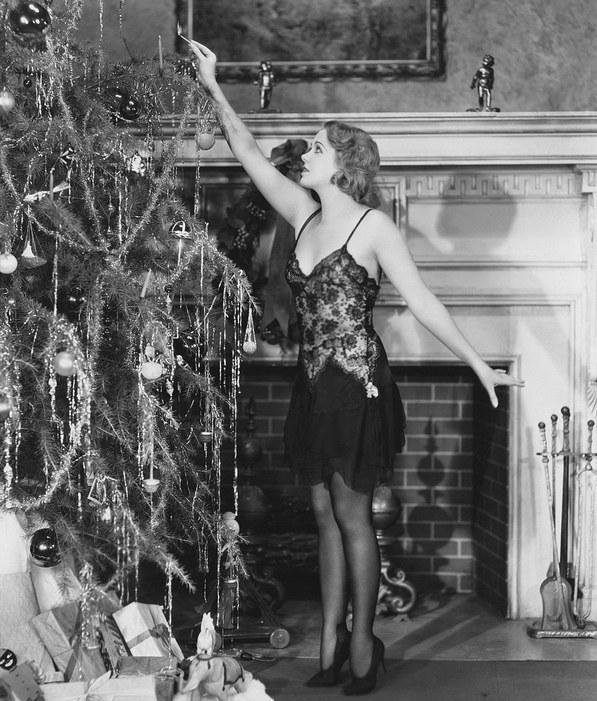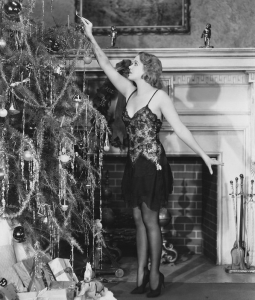 While the items hung on a tree are different, some decorating techniques are the same. For instance, if there's any free space, that's just room for more ornaments!
There's a fine art to decorating Christmas trees that's been developing since over 100 years ago. People consider lights, garland, ornaments, skirt, and more. But one thing that's hard to resist sometimes is just filling every available space with decorations. Clearly, that was the case years ago too.
Sometimes, they reflected the decor around them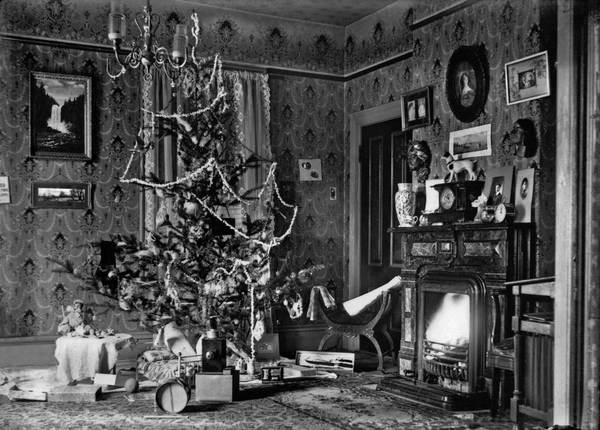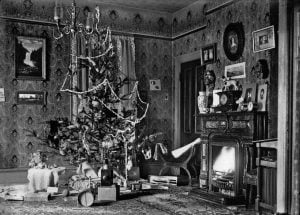 That wallpaper behind the Christmas tree looks a bit like the garland, and vice versa, doesn't it? That may be because trees and homes featured very different decorating styles from today.
Naturally, we encounter some similarities when looking at Christmas trees and the homes they sat in. You could picture a tree like this, shown in the Brown family home in 1904, to be there all year long with how naturally it blends in.
Bigger didn't always mean better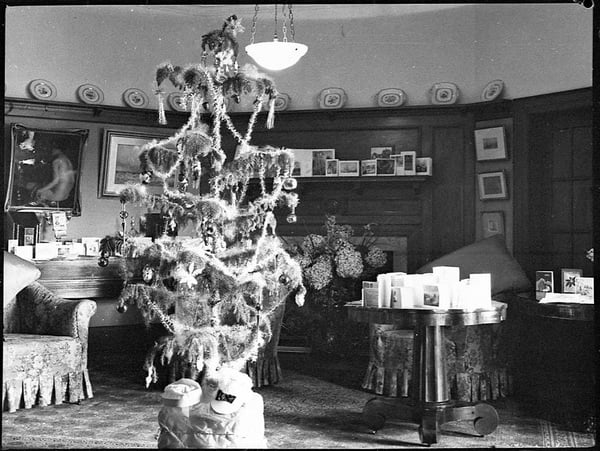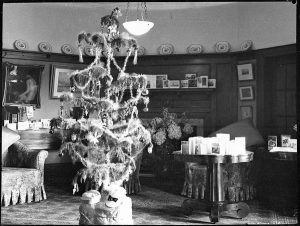 This New South Wales home housed a smaller traditional tree. It makes for a stark contrast against the Rockefeller tree, with its enormous size and equally large fanfare.
Instead, we see a much smaller, leaner tree, sat at home without any particular ceremony. It almost looks like the branch from a larger tree. But it serves its purpose well, and clearly the owners enjoyed decorating it.
Gradually, Christmas trees from 100 years ago became more family-friendly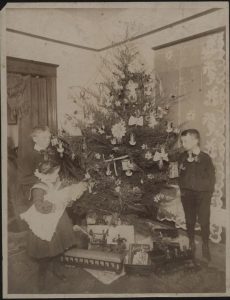 This early 1900s tree shows the continuation of that small size trend seen earlier. This works well for families with children. They could participate in decorating and fully enjoying their Christmas tree just as much as the adults.
In fact, we can see how children are now involved more in preparing and enjoying the Christmas tree through the ornaments. Branches now carry handmade decorations to immortalize this moment of innocent childhood fun.
And why shouldn't people have fun with their trees?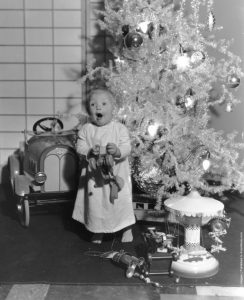 No matter the year, it is important to remember the true spirit of Christmas. This is a time to celebrate giving and the spreading of warmth. Childhood joy captures the wonder felt when we witness acts of generosity and love. Naturally, we see that celebrated in typical Christmas decor.
Christmas trees paralleled this youthful happiness plenty of times. The child actor in this 1933 photo shows how whimsical Christmas trees could be decades ago. Perhaps they were not always so full and fluffy with their branches. But something about their simultaneously simple and elaborate design makes them perfect analogs for the holiday spirit.
RELATED: You Can Buy Ceramic Christmas Trees For $25 At Aldi