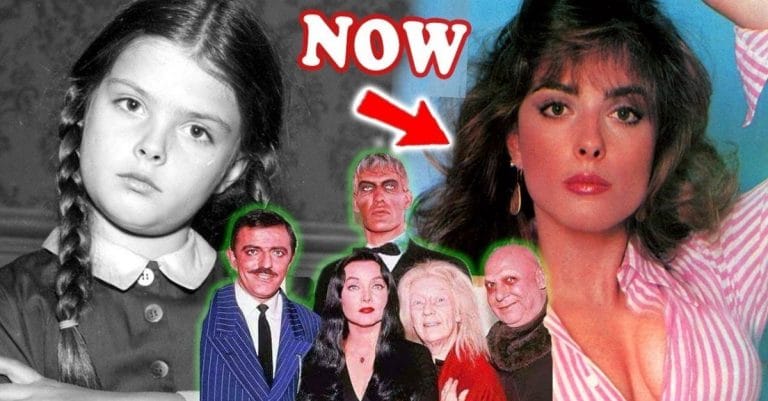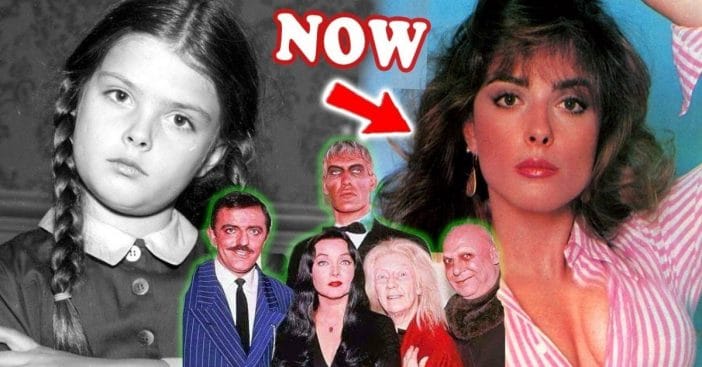 UPDATED 1/10/2023
Everyone knows the lovable and creepy cast of The Addams Family! The fictional family — recently reincarnated in the hit Netflix series Wednesday — consists of Gomez and Morticia Addams, their children Wednesday and Pugsley, family members Uncle Fester and Grandmama, their butler Lurch, the disembodied hand Thing, and Gomez's Cousin Itt. Wikipedia describes the family as a "satirical inversion of the ideal 20th-century American family: an odd wealthy aristocratic clan who delight in the macabre and are seemingly unaware, or do not care, that other people find them bizarre or frightening."
The first adaptation of the family came from 1964 to 1966 as a television series on ABC. From then on, the characters would go on to make animated appearances in shows like Scooby-Doo in the 1970s. It has also had quite a number of spinoffs including Halloween with the New Addams Family in 1977 and The New Addams Family in 1998. From there the Addams' were featured in three live action films released in 1991, 1993 and 1998, a pair of CG animated feature films in 2019 and 2021 and, in between, a 2011 Broadway musical.
Carolyn Jones – Morticia Addams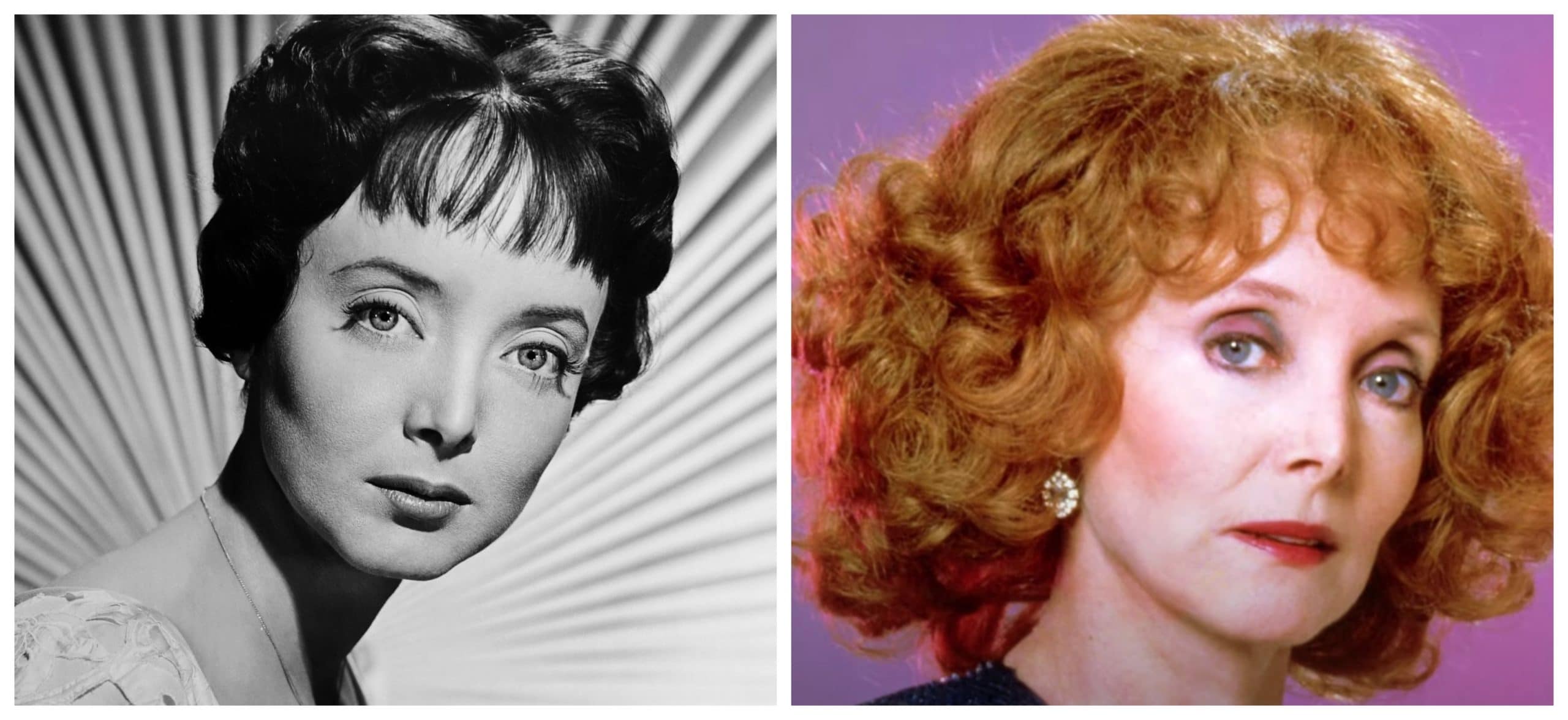 Morticia Addams, the matriarch of the family, is played by Carolyn Jones. This was undoubtedly her biggest part and she would go on to take sporadic roles throughout the '70s that were far less notable. Her chemistry with Gomez was infectious and set the mood for the entire show. 
Carolyn Jones was born on April 28, 1930 in Amarillo, Texas and had something of a tough childhood. Her mother, Chloe, was agoraphobic and she never got to know her father, Julius, as he had abandoned the family. On top of that, as a child she suffered from severe asthma that restricted her activities. Offers pop culture historian Geoffrey Mark, "Carolyn had lung problems as a child; so much so that like many young people she ended up in show business with the fantasy of it being an escape. All she could do was listen to the radio. She couldn't even go to the movies, so she would read movie magazines. She aimed her life toward that, because, in essence, that was her reality."
"Acting was her burning obsession," adds biographer James Plyant, author of In Morticia's Shadow: The Life & Career of Carolyn Jones, "and it was not really relatable to people she was growing up with, so she was very much an outsider. But even as a child she was ambitious, her objective to get out of Amarillo and go to Hollywood. She was very driven."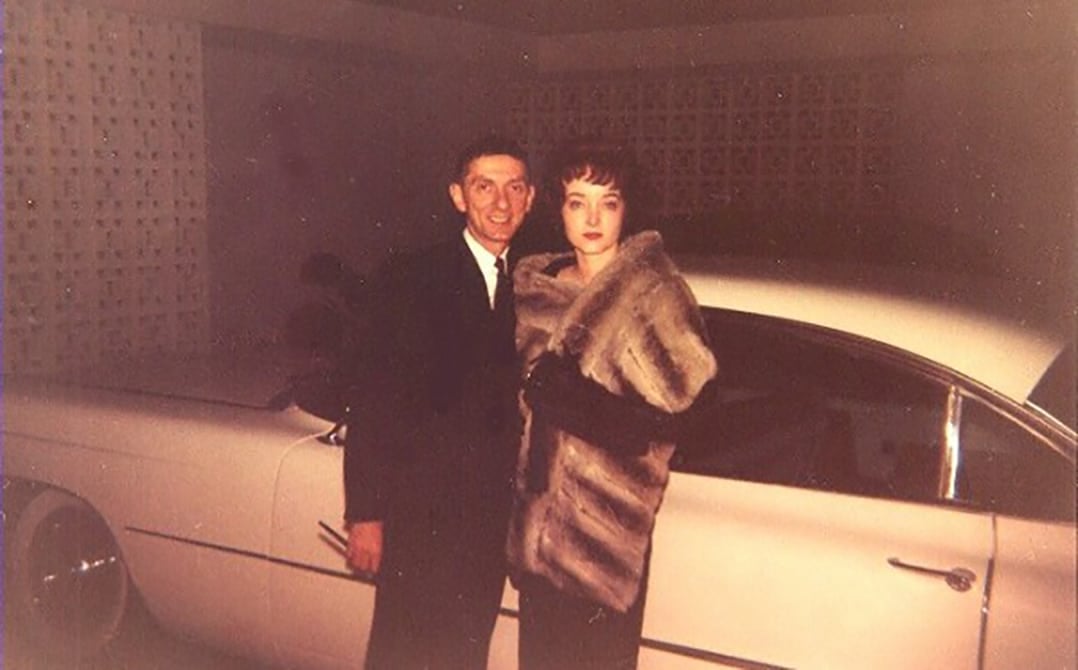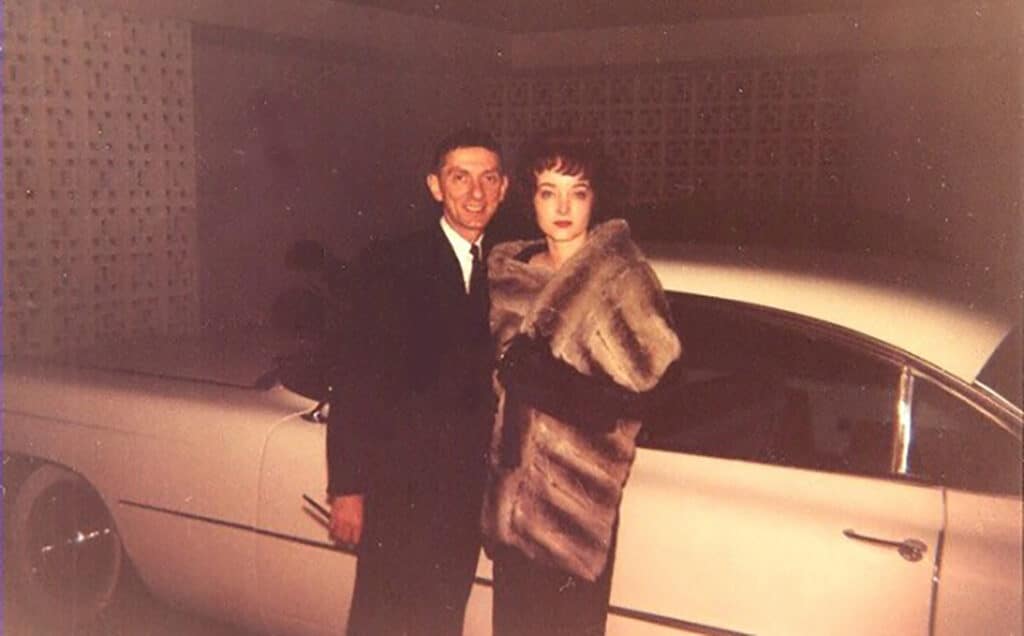 When she was 17, Jones enrolled at the Pasadena Playhouse in California, and during her time there caught the attention of a Paramount Pictures talent scout, which led to her 1952 movie debut in The Turning Point. A few TV guest starring roles followed as did movie roles in 1953's The Big Heat and House of Wax. That same year she married aspiring filmmaker Aaron Spelling, who helped develop Charlie's Angels and Dynasty, among many others. She and Spelling would stay married for 11 years.
Subsequent roles include the Marilyn Monroe film The Seven Year Itch (1955), The Tender Trap (1955), Invasion of the Body Snatchers (1956), a sci-fi classic; Alfred Hitchcock's The Man Who Knew Too Much (1956), an Oscar-nominated role for The Bachelor Party (1957), opposite Elvis Presley in King Creole (1958) and How the West Was Won (1962). This was followed by guest starring roles in a number of series, but she found that the offers were slowing down. Which was when The Addams Family, and Morticia Addams, was offered to her.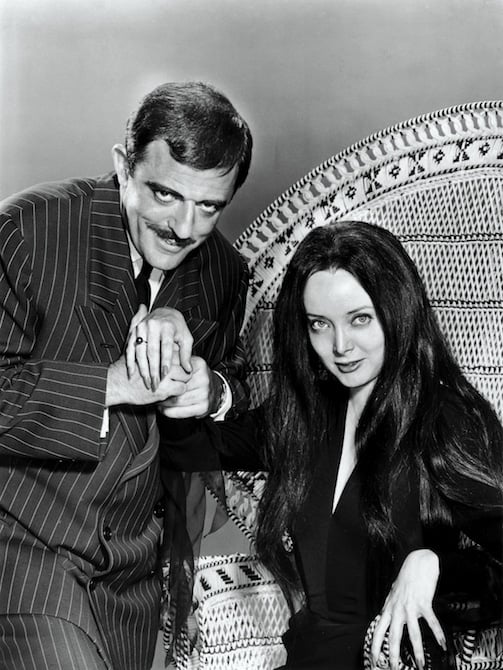 "I'm doing the series because I like to work," Jones explained in 1964. "There aren't enough movies being made anymore and I'm tired of sitting around doing nothing. I was a little nervous about it at first, but not anymore. Personally, comedy is a lot harder to play than drama, but it's a wonderful change of pace for me." The following year she sounded more enthusiastic, nothing, 'The show has brought me a whole new set of fans — the teenagers. As for getting typed, I'm not worried. I was a star in films before I was a star on TV . People should remember that. I hope."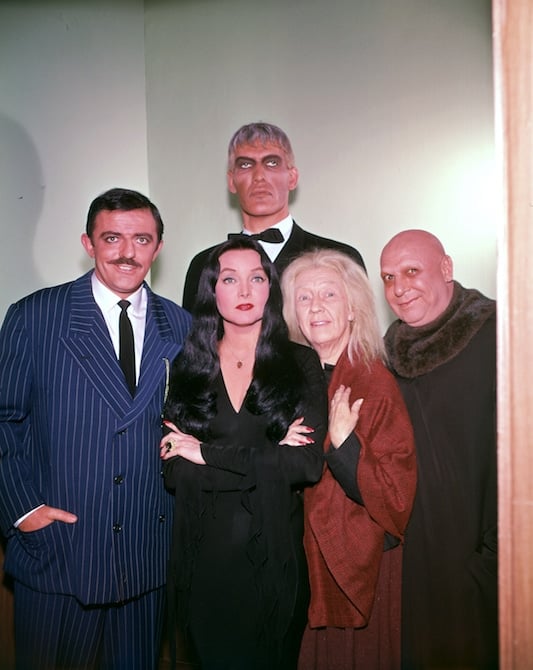 On The Addams Family, Jones used a long coal-black wig made of real hair to became Morticia. It took her two hours of make-up to complete the look. "Had she not been so well-versed in her craft, Carolyn would've not been able to pull Morticia Addams off," suggests Mark. "It was a very hard role to play, because she had to look like the drawings, as did everybody else on the show, but she also had to have a smoldering sexuality that was very uncommon on sixties television in general, never mind sitcoms. The character had to be totally comfortable in her own skin and warm and loving. That's a lot to ask of an actor. She also needed to make Gomez look sexy, because John Astin was a great actor, but wasn't known for being hysterically handsome. But she was so turned on by Gomez that the audience knew that he had to have something going on."
Points out Plyant, "The sexuality was surprising, "especially when you consider that you're coming out of I Love Lucy having twin beds and here they are being so romantic and Gomez can't control himself around her. That was not done on television at the time."
When The Addams Family was canceled in 1966, the producers gifted her with Morticia's oval-backed wicker chair, which Jones kept in her bedroom for the rest of her life. Following the end of the series, she became Marsha, Queen of Diamonds in Adam West's Batman.
While waiting for offers (again), in 1971 Jones decided to fill the time by writing a sex novel, which was titled Twice Upon a Time and which, she noted, had a therapeutic effect for her regarding a "sexual crisis" she was experiencing. A decade later, Jones landed the part of power-driven matriarch Myrna Clegg in the CBS daytime soap Capitol. Shortly after Capitol debuted, she was diagnosed with cancer, and played many of her scenes in a wheelchair. Jones sadly died in 1983 at the age of 53 after a battle with colon cancer.
"Her legacy," Plyant muses, "is her status as an icon. Her sister and I have talked about this many times. Carolyn would never have dreamt of how she would have such a following this many years after her death. A whole generation born after she died that follows her in movies and The Addams Family. She never would have thought that would be a possibility."
John Astin – Gomez Addams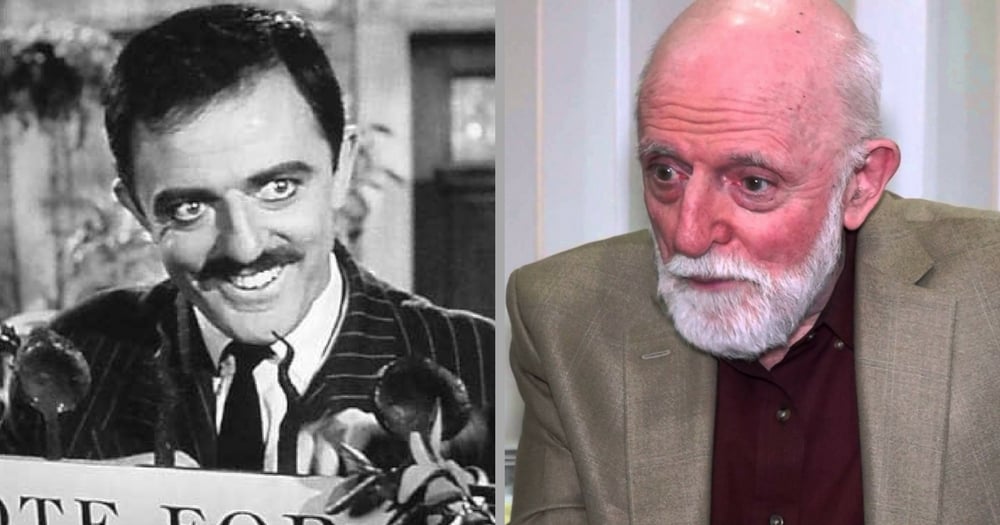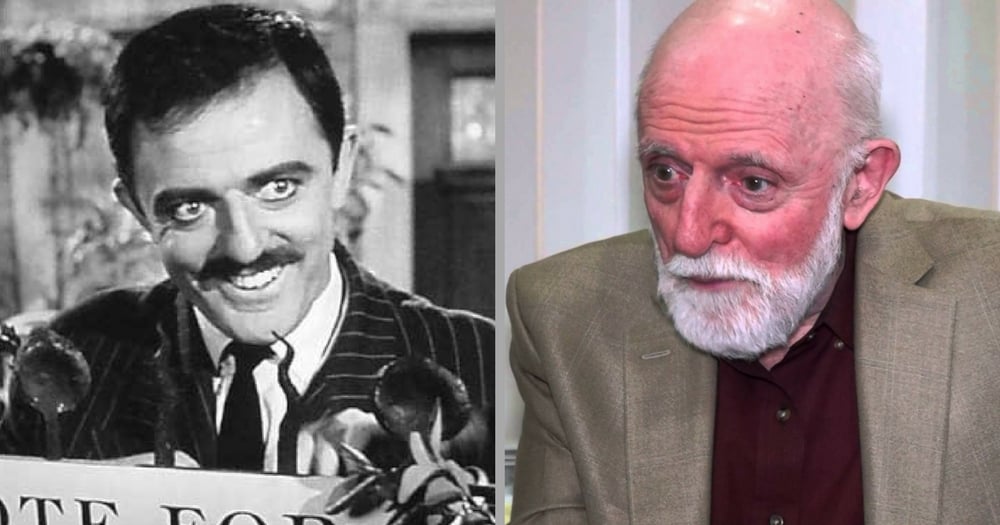 Gomez Addams was first brought to life by John Astin, who was born March 30, 1930 in Baltimore, Maryland. His acting career began in theater, working as an understudy on Broadway in 1956's Major Barbara, which was followed by commercial voiceover work and then the 1961 film version of West Side Story. He made a few guest star appearances on different series, before being cast alongside Marty Ingalls in the 1962 to 1963 sitcom, I'm Dickens, He's Fenster. On that show, the media of the time dubbed him a "comedy find."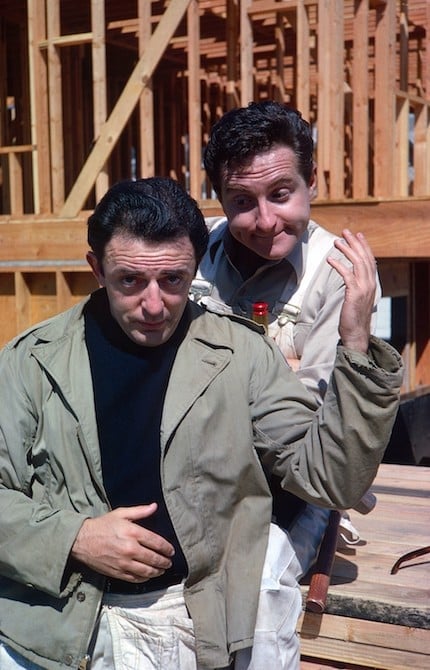 "I'll probably get used to being called  a 'find,' but being categorized like this is somewhat uncomfortable," he told the Star-Gazette of Elmira, NY in 1962. "It's like I was discovered on an amateur hour and given my first professional opportunity. Of course, this series may prove to be the best thing that's happened to me in my career — and I hope it will be — but it's certainly not the first thing by a long shot. It's a small point, but very rarely is one an overnight discovery in this business. I majored in drama through to a college degree and work hard to establish myself as a professional. At first, New York welcomed me with an all-time indifference as an actor, so I'm not ashamed to say I took odd jobs as soda clerk, truck driver, even janitor, till I became a stage and TV find, but that was 10 years ago. Again, I'm not complaining."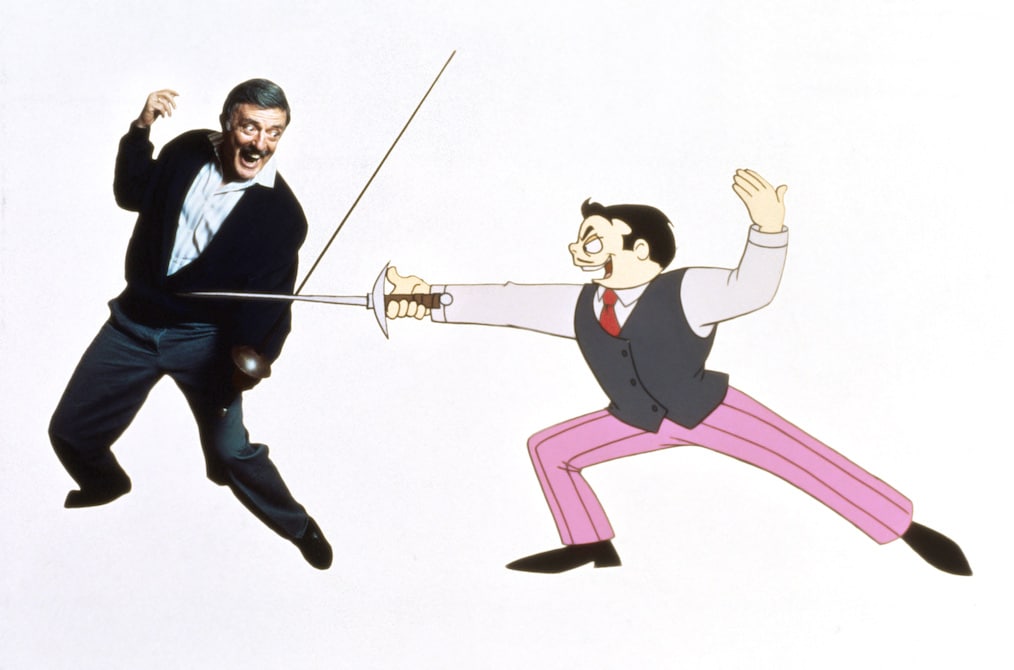 Saying yes to Gomez was actually not an easy decision for him. "I was skeptical at first," he admitted to The Baltimore Sun, "because I wasn't too sure whether I could do justice to Charles Addams' cartoons. I didn't want the characters to come off like ghouls or monsters. Addams' cartoons are almost indescribable — except to say 'It's Addams.' They imply violence, yet they're not violent. They somehow permit a person to release aggressive feelings without feeling guilty.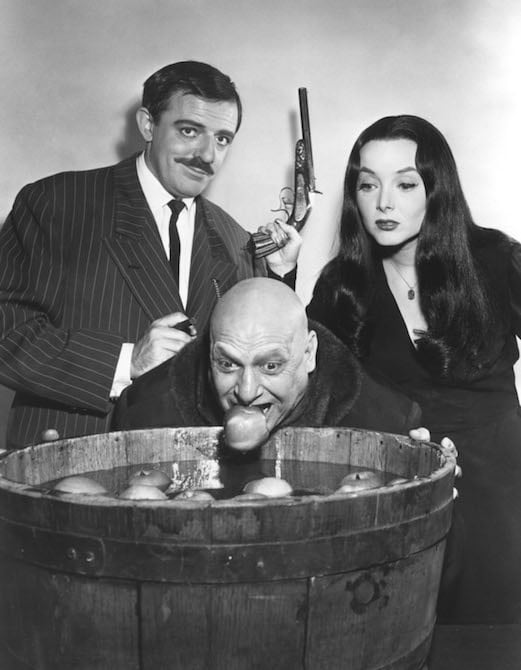 "Morticia and Gomez are probably the best-adjusted couple on television," he aded to the Redlands Daily Facts. "Our only problem, and this really hampers our script writers, is that they have no problems. We are truly two completely happy people. The public doesn't want great television. What they want is happiness pills; things they can look at without any strain."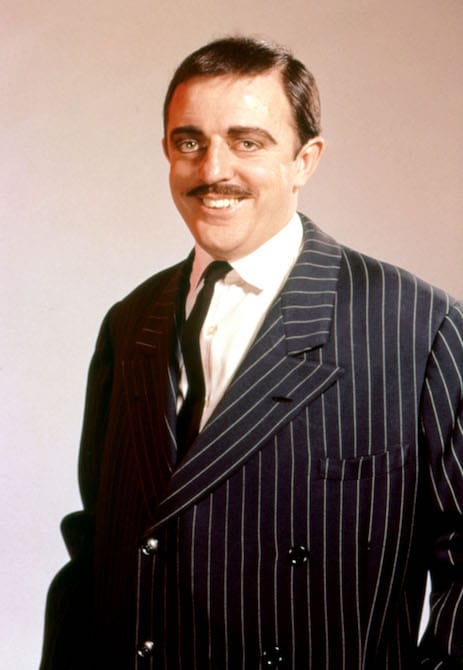 Although The Addams Family concluded its run in 1966, it was far from out of his life. In 1977 he reprised the role of Gomez in the TV film Halloween and the New Addams Family, the 1992-1993 animated The Addams Family and, in the role of Grandpapa Addams, in the 1998-1999 series The New Addams Family. Many recurring and starring roles on TV shows followed, including The Pruitts of Southampton, McMillan & Wife, Welcome Back, Kotter, Operation Petticoat, Mary, Night Court, Attack of the Killer Tomatoes, Eerie Indiana and The Adventures of Brisco County, Jr. On top of that he made guest star appearances (including a two-episode stint as The Riddler on the Adam West version of Batman). Plus, many moves on the big screen and the small. He had a short-lived regular gig on a series in the TV version of the feature film Operation Petticoat (1977).
One of the roles he has been most excited about was in the one-man stage show Edgar Allen Poe: Once Upon a Midnight, written by Paul Day Clemens and Ron Magid. Describes Wikipedia, "The story is told through Poe's eyes, as he narrates his own life to the audience. He tells of his childhood, his time in the military and the troubles he caused while at West Point; his marriage and his struggles to make his mark as a poet, publisher and writer."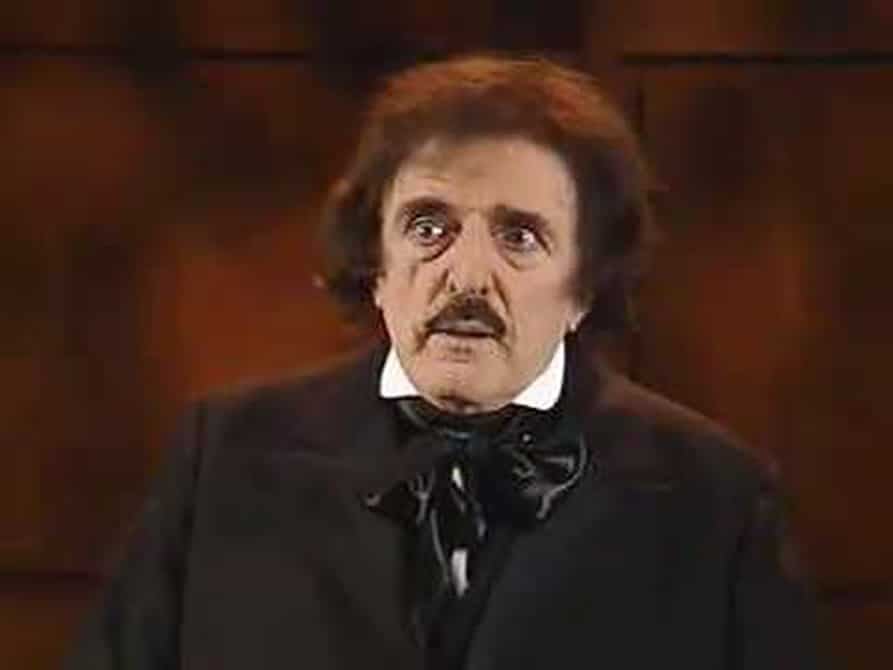 One reporter wondered if Gomez had actually prepared him for the role of Poe, to which he replied, "My work is to reach people with ideas," he replied, "hopes, dreams, encouragement, insight and revelation. That's what an actor wants to do. The feedback that I get from my association with Gomez is heartwarming. It is very difficult for me to take anything but a positive view of the Gomez phenomenon. Probably, it had kept me out of roles that I might otherwise have played, because of the extremely intense identification with that character. But there is no way that I can diminish my indebtedness to that program. Just your smile now is an indication that there is something good about the character of Gomez. I wouldn't trade the association with him for anything or any role that I might have missed."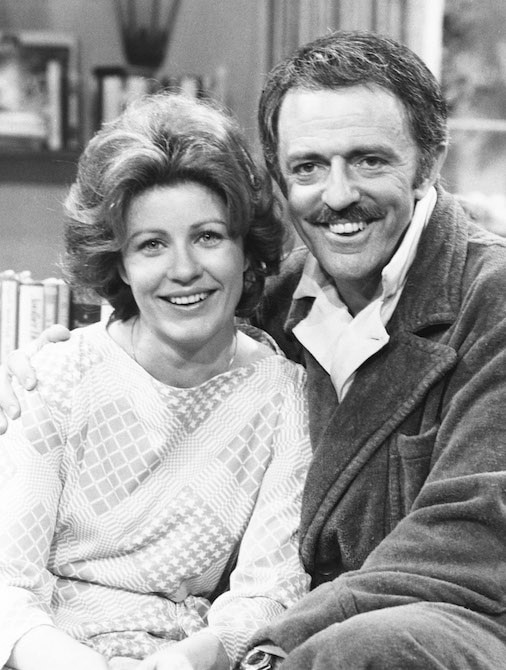 Astin would also earn a nomination for the Academy Award for Best Live Action Short Film for his directorial debut. It should be noted that he was married to actress Patty Duke in which they shared two children, one adopted from Duke's previous marriage. That adopted child was none other than Rudy himself, Sean Astin. Hollywood sure does trickle down the family lines! The marriage lasted from 1972 to 1985.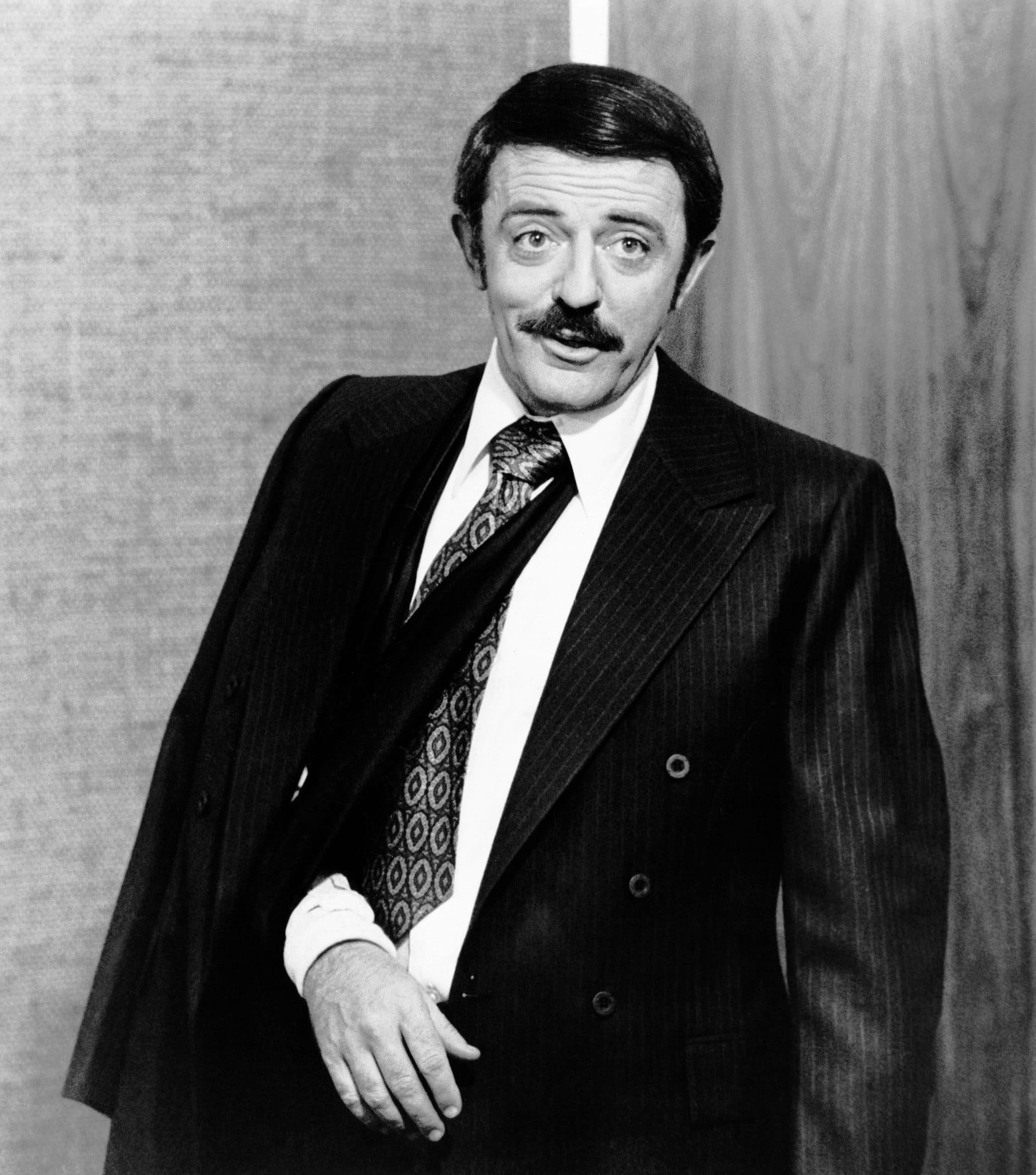 Today John is 92 years old, and still acts on occasion, mostly with his voice. His last big-budget performance was as The Judge, the ghost of an Old West gunslinger, in Peter Jackson's The Frighteners in 1997. He's been married to his 3rd wife, Valerie, since 1989 and lives in his hometown of Baltimore, Maryland. 
Ted Cassidy – Lurch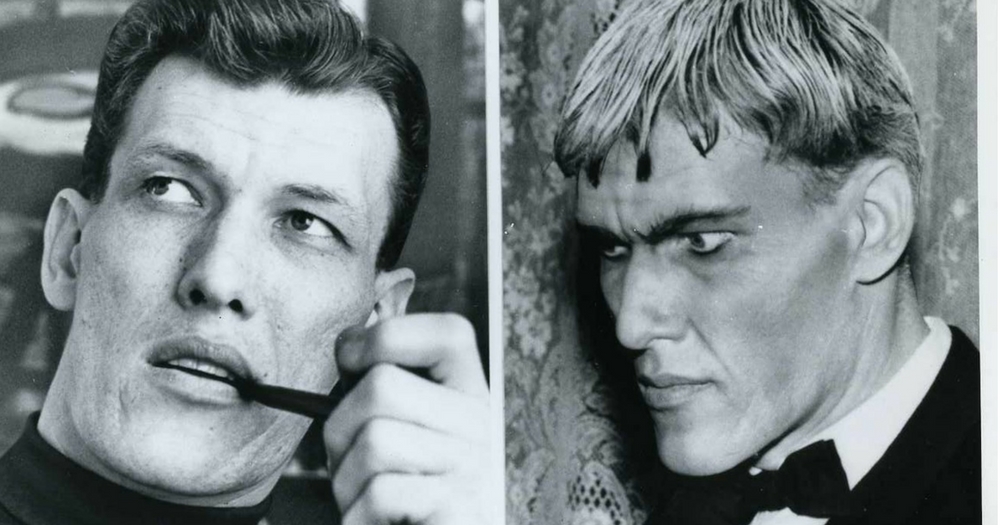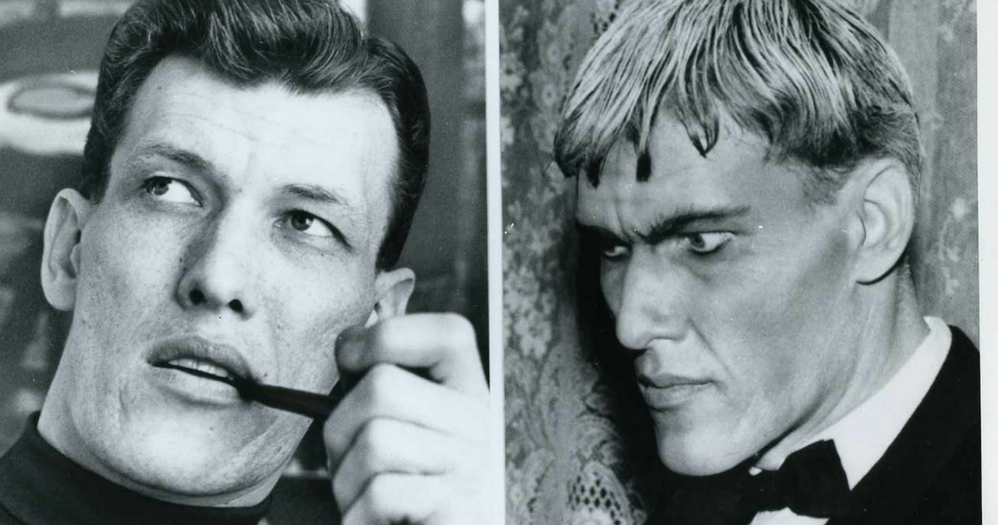 Ted Cassidy is well known for his tall stature at 6 ft 9 in. and his deep, bass voice. Aside from his role as Lurch on The Addams Family, he would also become known for narrating The Incredible Hulk TV series. Addams was undoubtedly his breakout role, or roles, actually, as his hand portrayed Thing as well. Though the character of Lurch was intended to be mute, when Cassidy ad-libbed "You rang?" the subtle humor and sultry deepness to his voice was immediately a hit, and the character was expanded.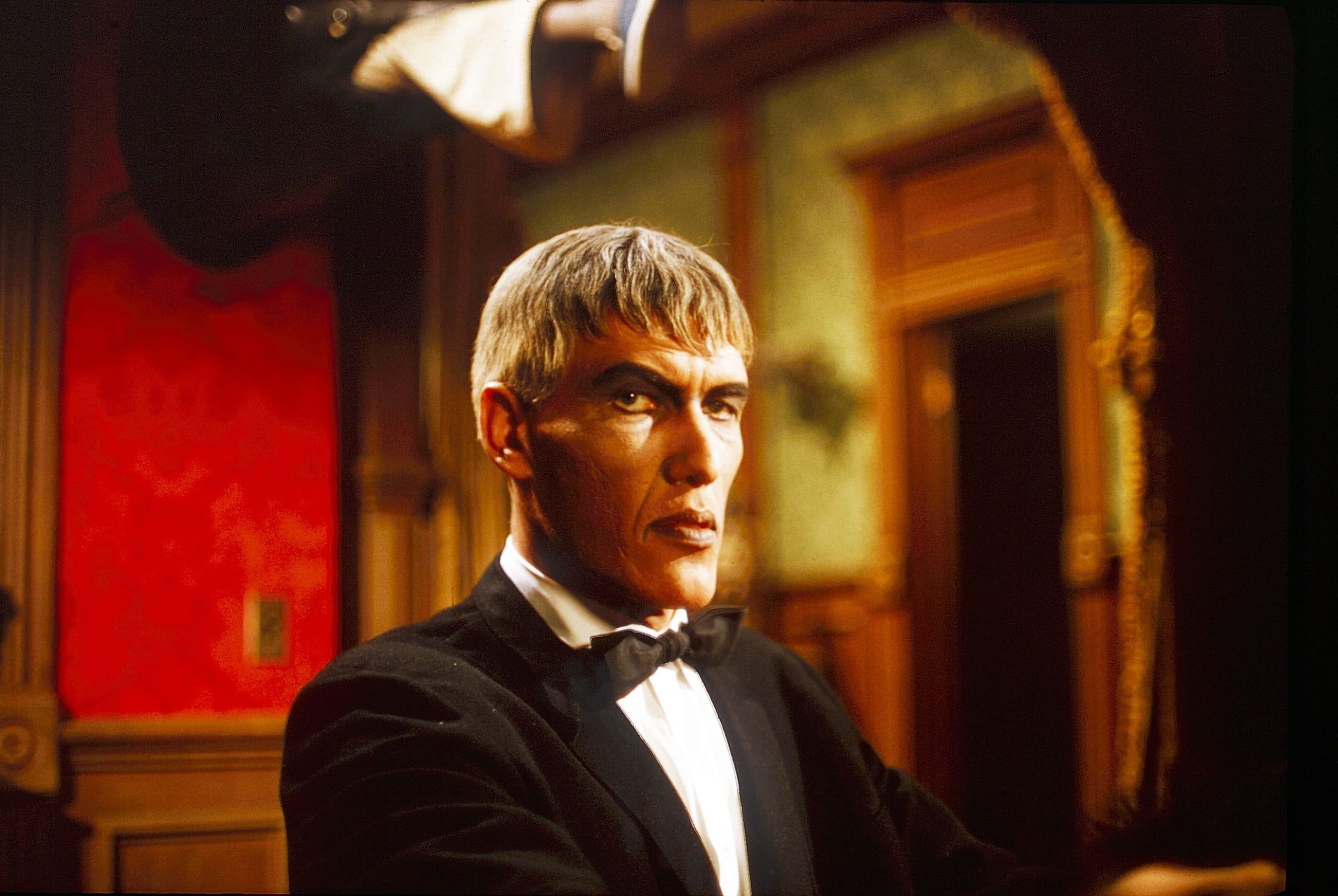 His voice was his golden ticket, and he voiced many cartoons including 1976's Tarzan, Lord of the Jungle, and  Captain Caveman and the Teen Angels. If you remember Captain Caveman, you should check out along with 9 others in our Cheesiest Cartoons from the 70s list!  His height allowed him amazing guest-roles, like in 1976 when he portrayed Bigfoot in a two-parter for The Six Million Dollar Man! He sadly passed away in 1979 from complications following a non-malignant tumor removal from his heart.
Jackie Coogan – Uncle Fester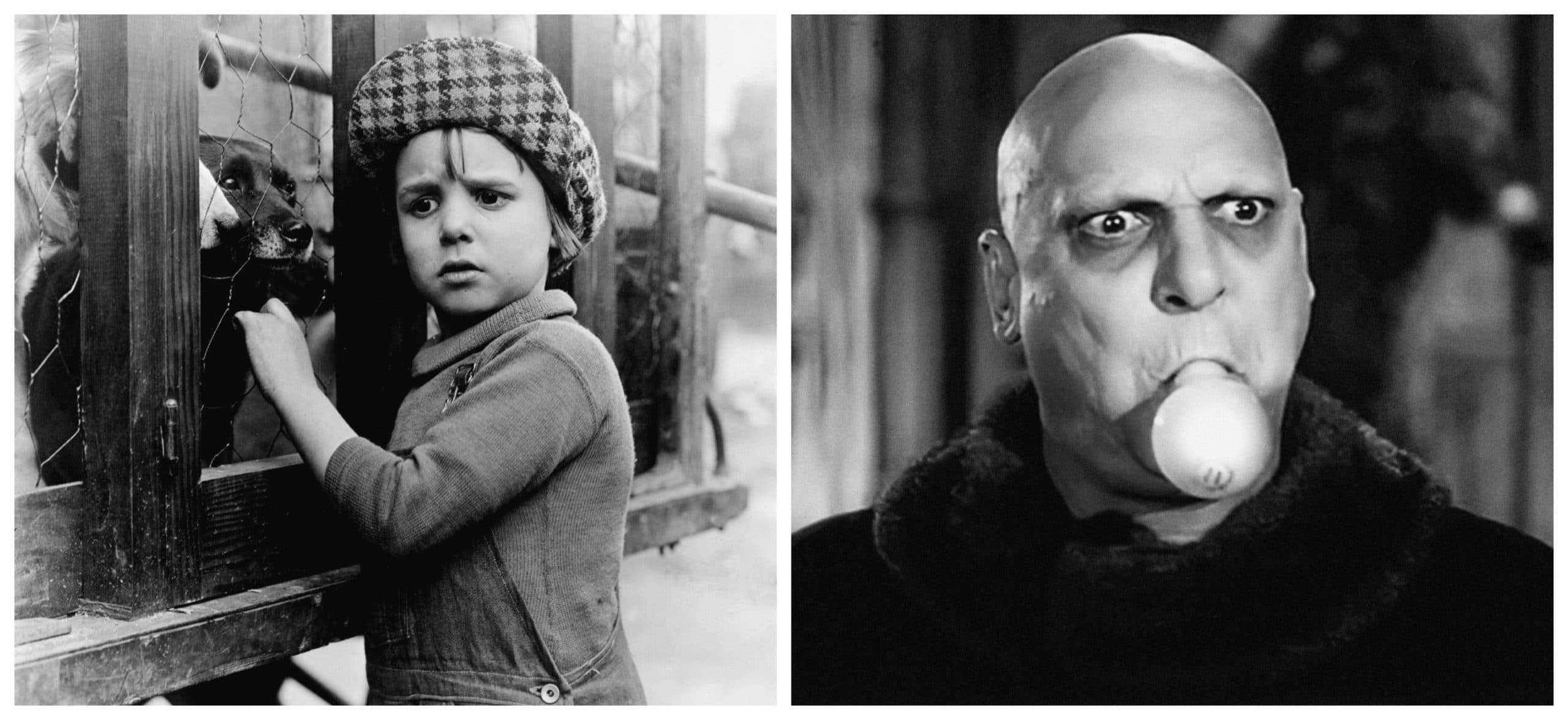 We all know Jackie Coogan to be the lovable Uncle Fester! He began his movie career in silent films as a child actor. Aside from his acting, he was well known for his charity work as well. In 1924, he started the "Children's Crusade" as part of a fundraising drive, resulting in the provision of more than  $1 million in clothing, food, and more vitally-needed items. Additionally, Coogan would dabble in radio work and serve in the U.S. Army in WWII.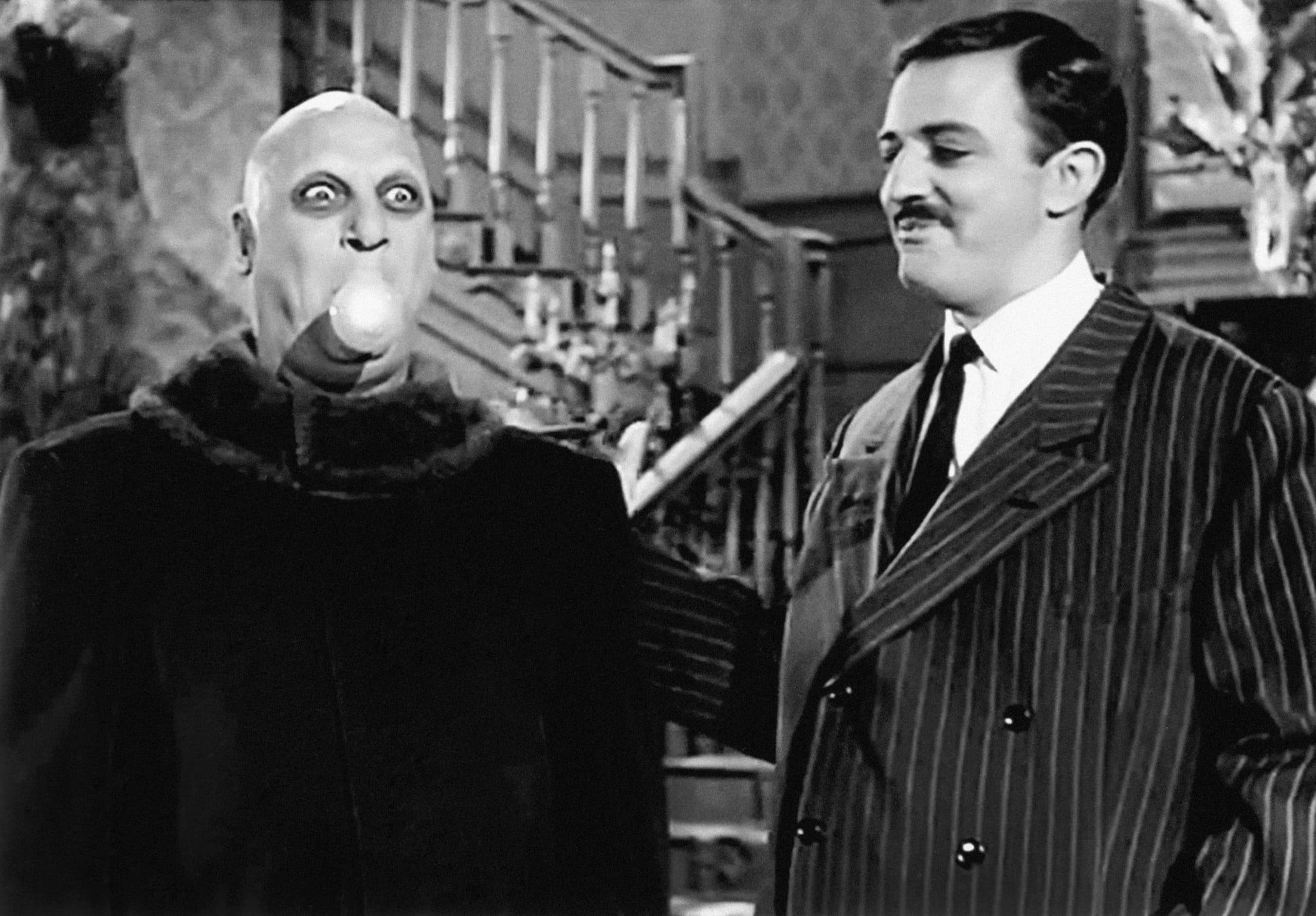 Coogan was taking chances like this at a young age. He was one of Hollywood's first child stars, part of Charlie Chaplin's classic The Kid in 1921, and one of the first to be heavily merchandised: Peanut butter, whistles, and figurines were among the Coogan-themed products introduced to the public. But all of this were just highlights in a life often marred with tragedy. In 1933, Brooke Hart, a friend and heir to a successful San Jose department store, was kidnapped and murders. The killers were taken from jail by an angry mob — Coogan among them — and hung from a tree. Two years later, he was the sole survivor of a car crash that took the life of his father, actors, Robert J. Horner and Junior Durkin, and Coogan ranch foreman Charles Jones.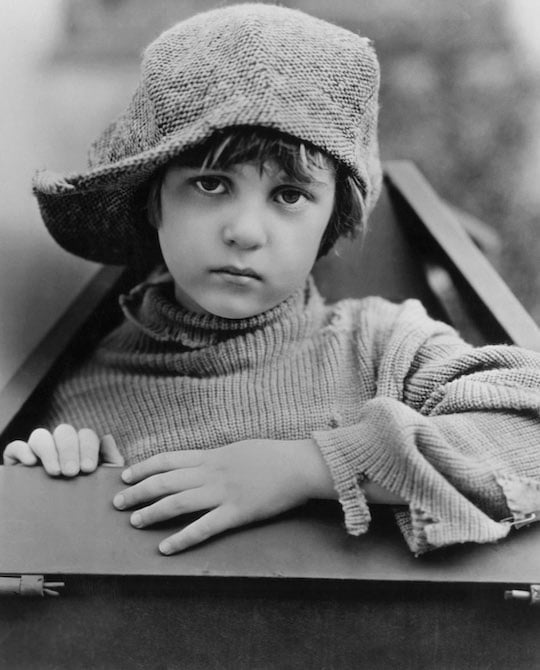 Then, when he turned 21 in 1935, he discovered that the $4 million trust from his childhood acting career (which would be about $75 million today) had been squandered by his mother and stepfather, whom she'd married following his father's death. In the end he sued them and ended up with a paltry amount after legal fees were paid. Adding insult to injury, neither his mother or stepfather expressed any remorse over what they'd done. In the aftermath, however, in 1939 the state passed The California Child Actor's Bill (also known as the Coogan Act) which would prevent the same thing from happening to any other young performer.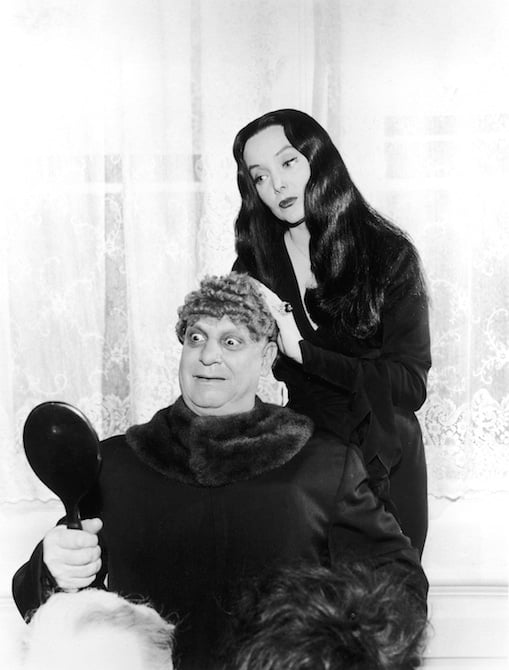 Although Coogan acted here and there, his career never flourished again. Sadly he died in 1984 after suffering from heart and kidney ailments. Thankfully he had come to terms with the fact that the public knew him primarily as Uncle Fester. His daughter Leslie shared with author Stephen Cox, "He had been doing the part for a while, I guess, and he came home crying-sober. He said, 'I used to be the most beautiful child in the world and now I'm a hideous monster.' That was heavy. Something just dawned on him one day. It hit him. He'd let go of it later, but it really had to do with his lost childhood. Later he came to cope with the Fester character and loved doing the character and loved doing the show. Then he cherished it."
Marie Blake – Grandmama
Grandmama is none other than Marie Blake. Born Edith Marie Blossom MacDonald in 1845, she would adopt the stage name, Marie Blake. In 1937, her first uncredited role was in the film My Dear Miss Aldrich.
Of course, her biggest role would end up being that of Grandmama in The Addams Family. Marie suffered a stroke in 1966, which would prevent her from participating in the Addams Family spin-offs that followed. She would sadly pass away in 1978 at age 82.
Lisa Loring – Wednesday Addams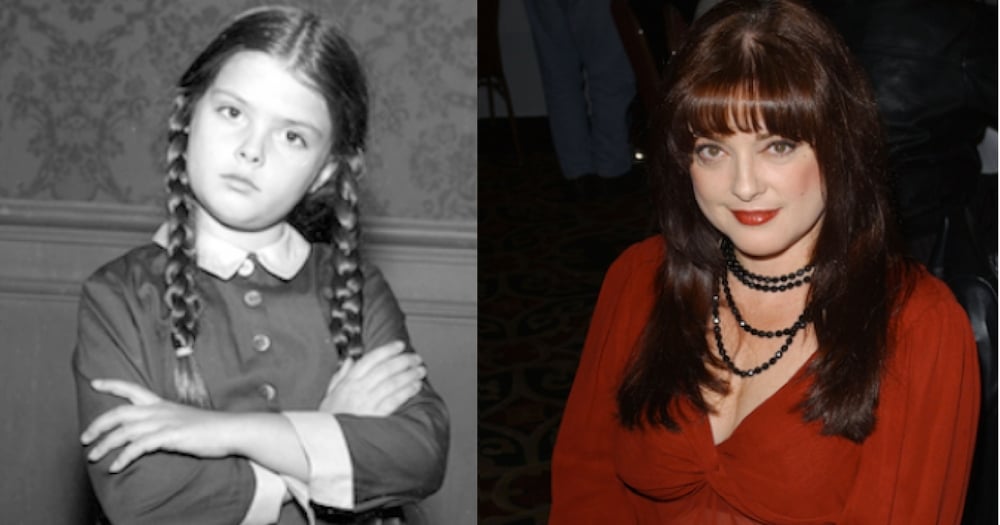 The now 63-year-old actress Lisa Loring played the role of Wednesday Addams. Following the success of The Addams Family, Loring would appear in some slasher films as well, including Blood Frenzy (1987) and Iced (1988).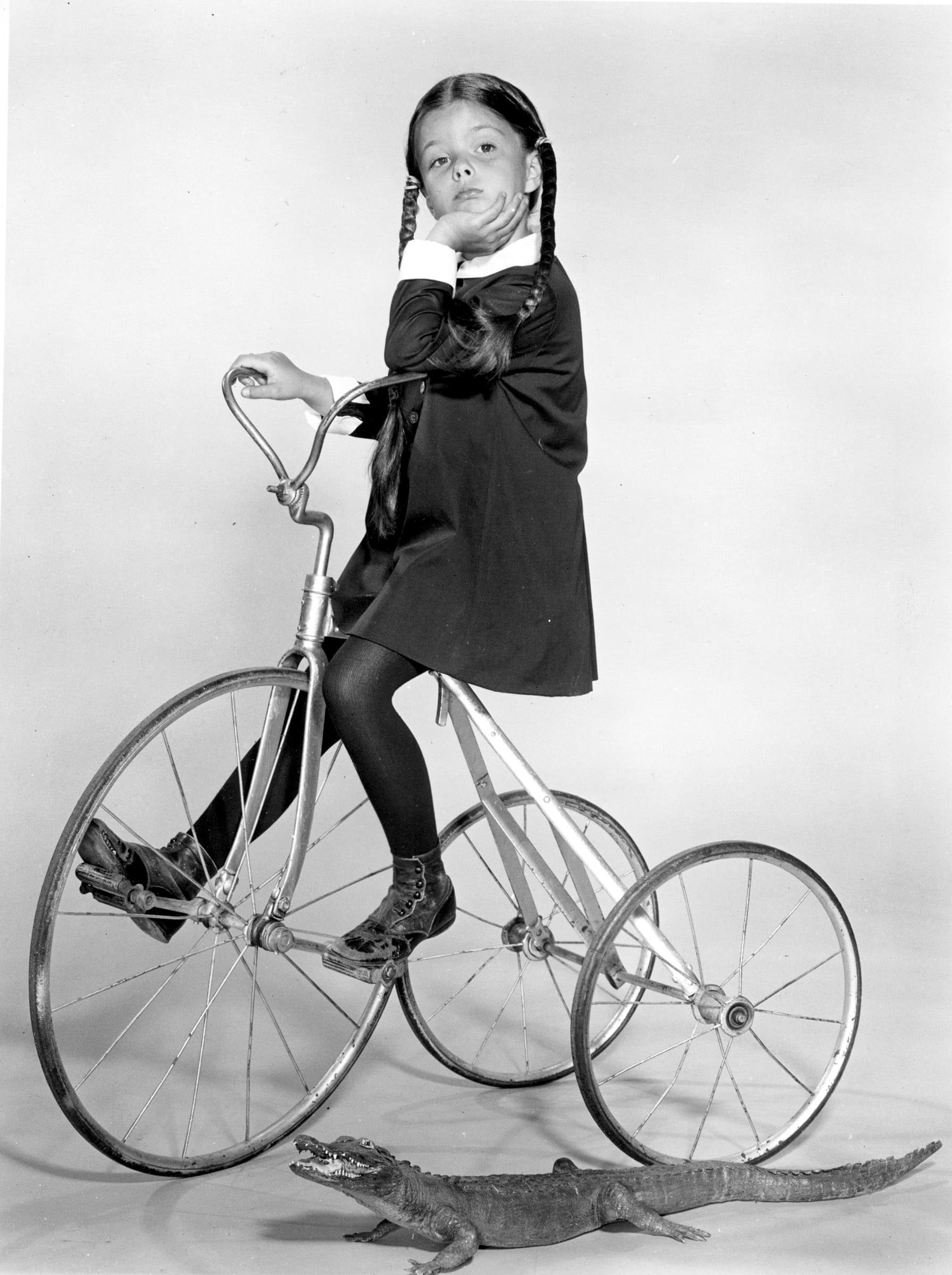 Loring became addicted to heroin in 1991 and would complete addiction treatment the following year. She would return to acting in 2011, but has only had some sporadic roles in 2014 and 2015. Today, at 64, she's out of the limelight and we wish her the best.
Ken Weatherwax – Pugsley Addams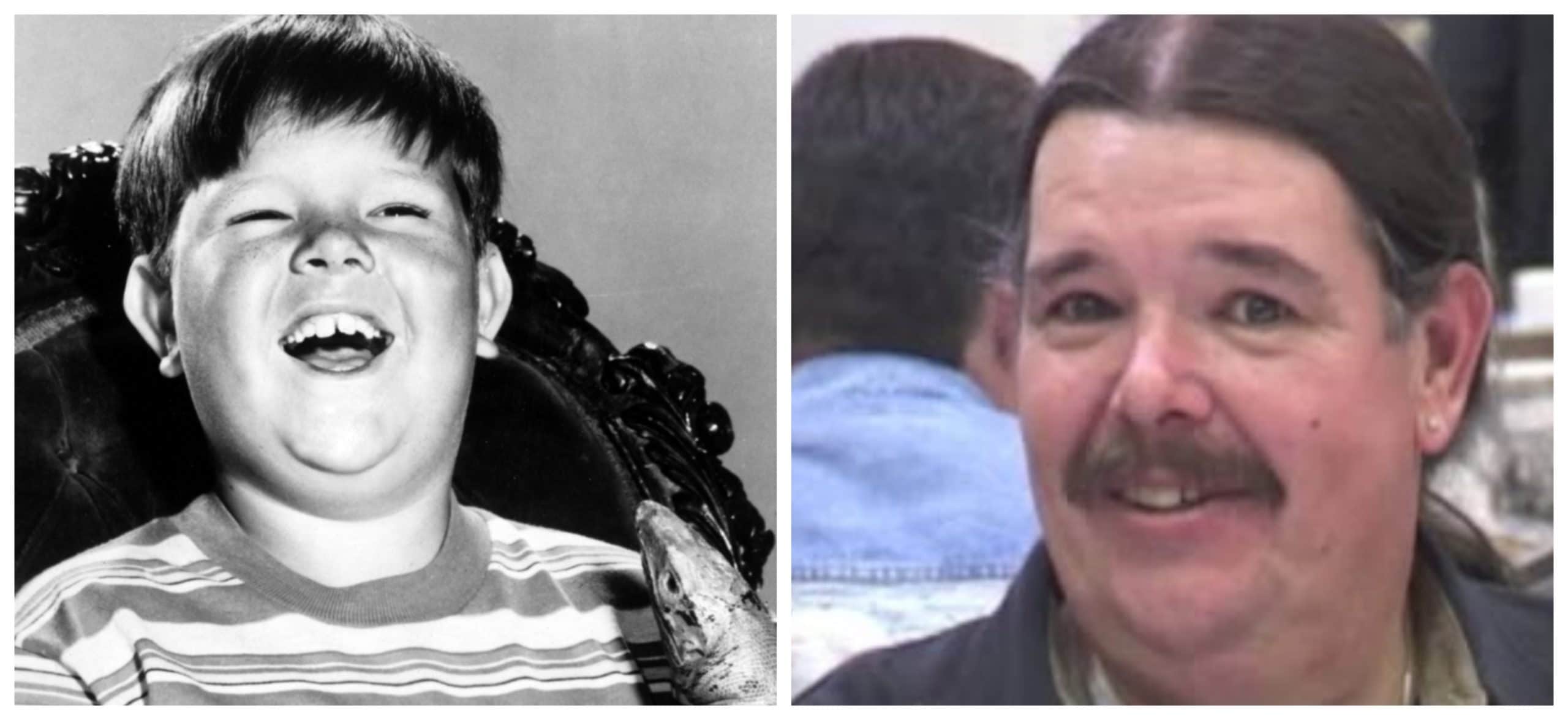 Pugsley Addams is nearly invisible, and conforms to some conventional standards of society, like joining the Boy Scouts! Weatherwax helms from an acting family, his aunt being an actress and dancer Ruby Keeler. And his half-brother, Joey Vieira, played "Porky" on the first three seasons of Lassie.
But Ken didn't do much beyond his Pugsley. Early on, he appeared with Alice Pearce in Gleem toothpaste commercials. But after he became typecast as Pugsley, he decided to depart the acting biz. The only credits he'd return for were the 1973 cartoon and the 1977 television reunion movie.  At the age of 17, he enlisted in the U.S. Army and afterward found a career as a movie studio grip and set builder. He and Loring would often reunite for conventions and other events, and the two remained lifelong friends until his death in 2014 of a heart attack. He was only 59 years old.
Thing
It actually has a full name! Thing T. Thing. Can you believe it? The concept behind this disembodied hand was that this creature was just too horrible-looking to see in person! Christopher Hart would play the role of Thing for feature films
Ted Cassidy and Jack Voglin would share the role for the 1964 series and Steven Fox would play the role for the 1998 series. Thing returned in 2019 animated film of The Addams Family as well as its 2021 sequel.
Felix Silla – Cousin Itt
Cousin Itt is known as a hirsute entirely made up of floor-length hair, almost as weird a concept as Thing! His appearance is often accompanied by a bowler hat and sunglasses to give off the illusion that there is a face underneath all that hair. Felix Silla would play the role of Cousin Itt for the 1964 series followed by several other actors in the spinoffs. However, the distinct voice of Cousin Itt would range over several different voice actors. The most recent depiction of Cousin Itt's voice is that of Snoop Dogg in the 2019 animated film.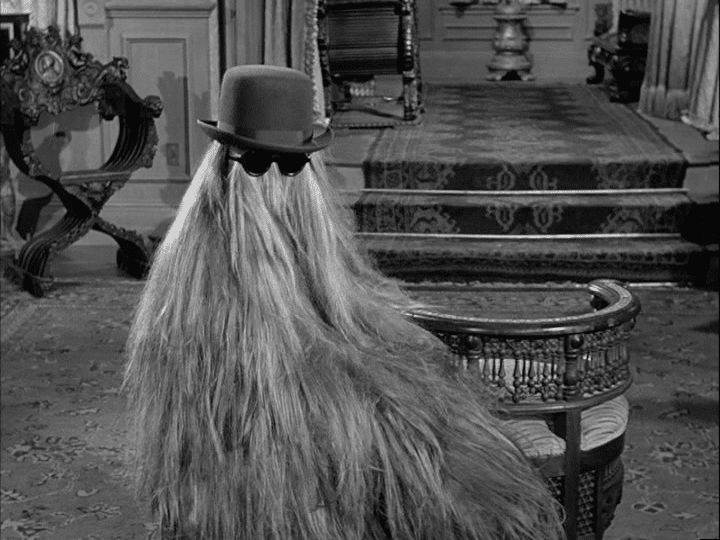 The main actor playing Cousin Itt, Felix, had done some small work in recent years, including lending his voice for The Sims 2 and having played the robot Twiki (voiced by Mel Blanc) in Back Rogers in the 25th Century. He would also play an Ewok in the 1983 Star Wars film, Return of the Jedi. He passed away on April 16, 2021 at the age of 84. 
FAQs
Who is the most famous Addams Family member?
Morticia, the matriarch of the family, remains the number one Addams Family member. Fans cannot stop loving her.
Why is the Addams Family famous?
The Addams Family is known for their Halloween theme, wacky appearance, and iconic snaps. Their theme songs describe them as "mysterious and spooky," and they have always stayed true to this image, even through multiple adaptations.
How many Addams Family are there?
There have been numerous versions of the Addams Family over the years, including television series, films, and other adaptations. It is difficult to determine an exact number, but some of the most well-known versions include the original Addams Family television series from the 1960s, the 1990s Addams Family films starring Raul Julia and Anjelica Huston, and the more recent animated Addams Family movie from 2019.