7. Mickey 'Mickey/Algebra' Daniels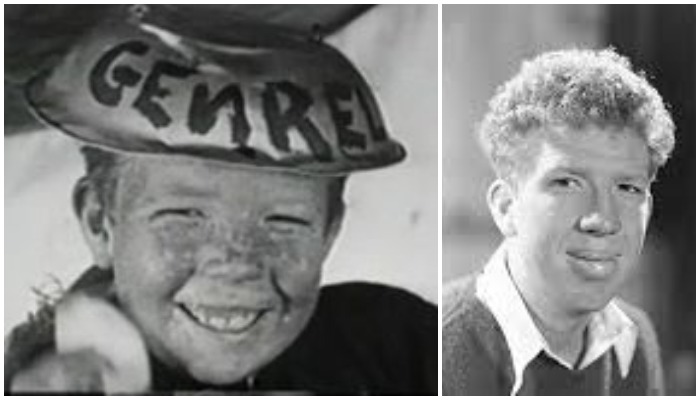 Mickey Daniels was one of the most frequent Rascals to appear on Hal Roach's original Our Gang shorts, with between 70 and 80 appearances spanning 1932 to 1935. According to IMDB, Daniels was living pretty large during his time on the show, making $37 per week when he started and up to $175 per week when he left (or more than $2,500 in today's dollars).
Unfortunately, Daniels' career never took off after the show. He reportedly married and divorced, and had one daughter, but died alone in a hotel room in 1970 while working as a taxi driver.
8. Petey the Dog
The original Petey was an American Pit Bull Terrier named Pal, the Wonder Dog. Pal got his start as Tige in the Buster Brown series in the 1920s. It was during this time that he acquired the circled eye. Maksymilian Faktorowicz, who founded Max Factor & Company in Los Angeles, drew the circle. When he was recruited to appear in the Our Gang comedies later that year, Hal Roach simply left it on, creating one of the most recognized dogs in film history.
In 1930, Pal was tragically poisoned and killed. His offspring inherited the role of Petey. His eye circle mysteriously moved to the left eye.
After Lucenay (the dog's owner) was fired from Our Gang, he retired to Atlantic City. He died on Jan. 28, 1946. He was 16 – as old as Billy "Froggy" Laughlin — when he died. In the 1994 feature-film remake of The Little Rascals, Petey is an American Bulldog.
 9. Darla Hood
Darla Hood was born on Nov. 8, 1931, in Leedey, Oklahoma. Her mother introduced her to singing and dancing at an early age. For her third birthday, they went to New York to seek fame and fortune in the arts. Joe Rivkin, a casting director for Hal Roach Studios, cast her in the role of Darla in the Our Gang shorts. Darla is mostly remembered for her coquettishness, as she often was the object of affection for Alfalfa, Butch, and Waldo.
After outgrowing Our Gang, Hood continued her education in high school, where she organized a vocal group called the Enchanters. Rivkin, who discovered her as a child, cast her in The Bat — her last film role — in 1959. It was her first and last adult role in a movie, and she played a secretary alongside Vincent Price and Agnes Moorehead.
The Little Rascals never left her after all those years. While she was busy organizing the 1980 Little Rascals reunion for the Los Angeles chapter of the Sons of the Desert, she underwent an appendectomy. She didn't make it and died suddenly of heart failure on June 13, 1979, at age 47.
10. Mary Ann Jackson
One of the most popular female characters in Our Gang during the 1930s, Jackson often played the older sister of Wheezer. She had a bobbed haircut and acted quite tomboyish. She started in the series in 1928, just as the silent era was ending, and left in 1931 at age 8.
In later years, she gave up acting and spent her time working in department stores and going out to parties with her sister. She had fond memories of her days being a little rascal and died of a heart attack in 2003.
11. Dorothy DeBorba
Dorothy DeBorba joined the cast of Our Gang in 1930 in "Pups is Pups." She is best remembered for her elaborate hairstyles and bows on the series. Something else she is best remembered for is her mischievous nature and her ability to mimic other characters' lines in a humorous way, which gave her the nickname "Echo."
She left the series in 1933 after making 24 pictures. She graduated high school and became a clerk. She had two children and later died of emphysema in 2010.
12. Carl 'Alfalfa' Switzer
Carl Dean Switzer was born on Aug. 7, 1927, in Paris, Illinois. He and his brother, Harold, became famous in their hometown for their musical talents. In 1934, the Switzers traveled to California to visit family, and as fate would have it, went on a sightseeing tour to Hal Roach Studios, where The Little Rascals was filmed. After the tour, 8-year-old Harold and 6-year-old Carl went for a meal at the Our Gang cafe and began an impromptu performance. Roach just happened to be there and was so impressed that he signed them both on the spot.
Carl was dubbed "Alfalfa," which later morphed into "Alfalfa." After leaving the series in 1940, he was the victim of typecasting and struggled to find roles. He appeared in bit parts and B movies as an adult.
Leaving show business, he became a dog breeder and hunting guide. In January 1959, Switzer met an untimely end as he was fatally shot during a fight over $50 and a hunting dog.
Credits: definition.org
Who was your favorite 'Our Gang' member? Bet you were surprised to read about The Kids From The Little Rascals & their grown-up lives.