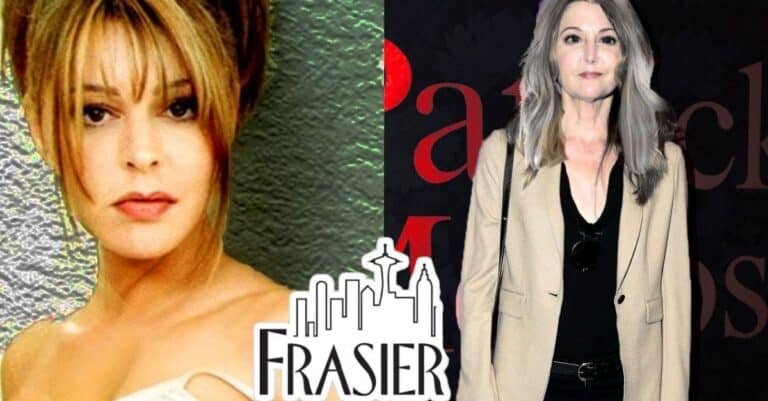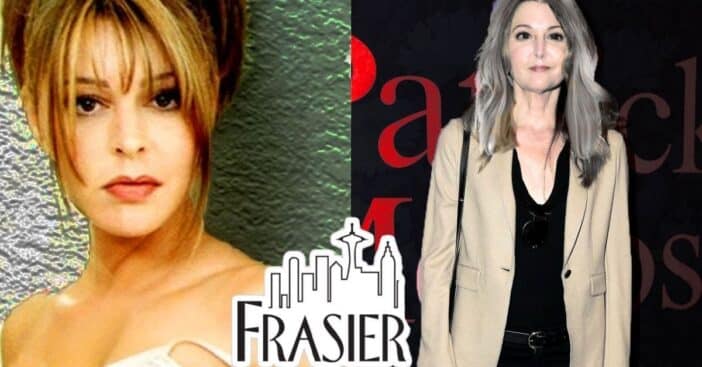 UPDATED 1/31/2023
Is it possible that a television spin-off can eclipse the original series that spawned it? To take a character and further develop his or her world in an enjoyable way? One series answered this question with a resounding "yes." After a fruitful 11 seasons of Cheers, nine of which featured Kelsey Grammer, the actor was gifted his own show in 1993, in which psychiatrist Frasier Crane returned to his hometown of Seattle, began hosting a radio call-in show, and reluctantly agreed for his aging father to come and live with him. Who knew this concept would also yield 11 seasons of exquisite writing, intelligent storytelling, and downright comedic slamdunks of performances? Frasier earned its place in television history as the highest Emmy-winning sitcom of them all, with a cast that played a significant role in that success. Cheers to that. Wait, Frasier to that? Hmm,  that doesn't make as much sense.
Regardless, let's head to Seattle, get a cup of coffee — or better yet, a glass of sherry — and check back in on the people, and adorable pup, that delivered one of the best TV shows of all time. It's time to know everybody's name and catch up with the cast of Frasier.
Kelsey Grammer (Frasier Crane)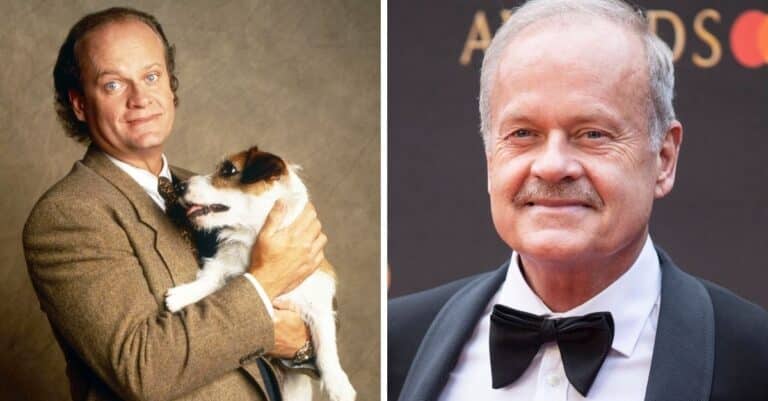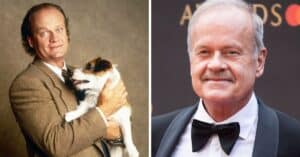 Dr. Frasier Crane is a radio psychiatrist based in Seattle, who proves himself kind and knowledgeable, but oftentimes comes off as uppity and arrogant. All of that made the character a blast to watch. He grew up with an educated mother and "average Joe" father, and the humor of average Joe and his canine best friend living with Frasier was always something special.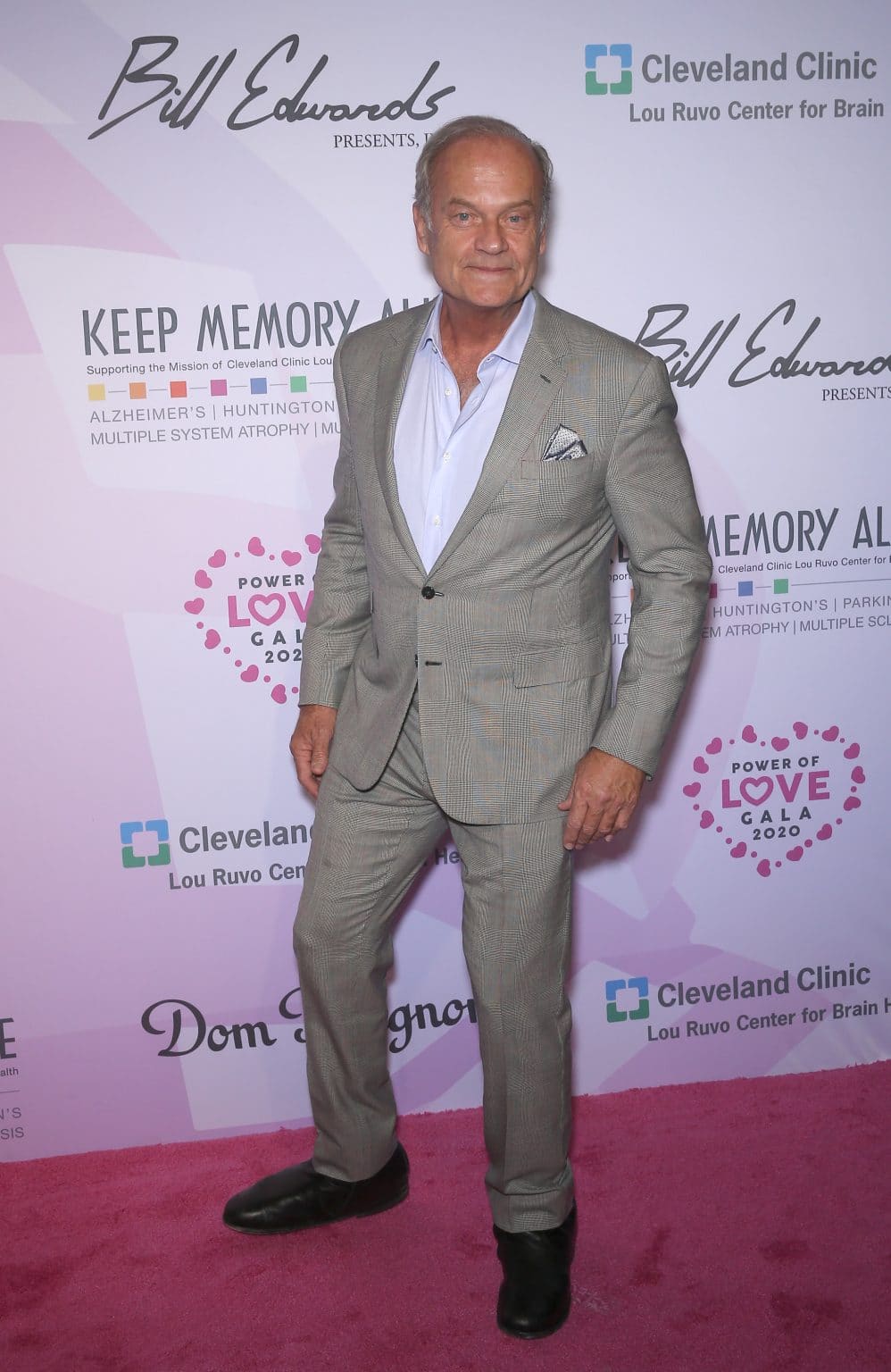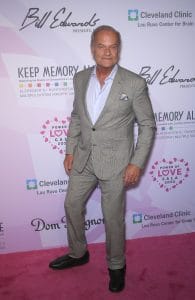 Kelsey Grammer began working in Hollywood in 1979, after previously studying at Julliard, and acted with some greats in live theater, including James Earl Jones and Christopher Plummer in the Broadway revival of Othello. That same year, 1983, he was in his first mini-series, Kennedy, playing Stephen Smith.
In 1984 he helped launch season three of Cheers, as a love interest for Diane and a pain in the neck for Sam. Originally only supposed to be a six-episode arc, it turned into 202 and led the way for this incredible spin-off. Setting a limit on something so promising is always made up of some famous last words. Grammer was Emmy-nominated for playing the same character on three different shows: Cheers, Frasier, and a guest appearance on Wings. It's worth remembering all the voice work he's done, all using a rather melodious tone for both speaking and singing. He voiced Prospector in Toy Story 2, Vlad in Anastasia, and is probably best known for his Simpsons character, Sideshow Bob.
Kelsey has struggled with alcoholism since he was about 20, and it tragically stemmed from him having to identify the body of his younger sister, Karen, who had been kidnapped, raped, and murdered in 1975. He named his daughter Spencer Karen after her. Grammar's love life is quite complicated, to say the least. He's been married four times and has seven children. His current spouse is a flight attendant and 25 years his junior, as Grammer is 67.
But all Frasier fans rejoice as he is currently producing the untitled Frasier revival series, expected in 2023. It's worth waiting to jump on the reboot hate train since a spin-off show gave us this legendary sitcom that's among the best in the first place.
Jane Leeves (Daphne Moon)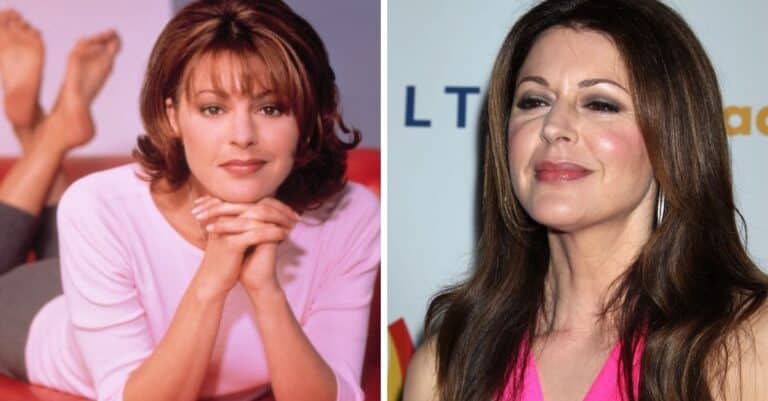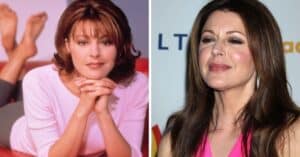 Daphne Moon, later Daphne Crane, is Martin's live-in aid and therapist. She brings a more refined perspective to the table yet is always a quirky spirit in the household. Despite their contrasting upbringings, Niles and Daphne share a love story that is true, and the interplay they share is just as genuine and lovely.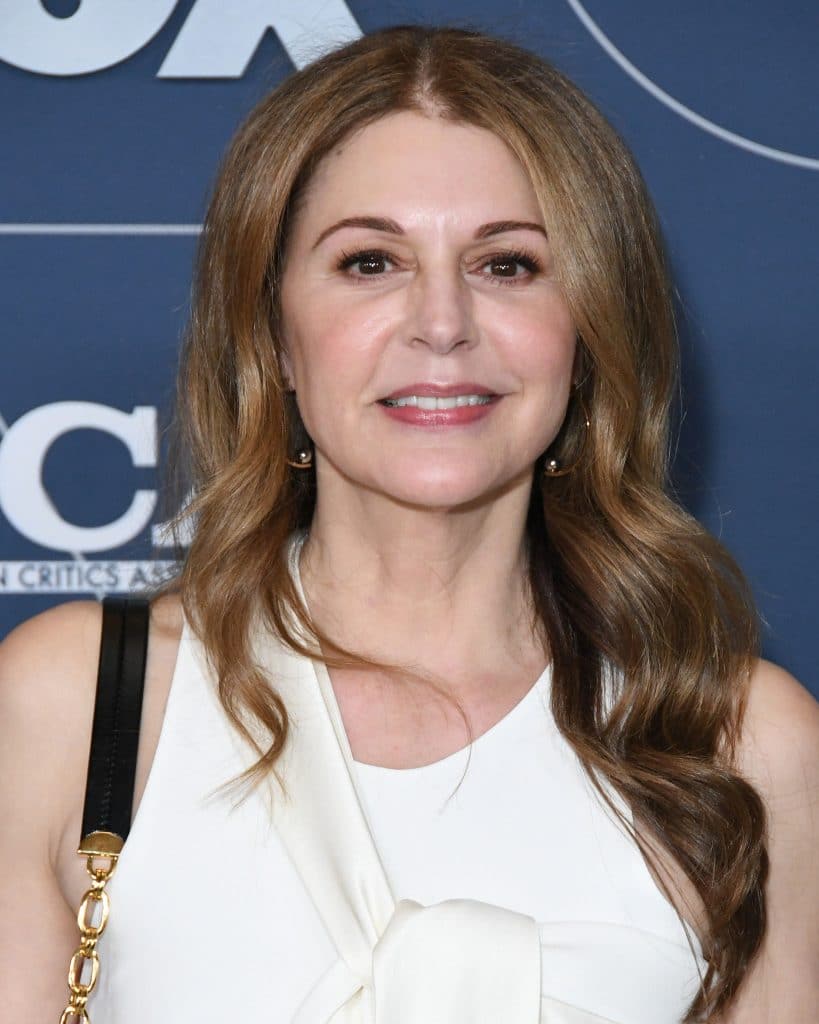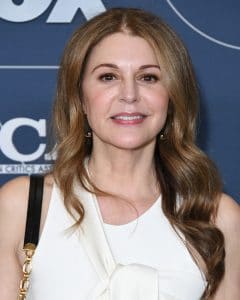 Jane Leeves' career began in the heavens, as one of Benny's Angels on the outrageous Benny Hill Show, an engaging show from someone who lived quite the troubled life at times. In recent years, we've seen Jane on the show Hot in Cleveland alongside chef Valerie Bertinelli and Golden Girl Betty White; and she has been starring in The Resident since 2018. To this day, Jane is still great friends with Bertinelli.
She has been married to CBS television executive ​Marshall Coben since 1996 and the couple has two children together; one of her pregnancies was actually written into Frasier as a weight-gaining problem for Daphne due to her and Niles's relationship.
Today, Jane is 61 years old and her son has both David Hyde Pierce and the late John Mahoney as godfathers. They truly became a family.
David Hyde Pierce (Niles Crane)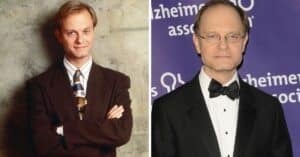 Niles Crane is Frasier's younger brother, a psychiatrist for private practice. He is well-educated, but don't let his bluntness fool you; he cares for his loved ones and means well. He's also incredibly germaphobic and acts like a bubble boy from time to time. But we can't say it enough, Niles was the stand-out star of this show. He was outrageously funny and didn't just make the wheel turn, but spun it as fast as he could every time he entered a scene.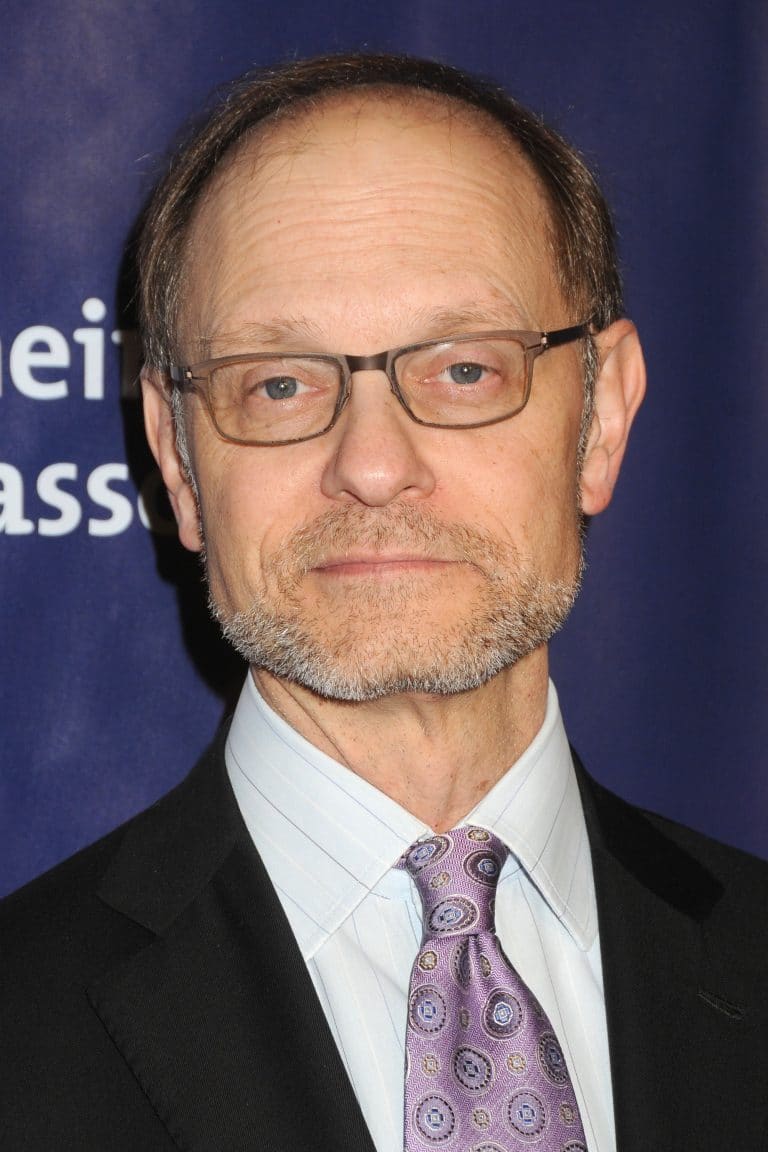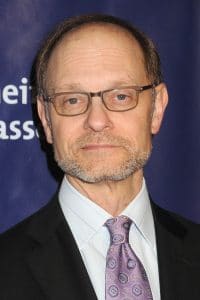 David Hyde Pierce's breakout TV role was in 1992 with Norman Lear's political comedy, The Powers That Be. The casting director from the show recommended that Frasier creators invent a part for Pierce, in part because of his resemblance to Kelsey Grammer. She gave them tapes from the show, and they were floored by his performance and created a role just for him. Pierce was nominated for an Emmy for Best Supporting Actor Emmy every single season, which is a record, winning in '95, '98, '99, and 2004.
Some other notable roles include movies like Sleepless in Seattle, Oliver Stone's Nixon, and the 2003 cult comedy Down With Love. He's currently working on the HBO Max series, Julia, playing Julia Childs' husband Paul. He is 63 years old, has been married to TV producer and writer Brian Hargrove since 2008 and has spent years working with the Alzheimer's Association, even testifying in DC for more funding. Can't wait to watch what he does next.
John Mahoney (Martin Crane)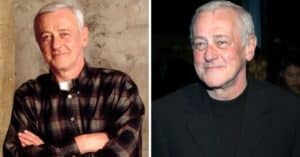 Martin Crane was the blue-collar pops, outspoken yet laid-back. A former Seattle detective who was forced to retire after sustaining a gunshot wound, his hip injury kept Martin from living alone, and so, we get to watch him, his chair, his dog, and his aid truly ruffle Frasier's feathers.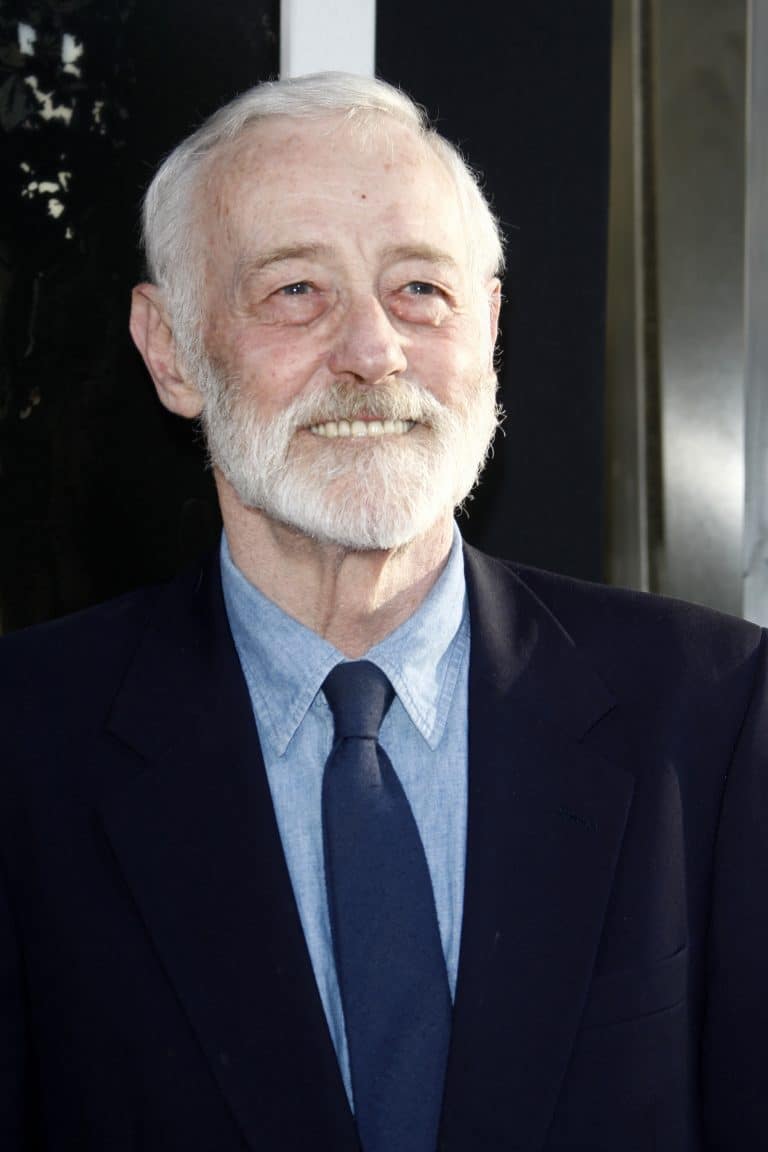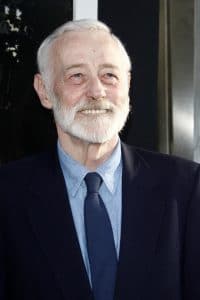 John Mahoney was born in England but moved to the States at 18, when his older sister Vera, a war bride living in Illinois, agreed to sponsor him. He became a citizen in 1971 and served as editor of a medical journal through much of the '70s. Unsatisfied with his job, he began taking classes and performing theater. After a stage production in Chicago in '77, John Malkovich encouraged him to join the Steppenwolf Theatre.
Mahoney's first major film role came in 1987, in Barry Levinson's underrated comedy, Tin Men. Then there were a couple of Cher flicks, first as the judge in Suspect, and then John Patrick Shanley's Oscar-winning Moonstruck. His own career went over the moon after that, with a couple favorites standing out as 1989's Say Anything, 1991's Coen Brothers film, Barton Fink, and then reuniting with his Chicago brethren John Malkovich, in the Clint Eastwood film, In the Line of Fire. Who remembers his episode of Cheers? That's right, he and Frasier met before, in episode five of season 11. Bonus points for all who knew it.
After Frasier, he had a fantastic season two arc on HBO's In Treatment, but his career was slowing down. John had battled cancer for decades, first in the '80s and again in 2014. He credits his acting career for giving him the strength to persevere, saying, "I refused to yield to it because I love what I'm doing so much." His final role was in the 2019 film Mariette in Ecstasy, which was sadly a posthumous release, as John Mahoney died in 2018, at 77 years. Truly an incredible actor that we can be glad got tired of his day job.
Peri Gilpin (Roz Doyle)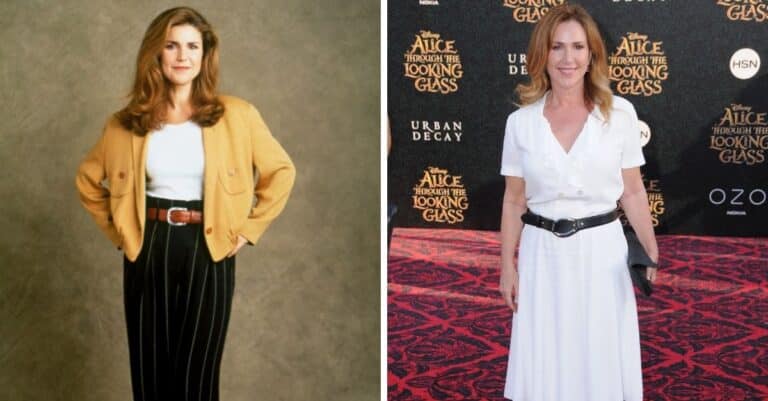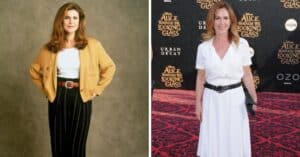 Roz, oh Roz, the producer of Frasier's show with a liberal approach to dating. She's the subject of witty remarks and jokes, mostly from Niles, but is such a terrific character, just part of the family, really.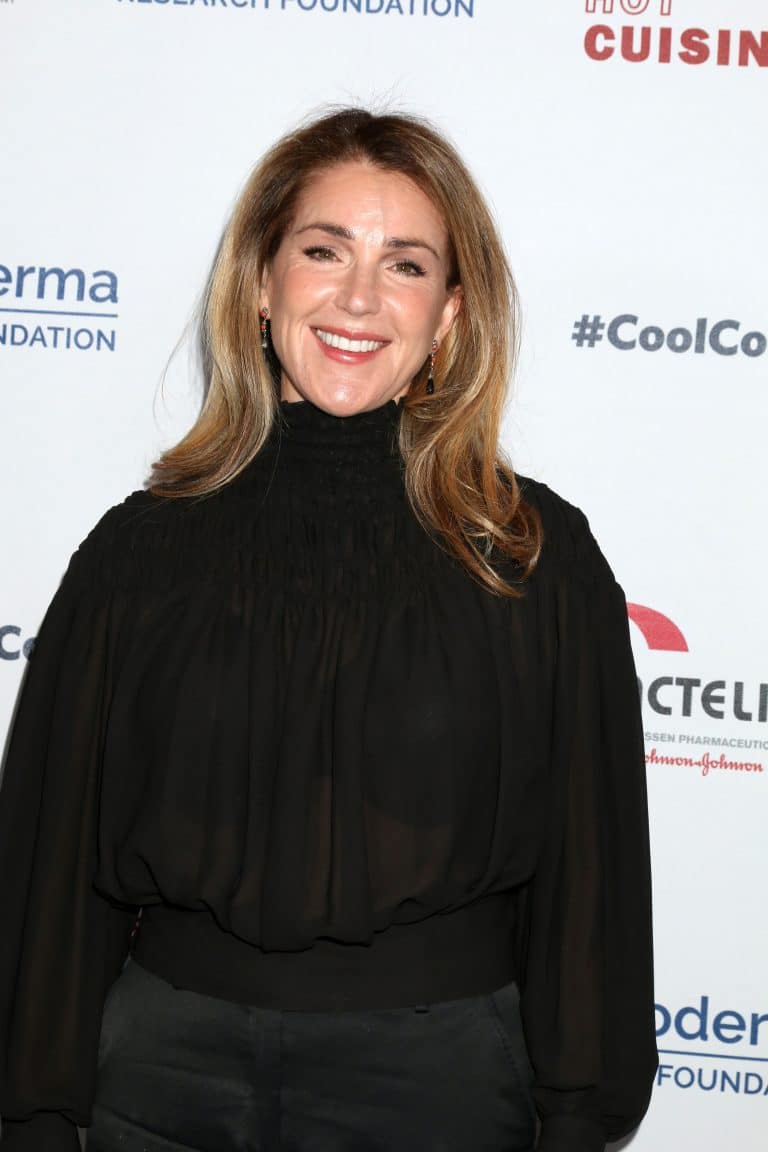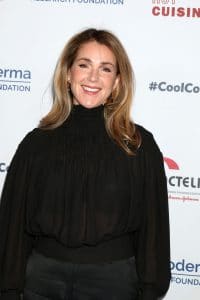 Peri Gilpin worked as a makeup artist before meeting Blythe Danner, who became her main supporter in her acting career, which began in 1988. She quickly nabbed a regular role on a new but brief sitcom, Flesh n Blood. Funny enough, Gilpin was also in a season 11 episode of Cheers, so it was easy to slot her into Frasier that same year. There was some tough competition, however. Lisa Kudrow was originally cast as Roz because her line readings were funnier. But during rehearsals, creators felt that Kudrow lacked the forcefulness to play Roz, and was replaced by Gilpin. Kudrow would become Phoebe Boufett the following year.
In 2009, she starred as a gymnastics momma, on Make it or Break It. We last saw her in a 2021 film called We Broke Up. Today she's 61 years old, and has been an advocate for leading efforts in cancer research since her mother died from it in 1997. Gilpin has been married to painter Christian Vincent since 1999 and the couple have twins born to a surrogate mother in 2004.
Dan Butler (Bob Briscoe)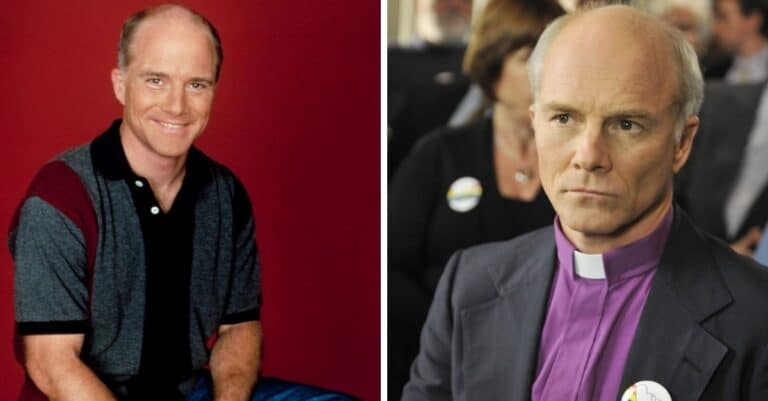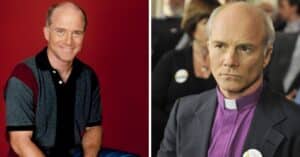 "This stinks! This is total BS!" So went the familiar shoutings of Bob 'Bulldog' Briscoe, the crass, misguided, womanizing host of "Bob "Bulldog" Briscoe and the Gonzo Sports Show."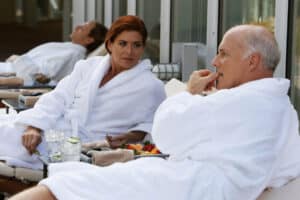 Dan Butler began acting in 1982, mainly in films like 1990's The Long Walk Home. and then The Silence of the Lambs. But Bulldog is his most known role; he appeared in every season except for the eighth. His most prominent post-Frasier gig was a voice job as Mr. Simmons in the hit Nickelodeon cartoon Hey Arnold!, which quietly took some inspiration from Butler's own romance life for the cartoon character.
In 2017, he was part of the Stephen King reboot, The Mist, though an argument could be made to stick with the film version; and in 2022 he appeared in the feature film Blonde. Today Dan is 68 years old and lives in Vermont with his husband, producer Richard Waterhouse.
Moose (Eddie)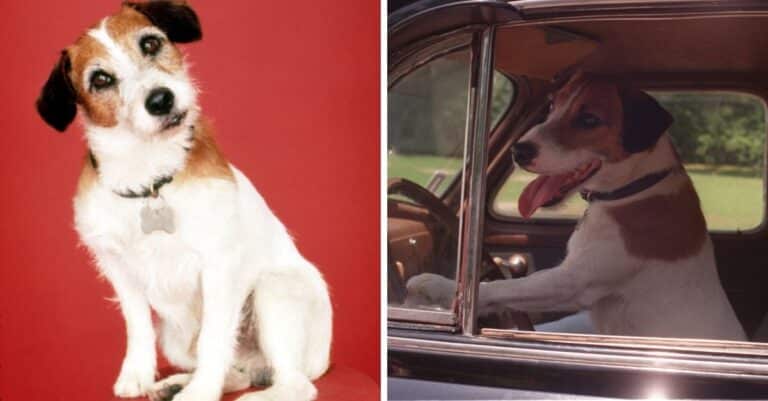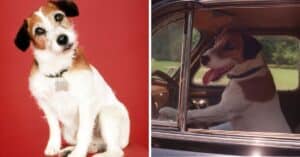 Eddie was the best pup a retired police officer could hope for. Boy, was he popular too? According to John Mahoney, Moose got more fan mail than any of them. Fun fact: in order to persuade Moose to lick Martin's face for a scene, Mahoney's face first had to be discreetly smeared with liver pâté. Sharp palette.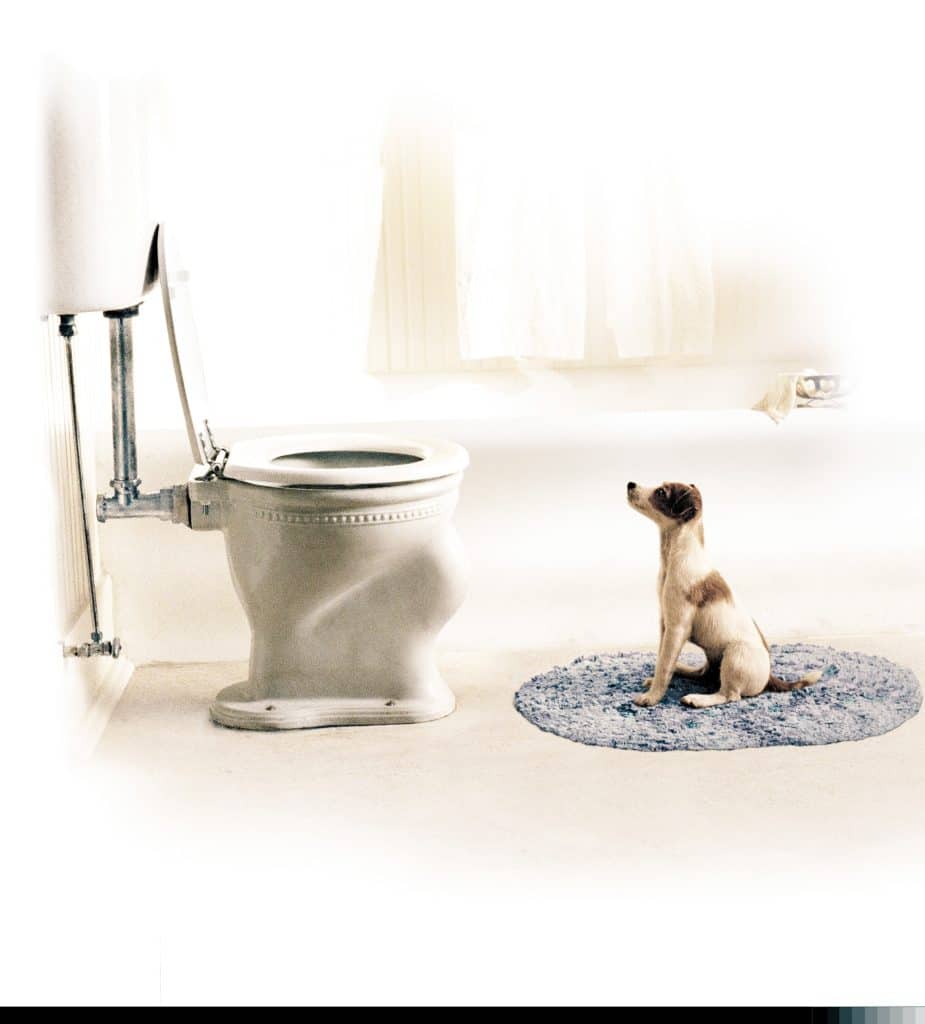 Moose was fourteen when the show ended; his fur had turned white and he was almost completely deaf, but his trainer carried him out on-stage after the final episode, so he could take his bows with the rest of the cast. David Hyde Pierce later said it was one of the most moving moments of the evening, watching Moose recognize and react to the applause one final time.
Moose also played Skip in 2000's My Dog Skip, and he passed away as a pup of the stars on June 22, 2006. He was 15 and a good boy through and through.
Frasier will, barring a miracle, be the best spin-off show of all time. It's incredible that it rivaled the good folks over at the Cheers bar. And now we'll get to see more of the Frasier universe with its revival geared up for Peacock TV. So it's time to discuss… what is a specific episode of Frasier that you just loved? One classic comes from the first season when the two brothers try to write a psychology book together. It really is a fun brotherly episode for those of us who know.