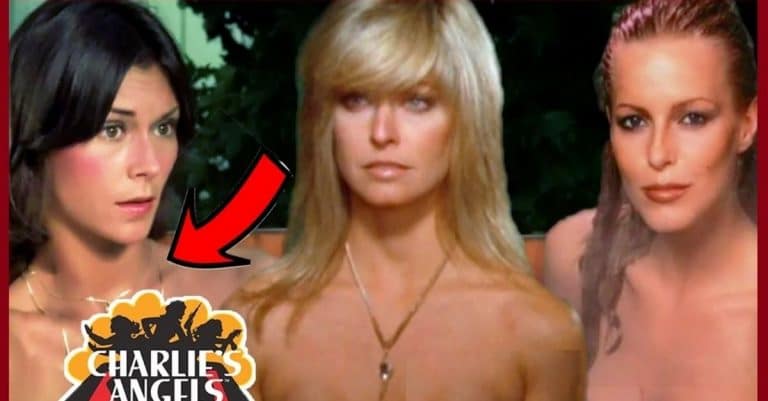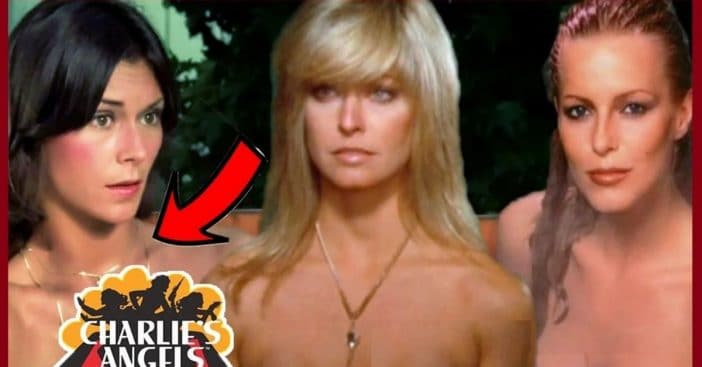 Good morning, Angels. Welcome to the Memory Lane agency, where we specialize in unearthing all the juicy facts about our favorite classics. Today's mission covers Charlie's Angels, the smokin' squad of badass babes who solved mysteries and busted the bad guys, but some mysteries were left for behind the scenes, and that's what we're going to uncover today.
Today, we're diving into all the little-known details behind Charlie's Angels, from the shocking changes the show underwent before even getting off the ground, to the presidential endorsements the Angels received. Now, let's go handle some very hazardous duties.
Voice of an Angel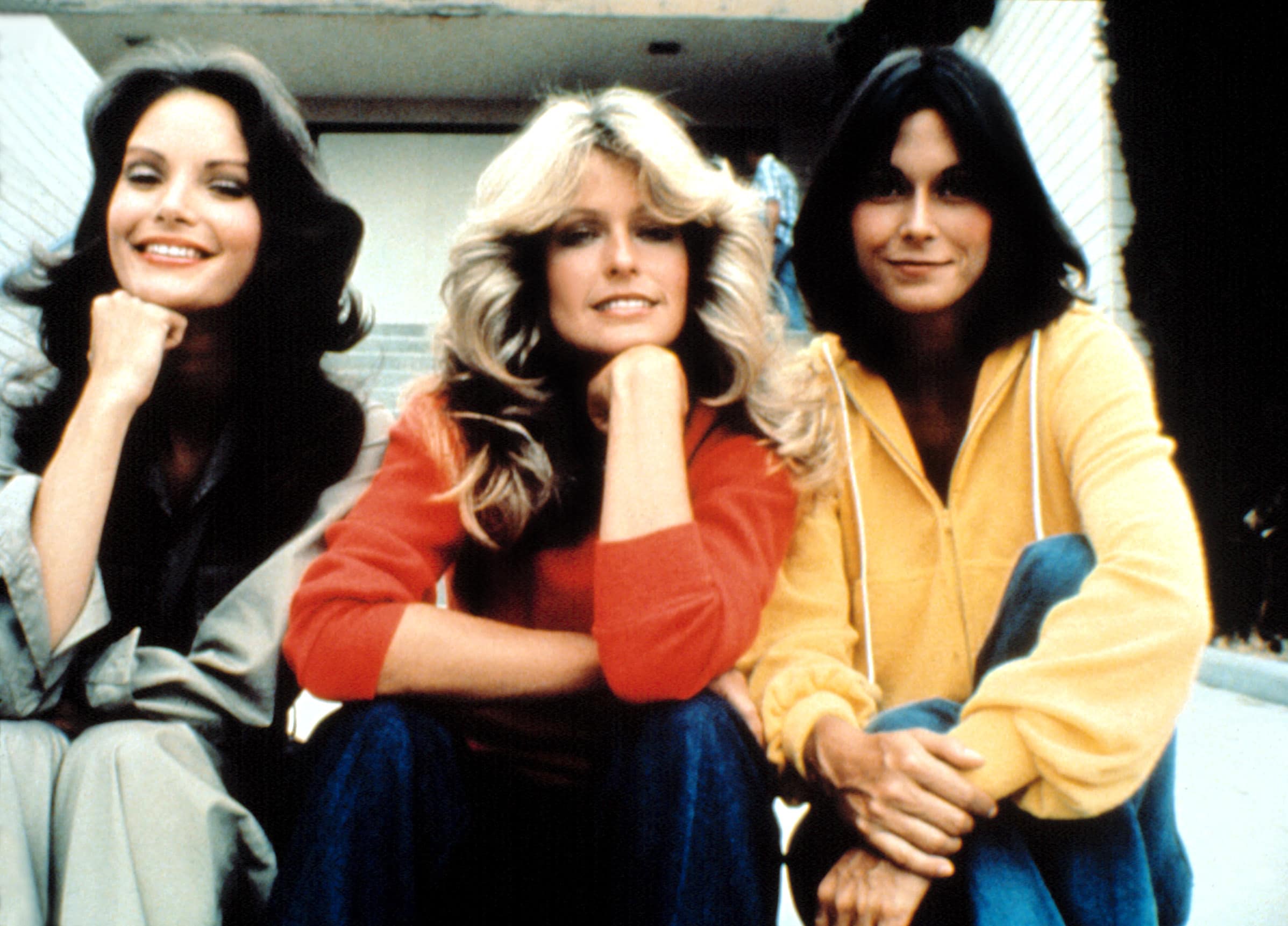 It's time to meet Charlie's… Alley Cats! Well, the original script for Charlie's Angels had a slightly different premise with a very different name. The original trio was called Alley, Lee, and Catherine, together known as the Alley Cats. They also worked directly with the police as leather-clad karate black belts. When ABC's Michael Eisner heard that pitch, he gave the glowing review of, quote, "That's the worst idea I've ever heard."
RELATED: 'Charlie's Angels' Cast Then And Now 2021
In fact, the whole formula of a female-led cast was predominately hated by the ABC execs. Yet even with this very pending title and premise, Kate Jackson, AKA Sabrina Duncan, was already working with producer Aaron Spelling. She visited Spelling's home, which was previously owned by a little-known crooner named Frank Sinatra. Sinatra had a hung painting in the office featuring three angels. When Jackson saw it, she suggested renaming the squad angels and they had it: Harry's Angels, but wait – they said – there was already an investigative show called Harry O currently on the air, so.. Minus a Harry and add a Charlie and now we're cookin'. 
Nearly Angels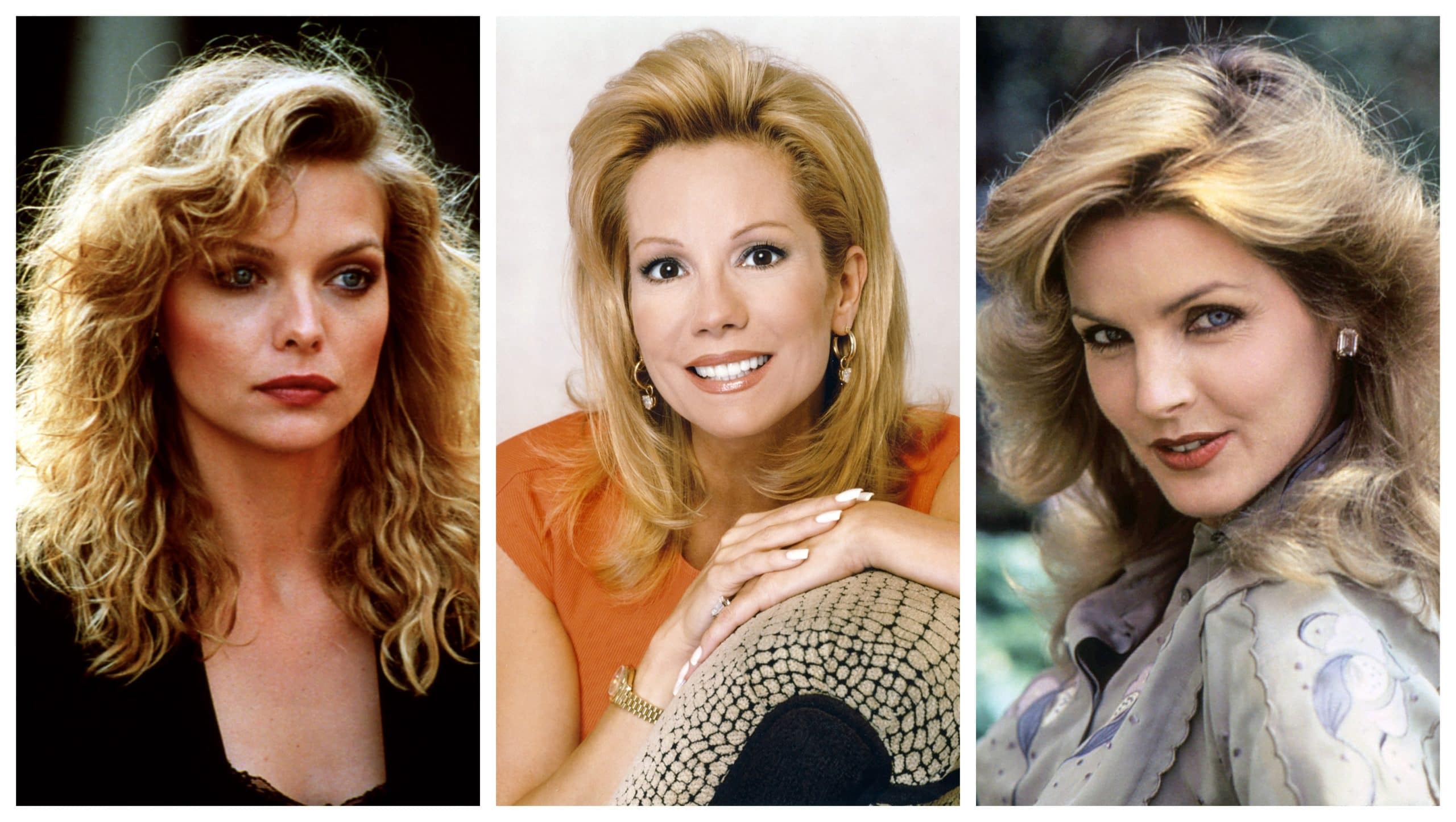 Pretty famously, several stunning women played the lovely Angels. But several other notable babes were heavily considered that would have really changed the dynamics. For one thing, producers reached out to the likes of Priscilla Presley, Michelle Pfeiffer, Kathie Lee Gifford, and Kim Basinger. Priscilla outright refused, and Basinger turned down the role of Kris Munroe to build a film career. Both Pfeiffer and Kathie Lee were favorites to play Tiffany Welles, but Shelley Hack came away with the Season 4 replacement!
Meanwhile, that iconic voice of Charlie was a last-minute addition. The series first aired on September 22, 1976, and Forsythe was only cast and did his lines days before that big release. Producers wanted to keep his casting a secret, but there's no keeping the patriarch of Dynasty silent. He also supposedly read his lines while lounging in pajamas, which is definitely the way to do it! Producers had to rush because their original pick for Charlie, Gig Young, turned up to read his lines while completely drunk. That's one fast way to lose a gig, Gig!
Seen and Unseen
Charlie's Angels wouldn't be Charlie's Angels without… you guessed it, Charlie's Angels. But for how instrumental they were, only one actually appeared in the whole series: Jaclyn Smith's Kelly Garrett stayed for the whole 5 season run.
The titular Charlie never actually appeared in a single episode, and his lines were just recordings, he never spoke live in a shot. Except, in John Forsythe's case, he preferred keeping his distance from the show. He even said that if he were to appear in person, he'd charge a ton. During the whole production period, Forsythe never stepped foot on the set once.
The Poster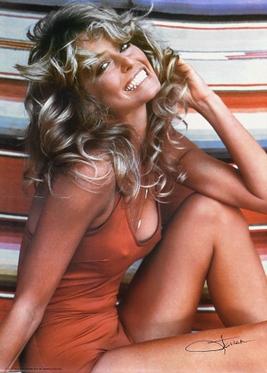 If you grew up in the 1970s, you most definitely saw that famous poster of Farrah Fawcett, which became promotional material for Charlie's Angels; it sold 12 million copies. But did you know that actually predates the show's premiere itself? ABC recruited photographer Bruce McBloom, a friend of the Fawcett-Majors family, to take pictures while filming the pilot. Only Farrah actually agreed to pose for a poster. The famous red bathing suit poster was made six whole months before the pilot even aired, shot right in Farrah's own home.
That's okay, she may have been the only Angel wanting to make a poster, but Kate Jackson was the only Angel to receive an Emmy nomination. The show overall received 4 nominations but won none.
Join the Club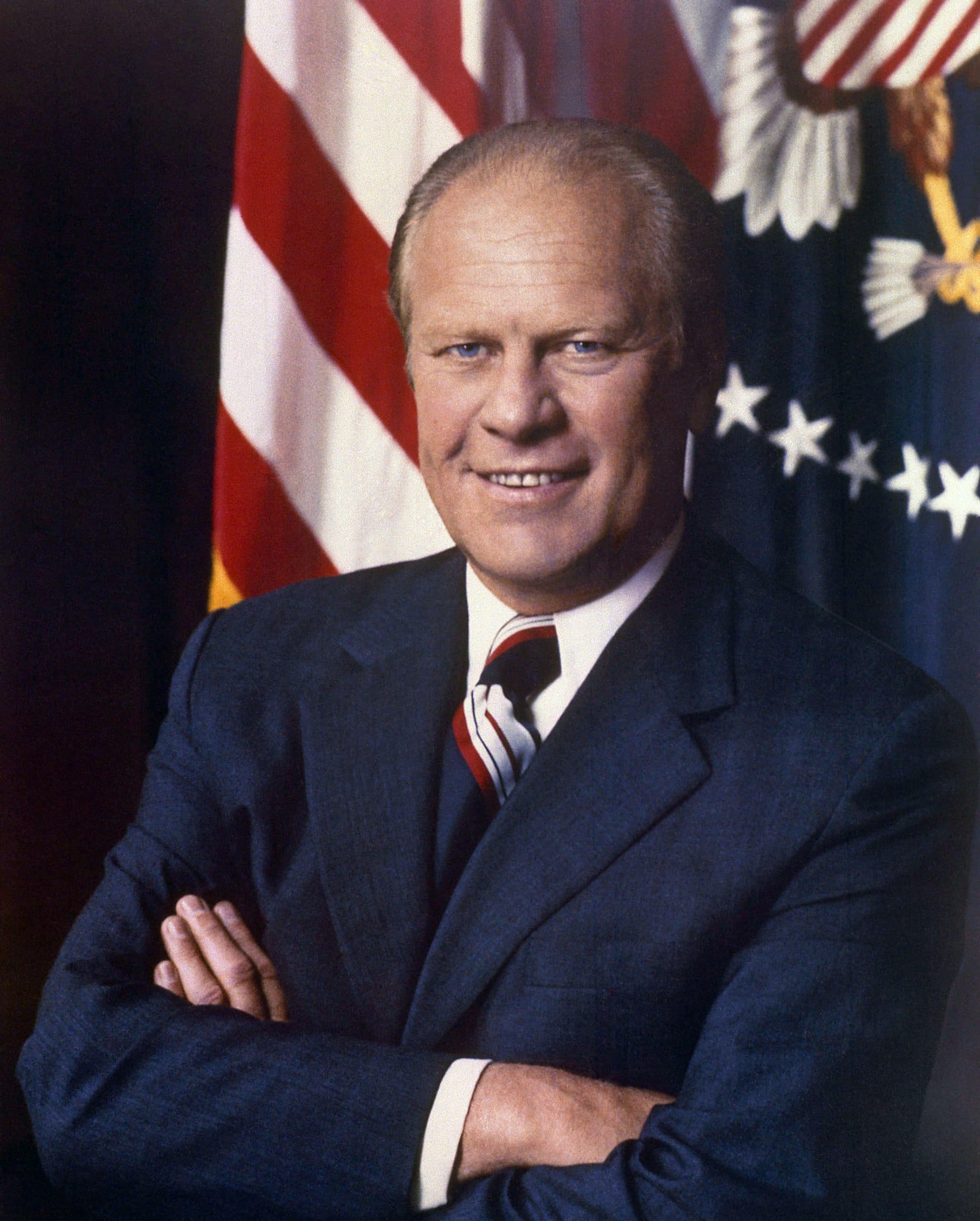 When you're an Angel, you've got friends in high places – in more ways than one. President Gerald Ford may have lost an election to Jimmy Carter, but he could never lose those angels. As Ford was an outspoken fan of Charlie's Angels saying it was one of his favorite shows on Television. He got to visit the set!
And he's not the only one, Charlie's Angels fans exist in all walks of life, even philosophical Fountainhead author Ayn Rand talked about her interest in the show on the history-making talk show Donahue.
Famous fashion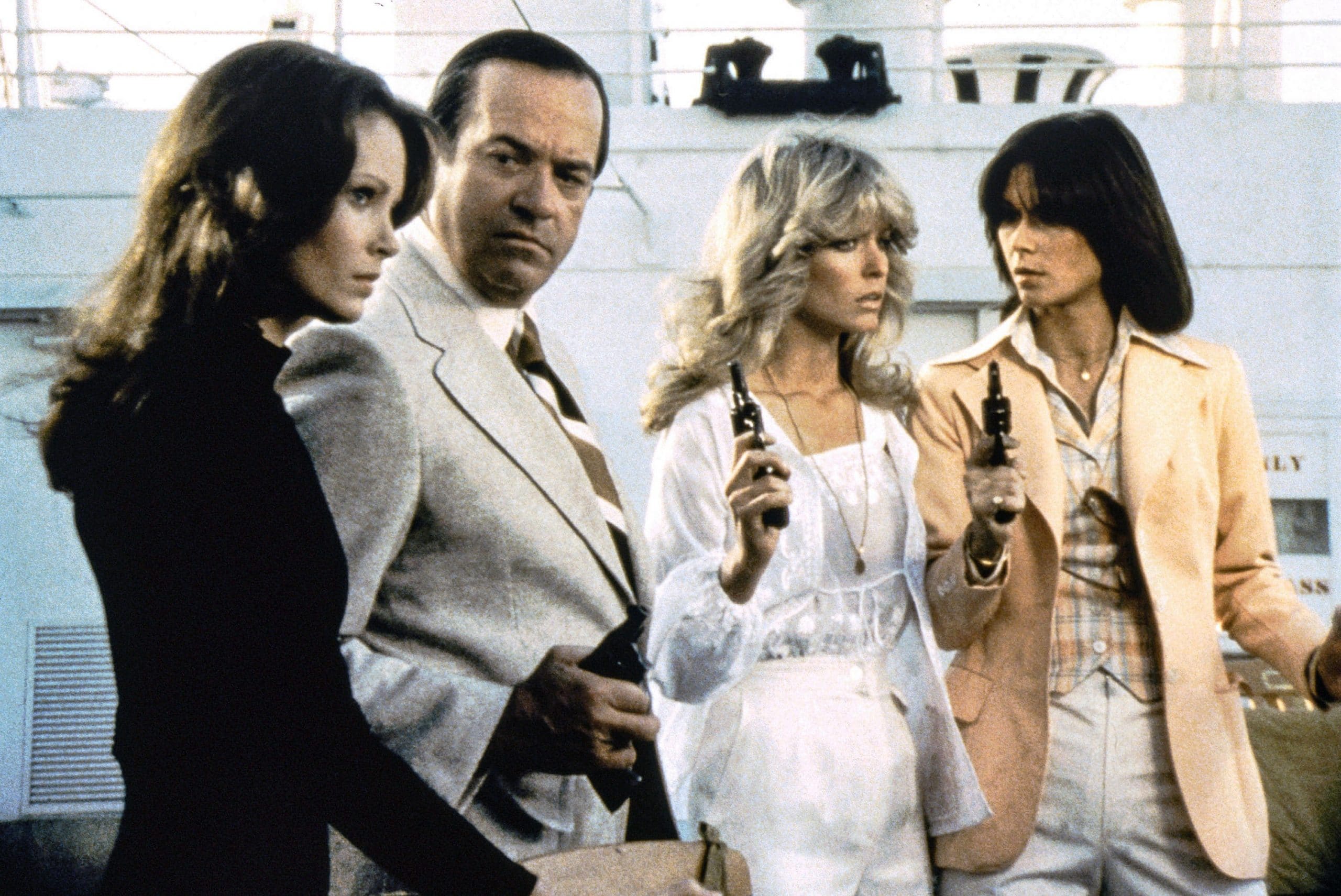 Time for some quick math. Each Angel would go through 8 costume changes per show, multiplied by 3 angels, and 115 episodes, and wowzers, to keep the Angels looking Fresh, cost the team a whopping $20,000 in wardrobe fees, with most outfits designed by Nolan Miller. For more shocking context, that budget is equal to the starting salary for the trio of angels.
To this day, some of that wardrobe still enjoys the limelight. Farrah Fawcett's red bathing suit became so iconic paired with the show, that it now has a forever home in the Smithsonian's American cultural history collection.
Litigation loopholes
Farrah Fawcett balanced a few responsibilities during the filming of Charlie's Angels. She appeared in numerous shampoo commercials and maintained a strong – if very turbulent – marriage with the six million dollar man himself Lee Majors.  Farrah was determined to make her and Majors' marriage work so in her contract with Aaron Spelling, she required shooting ended promptly at 7 pm. So she had time to go home and cook dinner for her husband. Her agreement with ABC would be mostly verbal, and that paved the way for more troubles for her and the show.
The Angels had it all: fame, beauty, merchandise, and an ideal timeslot for maximum viewership. Then, Fawcett quit the show. She cited marriage problems and dreams of movie stardom. Except, that mostly verbal contract demanded more from her, and Spelling sued Fawcett for $7 million dollars worth of breach of contract. After some back and forth, they reached a compromise: she'd be required to make six guest appearances within the next two seasons.
But Fawcett faced a fervent fallout for her choice. She stated, quote, "The industry was furious with me, People thought I was really pretentious, and for months no one would touch me… I was poison." Some of this blacklisting resulted in Goldie Hawn winning the lead role in Foul Play over Fawcett. Farrah would end up divorcing Lee Majors in 1982, and if you want to catch up on Lee Majors and the rest of the OSI, we have a better, faster, stronger cast rewind you can watch next!
Angelgate
Let's jump back a few years to 1973, where Aaron Spelling served as executive producer for the TV movie The Affair, starring Hollywood couple Robert Wagner and Natalie Wood. To get this famous duo into his movie, Spelling promised they could co-own a future Spelling TV show. Their backing was kept private, but they were entitled to 50% of the show's profits.
This arrangement became public when Wagner actually sued Spelling/Goldberg productions after he found some of his funding – meant exclusively for Charlie's Angels – was getting redirected to help fund Starsky & Hutch. And the subsequent mess of the scandal got its own name from the press: Angelgate. 
Heavenly humor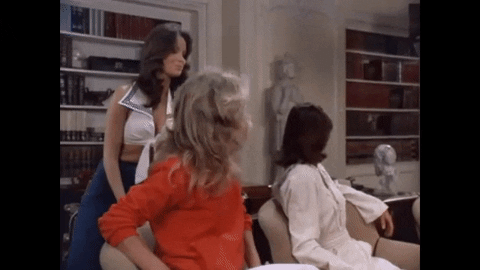 After Farrah Fawcett's Jill Munroe left after the first season, Cheryl Ladd's Kris Munroe joined the fun. She kept things light. At the time, Farrah's last name was Majors, so when Ladd arrived for her first day on set, she wore a shirt that said "Farrah Minor." One of the most memorable episodes remains "Angels in Chains," where the angels go undercover in a women's prison. The trio gets shackled together for some scenes. Except, when they cut for lunch break, the crew pulled a prank by leaving the women chained together. A great team-building exercise!
Meanwhile, David Doyle also stayed for the entire show as the fretful and fussy John Bosley. The character of Boz got this last name because poor David Doyle was always mistaken for the actor and Happy Days father, Tom Bosley. 
Angels, boats, and automobiles
Cast shakeups are divisive, one example being the controversial change from Dick York to Dick Sargent in Bewitched. When Charlie's Angels brought on Shelley Hack, the show wanted to keep the momentum going, so Aaron Spelling put together a crossover with The Love Boat. The season 4 premiere saw the Angels investigate a stash of gold and bronze worth $5 million. Sadly, it wasn't worth better ratings, and Shelley was dismissed a season later. In her eyes, the producers played a numbers game: secure a different time slot or bring in new hype, and that hype ended up coming from yet another Angel hunt.
If you want to ride like an angel in style, you can! Because President Ford was such a huge fan, all the angels drove Ford vehicles: specifically, the cars of choice were a Mustang II Ghia, a Mustang Cobra II, and a Pinto.
Well, Angels, that was another successful mission. It's interesting to think about the near angels and what that would've done to the show. And to think if Farrah had stayed longer. OH well. She had to win some races overseas. So, let's discuss. Did you have a favorite Angel over the years? Remember a specific episode of the show that you dug? And what about the reboot film attempts, any fans of those? Get in the comments below and let's discuss, we want to hear all your thoughts.