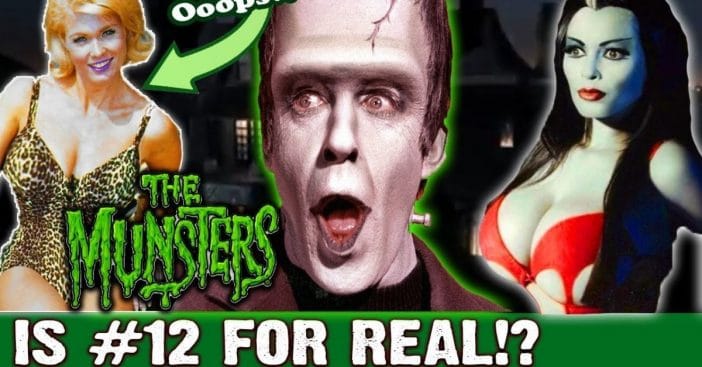 The Munsters proved nothing is as it seems, and even if you think you know everything about this spooky family, there's always more surprises lurking in the shadows. But don't be afraid, it's not all scary! Just dust away the spider webs on The Munsters family and there's a lot of interesting things at play behind-the-scenes. As a show, The Munsters reshaped how kids looked at the stuff of nightmares, flipped the facts, and reimagined them as purely relatable people who could be their own neighbors.
But the show had plenty of tricks up its sleeve, from changing faces to secret songs, eerie cameos, and some coffin robbery. Now, the night is young and we have many fun facts about The Munsters to unveil. Let's be off!
Leave it to the 'Leave It to Beaver' writers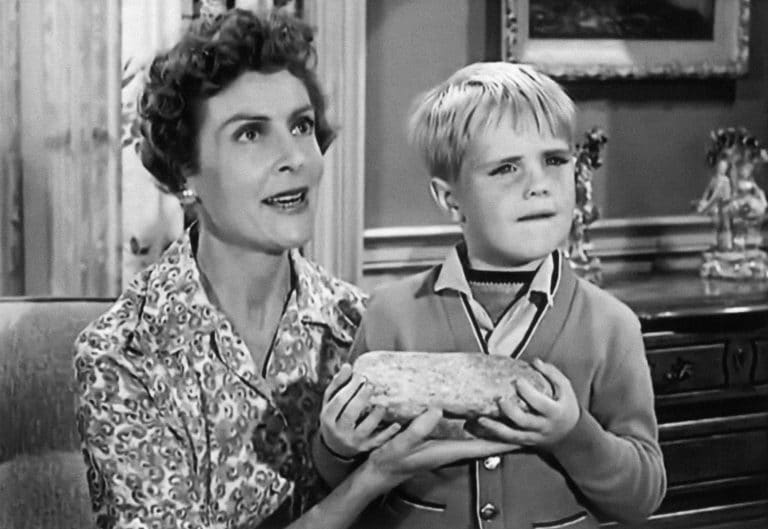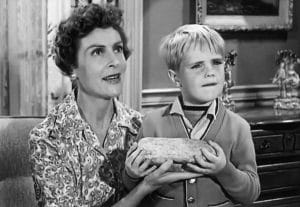 If it's not broken, don't fix it. After Leave it to Beaver writers Joe Connelly and Bob Mosher based a successful sitcom around their lives, surely that wouldn't work with monsters, right? Shows with big scary fiends tend to scare kids by sheer design. Yet the two writers decided to keep with a similar premise in a typical suburban family who just happened to be monsters. They had to work carefully, but they ultimately got their message across just right. In fact, turns out Frankenstein's monstrous Munsters are a friendly, loving family.
It's a good thing experienced writers took this show on since these iconic monsters came with some big copyright stamps to navigate. Thankfully, Universal Studios, which owned The Munsters, also happened to own the rights to every creepy-crawly baddy in popular media. That actually gave them a pretty helpful edge over The Addams Family and helped The Munsters beat The Addams Family in ratings; The Munsters fanbase brought in fans of Dracula, Frankenstein, and all the classics. Meanwhile, The Addams Family had to start from scratch with their own creations.
Color me surprised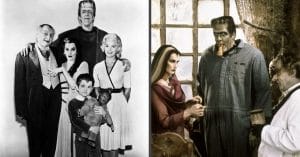 The Munsters had a few people confused when it started. Its pilot episode was filmed entirely in color, but then everything after was in black and white. Why? There are some conflicting reports. First and foremost, everything suggests money was the big cause. The show rose to fame right when color TV did, but prices to make color episodes rose as well. For one thing, producers needed different equipment to create a program fully in color. Then, they had to rely on viewers having updated equipment of their own, which could be pricey, in short supply, or both.
From there, things get a bit messy. Some say it was also to make sure the show didn't scare the kids with more detail in color. In contrast, others think the black-and-white lens lent a gritty nostalgic feel, similar to old horror classics. Either way, the show in color would've had a very different tone, so, filming on a budget worked out.
This Lily just wouldn't bloom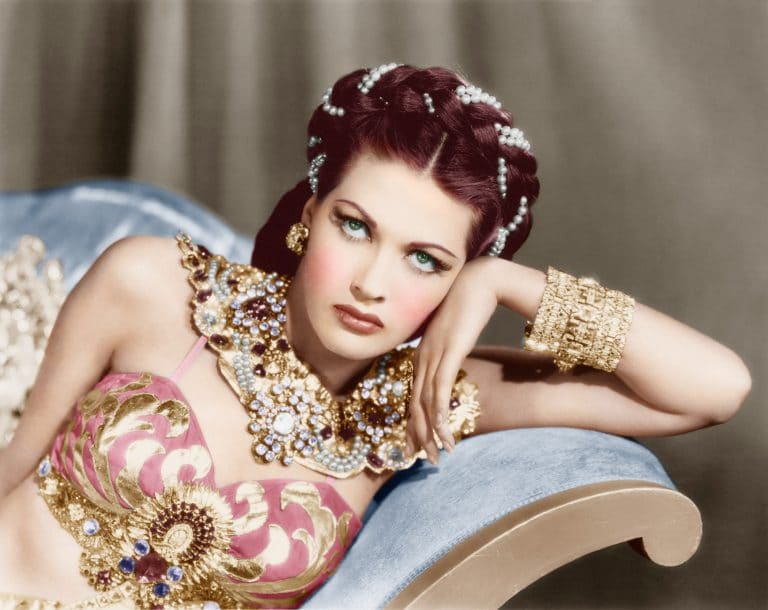 When shows with similar premises run simultaneously, things can get tense. Look no further than the magical battle of Bewitched vs I Dream of Jeannie. But there was a whole other supernatural rivalry brewing between Team Munster and Team Addams. Producers had to toe the line carefully, so when Lily Munster, originally called Phoebe and played by Joan Marshall, started to resemble Morticia Addams too much, producers backtracked quickly and started at ground zero.
The role went instead to movie star Yvonne De Carlo. Her reputation preceded her, and she came with some prima donna attitude that Al Lewis and Fred Gwynne did not care for. As far as they were concerned, she was in the wrong neighborhood, and movie stardom had no place on sitcoms. Boy were they wrong! Fortunately, Lewis admitted as much about the "bona fide movie star." She did indeed "fit in with our brand of comedy."
Sing your heart out
Everyone knows the Addams Family theme song, they're creepy and kooky, all that good stuff. It's a shame The Munsters didn't have that. Or, did they? Actually, they did have a song with lyrics, and a pretty good one, too. The lyrics tell people, hey, if you hear footsteps at night and shake hands with a clammy palm, don't worry, it's not the undead! It's just The Munsters! Not the sagest advice to keep in mind, but it perfectly setup the premise of the show producers were going for.
Jazz guitarist and composer Jack Marshall put together the music while Bob Mosher wrote the lyrics. If these lyrics are news to you, that's because they never actually aired on TV, but they can be heard as the first track on the 1960s album "At Home with the Munsters." Even those who haven't watched the show itself probaby heard that famous guitar riff as it's used as a free sample in the song "Uma Thurman" by rock band Fall Out Boy.
The creeping feeling we've seen this before…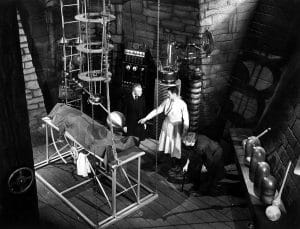 It's not just the monsters that viewers see in pop culture, it's the props too! Grandpa Munster's famous laboratory was made by special effects technician Kenneth Strickfadden, who, years before, had designed Dr. Frankenstein's lab in the 1931 film Frankenstein. Look closely, and you'll see it actually has some of the same parts from that classic movie! Talk about deep meta.
That goes for other important props too, particularly the Munster Koach, designed by none other than George Barris. If that name isn't familiar, his other creation will be: the custom car designer actually made the Batmobile for the 1966 series. Herman's Munster Koach is actually three separate Model T Ford bodies, making the Munster Koach 18 feet long in total! $18,000 and 21 days later, Barris had a totally custom brass radiator, fenders, and, of course, blood-red upholstery.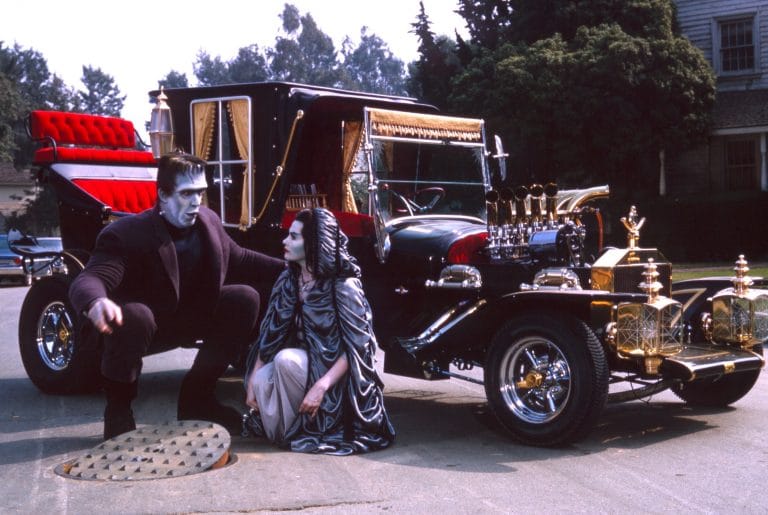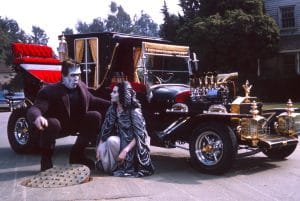 Barris did such a good job, producers ordered a car for Grandpa too, which became the Drag-u-la. This one required a little grand-theft-casket, since funeral homes apparently only sold coffins when someone died. So, Barris and the funeral home owner took a stroll while some of his goons spirited away a broken casket, leaving nothing but some money in its place.
Oh, and if the Munsters' cuckoo clock looks a bit weird, that's because it's not a cuckoo; it's a raven that shouts "Nevermore!" as a direct reference to the king of creepy, Edgar Allen Poe. Renowned voice actor Mel Blanc voiced the clock. It's on his work resume along with a certain Looney Tune named Bugs Bunny.
Familiar freaky faces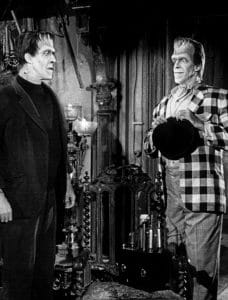 It goes without saying, The Munsters used a LOT of makeup. Sure, it ate away at the workday, but it let the show pull off some pretty sneaky tricks. By himself, Fred Gwynne played three separate roles. His iconic Herman Munster, as well as Herman's twin brother Charlie, but also a failed experiment named Johann who, of course, looked like Frankenstein's monster.
Makeup also helped hide some weird age dynamics. Al Lewis was supposed to be Yvonne De Carlo's dad. In reality, he was, in fact, a year younger than his Munsters daughter.
Of course, makeup procedures changed over the years as artists perfected them. But because of early tech limitations, viewers can't really appreciate in the black and white episodes, but Herman is actually a soft violet color because it picked up light better. But when the show got a colorful update in the '80s, Herman went to green.
Rising from the grave…with some reluctance
The cast of The Munsters became something larger than a TV show and a lot of people decided to capitalize on that. So, by the 1980s, Al Lewis used his Grandpa Munster fame to open a restaurant: Grampa's Bella Gente. Fred Gwynne actually drew the logo which was a side-profile of Grandpa, since Fred had done some cartooning for the Harvard Lampoon.
The Munsters were also featured in a Macy's Thanksgiving Day Parade. That was hell on Earth for Fred Gwynne, though. Playing Herman was a double-edged sword. On the one hand, he could be anonymous out of costume; he didn't often deal with swarming crowds and he preferred it that way. On the other, there was so much costume and makeup, he spent more time getting dressed up than actually acting. During the parade, the cameras didn't show Herman Munster downing whiskey shots so he could get through the festivities. And back on set, he downed gallons of lemonade between takes to try and stay healthy, hydrated, and energized. But he still lost 10 pounds from all that stifling costuming.
Family reunions – and separations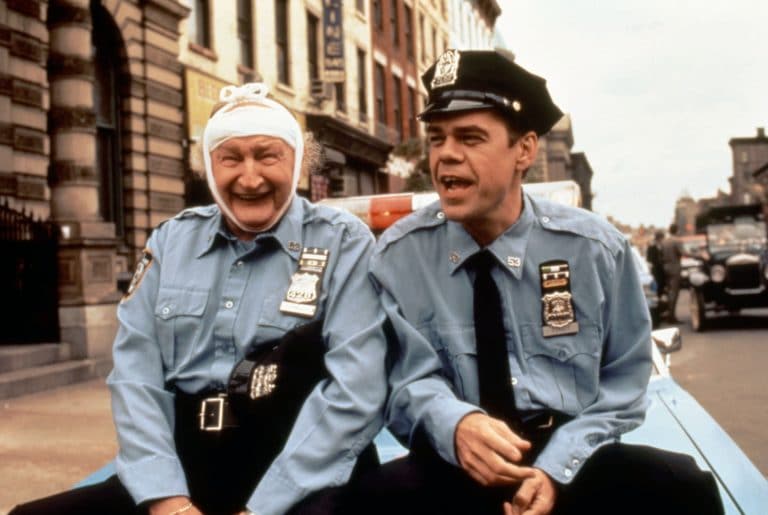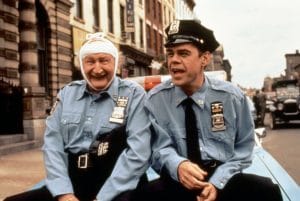 Fred Gwynne and Al Lewis had such terrific chemistry because it was basically a reunion for them. The two had experience as colleagues after acting together in the fun police series Car 54 Where Are You?
The family didn't always stick together, though. Beverley Owen, the original Marylin, the Munsters' regrettably normal niece, had to leave after 13 episodes after a bad breakup left her constantly in tears. Any attempt to work through a scene often caused her to start crying. Pat Priest ended up taking over the role not just for her acting grit but because she looked almost identical to Owens in height, build,  and all other features besides the hair. Nothing a wig couldn't fix, though Allison Arngrim could explain why those pose a problem too. Change the show from Little House on the Prairie to The Munsters and the fact remains: makeup and wigs can be grueling to work with.
Bill Mumy almost played Eddie Munster, but of course, he'd go on to still be a star among the stars in Lost in Space, facing all sorts of interstellar dangers, Will Robinson. Instead, the role of Eddie first went to Nate "Happy" Derman, but his Eddie was just a little too wolfish for the network. So finally Butch Patrick took on the role with the instructions to basically be Beaver Cleaver but with pointy ears. That cemented the casting.
Shocking and horrifying scenes to behold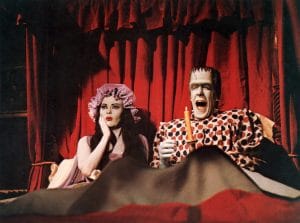 Turn on the TV these days and you can see just about anything on the screen. Jump back a few decades, and Barbara Eden's navel and Lucille Ball's baby bump were totally inappropriate. Same thing with couples sharing beds, but that didn't stop Lily and Herman Munster.
The Munsters didn't even have to show any action and people freaked when they were innocently lying in their bed together at the same time. Because they were freaks, well monsters. In fact, the Munsters couple chatting in bed together was a big deal and pretty groundbreaking.
Brave the halls of the Munster home in real life
Texas couple turn their home into a replica of 60s sitcom The Munsters http://t.co/K8E1lUbukR pic.twitter.com/e9XNsjjspi

— Daily Mail US (@DailyMail) October 28, 2013
Ever want to step into the wacky, spooky halls of your favorite monster family? You can, actually, thanks to Waxahachie, Texas residents Charles and Sandra McKee, who took the idea of A Very Brady Renovation to a whole new level. Their home is an exact replica of the Munster house, complete with a crooked weathervane and moving stairs. They put this monstrous property to good use every Halloween by hosting tours and all funds go to charities.
The original Munster house -not a replica – used for filming sits just down the street from the Cleaver household where Beaver lived, one more tie from the legendary sitcoms.
Nothing proves that appearances can be deceiving quite like The Munsters, or, as it was almost called, Love Thy Monster. Hopefully, you enjoyed learning a little more about 1313 Mockingbird Lane! What surprised you the most? Share your favorite Munster Memories in the comments below and don't be afraid if you run into vampires and werewolves along the way. Even the most monstrous-looking stuff of fiction like the Munsters are, in fact, friendly.