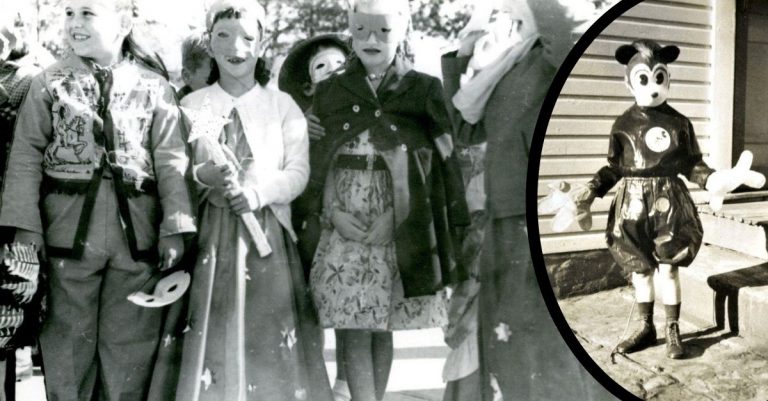 Generations can relate to trick-or-treating. As a yearly activity, it gives kids the chance to wander the neighborhood, have fun, collect candy, and dress up. Part of the fun comes from seeing everyone's costumes, which lets them be their bravest heroes or the scariest of nightmares. These vintage Halloween photos promise a lot of fun thrills.
The black-and-white photos that follow certainly focused on delivering creepy elements to each costume. Instead of brightly-colored comic book champions, many people dressed as specters, hags, and masked mascots. Enjoy some nostalgia — and maybe get some inspiration in time for Halloween with these photos.
Masks become props and scare tools (1949)
In this photo, several subjects look at the camera wearing unassuming clothes. One subject even holds a baby. All innocent in this 1949 picture, right?
RELATED: 8 Facts You Never Knew About Halloween
Well, the masks really ruin that air of innocence and safety. In fact, they make this otherwise simple picture and getup quite threatening. But one individual on the right uses the mask's large nostrils as a prop to comically pick his nose. Even the baby looks unnerving!
Coordinating adds to the fun (1918)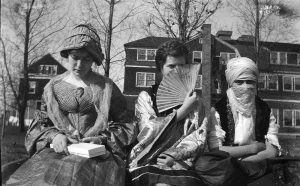 This intense blast from the past builds on a simple concept. Each individual appears to represent an emotional state of being. Specifically, their names of Sleepy, Bashful, and Grumpy, reflect three dwarves from Snow White.
They use available clothing and expand with props to properly tell their story. In this example, choosing costumes as a coordinating group emphasizes the social fun of Halloween.
Nature is the best teacher (1950s)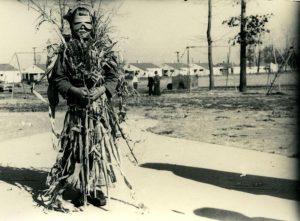 Not every costume needs elaborate pieces or features derived from the human image. Instead, costume-wearers can use elements from nature.
This '50s Halloween costume does not necessarily sport any fashions of the time, but it certainly shows how creative people could get. This came from a time long before easy online services that could produce a costume and send it over. Instead, the subject got creative and actually made something very unique!
All the pieces come together (1956)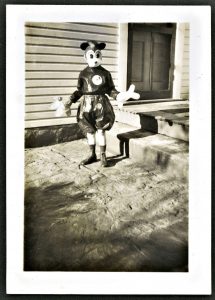 Because no one had mass-produced costumes at the ready to the extent we see today, people had to improvise. Ultimately, this became something of a irite of passage for some kids.
In fact, costume, décor, and makeup expert Kate Horvat encourages DIY costumes whenever possible. She asserts that it encourages creativity and ensures each costume perfectly suits each child.
Unintentional spooks abound (1938)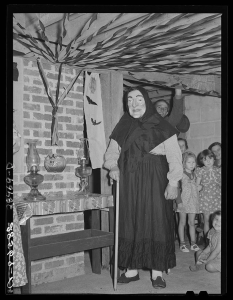 Not every spooky or eerie vintage Halloween costume achieved the level of scary it set out to right away. Sometimes, it accidentally surpasses it.
The above photo from 1938 showcases one such example. The primary focus, the person with the dark robe and intense stare, already gets the viewer's attention. But, potentially inadvertently, even the other individuals come off a little eerie with how they stare stoically at the camera. Notice the person above the primary subject's shoulder, too.
Masks change everything with these vintage Halloween costumes (1950s)
The '50s arrived and so too did creative, albeit unique, costumes. Costumes could be simple and tended to be such given the times and limited availability.
A few accessories could drastically change an outfit's appearance. The clothing that makes up the above costume is unassuming on its own. Something in the masks, though, especially the lopsided nature of the left one, makes things feel just a bit off.
The eyes have it (1918)
As the windows into the soul, eyes play a crucial role in nonverbal communication. When that communication gets interrupted unnaturally, things can feel very different. These people sported a costume that did just that.
Coupled with the uncanny masks, the eyes stare ahead with a deadened look that threatens to remove the people's humanity the longer you look. But continue to watch and zoom in on the middle left of the picture to see more eyes, inadvertently, in the garage.
Hiding just a bit shows a lot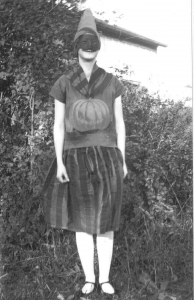 By itself, this festive-looking outfit appears like a fun way to celebrate Halloween. But the mask definitely changes the whole ensemble in a sufficient way.
It doesn't even cover the whole face. Still, the mask successfully does its job by covering just some. So, viewers can see only part of the humanity in this face and the rest is completely covered by something stiff and familiar but unnatural.
Mature elements, micro-sized (1950s)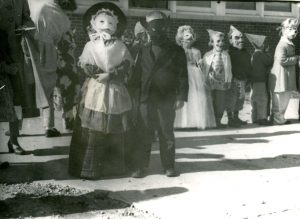 Horror movies frequently employ a certain trope with children. The young ones will act or speak with a tone that surpasses the maturity level you'd expect from someone their age. Their words can be forboding and their actions startling.
That's something this photo evokes, in a way, though there's no denying their outfits look sharp.
This fairytale doesn't have a happy ending (Date Unknown)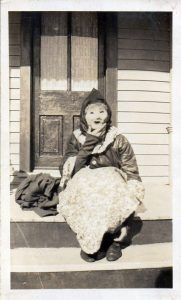 A simple story sees Little Red Riding Hood heading off to her grandmother's only to get attacked by a wolf. This fairytale could have ended differently, though. The wolf might not have attacked if Little Red looked like this, though. There's no overtly threatening element of the costume but the mask makes the eyes look hollow, empty, and downright creepy.
The rest of this vintage Halloween costume, however, looks true to the character, story, and era. What Halloween costumes of your own were you most proud of?