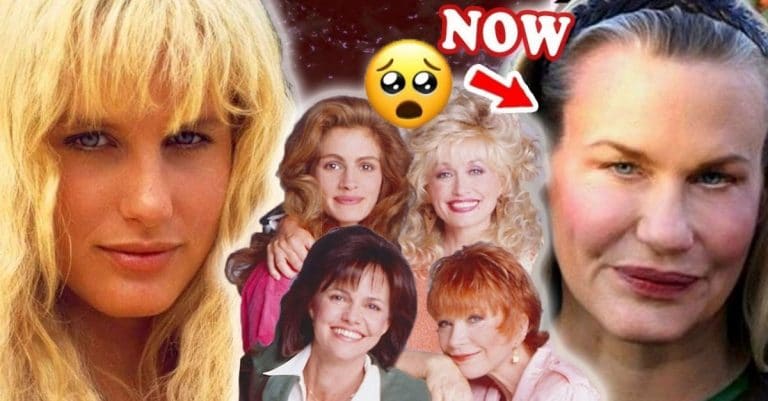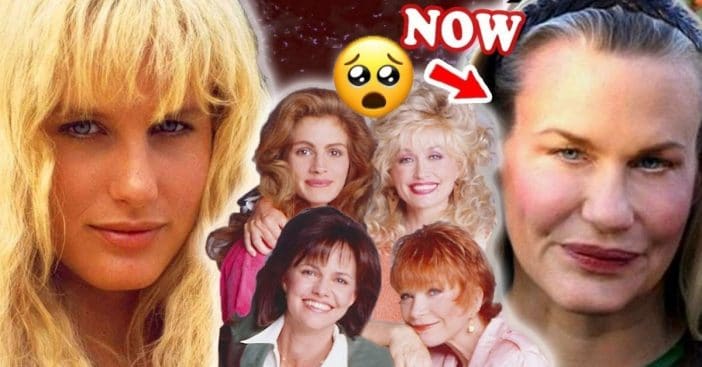 UPDATED 4/3/2023
We're heading out to Louisiana, to revisit a small town with a big heart. Steel Magnolias is a 1989 film based on the stage play. Always suggested that the meaning of the title alludes to the fact that the leading ladies are both beautifully delicate as a flower, yet tough as steel. 
"Laughter through tears is my favorite emotion," Dolly Parton's character, Truvy Jones said. Full of love, affection, small-town antics, and a tight-knit group of friends, Truvy's Beauty Spot and everyone in it is sure to make you one of their own.
1. Dolly Parton (Truvy Jones)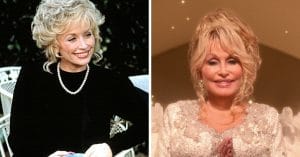 Truvy Jones is the big-haired beautician who has lived in Chinquipin parish all her life. She is married to Spud Jones, played by playwright Sam Shepard. Truvy is vivacious and full of gossip with the most successful shop in town. As Truvy says, "There's no such thing as natural beauty." It's all about the effort, and Dolly gave hers. After a poor take, director Herbert Ross reprimanded Dolly and asked if she could act. She replied, "No, but it's your job to make me look like I can!" 
By 13 years old, Dolly Parton was already recording on a small label and appearing at the Grand Ole Opry. At 20, she married Carl Dean, who ran an asphalt-paving business and the two have been happily married ever since. The following year, Porter Wagoner hired her to begin appearing on his program, and after 7 years of wildly popular duets, Dolly embarked on her solo career. From #1 Hits like "Joshua" to "Jolene," Dolly was now shaping the 1970s Soundtrack.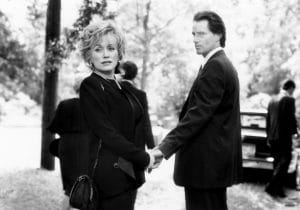 Her first film role was in the 1980s, co-starring with Jane Fonda and Lily Tomlin in 9 to 5. Dolly wrote and recorded the film's title song which when released, won two Grammy Awards for the singer-actress. The '80s brought Steel Magnolias, as well as The Best Little Whorehouse in Texas, co-starring with Burt Reynolds. Parton is also a business titan. The Dollywood Foundation has several ventures, highlighted by Dollywood located near Knoxville, Tennessee. The foundation also contributes to several charitable organizations, including the American Red Cross and HIV/AIDS-related charities. 
Today Dolly is 77 years old and deserves every accolade, even if she won't accept. In response to a 2021 proposal to erect a statue of Parton in Tennessee, she responded, "Given all that is going on in the world, I don't think putting me on a pedestal is appropriate at this time." And in 2022, she claimed she doesn't deserve the Rock and Roll Hall of Fame nomination that she received, although the board decided to keep her on the list regardless. We don't disagree with that!
2. Sally Field (M'Lynn Eatenton)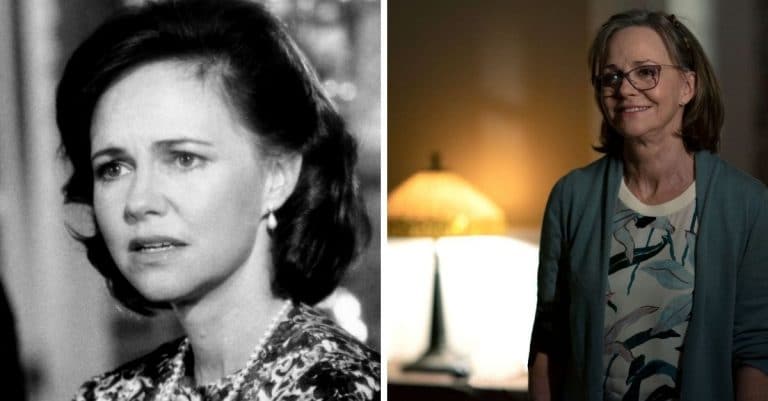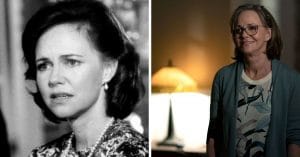 M'Lynn Eatenton is a social worker and mom of the century, literally giving her organ to daughter Shelby to try and save her life. Watching Sally try and come to terms with losing her only daughter is heart-wrenching and Sally puts on the performance of a lifetime. 
Sally Field began acting in 1962 and by '65 she had her own title role in the series Gidget. However, it was Field's 1967 role as Sister Bertrille, aka The Flying Nun that really made her a household favorite.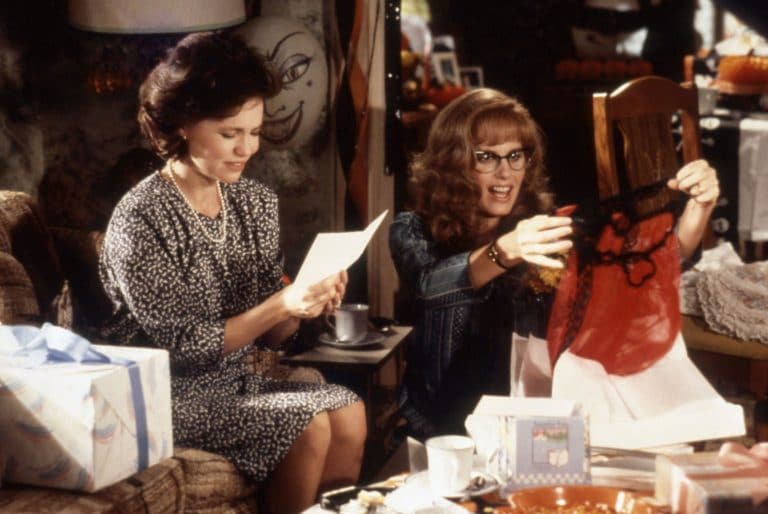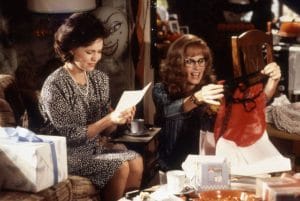 Sally Field broke into cinemas everywhere as 'Carrie' co-starring with Burt Reynolds in Smokey and the Bandit and its sequel. From '76 to '82, Field had a relationship with Burt Reynolds. During their relationship, the duo co-starred in four films together. Then 1979's titular role as Norma Rae gave Sally her first Academy Award nomination and victory. She'd win again in 1984 for Places in the Heart. Heading into the '90s, Sally Field acted alongside Robin Williams in Mrs. Doubtfire.
Today she's 76 years old and still active in show-biz. Field was most recently part of the 2020 AMC show Dispatches From Elsewhere, as well as the show Winning Time: The Rise of the Lakers Dynasty and the feature films Spoiler Alert (2022) and 80 for Brady (2023).
3. Tom Skerritt (Drum Eatenton)
Drum Eatenton is M'Lynn's husband, straightforward and simpleminded. Whether he's recklessly shooting blanks at birds, or deaf from said bullets, he stays true to his own motto, "Never deal with the wife."
Tom Skerritt became well-known in Hollywood for the 1970s film, M*A*S*H alongside Donald Sutherland and Elliott Gould.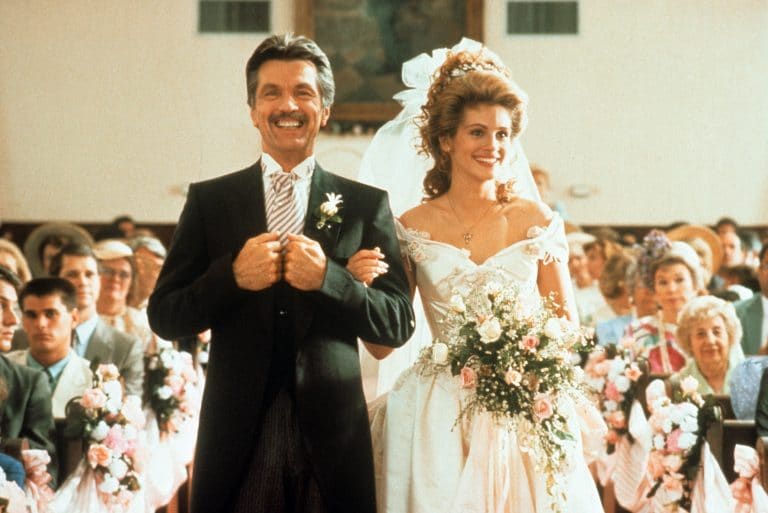 Then 1979's creepy sci-fi epic, Alien continued Skerritt's string of box-office hits. From 1988 to 1992, he starred in the David E. Kelley created series Picket Fences. 
One of his best-known roles was in 1986's Top Gun. For more on Tom and the other Tom, too, check out our deep dive into that Tony Scott-directed action flick. He's 89 years old today and we last saw him in 2021's Catch the Bullet.
4. Shirley MacLaine (Ms. Ouiser)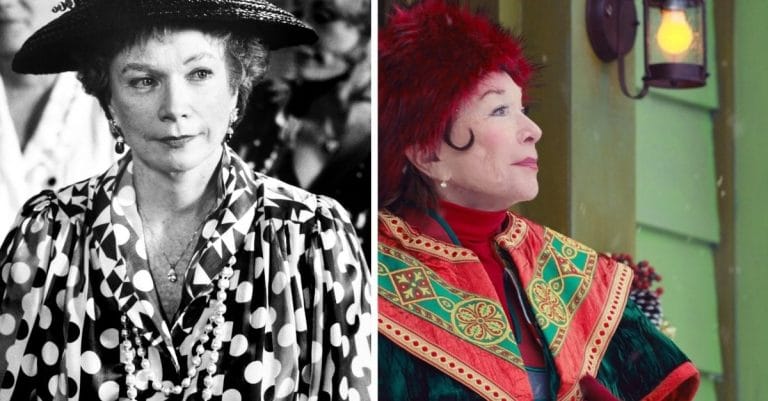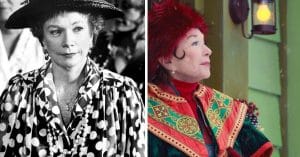 "I'm not crazy, I've just been in a very bad mood 40 years!" Ms. Ouiser is the grouchy and feared elder of the town and Claire's best friend. She comes marching up with her huge-Clifford-sized dog barking away. The chemistry between her and Drum is mean and downright hysterical. Although she and Tom Skerritt played antagonists, in 1976 the pair played a married couple in The Turning Point, coincidentally also directed by Herbert Ross. 
Shirley MacLaine's professional career began in 1955 in Alfred Hitchcock's The Trouble with Harry. Three years later, MacLaine co-starred with Frank Sinatra in Some Came Running and received her first Oscar nomination. Then, in 1960 she acted alongside Jack Lemmon, in The Apartment, once again nominated for Best Actress. However, MacLaine wouldn't take home the trophy until her sixth nominated ceremony, for 1983's Terms of Endearment. More recently it was fun seeing her take on the iconic role of Endora in the 2005 reboot attempt of Bewitched.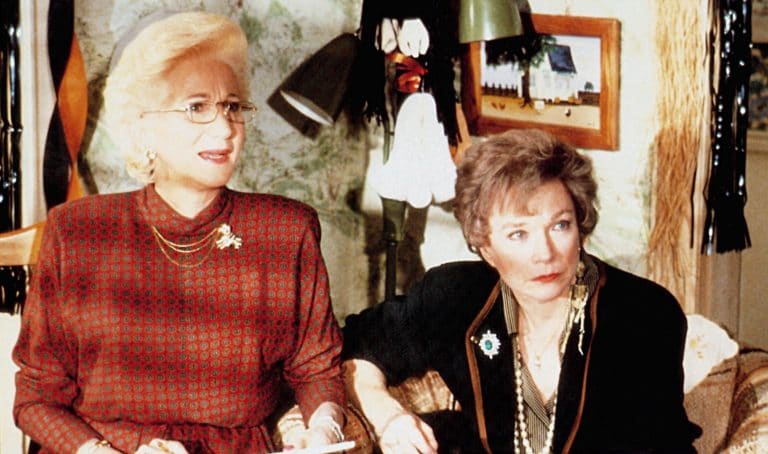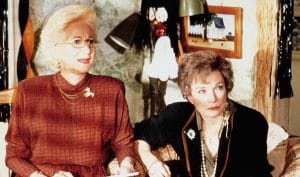 Today, Shirley MacLaine is 88 and still at it. Fans last saw her in the 2019 Disney+ Christmas original Noelle and a 2022 episode of Only Murders in the Building. Aside from her acting, she has also written several books on metaphysics, spirituality, and reincarnation.
5. Daryl Hannah (Annelle)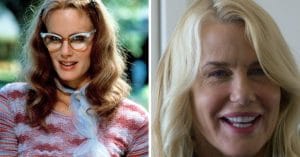 "There's a story there." Valedictorian of her Beauty Class, Annelle is the newbie in town, and apprentice to Truvy. Fans watch Annelle become a confident member of society and her growth is beautiful.
Daryl Hanna got her start in 1978 but really gained her footing in 1982, starring as the violent and acrobatic replicant in Ridley Scott's classic Blade Runner. Two years later, Hannah was given possibly her best-known role alongside Tom Hanks as the mermaid in Splash!.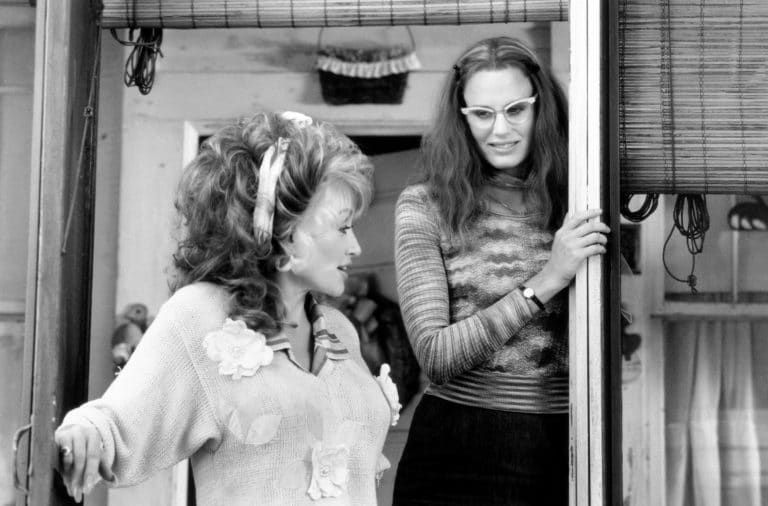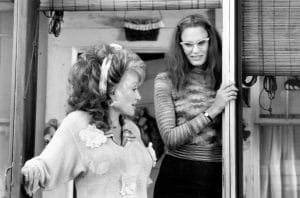 Her film career never let up. Daryl Hannah revitalized her career in the 2000s in Quentin Tarantino's Kill Bill Volumes 1 and 2. Most recently, she starred in the Netflix series Sense8 for both seasons and was in 2021's The American Connection. Latest credits include the television series The Now and the 2021 film Cosmic Radio. Today she's 62 years old and aside from acting, Hannah is also a staunch political activist, often protesting various political policies that go against the ability to environmentally sustain. She even has her own weekly video blog called DHLoveLife.
6. Olympia Dukakis (Claire Belcher)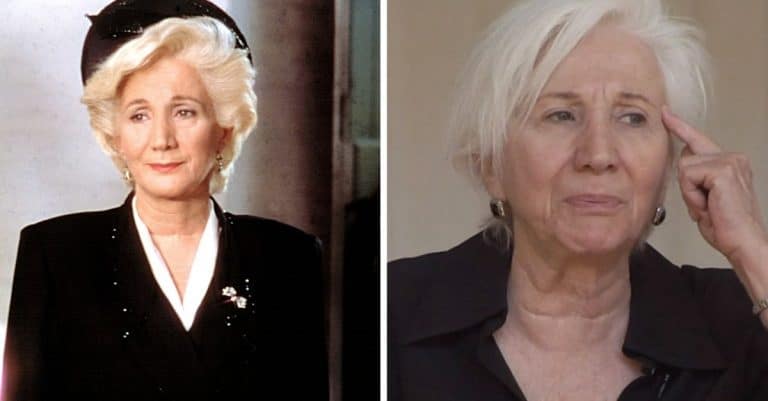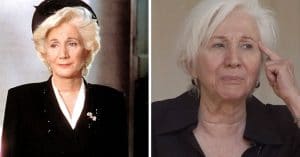 "Well, you know what they say: if you don't have anything nice to say about anybody, come sit by me!" Claire Belcher is the town's former First Lady, and a vital member of the friend group. She was affluent and kind and got M'Lynn out of her post-funeral crying spell by suggesting she sock Ouiser in the face. 
Olympia Dukakis's career began in 1962 but took off in the '80s, thanks to an Academy Award-winning role in 1987's Moonstruck. She followed that with Steel Magnolias and then played the principal in 1995's Mr. Holland's Opus. This woman works consistently. In 1993 she starred in the mini-series Tales of the City, and that has regrouped multiple times for more installments, most recently 2019's 10 episodes for Netflix.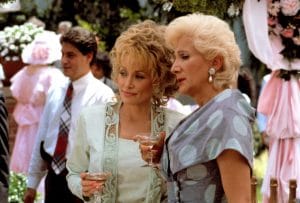 Olympia passed away at 89 years old. A hardcore New Yorker, she released her best-selling autobiography Ask Me Again Tomorrow: A Life in Progress.
7. Julia Roberts (Shelby Eatenton)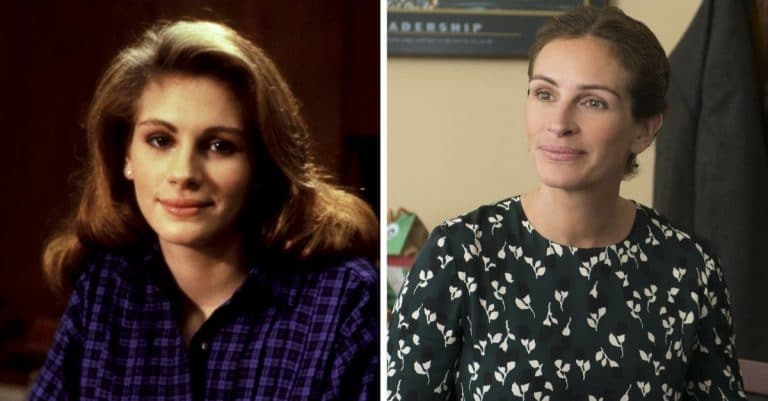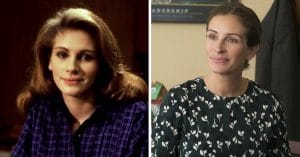 Shelby is the eldest child and nurse, whose wedding sets the stage for the film. She sadly suffers from type 1 diabetes and her health troubles plague our storyline. The first diabetic episode in the beauty salon is hard to watch, and Julia's acting was quite remarkable. 
Julia Roberts' first big feature role was in 1988 for the film, Mystic Pizza. She followed that with her role in Steel Magnolias and Hollywood now had a new Top 5 Superstar on their hands.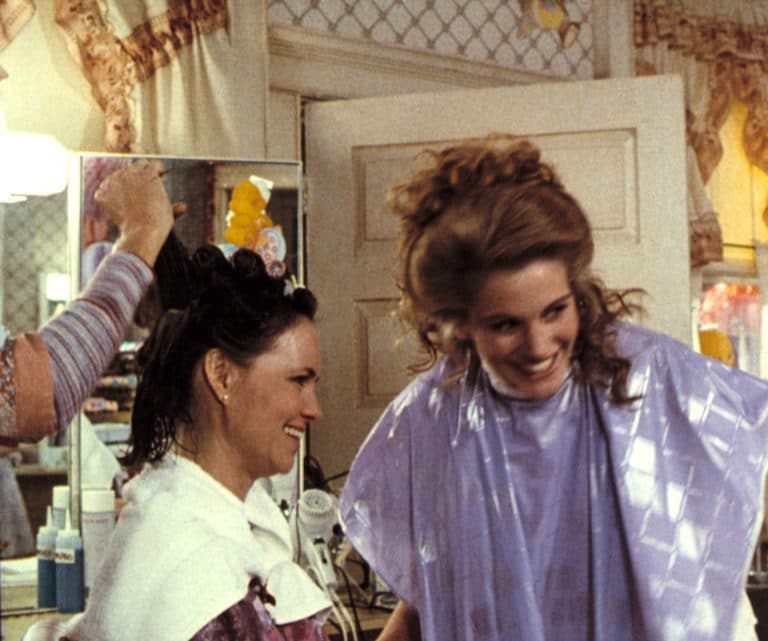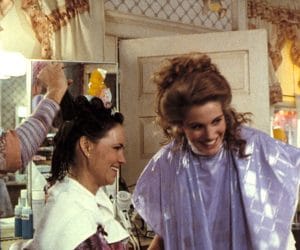 Following her role as Shelby, Roberts sparked the '90s with Pretty Woman opposite Richard Gere and bested that one with her first of the 2000s, winning an Oscar for the true story of Erin Brockovich.
Today she's 55 and is just as active and wonderful as ever, most recently in the 2022 limited series Gaslit for Starz and the 2022 film Ticket to Paradise. Leave the World Behind is currently in production. Roberts and her husband, cameraman Daniel Moder, met on the set of their film The Mexican in 2000. They have three children together. 
What a phenomenal cast! It's thrilling to watch the seasoned talents of Sally Field and Shirley MacLaine welcome such incredible newcomers as Julia Roberts and Daryl Hannah. What a film. Who was your favorite character from Steel Magnolias? Ever get a chance to see a production of the original stage play?
FAQs
Is Steel Magnolias a true story?
The 1987 movie Steel Magnolias was adapted from a play written by Robert Harling. It was based on the true story of his own sister, Susan Harling Robinson, who died from complications due to diabetes.
Is Steel Magnolias a tragedy?
Steel Magnolias is typically considered a melodrama. However, it's the successful combination of humor and sorrow that is key to why the film is so powerful.
How old was Julia Roberts when she filmed Steel Magnolias?
Julia Roberts was only 19 years old when she filmed Steel Magnolias. She played the character of Shelby.
Is Steel Magnolias a good movie?
Steel Magnolias is a great movie! Filled with a stacked cast including Dolly Parton, Sally Field, and Olympia Dukakis, it's a delightful watch and a must-see.