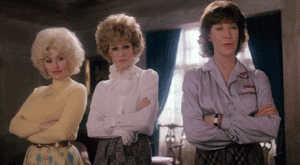 The Bechdel test sets the bar for a feminist movie pretty low: There have to be at least two women, they have to talk to each other, and they have to talk about something other than a man. Though this is the bare minimum, even critically acclaimed features like The Godfather fail to pass this simple checklist. The 1980 buddy comedy 9 to 5, however, passes with flying colors. As the 70s turned into the 80s, upwardly mobile women donned their power suits crowned with shoulder pads and headed to the workplace determined to smash the executive glass sealing.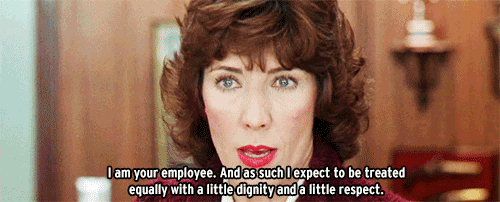 9 to 5 foreshadowed much of the girl-power vibe that swept through offices nationwide. The groundbreaking comedy not only proved that women could carry a full-length feature, but also cemented the careers and personas of its three leading ladies, Jane Fonda, Lily Tomlin and Dolly Parton.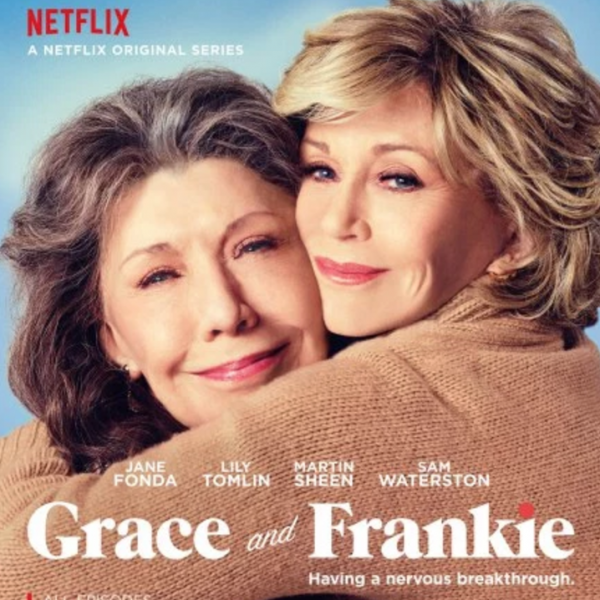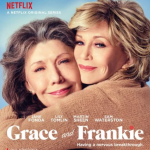 With Tomlin and Fonda set to reunite for the first time since the films debut on a Netflix series entitled Grace and Frankie hardcore fans of the original trio are feeling nostalgic for a retro dose of women lib. Here we look at how this bawdy comedy revolutionized the sexual politics of the entertainment and business worlds.
"Ladies Blowing Off Steam"
After the ladies get screwed over yet again by the man, they do what everyone did back then: take respite in the natural analgesic comforts of marijuana. While men were always allowed a little chemical release at the end of their day, a woman taking solace in cheefing was considered vulgar on film. Apart from the obvious social taboos these stoners are breaking, watching the ladies spark up is just plain fun.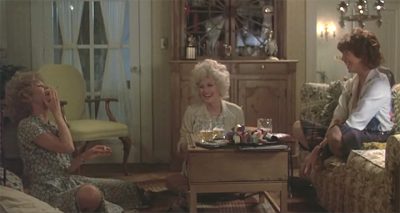 And witnessing Dolly Parton eating olives with her bare hands while complaining about her serious cases of the munchies makes us really happy.
"Taking Action – In the Work Place "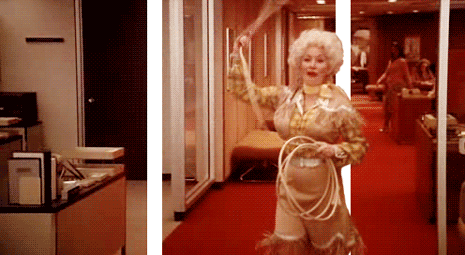 Tired of the tyrannical rule of their sexist boss, the women of the office mutiny and take him hostage. For days they keep him tied up in his bedroom, in a harness and gag. Not exactly the approach we would take when demanding to be heard but definitely effective.
"Princesses vs. Real Life Ladies"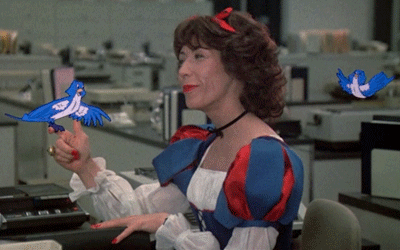 The concept of the damsel in distress whether it's Snow White or Sleeping Beauty teaches girls to be constantly dependent on a man. In an incredibly self-aware dream sequence, Tomlin does a quick job of skewering children's fiction and its spread of these damaging stereotypes. It turns out that, bereft of their physical prowess and dependent on the officious skills of their female counterparts to organize their lives, men are the ones who need rescuing.
"Secretaries Knew More Than They Let On "
In the films 1980s workplace, gender norms are turned upside down. Lazy and stubborn male executives depend on the grunt work of their hard-working secretaries. While disenfranchised, these ladies know more than they let on, keeping closely guarded office gossip and business deals a secret. After the ladies take control, they use their treasure trove of information to better conditions for all the workers.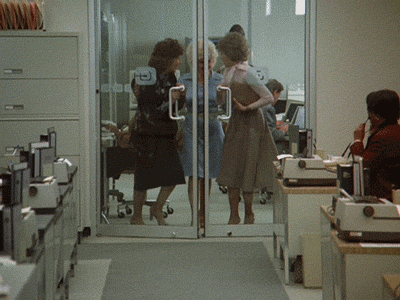 "And there you have it, the 1980 feminist comedy that shone a light on the sexist workplaces of the time."
"Don't Forget to Watch These Fantastic "9 to 5" Videos!"