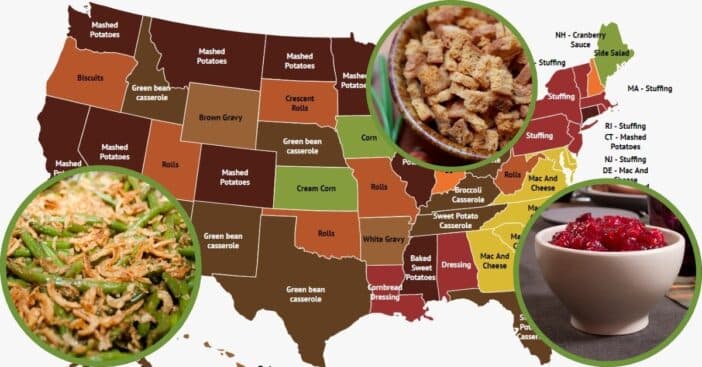 UPDATED 11/22/2022
As Thanksgiving approaches, people across the country must answer one important question — what's for dinner? While turkey is the traditional main course of this national holiday, there are many different preferences in American's favorite side dish. A person's side of choice may have a bit to do with the region of the country they live in. Or it could be a unique aspect of the state itself.
Recently the website Zippia created a map of the most popular side dishes in every state in America. They used Google trends to examine over 20 classic Thanksgiving dishes. Upon breaking down their findings, we discovered some interesting results and even a little bit of skepticism.
Mashed Potatoes — Washington, Montana, North Dakota, California, Nevada, Colorado, Minnesota, Wisconsin, Illinois, Connecticut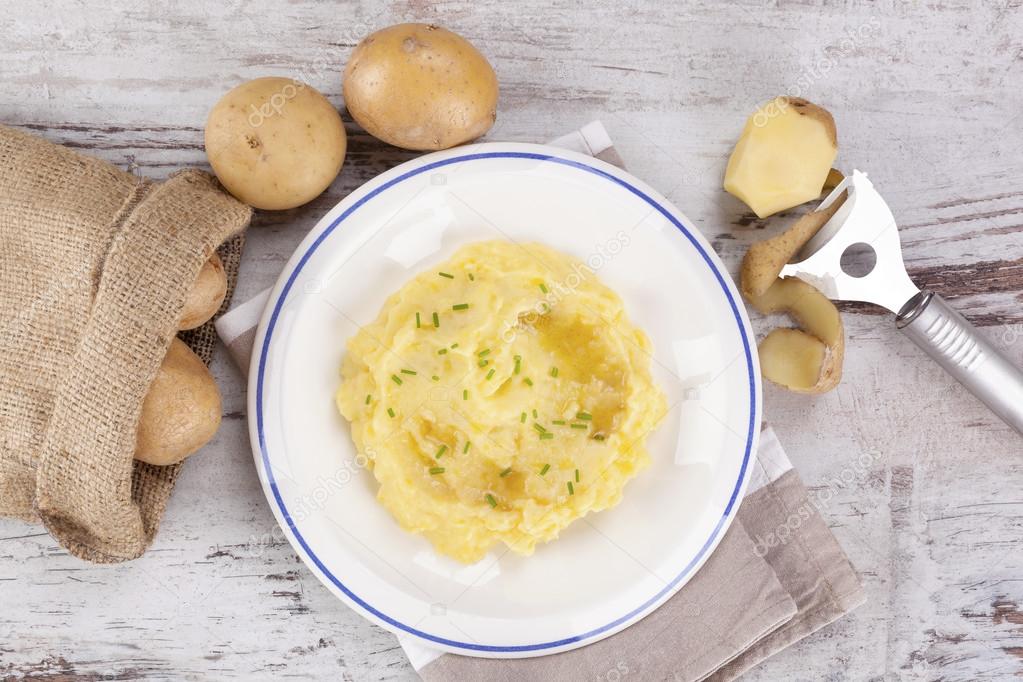 Overwhelmingly, Zippia found that mashed potatoes were the most popular Thanksgiving side dish. Ten states in total prefer this side, and who could blame them? Mashed potatoes are a classic. They pair perfectly with turkey and can be slathered in gravy along with everything else on your plate.
When you look at the history of the potato and its culinary uses, it's no surprise this food won, or features heavily in the most popular dish. Historically, the potato was a valuable source of energy for workers across Europe; it was reliable, hardy, and offered plenty of immediate food energy to keep working the fields. But its quality as a potential delicacy eluded many people for years, until a French prisoner of war in Prussia realized… this is actually pretty good! And it's even better mashed! Now, mashed potatoes are a valid menu option in both luxurious fine dining establishments and small, quaint, fast food chains. And, of course, they are a Thanksgiving staple.
Green Bean Casserole — Arizona, New Mexico, Texas, Idaho, Michigan, Ohio, Nebraska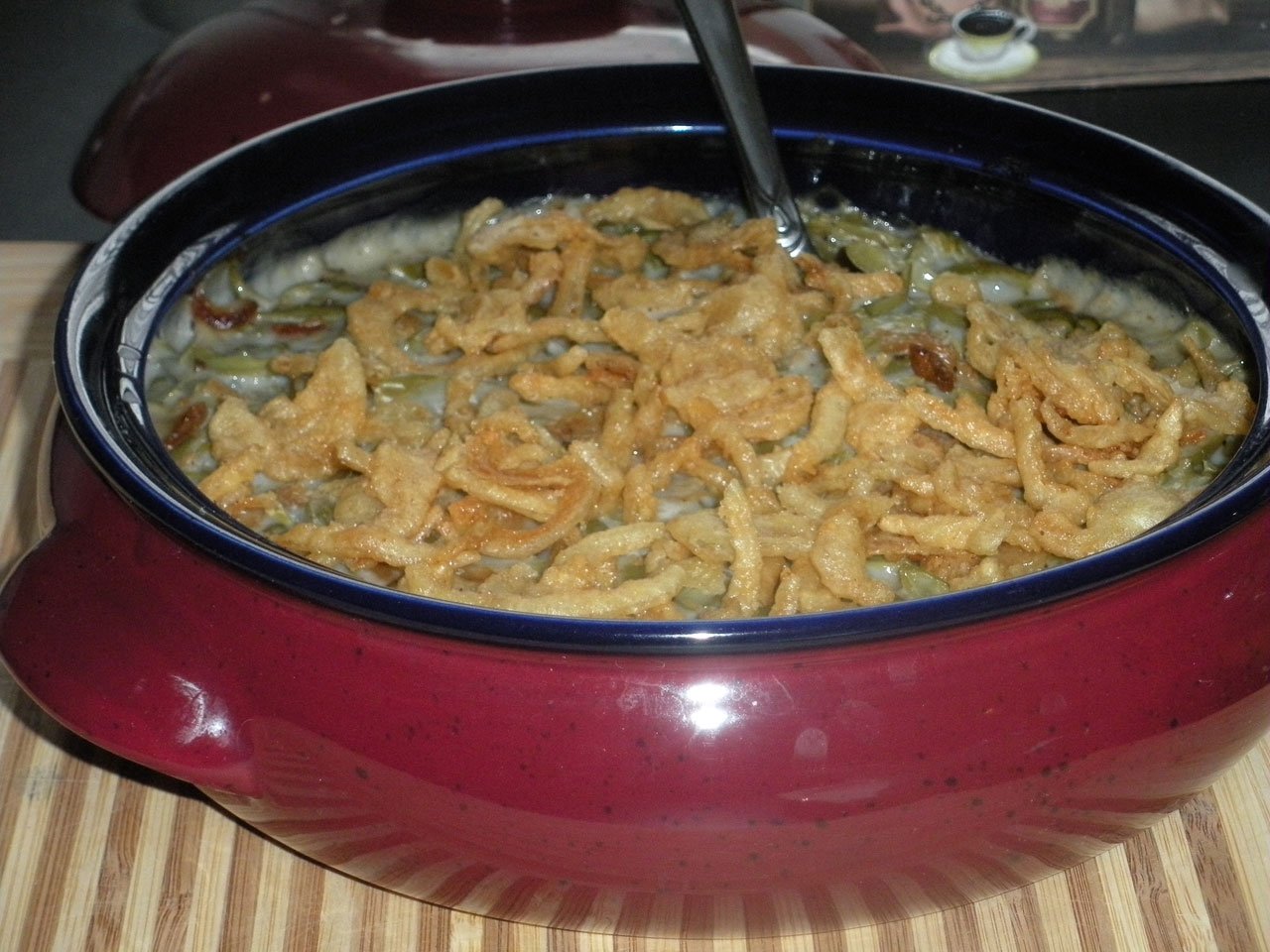 People love green bean casserole!  It's an underrated dish and a surprising seven whole states have this side as their favorite on Thanksgiving. Green bean casserole is delicious, inexpensive, and pretty easy to make. It's no wonder it has become a holiday staple.
Green bean casserole made a strong impression in the relatively short time it's been around. Some older variations existed before, but green bean casserole as we know — and enjoy — it dates back to just 1955, and is thanks to Campbell's home economics staff member Dorcas Reilly, who sought to make a dish that saw her "create a quick and easy recipe around two things most Americans always had on hand in the 1950s: green beans and Campbell's Cream of Mushroom Soup."
Mac and Cheese — Georgia, South Carolina, North Carolina, Virginia, Delaware, Maryland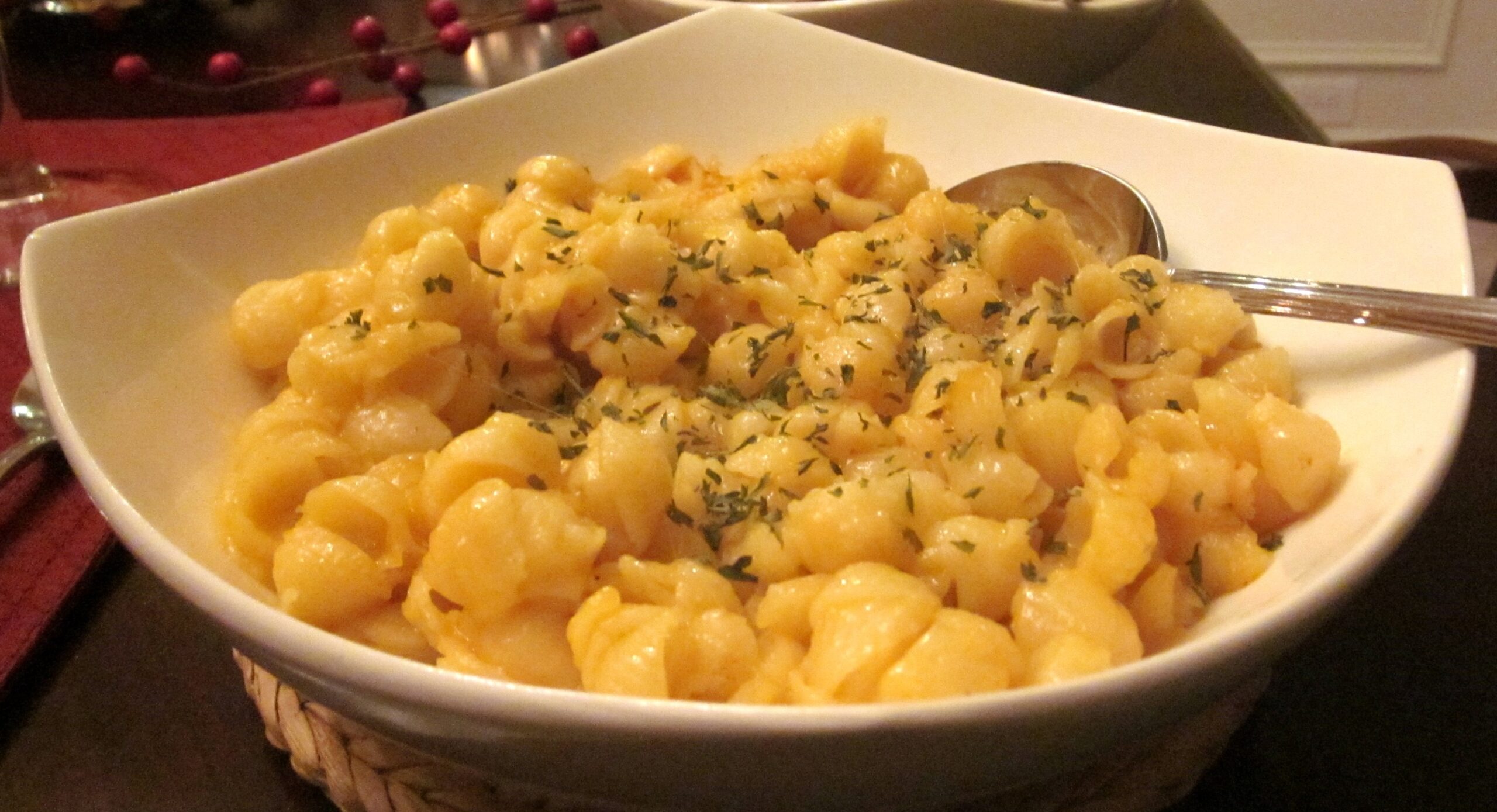 Mac and cheese might not be the most traditional Thanksgiving side dish, but it's hard not to love its creamy, cheesy goodness. Thanksgiving is definitely a day not to worry about carbs, so this side might as well be on the table. Mac and cheese is actually tied for third place on this list, along with stuffing. Interestingly it appears to be the side of choice in six states, all of which sit on the East Coast.
Much like America, this recipe's roots stretch the world over. President Thomas Jefferson and his chef James Hemings enjoyed macaroni first from Paris and brought some of that formula back to Jefferson's plantation. A "pie of macaroni" was even featured at an official state dinner, coated in gooey cheese. The dish has enjoyed a strong presence in the U.S. ever since, and new recipes began cropping up throughout the 1800s. What is your favorite recipe for macaroni and cheese? Will you bake it this Thanksgiving?
Stuffing — New York, Pennsylvania, New Jersey, Rhode Island, Massachusetts, Vermont
It's not surprising that stuffing is also high on this list. Although it isn't something we think about every day, stuffing is usually equated with Thanksgiving. It appears to be an especially popular side in the northeast, according to Zippia.
Celery, onion, bread crumbs, herbs and spices make up the most common stuffing fillings, especially for poultry such as the Thanksgiving turkey. History of this type of meal preparation dates far back, potentially as far back as the Roman Empire. In the American South, stuffing usually also included a cornbread meal called kush, which in turn actually originated from North and West Africa, brought to the country by the slave trade. There is no documented indication that stuffing was present for the first Thanksgiving, but menus from the 1800s at least list this meal as a main course for the holiday.
Rolls — Utah, Missouri, Oklahoma, West Virginia, South Dakota
Simple and delicious, rolls are something you might forget about until you see them at Thanksgiving. But whether you're slathering them in butter or sponging up excess gravy, rolls are essential. South Dakota more specifically has crescent rolls as their favorite side dish.
From the main concept of serving rolls at the Thanksgiving table, there is great variety in just what kind. There are different brands, styles, and accompaniments. In New England, families typically bite into Parker House rolls, while in the South brown and serve rolls come from 1949 when baker Joe Gregor was experimenting with ways to best serve rolls fresh and hot for patrons; one accident later and he had half-baked rolls for people to purchase ahead of time.
Gravy — Wyoming, Arkansas, Hawaii
Gravy is without a doubt essential to Thanksgiving. It elevates turkey, mashed potatoes, rolls, or anything else you could possibly have on your plate. Although all three of the above states favor gravy for their Thanksgiving side dish, there were some discrepancies involved. Wyoming chose brown gravy while Arkansas chose white. And Hawaii's favorite side dish is specifically "turkey gravy."
You can even combine classic holiday dishes. For one thing, another Southern variation pairs sausage gravy with biscuits — or perhaps rolls? Additionally, thanks to its versatility, it is a great flavoring over mashed potatoes, turkey, and stuffing in equal parts.
Sweet Potato Casserole — Tennessee, Florida / Broccoli Casserole — Kentucky / Hashbrown Casserole — Alaska
Although green bean casserole is by far the most popular of the casseroles, Tennessee and Florida apparently prefer sweet potato casserole. Conversely, broccoli casserole ranked the highest in Kentucky and hash brown casserole in Alaska.
Sweet potatoes, too, have a long history that more than justifies their broad popularity. Cultivation dates back as far back as 2500 BCE Peru, but one big addition is a lot more recent…but also surprisingly not: marshmallows. Allegedly, a 1917 Angelus Marshmallow recipe booklet lists a dish of sweet potatoes with marshmallows. Have you ever had this variation?
Corn — Kansas, Iowa
Considering Iowa is the state that produces the most corn, we're not super surprised that it's the preferred Thanksgiving side there. Kansas, another Midwestern state, more specifically has creamed corn as the favorite.
Corn itself has a fascinating history and tells the story of humanity through its own changes over the centuries. It is scientifically believed that corn sprouted up in central Mexico at least 7,000 years ago, but some collaborative research by geneticists, botanists, and even archeologists find it stretches even further back. Corn, or maize, is tricky to trace, because its presence and that of its immediate ancestor is not easy to place in history. But a Cornell University graduate student saw corn as the domesticated version of the older teosinte, still right in central Mexico. Ages ago, the parts we would now bite eagerly into were actually very tough and unpleasant to eat. When an early farmer came across a plant that happened to be good, they cultivated that one and discarded the hard, less pleasant ones.
Dressing — Alabama, Louisana
The old dressing vs. stuffing debate really seems to be a matter of regional differences. Many southerners refer to dressing as a mixture of things (cornbread, turkey drippings, peppers, onions) browned in the oven. Other states may argue the type of bread used, whether it's cooked inside the turkey or not, whether it's called stuffing or dressing, etc. Louisiana specifically cited cornbread dressing as it's favorite Thanksgiving side.
Those residing in Pennsylvania Dutch territory might also have the term "potato filling," just one example of the many regional variations that exist across the country. Sometimes the terms differ, and other times it's the key ingredient, like New England favoring Bell's Seasoning as the star of the show, while Minnesota features its native aquatic wild rice.
Cranberry Sauce — New Hampshire
It's a bit surprising that only one state, New Hampshire, has cranberry sauce as its favorite side dish. Granted, cranberry sauce probably isn't the star of Thanksgiving dinner, but it is a side dish that is almost synonymous with the holiday.
Even decades — and centuries — ago, technological advances greatly influenced cultural practices. Typically, farmers would dry harvest cranberries. However, in the early 20th century, they started harvesting them in bogs. Easy accessibility meant cranberries could enjoy a wider distribution and that allowed them to become a Thanksgiving staple.
Biscuits — Oregon
We've already seen that a handful of states prefer rolls as their Thanksgiving side, but Oregon more specifically likes biscuits. We're not really sure of the reason for this variation. Could the Google trends in Oregon have something to do with Portland's Pine State Biscuits? Maybe that's reaching.
But wait, what's the difference between having biscuits vs. rolls? In general, biscuits use baking powder or baking soda and rise relatively quickly, allowing for a tender texture. Meanwhile, rolls use yeast, which rises slowly; that allows gluten to build up that gives the food less tenderness.
Deviled Eggs — Indiana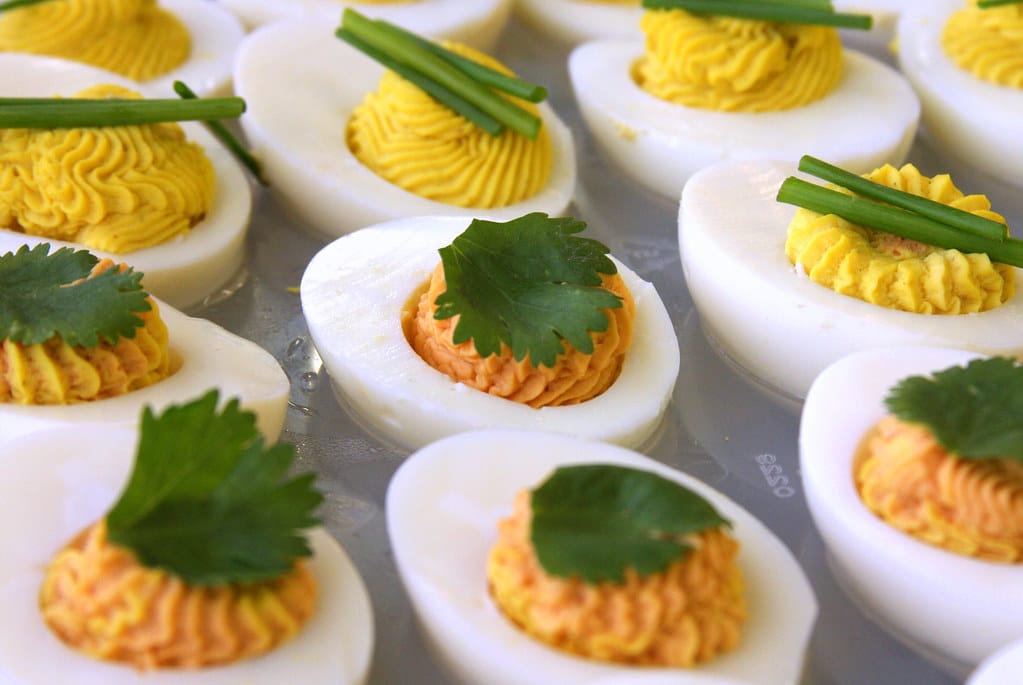 Who doesn't love a good deviled egg? They're a side that you really only see at parties and holiday events, so it's understandable that some people might especially look forward to them.  Indiana might be on to something.
Like some other popular Thanksgiving side dishes, deviled eggs can trace their roots back to ancient Rome and variations exist elsewhere, but the American style with the boiled, halved egg with the yolk scooped out is probably the most recognizable. It began enjoying significant popularity in the states at fun gatherings after World War II.
Baked Sweet Potatoes — Mississippi
Sweet potatoes are a classic element of Thanksgiving. As we've already seen, a few states prefer sweet potato casserole as their side dish. But interestingly, Mississippi's favorite side is simply baked sweet potatoes.
Brown sugar is a popular flavoring when preparing this dish, really putting the "sweet" in "sweet potatoes." At least one recipe can be found in 1896's Boston Cooking School Cookbook, and around this time, sugar was still considered a luxury item, something to break out primarily for special occasions. That makes baked sweet potatoes the crowning jewel of any Thanksgiving meal — especially if you live in Mississippi.
Side Salad — Maine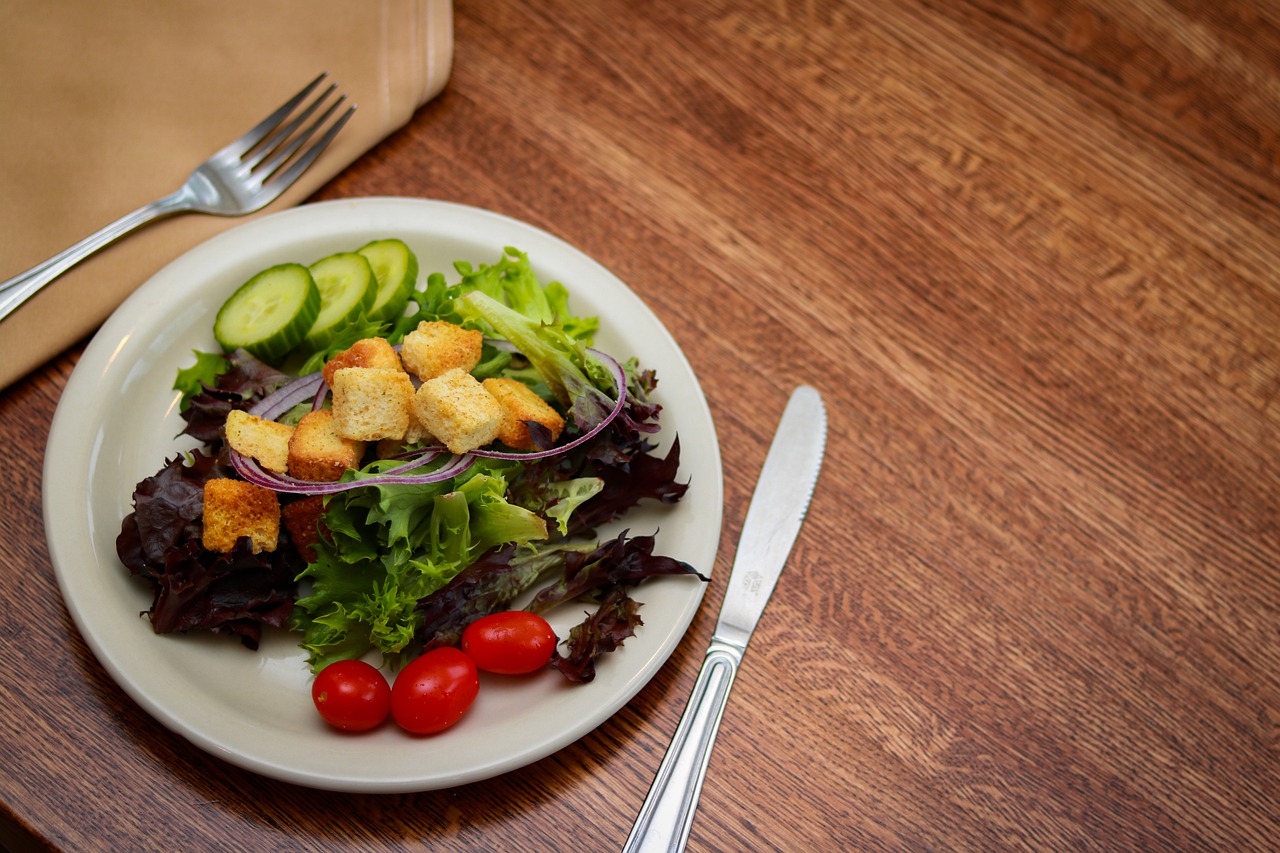 Google analytics can only be so accurate. While the article on Zippia attests that the Google search interest in salads is higher than anywhere else in the states, it's still hard to believe that Maine's favorite side dish is salad. Sure having a crisp salad on your plate is a nice break from shoveling down turkey and mashed potatoes, but it seems unlikely it's what everyone in Maine looks forward to the most.
But let's examine why this might be the case. Often when we think we're hungry, we are actually thirsty; our body just cries out in need in a similar way. Lettuce happens to be very dense in water and for those counting calories, it costs basically nothing to eat this pile of greenery. Conveniently, water-dense foods also fill us up faster than edible goods with less water in it. So, less truly is more, when eating a salad. However, Thanksgiving is the holiday of eating good food and indulging in great cooking, whatever the meal may be. Which of these dishes do you have each year as November draws to an end?
This story may contain affiliate links from which we may earn a small commission.