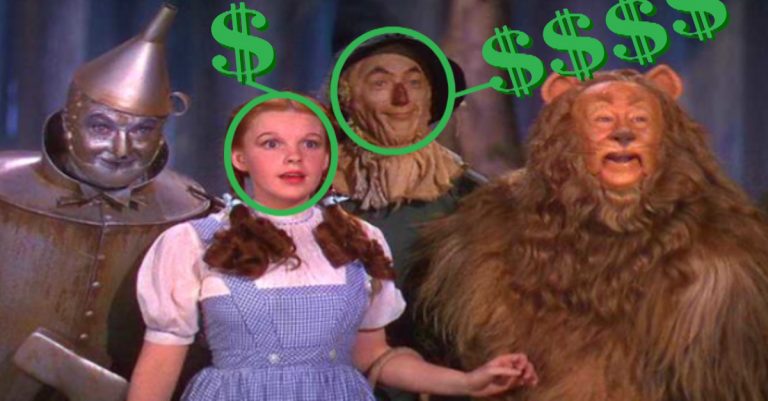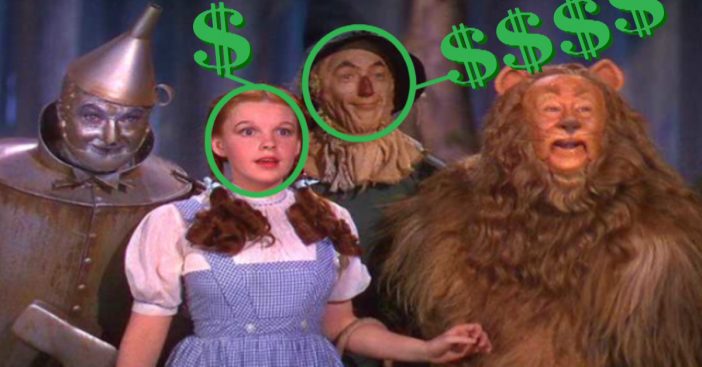 The Wizard of Oz is a timeless classic which most movie-lovers have seen multiple times. For being the most influential film ever made, the cast members of The Wizard of Oz received surprisingly small paychecks for their role in the film's success. Compared to 2019 standards you'll be shocked at how little the cast members earned from their roles in The Wizard Of Oz.
Before we get into specific actors' paychecks, let's look at the production as a whole. The overall budget of the movie was just under three million dollars. The film barely covered its costs, making zero profits for MGM Studios until the 1949 re-release. What changed for the film? Television made a huge impact!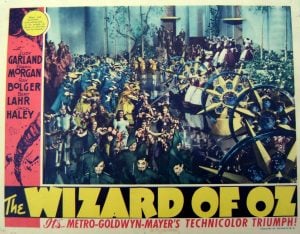 'The Wizard Of Oz' Cast Member Paychecks
Television was the monumental change in the wave of success for the film. "In its first 24 years on television – eight runs on NBC and 16 on CBS –The Wizard of Oz has been welcomed into a lot of homes, an aggregate of 383 million homes," the NY Times reported.
The film finally got its due credit. Now, let us turn our attention to the cast and whether they received their dues (in paychecks.)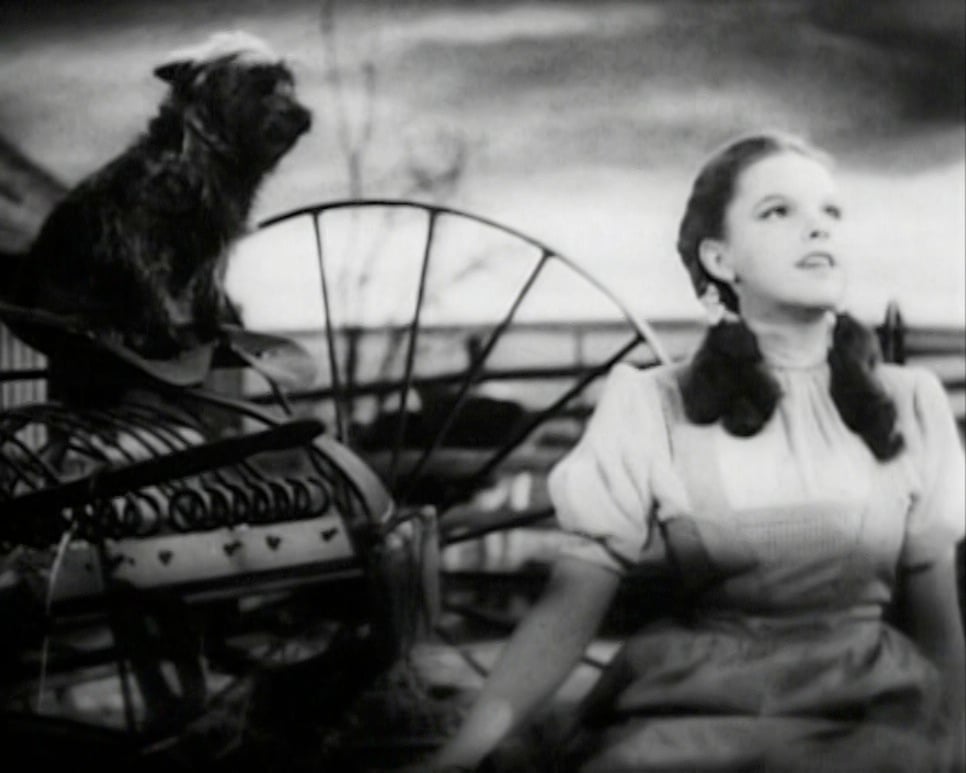 Judy Garland's Earnings From Wizard of Oz – 'Dorothy'
Judy Garland made $500 a week for her critical part of Dorothy in The Wizard of Oz. The weekly payment was above average for the time, being the 1930s. However, her male counterparts made more than Garland.
The eventual success of the film and the fact that she made less than her male co-stars means her adequate payment for Dorothy, in retrospect, was not enough. Especially when you think about how much the movie rested on her young shoulders. In addition, some horror stories about her being mistreated have surfaced. Judy Garland was reportedly slapped by the director for continuing to giggle during a scene. Another report highlighted alleged sexual misconduct by some of the munchkins. The importance of her role and the misconduct on set are tough to get past for only $500 a week; especially when you learn what her co-stars were being paid!
Ray Bolger Paycheck's For Playing 'The Scarecrow'
We continue down the yellow brick road to some of the supporting characters from The Wizard of Oz. Ray Bolger famously gave 'The Scarecrow' life. Compared to Garland's $500 in paychecks per week, Bolger exceeded that amount easily. He signed a contract of $3,000 per week.
Ray Bolger endured a strenuous filming experience as well. He reportedly lost 9 pounds while filming The Wizard of Oz. In addition, Bolger had difficulty hearing and seeing past his character's mask, even sustaining marks on his face from the extensive make-up for nearly a year post-filming. You can see the intense physical acting that Ray Bolger exemplified below.
Bert Lahr Earned $2,500 A Week As 'The Cowardly Lion'
Bert Lahr was primarily a Broadway actor before changing gears in 1938 for cinema. Lahr made more than Garland as well, at $2,500 a week. Lahr made more money than Garland, but not quite as much as Bolger.
Bert Lahr had his own trials and tribulations whilst filming this classic film. The costume was very extravagant and heavy. Luckily, Lahr still managed a memorable and comedic performance.  However, the weight was just the beginning. Lahr also dealt with intense facial make-up and prosthetics. He could only eat milkshakes and soup for fear of messing up the make-up. Finally, Lahr put his cowardly foot down, requesting a make-up session after lunch so that he could eat solid food.
Jack Haley's Oz Earnings – 'The Tin Man'
Finally, let's take a look at Jack Haley's payment for his 'Tin Man'. Cast member Haley earned $3,000 a week just the same as Ray Bolger. He and Bolger made six times the amount that Garland made for The Wizard of Oz.
Haley was lucky to even get to play his iconic role. Buddy Ebsen was originally cast as 'The Tin Man' but had a bad reaction to the make-up and ended up in the hospital with lung failure. Jack Haley stepped into the tin and, with a little change to the make-up consistency, was forever immortalized as 'The Tin Man'.
$500 Worth of Work for a 25 Million Dollar Movie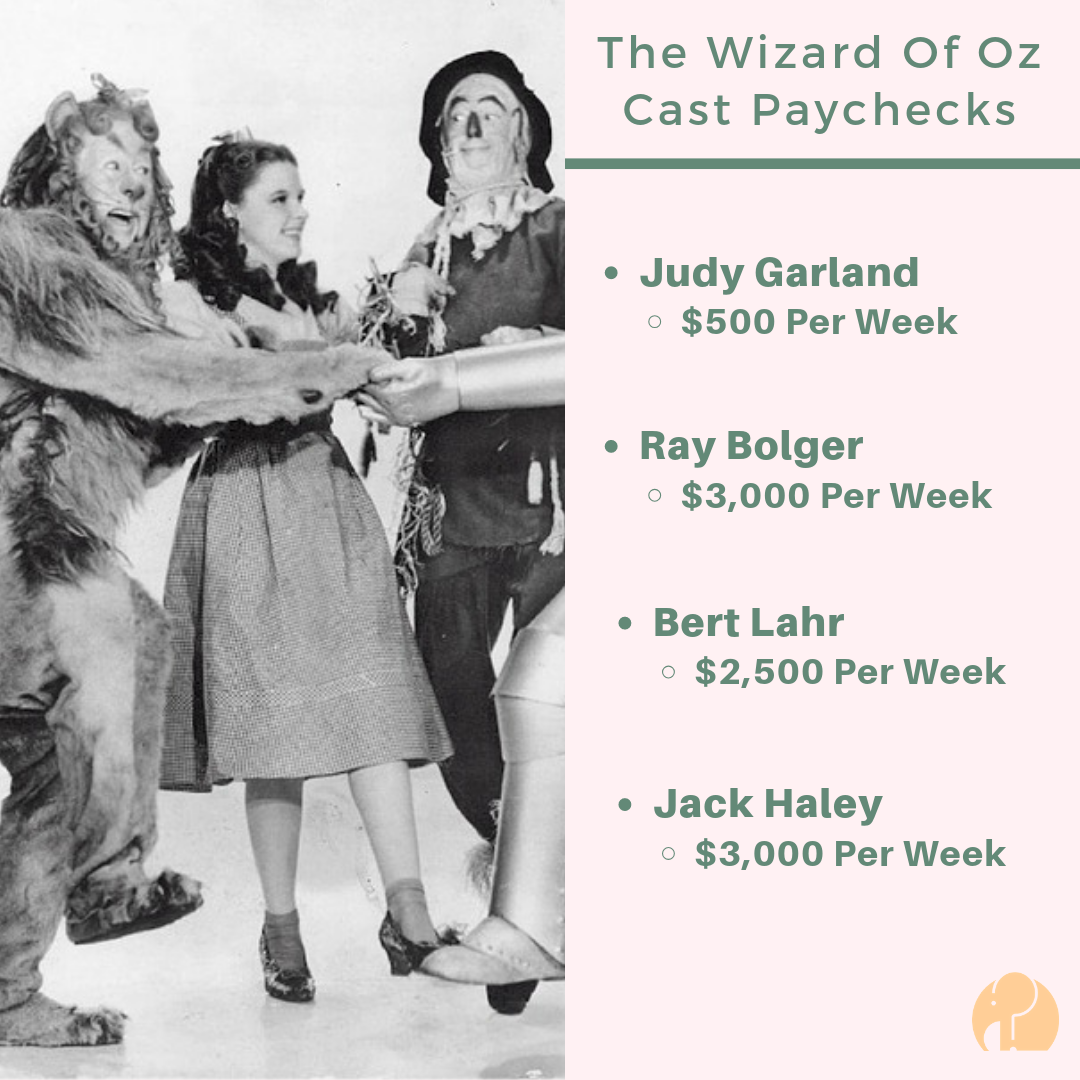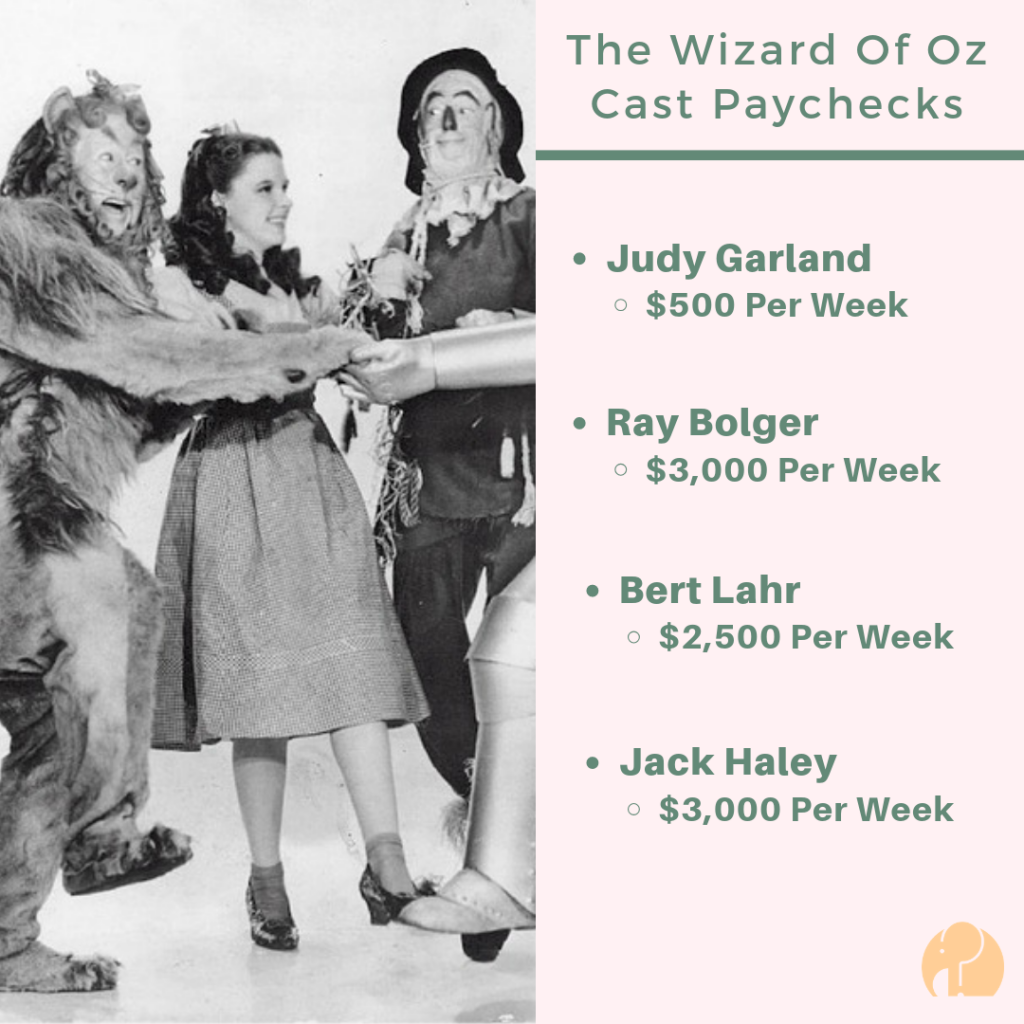 In conclusion, it's hard to rationalize the pay difference for the legendary Judy Garland compared to her male counterparts. Especially when considering that this film is regularly declared an industry-changing work of art. The cast of this movie by today's standards just seemed surprisingly underpaid.
Judy Garland made only $500 a week for her role in The Wizard of Oz, while the film has collected over 25 Million Dollars worldwide since its modest release. This discrepancy is significant, but so are some others worth noting.
"Stephen Cox, author of The Munchkins of Oz, wrote in his 1989 book that in 1938, the Munchkins were paid US $50 per week", The National Post collected.  In addition, Toto was reportedly paid $125 per week. The Wizard of Oz will be a timeless classic forever, and we can much credit to the talented and unique, Judy Garland.