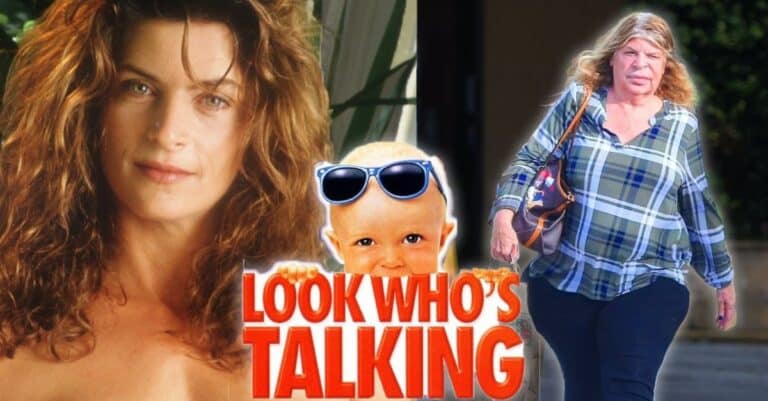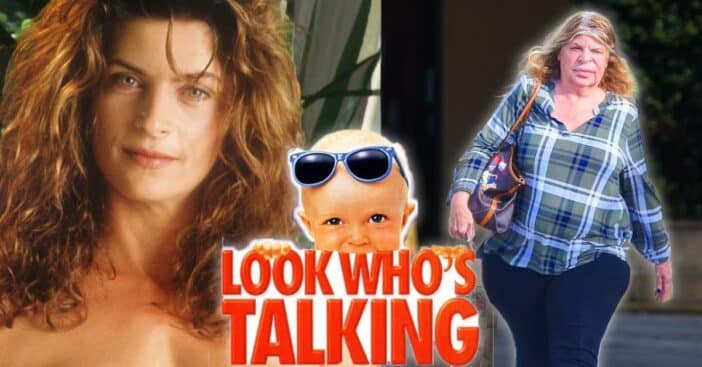 Would you Look Who's Talking? But talking about what? A '90s film you're sure to recognize because of who exactly is the one talking the tough, foul-mouthed John McClain of Die Hard as a baby. Bruce Willis hilariously voiced baby Mikey, talking to us all with an adult man's voice. Makes sense right? Not really, but the contrast is still entertaining.
It's so entertaining to this day, we're going back to 1989 and checking out this whacky film and its cast to see what they've been up to since Mikey was born. Which Mikey? How many Mikeys were there? We'll answer that too.
John Travolta (James Ubriacco)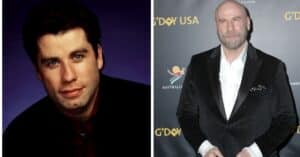 James Ubriacco is the cab driver with a smile that gets knees shaking, who ends up bearing the task of driving Mollie to the hospital when she's going into labor in his back seat. Talk about high stakes in traffic! But it certainly sets them up for quite a relationship later on.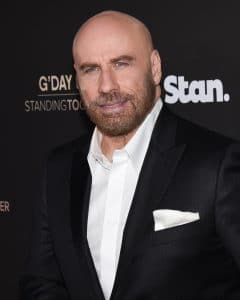 We first saw John at Buchanan High leading the Sweat Hogs on Welcome Back Kotter. His Vinnie Barbarino was a standout, and he quickly began acting in films, like 1976's Carrie. But he became a box office darling with his perfect hair and smooth moves in Saturday Night Fever, which earned him an Academy Award nomination for Best Actor.
In 1978, Travolta was catapulted to supersonic fame with the success of Grease. But he didn't stop there. Some '90s hits included 1994's Pulp Fiction alongside the outrageous Samuel L. Jackson. There's also no forgetting Face/Off with Nicolas Cage in '97, a bit of a psychological thriller where you don't quite know who's who, and whose face is whose face. He currently has two films in production, one being Paradise City alongside his lil baby Mikey, Mr. Bruce Willis.
Today at 68 years old, he hasn't been working as much lately, as he's been going through a lot of grief and loss in his life, beginning with his son Jett, who died in 2009 at the age of 16 while on a Christmas vacation in the Bahamas. But just recently in 2020, his wife Kelly Preston lost her battle with breast cancer.  He continues to support the charity he created with Kelly, the Jett Travolta Foundation, which raises money for children with educational needs.
Kirstie Alley (Mollie Jensen)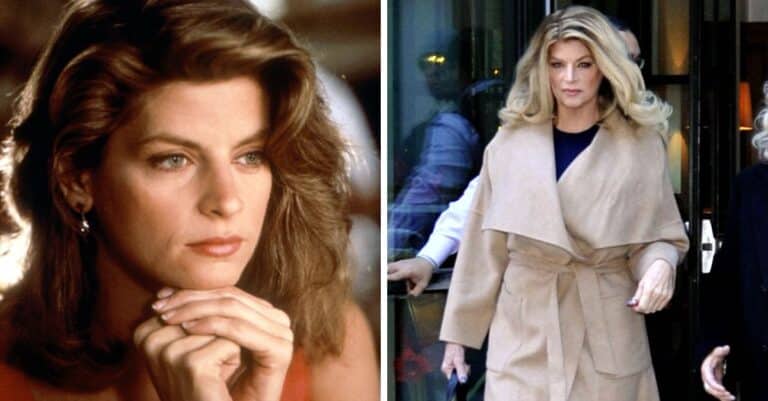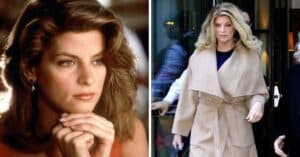 Mollie Jensen was a single, career-driven accountant – who was about to embark on parenthood, taking care of a newborn alone. But first she needed a cab. And at the helm was a man who could help her every need. It didn't hurt that the two of them had really terrific chemistry together.
Kirstie Alley rose to stardom after replacing Shelley Long on Cheers, playing the more vulnerable  Rebecca Howe, for which she'd receive both an Emmy Award and a Golden Globe. She then starred in the sitcom Veronica's Closet, which earned her more award nominations. She's also appeared in a number of films like 1995's It Takes Two and 1999's Drop Dead Gorgeous.
Alley has had quite the health struggle throughout her life. From 2004 to 2007, she was a spokesperson for Jenny Craig and lost a considerable amount of weight before subsequently gaining over 80 pounds back. Through these struggles, she appeared on Kirstie Alley's Big Life, which chronicled her efforts to lose weight, and she kept her feet moving as a contestant on the 12th season of Dancing with the Stars, placing second.
Now 71, Alley was last seen in 2020's TV movie You Can't Take My Daughter. She has two children with her first husband, Frank Hardy from the Hardy Boys, aka Parker Stevenson.
George Segal (Albert)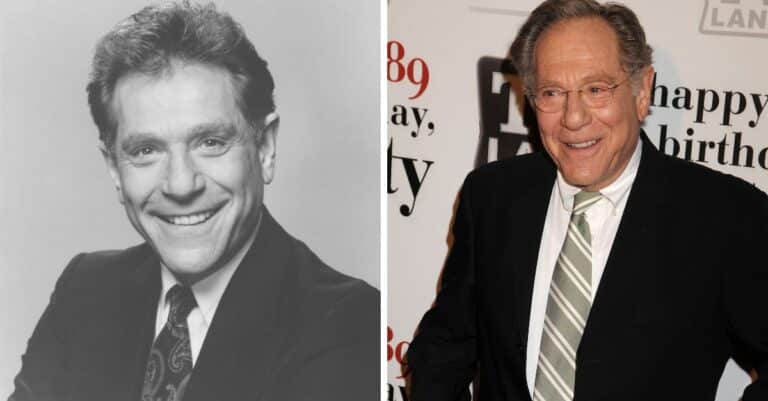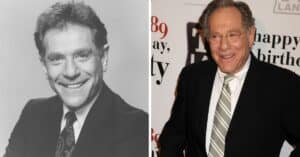 Albert is the married man whom Mollie conceives Mikey with, the usual story, promises he'll leave his wife for Mollie but we all know that day will never come. There's no forgetting that "Who's Albert?" scene between Segal and Travolta, a nice little tussle by the door.
Segal is just a phenomenal actor who anchors this film annoyingly well as a smug businessman. He got his start in the '50s, with his big break coming when he co-starred with Yul Brynner in Invitation to a Gunfighter in 1964. Then the following year he kept it rolling, with Ship of Fools and then starred in King Rat, in which he got the role after Marlon Brando, Paul Newman and Steve McQueen declined. Thank god for that too, it's one of Segal's finest performances of his career.
He got more people's attention being part of Elizabeth Taylor's 1966 classic, Who's Afraid of Virginia Woolf? This became the first movie in Academy Awards and cinema history to be nominated for every Academy Award category in which it was eligible, including George Segal who lost out to Walter Matthau from The Fortune Cookie. In the '90s, we saw him on the hit show Just Shoot Me! playing the boss having to deal with David Spade's normal antics. Then, more recently, we got to fall in love with him again as he played Albert 'Pops' Solomon on the family sitcom, The Goldbergs.
George Segal passed away in March of 2021 at the age of 87 from complications of bypass surgery. His hobby was playing the banjo and ukulele under the name Bruno Lynch in a New York jazz band. What a legend.
Olympia Dukakis (Rosie)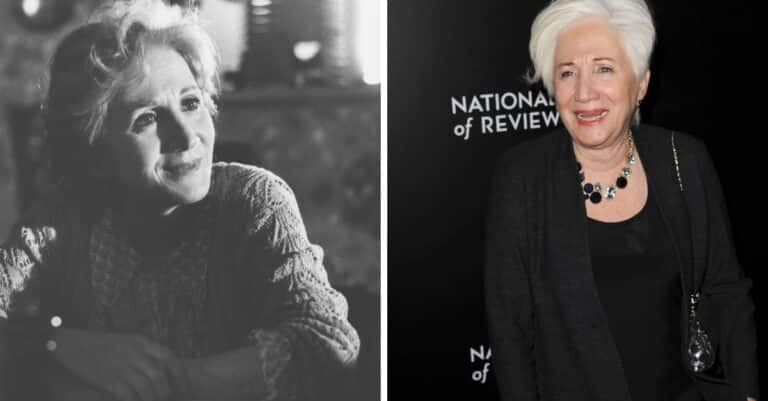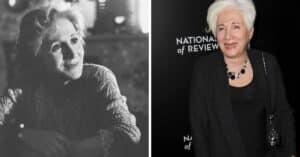 Rosie was really funny as Mollie Jensen's meddling mother.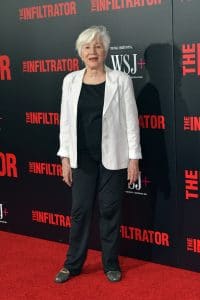 Olympia Dukakis's career began in the '60s but took off in the '80s, thanks to her role in 1987's Moonstruck. She followed that with a star-studded tearjerker, 1989's Steel Magnolias. Then in 1995, she played the principal in Ricard Dreyfuss's Mr. Holland's Opus.
Her final project was a film called Not to Forget, starring Karen Grassle of Little House on the Prairie fame. But perhaps it's most important for being both the final work of two esteemed actresses, Olympia and the one-of-a-kind Cloris Leachman. Dukakis died in May 2021 at the age of 89 after a period of declining health. Olympia was married to Mad About You actor Louis Zorich from 1962 until his death in 2018, and they had three kids together who all work in the industry; their daughter Christna followed mom and dad into acting.
Abe Vigoda (Grandpa Vincent Ubriacco)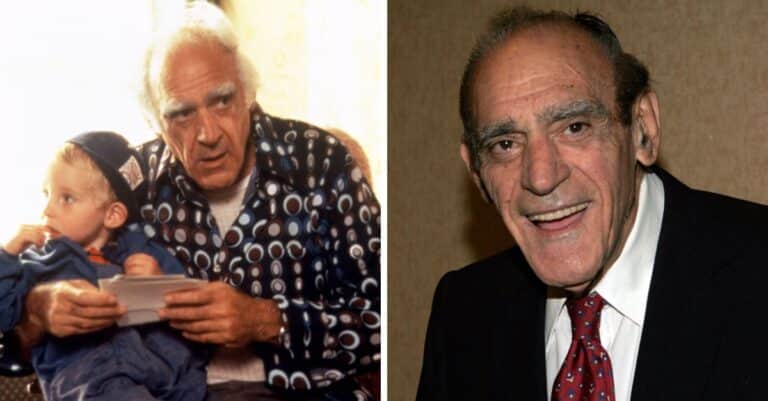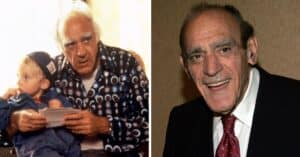 Grandpa Vincent Ubriacco is James' dad and Mikey's new grandfather.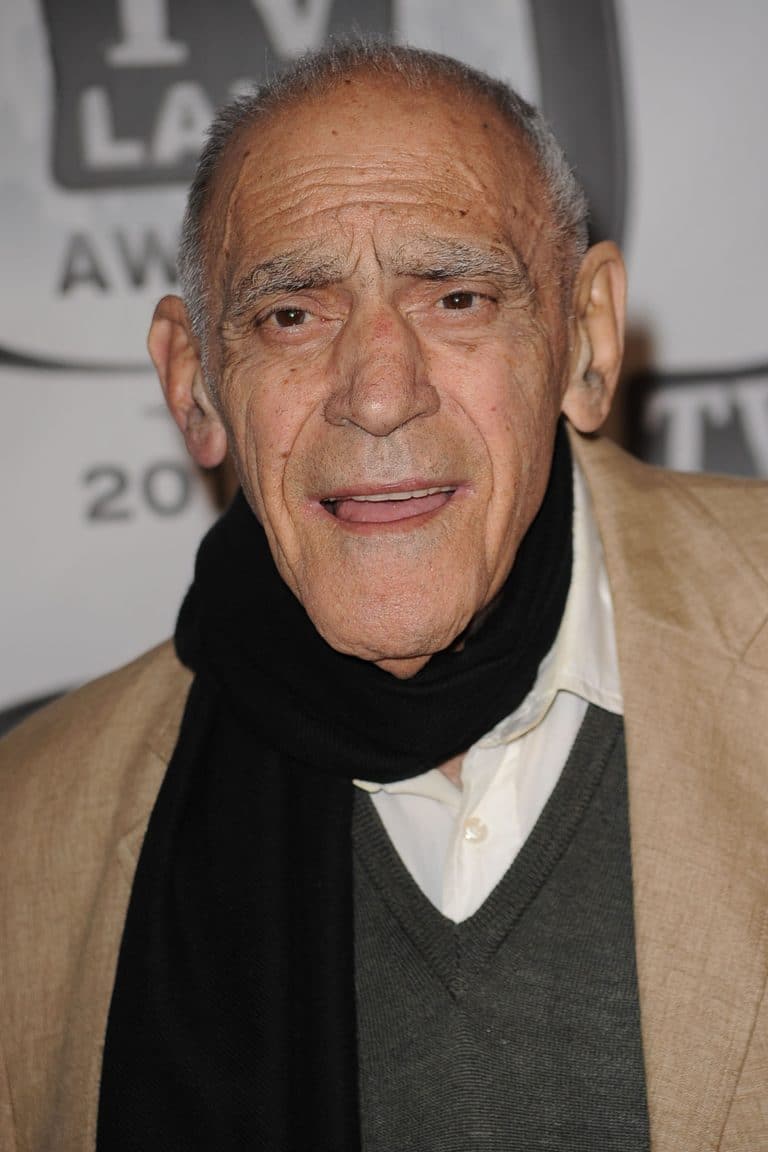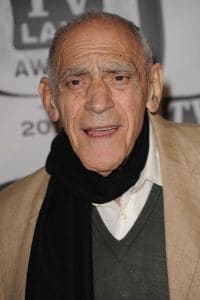 Abe Vigoda's acting career began way back in the 1940s, with him rising to prominence after starring in a number of Broadway shows; however, it was in 1972's The Godfather where he began carving a spot in Hollywood.
Of course, becoming a well-known public figure can invite some mistaken death hoaxes. Vigoda was the victim of so many death hoaxes that in 2001, a website was created with only one purpose: to report whether Vigoda was alive or dead.
Vigoda took it in stride though, as this Barney Miller star was always so likable that he got his own spinoff show, Fish.  But as life goes, Vigoda did die eventually, in January of 2016 at the age of 94 in his sleep. Rest easy, Abe.
Twink Caplan (Rona)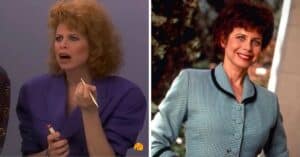 Rona is Mollie's flirty best friend who's with her when they find Albert with a new woman, breaking Mollie's heart and sending her into labor.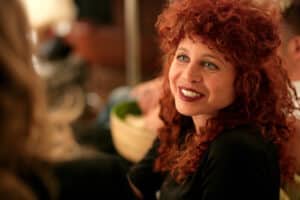 Her Rona would return for the sequel, even getting a love interest this time. But she declined to be in the box office flop of a third installment, Look Who's Talking Now in 1993. She's probably most known for the 1995 film Clueless. Caplan would serve as an executive producer, even reprising her Miss Geist in the ABC TV series Clueless.
Today Caplan is 74 years old and still guest starring here and there, Most recently, she's been in the 2017 FX show Feud, playing a hairstylist for one episode.
Bruce Willis (Baby Mikey)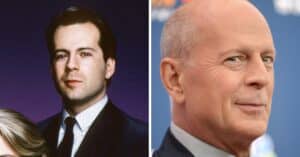 Mikey is the baby, and audiences just loved him! Bruce is just hilarious giving, a mature perspective from a baby's standpoint. His one-liners really are the shining parts of this film.
Willis' career began with a breakthrough role in Moonlighting. He then distanced himself from that series when he became a Christmas Hero, John McClane, in the Die Hard franchise. Other popular credits include 1999's The Sixth Sense, and 2005's Sin City. As it turns out, he isn't just a brilliant actor, but also a gifted singer. He released his debut album The Return of Bruno in 1987 and released two more in '89 and 2001.
Sadly, Willis has stepped away from acting entirely after being diagnosed with aphasia, a disorder that is caused by brain damage to the area that controls language expression and comprehension. Despite officially retiring at age 67, he has completed eight films awaiting release in the coming months.
We truly hope he remains in good health as he navigates all of this out of the limelight.
Mikey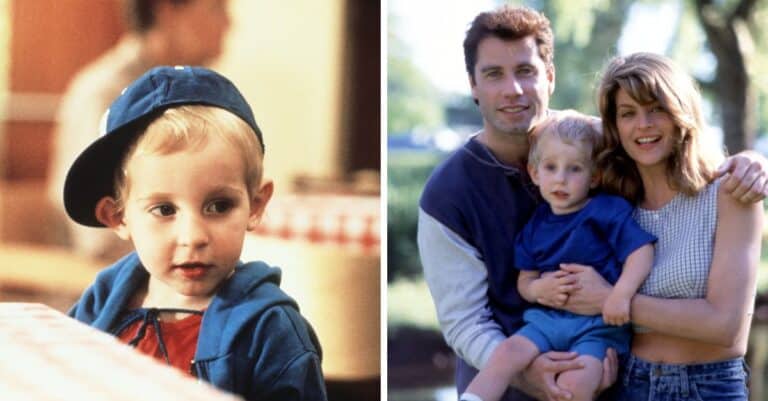 How many Mikeys were there? Besides Bruce's inner voice, there were actually four. Jason Schaller as Mikey as a newborn, Jaryd Waterhouse as Mikey around four months, Jacob Haines as a one-year-old Mikey. Finally, there was Christopher Aydon as Mikey aged two.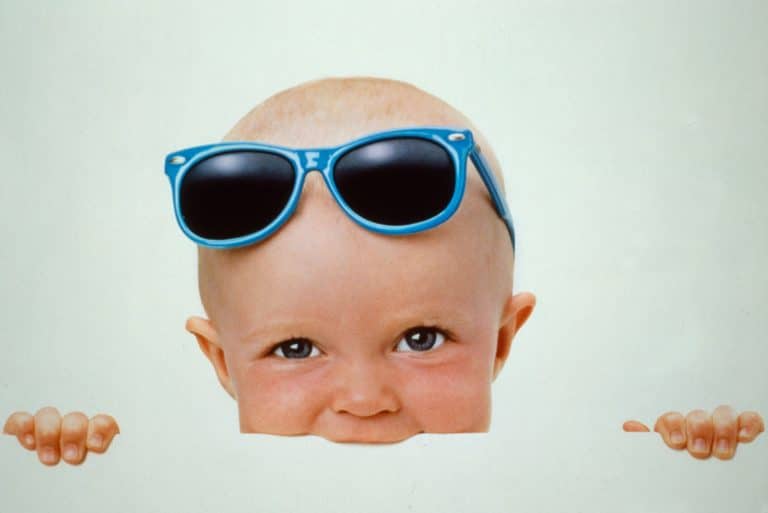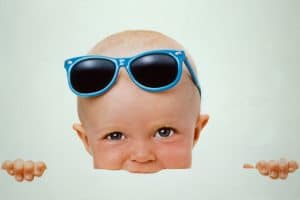 So… did the aging work? Sometimes it felt a bit quick. But maybe it was actually a smooth transition through time. It's crazy to think that the kids who played Mikey are now adults, and Bruce Willis, who voiced him, has retired. So tell us, who was your favorite character? What was your favorite part? Did you enjoy the sequel Look Who's Talking Too or the third one Now? Were Danny DeVito and Diane Keaton enough to keep the sequels feeling as strong as the original? Get in the comments and enjoy your turn talking.