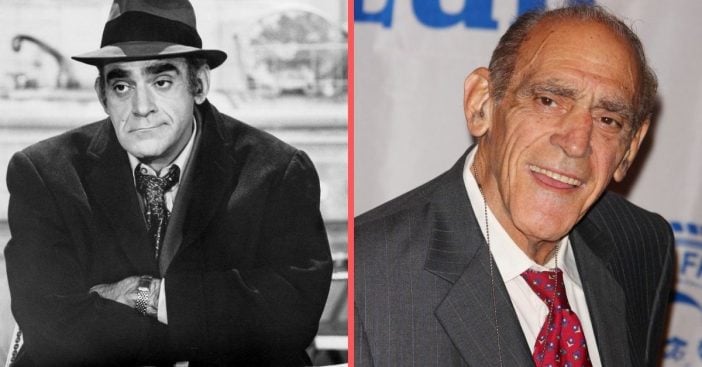 It's not always easy to predict how someone famous will react to inaccurate information about them. Depending on the topic, they could feel justifiably upset or disproportionately enraged. For Abe Vigoda, he turned a major death hoax about him into a running joke.
Don Vito Corleone was the Godfather of the Italian Mafia, but Abe Vigoda was the Godfather of running jokes about his own false death. Officially, Abe Vigoda passed away in 2016 (many greats died that year). But according to a People article, he died around 1982. Until his actual death, Vigoda never let it go – in a hilarious way.
The late Abe Vigoda could not make it to the festivities
While working in Calgary, Alberta, in 1982, Vigoda missed some important festivities. Police sitcom Barney Miller held a wrap party in Los Angeles, California. People magazine attended and reported on the event. Vigoda recalled about the article's claims, "Somehow it mentioned in the article that 'the late Abe Vigoda' was not [there]." People corrected the use of the word "late," but already the first death hoax about Abe Vigoda began.
RELATED: 'Barney Miller' Cast, Then And Now 2020
Everyone became convinced that Detective Fish or Sal Tessio had died. At the time the article came out, Vigoda was 60. His persona on Barney Miller can be described as long-suffering but enduring, with a caring but dry way about him. So, looking at that image of Vigoda, readers did not question his passing. Meanwhile, Vigoda actually stayed very active most of his life.
No one embraced the death hoax as much as Abe Vigoda
Before & after. #AbeVigoda pic.twitter.com/31efvgJ4cR

— Dwight Silverman (@dsilverman) January 26, 2016
Vigoda took the fake reports about his death with great humor. Reportedly, he posed with Variety for a photo where he sat up in a coffin reading the People article calling him deceased. His entire lifestyle flew in the face of death reports, as well. In fact, his active days helped land him the spot as Fish in Barney Miller, since he arrived for casting a sweaty mess from his routine jog. That whole aura guaranteed him the role, along with his performance.
Vigoda went with the death hoax joke so much, other outlets did too. The web browser Firefox created an extension with the single purpose of telling the user Vigoda's mortality status. Additionally, the website abevigoda.com went live back in 2001 with a similar purpose. Embracing this joke reportedly cost him "a lot of work." By the time he did pass, outlets had to specify it was not a joke and, sadly, on Tuesday, January 26, 2016, abevigoda.com made its biggest update in a quarter of a century.