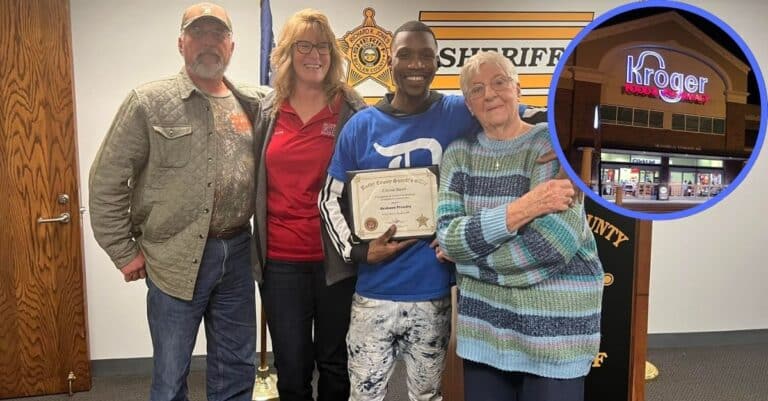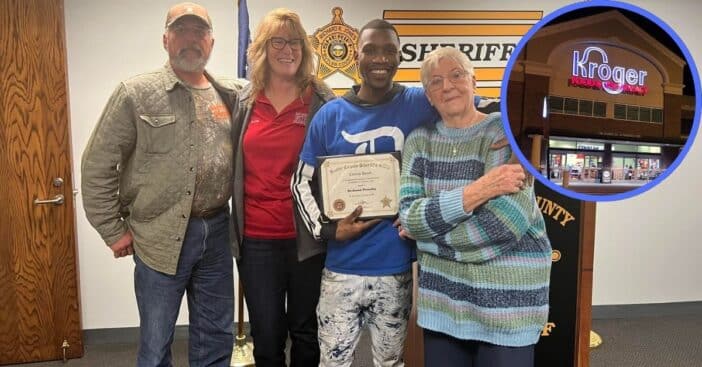 A typical shopping trip to Kroger almost took a turn for the worst, if not for the quick action of fellow citizen Deshawn Pressley, who quickly intervened. 87-year-old Pat Goins was at the checkout line at the Lemon Township store when a man stole her purse and tried to make off with it.
Pressley witnessed what happened and immediately pursued the thief. Security camera footage shows the chase making it as far as the Kroger parking lot. There, Pressley caught the thief and made a citizen's arrest. His actions have earned him a Citizen's Award – and a very heartfelt reunion.
A fateful meeting takes a worrying turn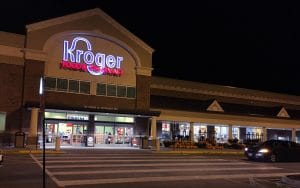 Recalling the events of that day, Deshawn Pressley says he was with his one-year-old daughter at Kroger that day and he and Pat Goins had started chatting moments before heading to separate checkout lines, and that is when the would-be purse thief made his move. You can view security footage in the tweet below, showing how the stolen purse was secured.
A man in Ohio has been given a Citizens Award by local police after he thwarted a robbery at a supermarket in Lemon Township. After the suspected thief stole an 87-year-old's purse, 27-year-old Deshawn Pressley chased him out of the store and detained him in the parking lot. pic.twitter.com/9sRcMbD1ua

— NowThis (@nowthisnews) December 20, 2021
"I heard her screaming and yelling," Pressley shared, "it was the yell that I need help. And I just turned around and did what I needed to do as a citizen." That Pressley jumped into action and planned on stopping the suspect surprised the thief greatly. "He was running and looking back, running and looking back," Pressley added, "and I was like 'yeah, I'm on you're a–." Pressley credits his grandmother, who raised him after the death of his mother, for instilling him the values that drove him to act that day. Thinking of the job his grandmother did, Pressley shared, "It was good that she taught me what she taught me, and I'm thankful for her."
Good Samaritan Deshawn Pressley is awarded for his exemplary actions
The failed robbery took place on Sunday, December 5. On Thursday, December 16, Butler County Sheriff Richard Jones bestowed upon Pressley a Citizen's Award, joined by a very grateful guest, Pat Goins. Learning Pressley was receiving such an award, Goins said, "I'm glad that he received this honor because he's my hero." Both she and Pressley have said they will stay in contact from now on, "And we've got a dinner date," Goins added.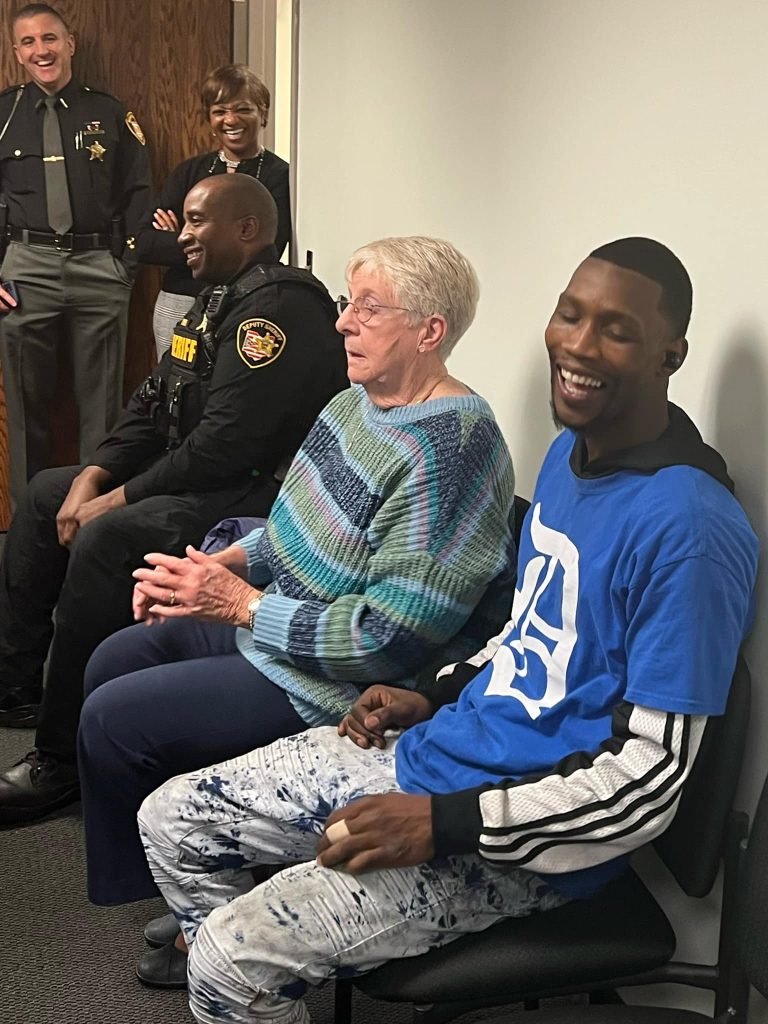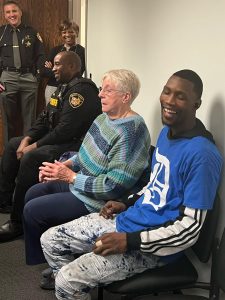 The sheriff's office shared news of this event on its Facebook page, announcing the news that Pressley was "honored" and that "The suspect is in jail and these two are now Forever Friends." Said suspect is reported to be 58-year-old Derek Vauhn. The post is accompanied by photos of Pressley receiving a framed certificate complete with official gold seals, as well as him standing beside county officials, and embracing Goins. With that post receiving 10k likes, 6.6k shares, and almost a thousand comments by time of writing, Pressley has become a hero in Ohio and the country. Those who have read his story already call him "the epitome of what is right with our world and mankind" and expressed hope others will follow his example.