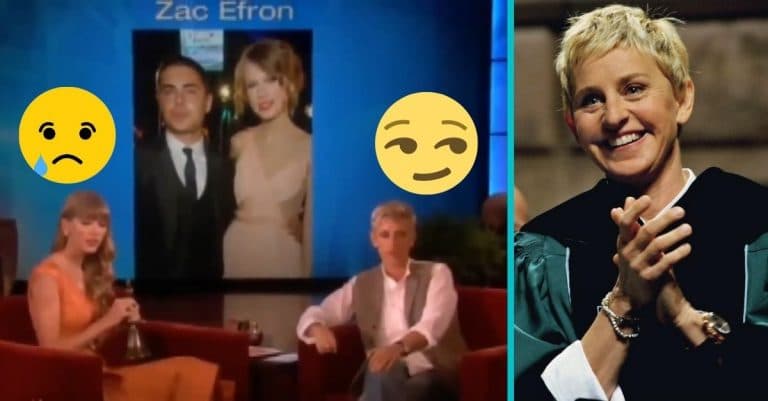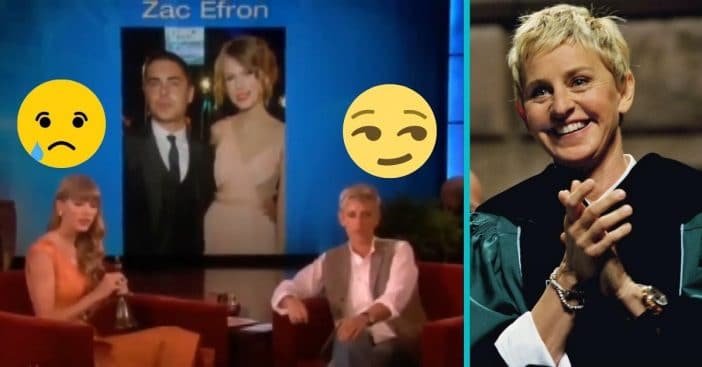 Recent reports from members of The Ellen DeGeneres Show have people looking at the show's host in a new light. Staff members share stories of mistreatment  Even employees from other businesses have unpleasant stories to tell. Looking back, some Ellen moments feel different with this new information.
To be sure, people did criticize what they perceived as "meanness" from Ellen in the past. But now, these incidents might be considered a trend. They often occur with celebrities Ellen had on her show. Even then, though, other stars shared their support for Ellen when criticisms surfaced. They assured viewers the woman they knew showed nothing but kindness for them and others. Feel free to share any thoughts in the comments.
That moment when Ellen joined in shaming Taylor Swift
What is the entertainment world without relationship drama? It's become more common to hear about breakups than lasting anniversaries. So, Taylor Swift's dating history stands as consistent with what others get up to.
RELATED: Waitress Claims Ellen DeGeneres Almost Got Her Suspended For Having Chipped Nail Polish
But the media and critics often shamed Swift for her breakups. There was a moment when Ellen joined right in with some grand theatrics. She used a slideshow of all rumored boyfriends Swift had. Meanwhile, she instructed the singer to ring a bell for each one she dated.
Ellen put an audience member on the spot for taking another free item
Stories and videos resurfaced from a moment when Ellen put an audience member on the spot. She set up a table with themed merchandise and instructed audience members to take one. A hidden camera monitored who took what. When one woman took two items, that video popped up in front of the rest of the audience.
The audience member in question then had to sit in "Ellen jail," but not before receiving a stern speech from Ellen, who also accused her of shoplifting in other circumstances. Reportedly, the audience member said the item was for her sister who couldn't attend.
Private matters became public sensations
In 2008, Mariah Carey appeared on The Ellen DeGeneres Show for an interview. At the time, she was pregnant with the child of her then-husband Nick Cannon. But she left that news relatively secret, so at the time only rumors circulated with no confirmation from Carey.
That changed in that 2008 interview when Ellen used alcohol to figure out the truth once and for all. She brought out a glass of champagne. If she weren't pregnant, there'd be no harm in drinking. Carey went to great lengths to avoid revealing this personal news. Finally, she pretended to take a sip. Ellen apparently noticed her faking the gesture and announced, "You're pregnant!" Carey said, "I can't believe you did this to me, Ellen." That quiet familial surprise turned into tragedy when Carey miscarried soon after, CheatSheet reports.
Prepare to have no barriers on her show
Back in 2015, PopSugar covered Justin Bieber talking with Ellen DeGeneres about nude photos of him that surfaced online. That October, Bieber had to deal with photographers violating his privacy and posting full frontal nudes online. One YouTube comment asks viewers to think about equal expectations to privacy, saying, "Imagine if Kimmel or Fallon brought on a female guest, and shared her nude pictures that the paparazzi took without her consent to the audience."
Bieber outlined the situation and his reaction. He explained, "Scooter [Braun] hit me up and was like, 'Yo, I hate to tell you this, but your penis is on the Internet.' It wasn't as bad as I thought it was gonna be." It's good he was able to process and handle it so well because Ellen shared the picture on a big screen for everyone to see.
Parenting with Ellen DeGeneres
https://www.youtube.com/watch?v=XeJMy8VsNq0
A year before Mariah Carey went onto the show, Celine Dion did and ended up part of another Ellen moment that left viewers skeptical. A picture of Celine, her husband, and her son René-Charles appeared on the screen.
"Look at his hair, when are you gonna cut that hair?" Ellen asked the singer. "Do you have a problem with that?" Celine fired right back. She went on, addressing a larger issue that Ellen's comment seemed to have unearthed. "You know I have to say it's amazing right," Celine added. "Some people shave the head of the children and they say 'Isn't that terrible.' I don't even cut my son's hair and they say 'Oh when are you going to cut his hair?' Whatever I will do, I won't please everyone. I can assure every mother here, René-Charles makes his own decisions."
Jessica Simpson came out swinging
Jump back ahead to 2017 for another tense moment with Ellen, this time starring Jessica Simpson. But the singer came out ready to return fire. Aware of Ellen's tendency to get stars revealing hidden truths, Simpson called this out and entered by declaring, "I am not pregnant."
Ellen, however, shared that she'd heard differently, saying, "You're not pregnant, I heard you were." Simpson herself had an uncomfortable time because of alcohol, but this time it was by her own doing. The ultimate result, though, was an overall uncomfortable interview as Simpson battled alcohol addiction and struggled through the interview.
One Ellen moment from two perspectives
Testimonies clash in this one moment between Ellen DeGeneres and Dakota Johnson. As 2019 came to an end, Ellen claimed Dakota never invited her to her latest birthday celebration. "How was the party? I wasn't invited," Ellen inquired.
But, Dakota says right back, she had in fact invited Ellen. "Actually, no, that's not the truth, Ellen," the daughter of Don Johnson and Melanie Griffith corrected. "Last time I was on the show, last year, you gave me a bunch of s**t about not inviting you, but I didn't even know you wanted to be invited." That incident apparently taught Dakota to definitely invite Ellen next round, which would have been 2019. Despite explaining this, though, the back-and-forth continued with mounting tension. "Well, who wouldn't want to be invited to a party?" Ellen asked. "Well, I didn't even know you liked me," Dakota replied. Ellen exclaimed in return, "Of course I like you. You knew I liked you."
Renewed disapproval in a self-aware age
America has recently contended with a complicated past that dealt and deals with unequal treatment among people. Mistakes can, understandably, happen with no ill intent whatsoever. But acknowledgment and growth are important. To comedian Hasan Minhaj, Ellen did not show either after a simple error.
When Ellen introduced Minhaj, she asked if she pronounced his name right. Even though he said "no," she tried to argue "yes," she had. This refusal and arguing tapped into Minhaj's personal history of repeatedly getting called the wrong thing. He decided, "All right, Ellen, let's just do this right now," when he saw his mother in the audience. That moment inspired him to correct and inform.
Focus on the basic things
Some moments between Ellen and celebrities focus on big topics like invasive photography to pregnancy. Others hone in on basic details that did admittedly get a reaction but don't warrant long discussions.
This occurred after Nicole Kidman attended the Oscars in 2017. Her applause appeared comical and out-of-place, resembling something a seal does. Naturally, Ellen showed it in front of her audience when hosting Kidman. "Did you know ahead of time that you clapped in a different way?" as if this were a routine thing for Kidman. Kidman insisted she clapped that way because she was borrowing expensive jewelry and did not want to risk any damage to it before returning them.
Seeing is believing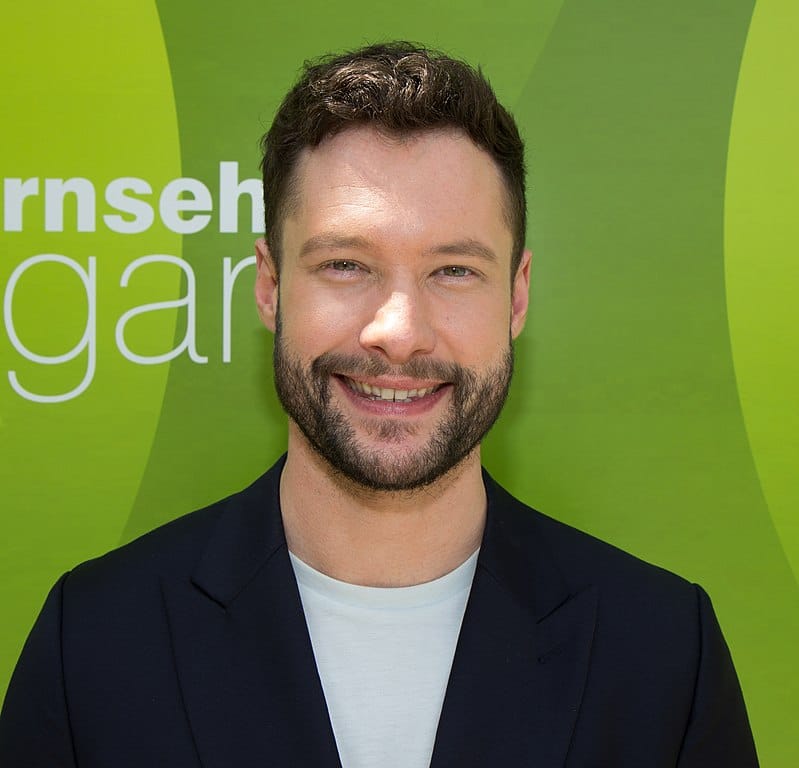 This particular incident does not definitely involve Ellen directly. But when singer Calum Scott found out he was to be on The Ellen DeGeneres Show, he learned of one big caveat.
"I was backstage," Callum recalled. The stage manager was walking with me as I was just about to go on the show. I told him, "I can't believe I'm getting to do this," and he was like, "Yeah, it's so amazing, but remember not to look Ellen in the eye — everything else is fine, but just don't look her in the eye." After he started shaking and feeling totally thrown off, they revealed it was all a prank. What do you think about some of these tense Ellen-related moments? What others stood out to you, either uncomfortable or positive?