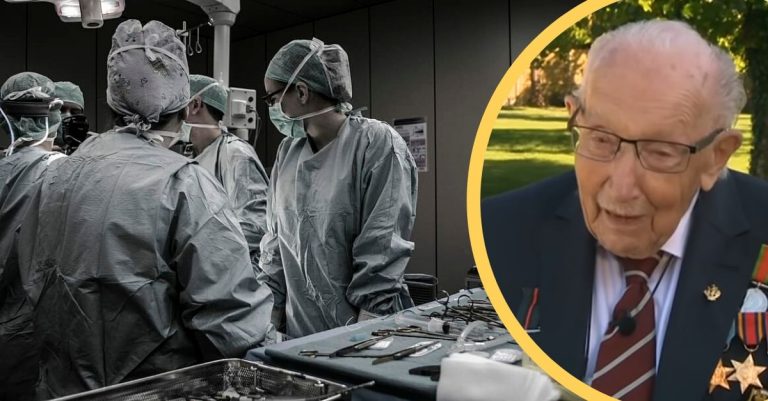 Capt. Tom Moore received major recognition for his persistent efforts to help others. In a way, his campaign began over seven decades ago when he served in World War II. But recently, he focused his attention on a modern problem. Moore campaigned to raise money for healthcare workers who are now on the frontlines with the coronavirus pandemic. His – literally – tireless efforts inspired the country and the world. Recently, he became knighted in recognition of his work.
Moore won't stop going – literally. In fact, that was part of his big charity push for health workers, NPR reports. The one-hundred-year-old walked 100 laps to draw in donations. His persistence earned his cause recognition and him a knighthood.
Capt. Tom Moore is "delighted" and "overawed"
Prime Minister Boris Johnson highly recommended Capt. Tom Moore for a knighthood, following tradition by going to Queen Elizabeth II. Currently, there is no news of how (or if) a ceremony will take place because of the coronavirus pandemic. But after the prime minister's beseeched, Moore got the remarkable news he was, in fact, due a knighthood.
RELATED: Dolly Parton Sings "Try" During Virtual Benefit For Homeless Children
"I'm certainly delighted and I am overawed by the fact that this has happened to me," he said during a Wednesday interview with the BBC. Moore hopes to attend a ceremony of some kind, though has some amusing concerns. "I'm looking forward to that," he admitted, thinking of the ceremony. "I hope she's not very heavy-handed with the sword, because by then I might be rather a poor old weak soul."
Hard work got results
1/2 A message from Tom; 'I am absolutely overwhelmed. Never for one moment could I have imagined I would be awarded with such a great honour. I'd like to thank Her Majesty The Queen, the Prime Minister and the Great British public. I will remain at your service…

— Captain Sir Tom Moore (@captaintommoore) May 20, 2020
Knighthood isn't the only accomplishment Moore has to be proud of. His fundraising efforts did, in fact, do very well. The veteran aimed for 100 laps around his garden to parallel his recent 100th birthday in April. Things did not go entirely as planned, but that ended up being for the better.
Originally, Moore wanted to raise $1,250 before his birthday. But the world witnessed a man who'd lived a century pushing on with his task during a pandemic. As a result, over 1.5 million people contributed a donation. The total reached around £33 million (almost $36 million). Even after all this hard work at his age, Moore assured in a tweet, "I will remain at your service." And he certainly has kept himself busy, both with this and a moving music career. No matter what he does, Capt. Tom Moore finds ways to inspire and his knighthood is very much deserved!