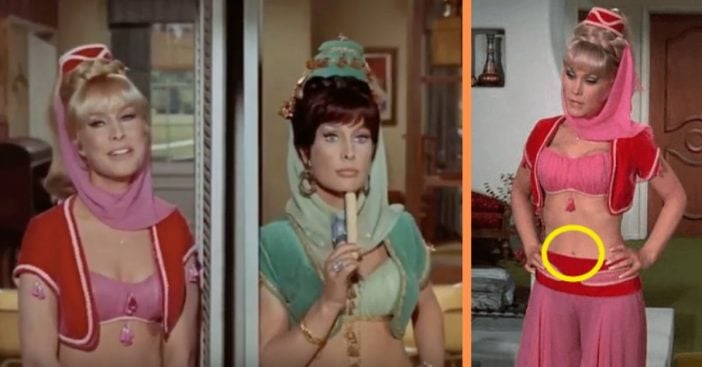 UPDATED 4/19/2022
I Dream of Jeannie starring Barbara Eden and Larry Hagman was one of the best shows of its time. It was an American fantasy sitcom that ran from September 18th, 1965, to May 26th, 1970 with new episodes, and through September 1970 with final season repeats. The show would ultimately air for five seasons and 139 episodes.
Re-runs are still shown on the air today on certain channels! Were you a huge I Dream of Jeannie fan? Here are 10 details from the show that you might have completely missed back then.
1. Barbara Eden's pregnancy cover-up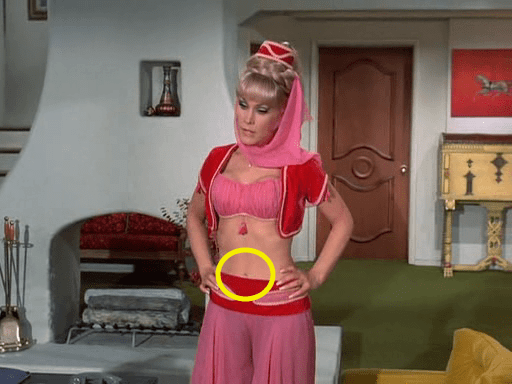 Eden was actually pregnant when the series began. And since she had the starring role of Jeannie, all eyes were on her! But she did a great job and covering it up for the first 10 episodes of the series. She would even dress herself in more conservative-wear to hide a big baby bump! At the time, Larry Hagman explained, "Because Barbara was pregnant now, we did 10 shows back to back just as fast as we could, because she was getting bigger and bigger, and adding more veils and stuff like that." Other tricks were utilized as well to hide her pregnancy from the cameras.
RELATED: 'I Dream Of Jeannie' Cast Then And Now 2021
2. The producer originally didn't want a blonde Jeannie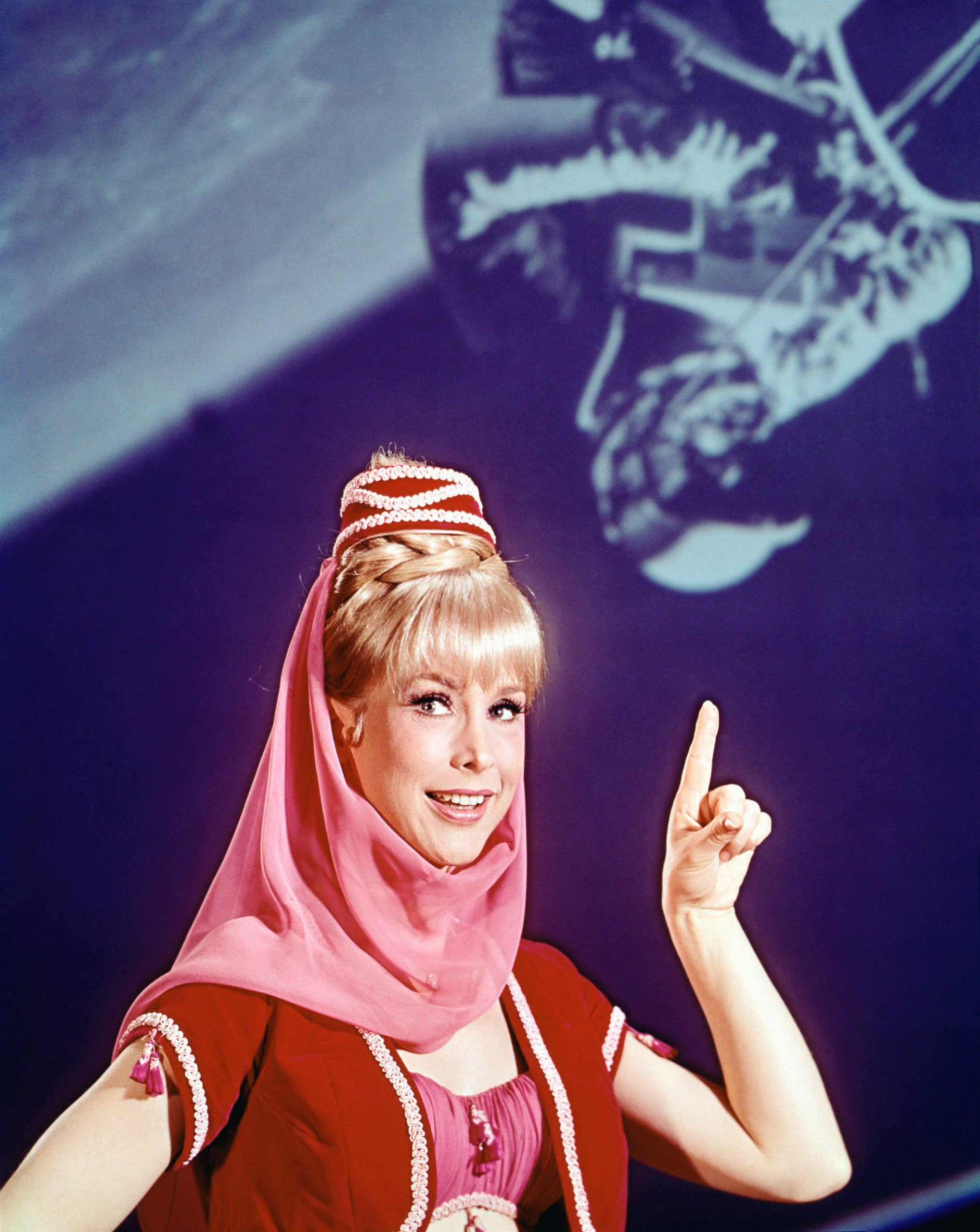 Producer/series creator Sidney Sheldon had a very specific image for his Jeannie, and he didn't want her to be blonde. However, many unsuccessful auditions later, he got in touch with Barbara Eden's agent and suddenly, Jeannie became a blonde! Sheldon never looked back from that decision, and it obviously paid off big-time!
3. Larry Hagman was often very anxious on set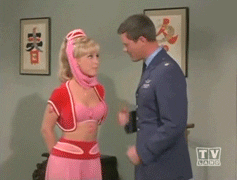 Hagman suffered from pretty severe anxiety and this would often interfere with his performances. At one point, he had to get prescription medication from doctors to alleviate some of his nerves. He allegedly also thought that he was coming in second to Eden, so it's hard to tell whether his nerves came from true anxiety or just jealousy. However, Hagman would later resort to drinking and eventually needed a liver transplant after a diagnosis of liver cancer. In Barbara Eden's autobiography, Jeannie in a Bottle, she writes, "This is what Sidney Sheldon said many years later about Larry's unbridled ambition: 'Suddenly, Larry found himself in a show with a beautiful half-naked girl and there was no way that it would be his show. I tried everything, but it was always only Jeannie the public was interested in, and through five seasons he became frustrated and very angry.'"
4. Jeannie's hair wasn't real!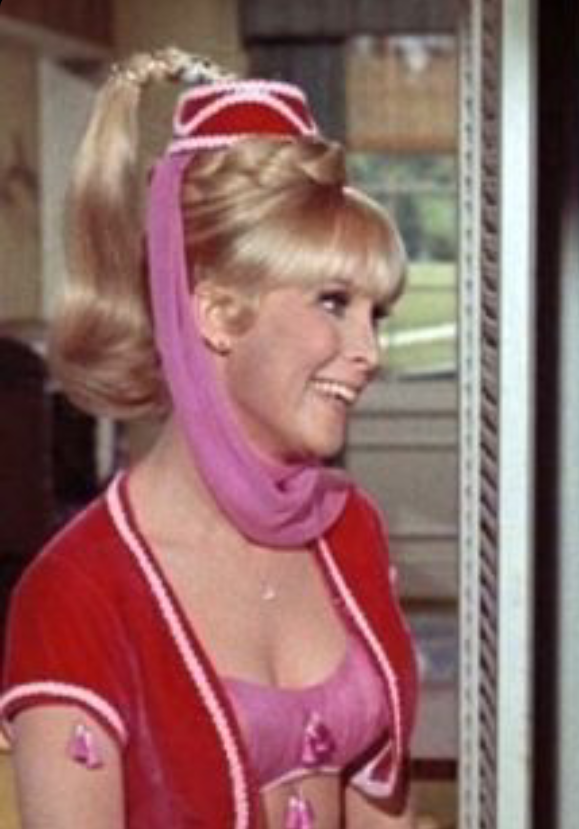 Many female fans would spend hours trying to get their hair exactly like Jeannie's! However, most of the hair wasn't even that real. Eden's hair was plaited back and her fringe combed to the front before artificial hair was placed on her head, according to ScreenRant. It allegedly took up to three hours to get Barbara's hair just right!
5. Double-Jeannie!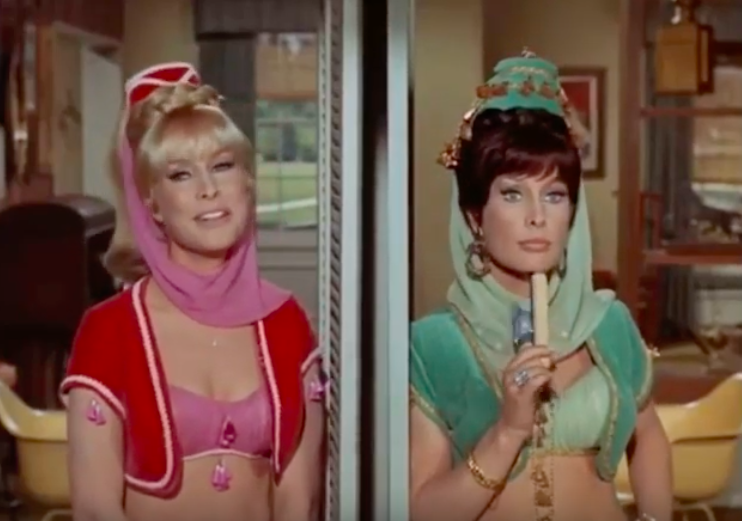 You may recall the episode in I Dream of Jeannie where we're introduced to Jeannie's evil brunette sister, who went by the same name! Fans may have not noticed that it was actually Eden playing both roles at the same time — successfully conveying two characters who were complete polar opposites!
6. Eden's talents don't end there…
Eden was also a lion whisperer, too! In one of the episodes, there was an actual lion used in one of the scenes (even though it didn't have any teeth)! Eden says she'd had experience with animals on set. She even taught her co-stars to sit still and just let the lion smell them. This established trust and soon everyone was able to pet the lion to ensure everything was just fine and they were not a threat! Well, everyone except Larry Hagman. In her autobiography she writes that she advised Hagman to stand very still and let the lion smell him. "Then," she noted, "when he's finished doing that, you should lean forward very, very gingerly and stroke him as gently as you can. That way, he'll get to know you and everything will be fine." His response? "Dream on, Barbara. I'm not making friends with any f–king lion!" And with that, he went back to his dressing room. Later, finally coaxed out, he and Barbara took their seats on the couch, a piece of raw meat placed between them. The lion was brought up to the couch, took a look at Larry and let out a mighty roar.
"Whereupon," Barbara added, "Larry bolts off the set, out of the studio and into the street, while the crew runs out after him, terrified. Meanwhile, I am left alone on the set with a 900-pound lion in my lap, purring contentedly."
7. Hagman was allegedly really rude and difficult to work with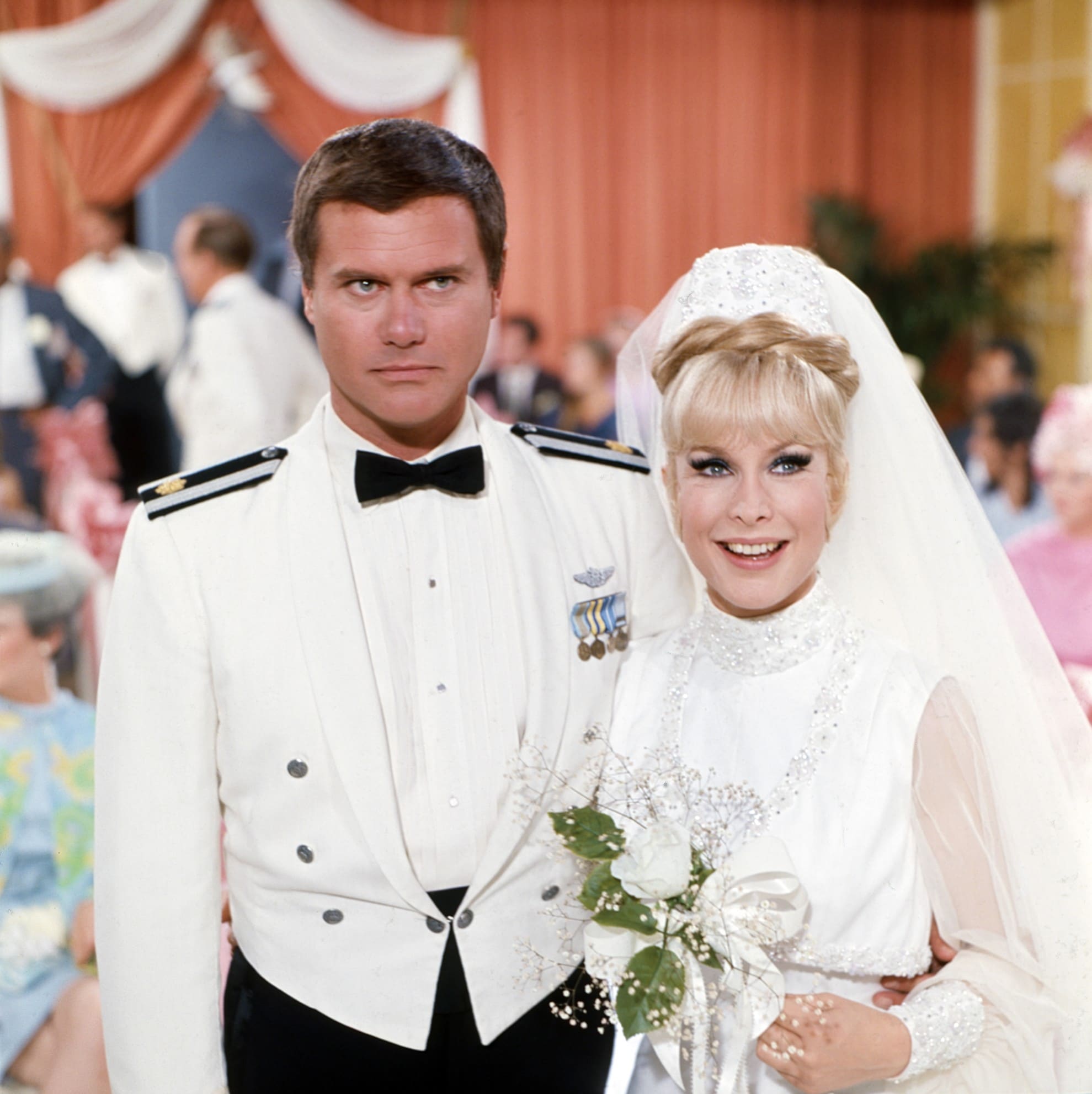 There were a lot of rumors that Hagman was allegedly very rude onset to other actors. He was said to have irritated guest star Sammy Davis Jr. so much that he swore and complained to Eden. ScreenRant says that Hagman became so irritated with Eden's success that he showed up in a gorilla suit one day to scare off a group of nuns visiting the set. What makes this even scarier? He was holding an ax. This irrational behavior is likely from all the drinking he was doing during the process of filming. Yikes!
Hagman is the son of Broadway legend Mary Martin, and spent a great deal of his life trying to prove his worth as an actor to her. Which would probably explain why he so embraced the stardom that J.R. Ewing brought him on Dallas. In his biography, The Other Side of Me, Jeannie creator Sidney Sheldon related that during the show's first season, ratings were high but all was not well on the set. "The problem," he writes, "was Larry Hagman. I planned to use more guest stars, but Larry was always antagonistic toward them. He would be sullen and ignore them, and spend time sulking in his dressing room. He wanted to be the star and he wanted it now. It was Barbara who was getting all the magazine covers and interviews. Larry wanted to show the world that he could be as successful as his mother. The result was that he put himself and everyone else under tremendous pressure … I began to write scripts to build up Larry's character and make him more prominent. But when an actor is in a show with a scantily dressed actress as beautiful and enticing as Barbara Eden, it is very difficult for him to become the star."
8. Jeannie meets Bill Clinton… at 78 years old!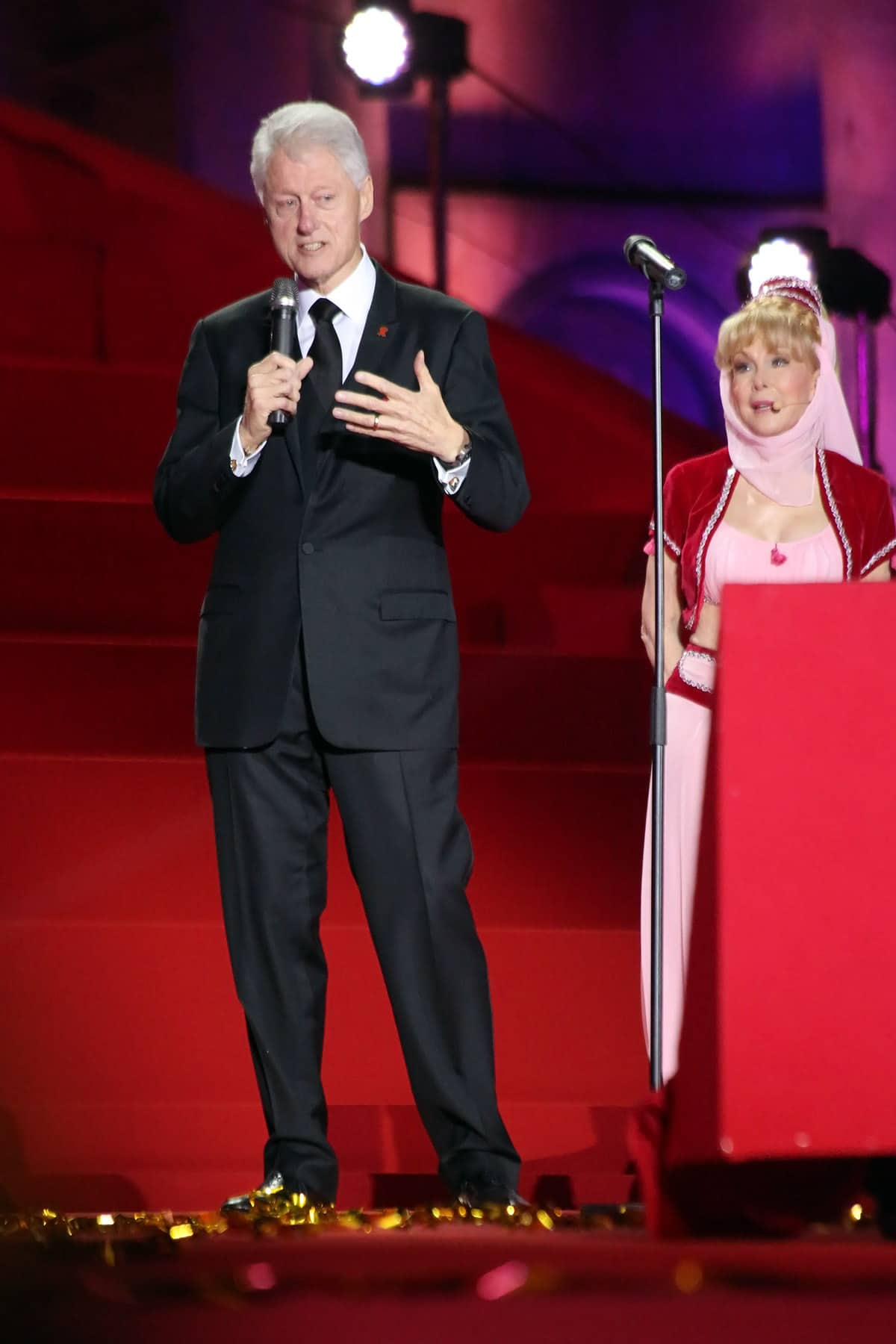 Eden revived the Jeannie costume at 78 years old when she met former President Bill Clinton. It was for a charity gala event in Vienna, Austria. If you take a quick look, she looks exactly the same as when I Dream of Jeannie was actually on the air with new episodes! She looks amazing there, even at 78 years old.
9. The End(?)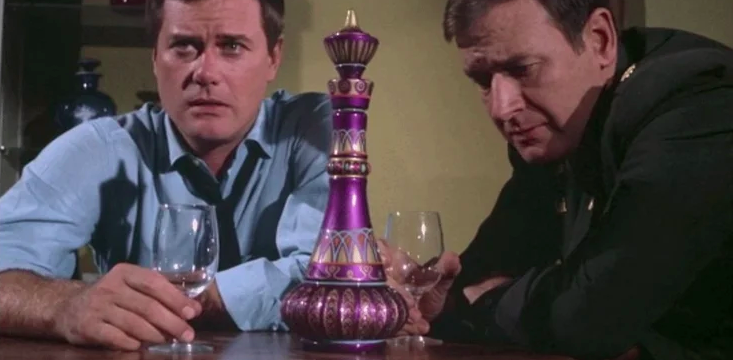 When the series closed, the bottle that Jeannie uses is thrown and broken. This would mean that this is the untimely end of the series. However, diehard fans would be happy to know that there were many different versions of the bottle used in the series! Eden took home the main bottle used for filming the final episode of the series. The other original bottles were kept by Bill Daily and Larry Hagman.
10. 'I Dream of Jeannie: 15 Years Later'
In 1985, NBC produced the first of two reunion films that brought together most of the cast of the original I Dream of Jeannie, with the notable exception of Larry Hagman, who was in the midst of playing J.R. Ewing on CBS' Dallas. Stepping into the uniform of Major Nelson was Wayne Rogers, late of M*A*S*H. Recalls Barbara, "I don't know how it came about. Unfortunately, we couldn't get Larry, because by then he was doing Dallas and he was working very hard and didn't want to do a movie plus his Dallas schedule. We were lucky to have Wayne Rogers as the master. The film was very good, but not the same, because he's different. I mean, we're all so unique and individual, so it was different. And Wayne brought a different texture and had a little more of an edge than Larry. For me, it was intimidating, because it had been so long and I was older. But overall it was well received."