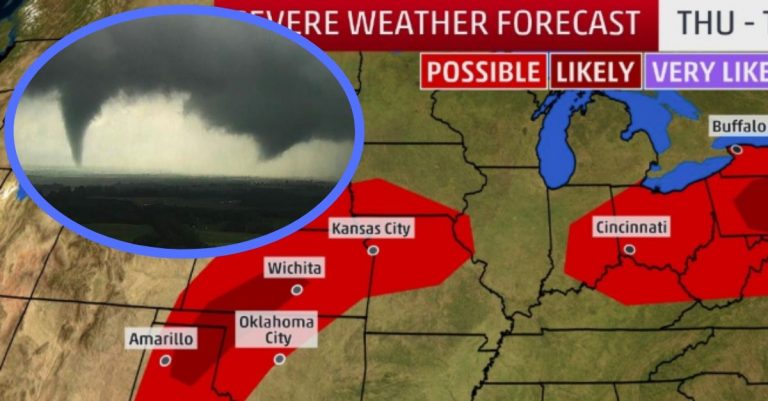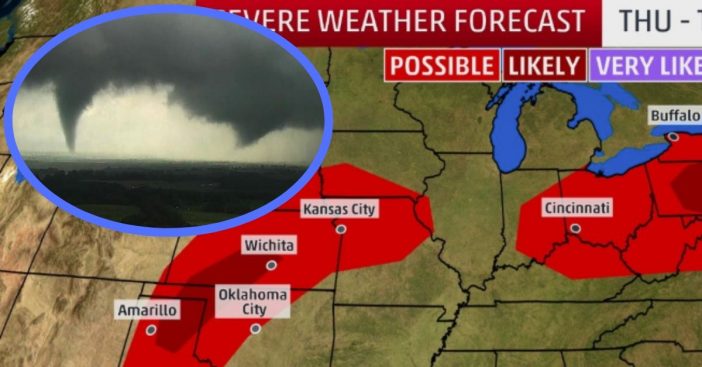 Tornado outbreak season of 2019 has been a very destructive one and it seems like each year gets more and more deadly. The tornadoes that have been ripping through the central U.S. and the south, particularly in Oklahoma and Texas, in addition to pouring down several inches of rain for hours and hours.
At least 20 reported tornadoes tore through these portions of the country in one day, and there are more to come in parts of Oklahoma, Texas, Kansas, Missouri, and Illinois. According to The Weather Channel, about 60 tornadoes have been reported since Monday, May 20th.
Millions of people are under a flash flooding threat as severe thunderstorms are forecast to follow on the heels of tornadoes that swept through central Oklahoma, Texas, Missouri and Arkansas https://t.co/BgrcveO0ZL pic.twitter.com/IeVBApfSUz

— CNN Breaking News (@cnnbrk) May 21, 2019
More helpful data about the tornado outbreak
Preliminary data from the Storm Prediction Center has confirmed that 697 tornadoes have already been reported this year (but this number will soon drop after duplicate tornado reports have been removed). This preliminary data of this year is actually more than the to-date average of 659. It also states that from January to December in a typical year, the U.S. experiences at least 1,200 tornadoes.
In this year so far, 31 people have been killed by these tornadoes. That's about half the long-term average of 60 deaths.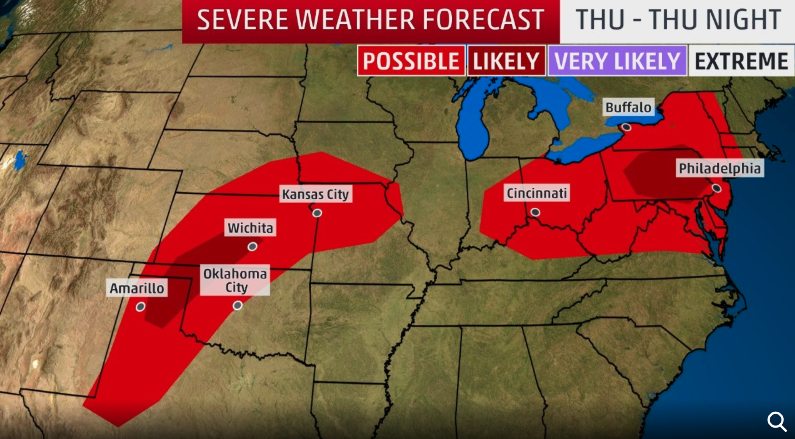 As seen from the photo above, the severe weather will be continuing through the same areas in the south and also extending into the central and eastern portions of the U.S. Perhaps the deadliest day of tornadoes this year was on March 3rd, when 23 people died as a result of a violent EF-4 tornado with winds of 170mph that tore through cities in Alabama.
AccuWeather meteorologist Brett Rossio says that the busier-than-usual tornado season is due to the active subtropical jet stream, which has helped produce severe storms along the nation's southern tier.
https://twitter.com/Running_experts/status/1131234903381569537
More bad weather is slated to plague the central portion of the U.S. for the rest of the month, at the very least. AccuWeather extreme meteorologist Reed Timmer says, "It looks like there is no end in sight to this very active pattern of severe weather into the end of May."
He also says that the states at the highest risk of severe weather and potential tornadoes are Kansas, Oklahoma, and Nebraska, which are all located in what's known as "Tornado Alley." Flooding is also becoming a huge issue, as it rained for nearly 8 hours straight earlier this week in Oklahoma City.
Standing in the wake of a #tornado that hit near Magnum, OK.
Another big storm is moving through. We are hunkering down in our vehicles.
🌪1 county 4-H building destroyed
🌪3 houses & 1 apartment complex seriously damaged
🌪1 barn hit
NO INJURIES reported. @CBSNews pic.twitter.com/UXcMOpcWWN

— Mireya Villarreal (@ABCMireya) May 20, 2019
Check out this bystander footage of tornadoes that touched down in Oklahoma and Texas earlier this week!