Right in between Mother's Day and Father's Day, both Catherine Zeta-Jones and Michael Douglas got a special gift thanks to their son. 21-year-old Dylan Douglas had both parents bursting with pride as he graduates from Rhode Island's Brown University. Dylan is Douglas' oldest of two with wife Zeta-Jones; he is also the father of 43-year-old Cameron with ex-wife Diandra Luker.
Both Douglas and Zeta-Jones were quick to express their excitement for Dylan and offer congratulations in posts shared to social media over the weekend. Get an update on his educational journey – and theirs as parents watching these milestones being passed – here.
Michael Douglas voices his pride for Dylan graduating from Brown
View this post on Instagram
This weekend and the days that followed were especially celebratory for the Douglas and Zeta-Jones household. Earlier this week, Douglas shared a photo of himself standing beside Dylan as his son stands in his cap and gown, holding a diploma from Brown University. There's no definitive word yet on his degree, but despite Douglas and Zeta-Jones explaining that getting into the limelight isn't easy – even for the children of stars – both their kids have expressed an interest in it.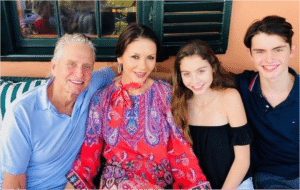 "One proud Dad!" Douglas captioned the photo, with some applause for good measure. "Congratulations Dylan! Well done." The post also received praise from Zeta-Jones, who first wrote, "The best ever. Congratulations!! to you," before adding, "Love you." But her appreciation extended to a separate post of her own, full of love.
Catherine Zeta-Jones voices her love and pride
View this post on Instagram
Following Dylan's graduation from Brown, mother Zeta-Jones shared a congratulatory post over the weekend. "Graduation congratulations to my boy, my pride, my joy, Dylan," she wrote. "I am inexplicably proud of you and I love you beyond words." This picture shows Dylan still dressed in his Brown University swag while Zeta-Jones embraces her son at the ceremony. Zeta-Jones has visited Dylan on campus multiple times in the past, as shown by photos shared to her social media commenting about college life.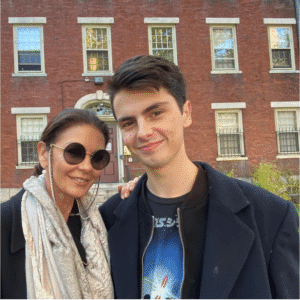 Dylan, for his part, has not yet outright posted about graduation, the culmination of educational pursuits that began in 2018, which the family also marked with emotional posts. Last year, they also celebrated Carys graduating high school as part of the class of 2021. Both her own graduation and saying goodbye to Dylan, were emotional events, with the siblings even shedding some tears as Dylan readied to move into his dorm. Now, he's moving back out.
Congratulations!