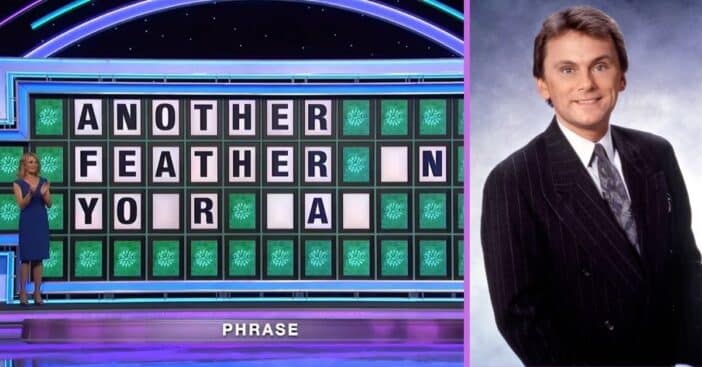 Pressure can have a harsh effect on people and it seems we never know important information when it's needed most. Contestants on Wheel of Fortune experienced something like this, and as a result, did not get "another feather in your cap."
Plenty of viewers did, though. When tasked with guessing a phrase based on several letters, contestant after contestant could not figure the answer out. It came down to "ANOTHER FEATHER -N Y–R -A-." More than anything else – barring firsthand experience – this incident shows that performing on national television can be stressful and hard in practice, something Pat Sajak personally reminded Twitter users not long after the episode started trending; the host reprimanded viewers whose reactions took on a hurtful flavor.
There was no feather in their cap
This might have been the worst two minute stretch in Wheel of Fortune history 😂 pic.twitter.com/lz6HynkkF5

— Warren Shaw 🇯🇲 (@ShawSportsNBA) March 2, 2022
The sought-after phrase was "Another feather in your cap." However, after contestant Laura bought an 'O,' she could only get the first four words and guessed, "another feather in your hat." The buzzer sounded, confirming her answer was not what the game was looking for. Then Christopher tried his hand at guessing, probing for the letter 'G,' which was not present. After him, Thomas spun the wheel and landed on Bankrupt. It was Laura's turn again and she guessed, "another feather in your lap." No victory yet, though Sajak did joke, "Oh, the feather is moving around." When Christopher guessed 'D,' none revealed themselves. Then Thomas landed on Lose a Turn. When Laura appeared indecisive, Sajak advised, "Go ahead and spin if you don't know, don't get buzzed out here on time."
Ultimately, Laura guessed 'P,' which gave the contestants another bit of contextual help, but the answer remained elusive as Laura tried, "Another feather in your map?" Next, it was Christopher's turn to land on Bankrupt, just in time for Thomas's luck to change and he correctly guessed a 'C.' He rightly answered, "Another feather in your cap," a phrase referring to racking up another victory. Social media was abuzz talking about the episode, dubbed by one user as the "Worst 2 minutes in the history of Wheel of Fortune." Another was indignant at the phrase "another feather in your map."
Pat Sajak puts a cap on the teasing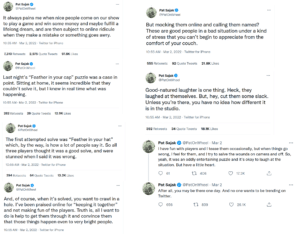 On the morning of March 2, Sajak took to Twitter to remind social media of the pressure contestants are under, performing under conditions very different from lounging on a couch or scrolling a phone. "It always pains me when nice people come on our show to play a game and win some money and maybe fulfill a lifelong dream," Sajak wrote, "and are then subject to online ridicule when they make a mistake or something goes awry." Follow-ups explained that the phrase is sometimes said "another feather in your hat," so it was probably jarring to hear it was wrong; couple that with playing on national television and it is a very demanding setup for something called a game show. "Truth is," he emphasized, "all I want to do is help to get them through it and convince them that those things happen even to very bright people."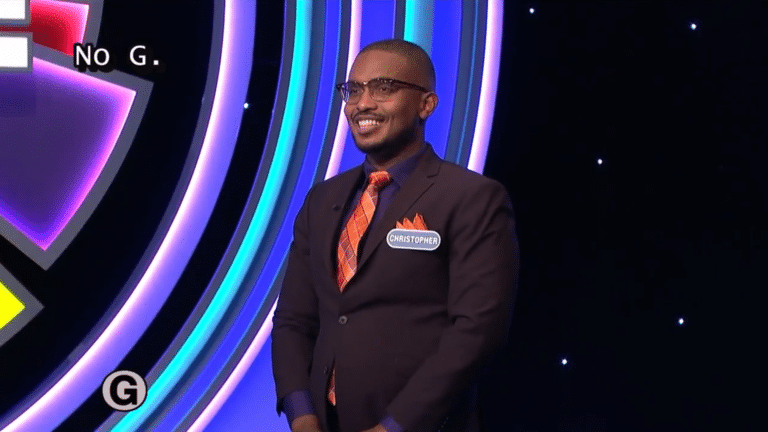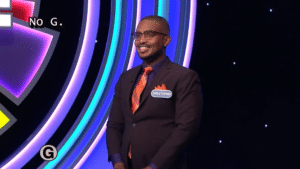 Indeed, Christopher had called competing on Wheel of Fortune "a lifelong dream." The episode trending on social media did not go unnoticed by Christopher. "The sad part is that people are saying that we [the contestants] were not intelligent and were trying to belittle our college degrees," he expressed. He went on to share a similar sentiment Sajak did, adding, "What I would say to the trolls is that, 'You go up there. Half of you don't even have public speaking skills. You go on Wheel of Fortune and go into the shoes of where we were standing.' And then it will be a whole another conversation when they are trending and making donkeys of themselves."
Have you had to think fast in front of a big audience? Is there a trick to help?