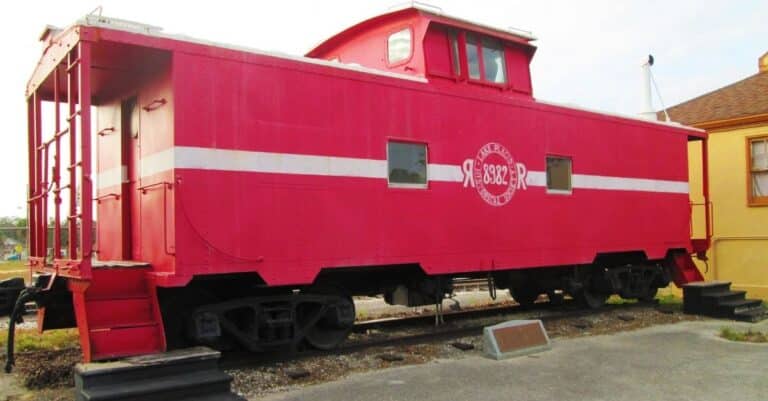 One man's trash is another person's treasure, and one discarded caboose is another person's bed and breakfast. A recycling yard was true to its name when it ended up housing a train cart that was destined for a second life, thanks to the creative imagination of Jim Dotzenrod and his daughter Danielle.
The idea first struck Dotzenrod when a man bought cabooses along the road of a town 30 miles north of where the pair live. Dotzenrod wondered about the choice and thought about what such a purchase could possibly be used for. Then, in a burst of creative enlightenment, he thought of it: an Airbnb.
Building something anew from a '70s caboose

Father, Daughter Turned Train Caboose Into an Airbnb https://t.co/lXPmULDOr4

— Steven Rosenberg (@passthejoe) December 29, 2021
The man whose purchase inspired Dotzenrod did not want to give up any of the 10 cabooses he bought, not even to sell. So Dotzenrod had to seek out and buy his own, which he acquired 30 miles away at a salvage recycling yard, with help from Danielle's partner. Originally, Car No. SOO 124, which is 8.6 feet by 30 feet, was destined to be broken down into iron pieces.
The 52,000-pound cart was built in 1973 – and cost $8,000 for Dotzenrod to purchase for himself. That wasn't the last resource sink Dotzenrod would need to commit to this project, though, as he then needed to utilize a lift, crane, and semitruck. "They had two big excavators at the salvage yard," Dotzenrod recalled. "They put straps on the caboose, and they lifted it onto the semi I had hired." According to Danielle, 42, Dotzenrod also acquired a stretch of railroad tracks. At the property Dotzenrod set aside for the future Airbnb, those rails would act as a base for the boarding establishment, further setting the atmosphere. Once the caboose was in place, it was a matter of transforming it into a suitable living space while retaining elements of its origins.
It's a bird, it's a train, it's an Airbnb!
We survived our night sleeping in a train caboose last night. @lleibforth @rachelleibforth @LeibforthSydney #Airbnb @Airbnb pic.twitter.com/6oOvxYfsty

— Steve Leibforth (@sleibforth) December 29, 2020
"I had to get the iron out of there," Dotzenrod explained of the renovation process, "and after I gutted it I had to power wash it to get that diesel-fuel smell out. It was strong — it was just that lingering odor of diesel fuel." Some air fresheners took care of that hurdle. The property is officially listed on Airbnb as CR Station Train Caboose and offers a queen-sized bed and a bunk bed set allowing for four people to sleep. Facilities include a kitchen, bathroom, WiFi, television, and air conditioning. The kitchen is equipped with a refrigerator, microwave, and double-burner hot plate as well as supplies for a bar.
"We wanted it to be nice but still feel like you're in a caboose," said Danielle. "I think that's something we pride ourselves on. There's a few other cabooses out there, but sometimes when you're in it you don't even really realize it's a caboose." So, the outside retains its caboose look and the inside has the original conductor's chairs, as well as the railing on the caboose's roof because, as Dotzenrod pointed out, "you have to keep just a little bit of the novelty of it in there, so visitors know what it was like back in the day."
Would you stay at this kind of Airbnb?