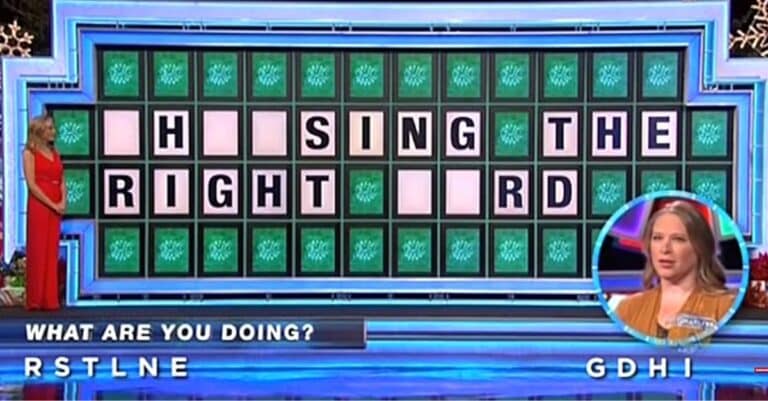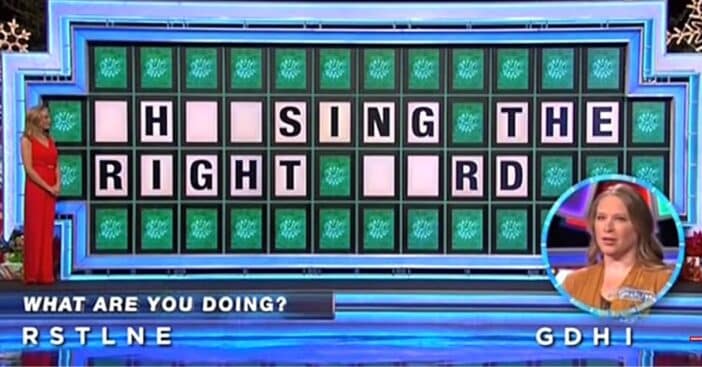 Wheel of Fortune contestant Charlene Rubush managed to choose the right word as she zeroed in on the prize, but despite getting the answer correct, she did not qualify to win the proffered Audi Q3. The incident occurred during the Bonus Round of Tuesday's episode. The category was "What Are You Doing?" and also offered $16,500 in prize money.
By the time the chance to guess arose, Rubush had all of the words "the" and "right," and key letters for the first and last words. Before the buzzer went off, she uttered her answer. But if it was right, why did Pat Sajak say it was not accepted?
A 'Wheel of Fortune' technicality cost the contestant her big prize
Come on @WheelofFortune, the woman literally chose the right word. Give her the car. pic.twitter.com/aAaMyFeEZl

— Alex Jacob (@whoisalexjacob) December 22, 2021
With the timer ticking down, Rubush first guessed "choosing the right card," before trying again with "choosing the right…" There is a pause as she thinks, then she finishes with "words." A moment later, the buzzer sounds.
"You know, this one's tough because you said all the right words, including the word 'word,'" Pat Sajak explained when it turned out Rubush did not win, despite literally choosing the right word, "but, as you know, it's gotta be more or less continuous. We'll allow for a little pause but not four or five seconds. I'm sorry. You did a good job in getting it, but we can't give you the prize, and it was the Audi."
The Internet says "Give that woman an Audi!"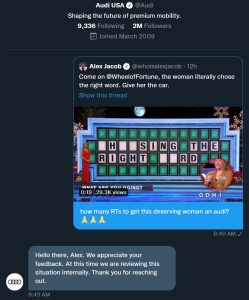 The moment was caught on camera, posted online, and has Twitter abuzz in hot debate. 2015 Jeopardy! champion Alex Jacob has been particularly vocal in his reactions from his verified Twitter account. He shared pictures of a conversation he began with the Audi social media account hoping Rubush might still get the car, to which the reply was that the company is "reviewing this situation internally."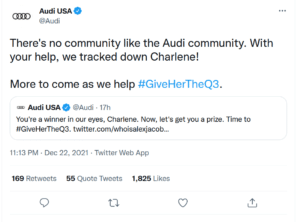 Jacob also noted that Vanna White appeared to start clapping in congratulations after Rubush answered, implying she expected it to be a win for her. Audi appeared to join in on the new #GiveHerTheQ3 trend. As for fans of Wheel of Fortune, they are divided over this technicality. One user writes, "Rules are rules! You READ and agreed to them before you were on the show. And as Pat told you, you got all the right words, but paused to long. If you were to say the entire thing over, it would of been good! Sorry, but, you gotta play the game the way the rules are written." However, another user contests, "She got the phrase correct in her allotted time. Pause or no pause!!!! Show screwed another contestant."
During normal rounds of game shows such as these, contestants who buzz in are expected to have their answer ready, lest they buzz in just to give them time to think when another player who actually has the answer gets locked out. But it may be a gray area for this Bonus Round incident since Rubush already faced a timer typical for that segment, which implied she was expected to think. In the past, though, there is an example of a contestant saying parts of an answer over time and Sajak telling them to say it all together for it to count.
What do you think of this rule and the resulting loss from it?