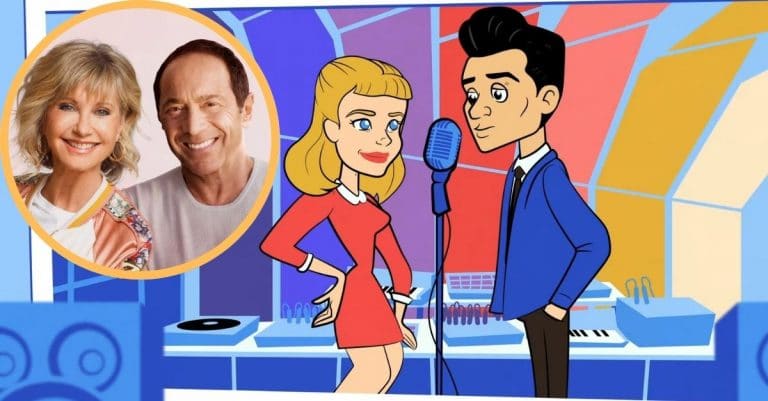 Unexpected social media trends once again introduce new generations to old classics. Thanks to the TikTok trend known as the Silhouette Challenge, users the video-sharing social media platform became exposed to Paul Anka.
Now, he and Olivia Newton-John are riding the wave of momentum and giving fans more to celebrate with a collaboration of "Put Your Head on My Shoulder." TMZ even has a look at the animated music video the singing duo has to go with this latest iteration.
Paul Anka and Olivia Newton-John re-release "Put Your Head on My Shoulder"
View this post on Instagram
Two singer-songwriter-actors coordinated their efforts for a May re-release of "Put Your Head on My Shoulder," to this day one of Paul Anka's most celebrated pieces, even before the TikTok challenge of recent days. He and the Grease star released their version in May, with more surprises in store.
RELATED: Olivia Newton-John Explains What Kissing John Travolta Is Really Like
Indeed, Anka has a whole new album on the horizon entitled Making Memories. Fittingly, the album has callbacks to some of the biggest memories in music history. It features Michael Buble and Andrea Bocelli with a cover of Frank Sinatra's "My Way," among others. The album is due out on July 30, which coincides with Anka's 80th birthday and over six decades active in his career.
Collaborative animated music video
In early 2021, a new trend emerged on TikTok known as the Silhouette Challenge, featuring users recording two silhouetted versions of themselves dancing to music. The trend helped Paul Anka become a favorite among the next generation of music-listeners, and he worked with someone equally familiar with dancing and music to create some extra content.
On May 25, Anka's YouTube channel released a nearly five-minute-long animated music video featuring the re-recording of "Put Your Head on My Shoulder." The video features cartoons of each singer's younger selves serenading their parts of the latest recording as they go about their cartoon day. Check it out below!