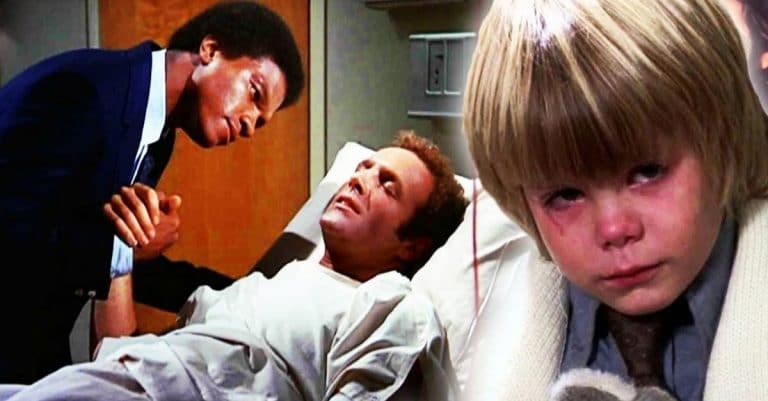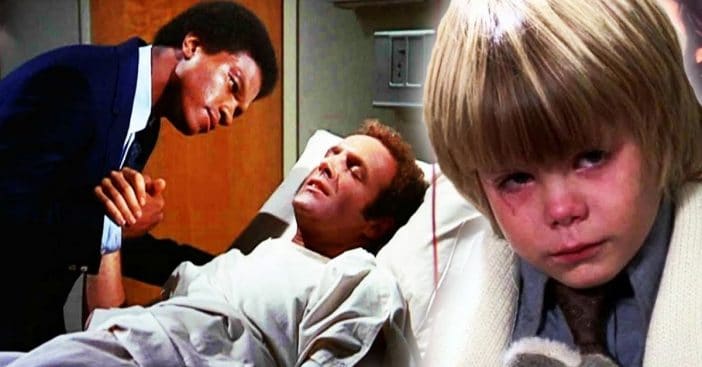 Get the tissues ready – a truly great film can do a lot to you, make you jump, laugh, cry, laugh until you cry, and although we may fight back the tears, some films just win the battle, and we get to lose ourselves in harrowing tales that whisk us away.
These are the biggest tearjerker movies of the 1970s. Now, I should be quiet, because the movie's starting and we're checking out the top 10 '70s films that made you cry. Which one did you fall victim to? I've admittedly had a good cry at most of these… okay, all of them.
1. 'Kramer Vs. Kramer'
We all know marriage isn't easy, but divorce—that's a lot harder. Kramer V. Kramer deals with the grueling custody battle between two recently divorced partners. It's a difficult but rewarding watch. In one of the movie's more tearful scenes—Joanna Kramer, played by Meryl Streep sends her son Billy a letter explaining why she left home and won't be coming back—and Ted Kramer played by Dustin Hoffman reads the letter aloud to his son. Ouch.
RELATED: The Worst TV Shows Of The 1970s, Guilty Pleasures Included
This five-time Oscar-winning movie—elevated by some of the greatest performances you'll ever see—is the pinnacle of super depressing '70s movies. Only a couple of months before shooting the film, Meryl Streep lost her husband John Cazale to cancer, John was most famous for his role as Fredo in The Godfather series. Co-star Dustin Hoffman believed that it was this incredibly painful loss that allowed Meryl to "draw on a still-fresh pain" and pushed her to win her first (of many) Oscars. If you haven't seen this movie, as of this video's launch, it's free on Amazon Prime, check it out. Oh, and get ready for a good cry.
2. 'Walkabout'
If you don't know British Director Nicholas Roeg by name, you've probably heard of his fun and somewhat creepy 1990 family film The Witches—which was remade in October 2020 on HBO Max. Or maybe you've heard of his 1976 cult classic film, The Man Who Fell to Earth starring international rock star, David Bowie. Well just five years before that, Nicholas Roeg directed a slightly lesser-known movie called Walkabout, and man oh man is it a tearjerker.
Walkabout is the coming-of-age story of two recently orphaned siblings played by Logan's Run star Jenny Agutter and son of the director Luc Roeg, that wander around the Australian outback, far from civilization, looking for any possible way to survive. Along the way, they befriend an aboriginal boy in the desert. He teaches them survival skills, and how to really coexist in nature. It's hard to really nail down what makes this movie so great. It's very loose and experimental, but there's also an underlying sadness to it—mostly about the way we interact with our environment, and how growing up too fast makes you forget some of the precious moments in life.
There's a sad and deeply affecting moment towards the end when the unnamed Aboriginal boy watches some Australian hunters kill a bunch of buffalo for sport instead of survival which prompts him to have a mental breakdown. It's… tough. If you like beautiful visuals, this a fantastic Australian '70s movie for you to check out!
3. 'A Star is Born'
There have been four versions of A Star is Born: the original from 1937, a 1954 remake, a 1976 remake, and the recent 2018 version with Bradley Cooper and Lady Gaga. And while all these movies are great in their own right, nothing really captures the feeling of the 1976 version. Barbra Streisand and Kris Kristofferson star in this timeless musical romantic tragedy about a singer and a rock and roll star who fall in love and are at an impasse in their career goals. And everything about this movie oozes 70s melodrama.
While each version of A Star is Born has its own and unique tragic ending, nothing quite compares to when Kris Kristofferson drives his Ferrari Daytona off the side of a country road, and Barbra Streisand has to say her final goodbye to her lover. While the 1976 movie wasn't nearly as well-received by critics, it was a colossal hit with audiences making $80 million dollars on a budget of only $6 million. For better or worse, the 1976 version is truly a movie of its era blending '70s era rock music with its Broadway-inspired origins. Kristofferson's look in the movie even has a shocking similarity to The Doors singer and guitarist, Jim Morrison, which the actor fervently denied. But man, it's a rocking good time. And a rocking sad time. (I do have to admit I did cry at the 2018 version, multiple times.)
4. 'Love Story'
A go-to movie when people talk about sad '70s movies. It's been parodied and referenced in shows and movies time and time again. It even had such a profound influence on American culture, that according to the National Post the top name of 1970 was "Jennifer" after Ali Mcgraw's lead character. Love Story is the simple tale of a romance between a wealthy university student, Jennifer, and a middle-class music major, Oliver played by Ryan O'Neal, that starts to crumble after Jennifer comes down with a debilitating illness.
The movie holds #13 of AFI's Greatest Movie Quotes of all time, "love means…" – well you know the one. This is a sure-fire tearjerker and the chemistry of the actor's roots the moment. What ensues is one of the sadder and more iconic romances in history.
5. 'Brian's Song'
There's a wealth of sad football movies out there like Radio, Remember the Titans, Rudy—a lot of "R"s in those titles—but none of them quite have the energy of 1971's Brian's Song. Brian's Song is the true story of Brian Piccolo, a Chicago Bears running back who died at age 26 from an aggressive form of cancer. The movie focuses on Brian's friendship with teammate Gale Sayers who helped write Brian's autobiography, I Am Third. Even though this is was a made-for-TV movie, it boasts some insane star power—The Godfather's James Caan plays Brian Piccolo and Gale Sayers is portrayed by Billy Dee Williams—Lando Calrissian in the flesh! Wow! And Billy Dee Williams gives such a remarkable performance as Sayers that it's hard not to rewatch that moment where he gives his gut-wrenching acceptance speech at an award ceremony in honor of his late friend.
The movie was such a critical success that it received four Emmys including Outstanding Single Program, and was remade in 2001 for The Wonderful World of Disney. According to a 2005 Entertainment Weekly poll, Brian's Song is one of the top ten "guy cry" films ever made. And trust me, you're gonna need to bring out the tissues for this one, folks because I sure did have a good cry at this one.
6. 'Being There'
We recently put out a video of our top '70s Cartoons (which you should go ahead and check out)—and at the top of that list is The Pink Panther Show—based on the Peter Sellers franchise. And there's no better movie boasting the late, great Peter Sellers than Being There, the 1979 dark satirical comedy about Chance, a not-so-intelligent gardener, whose simple advice and philosophies on gardening have caught the attention of a lot of people in power and long story short—he stumbles his way into an advisory position for the President of the United States.
While on the surface Being There doesn't seem like much of a sad movie, it's the complex and melancholy journey that Chance goes on that really takes its toll on your tear ducts—especially watching the childlike gardener experience the death of a close friend. Without giving too much away—the ending is maybe one of the most talked-about endings of a movie… ever. You'll have to see it to believe it.
7. 'Harold and Maude'
Boy, oh boy, what a sad movie. Harold and Maude—released in 1971—is the story of a friendship between Harold, a brooding teenager who has an obsession with death, and Maude, a 79-year-old woman who also shares Harold's strange obsession and lives in a decommissioned railroad car. Over time, their carefree and quirky friendship turns into a romance but as certain truths come out about Maude's tortured past, Harold discovers that their relationship isn't built to last. The scene where Harold sees Maude's tattoo—numbers indicating that she was a survivor of a concentration camp—is a sobering and terrifying reminder of the Holocaust's long-term effects on people.
Ranked number 45 on the AFI's "Funniest Films of All Time"— it's a uniquely devastating and hilarious ride that urges its audience to not take life so seriously, while also celebrating the great gifts the world has to offer. It's that rare kind of sad movie that leaves you feeling good by the end of it.
8. 'The Deer Hunter'
This one goes without saying, but Michael Cimino's critically-acclaimed Vietnam war epic is simply one of the most depressing movies ever made. In a good way. The Deer Hunter is about three friends who live in a small, industrial town in the heartland of America. After being drafted into the war and thrown into horrific circumstances, the three friends emerge completely broken—with a new outlook on their lives, their patriotism, and their ability to cope with trauma. I already mentioned John Cazale's passing in the Kramer V. Kramer section, but The Deer Hunter marks his final performance before his death in 1978.
The studio wanted to fire Cazale because of his illness but costar and romantic partner Meryl Streep allegedly threatened to leave the production if they didn't keep him in. The Deer Hunter's success has echoed throughout film history: renowned critic Roger Ebert called it "one of the best movies of the 1970s," it received nine Oscar nominations, five wins and it was placed into the Library of Congress in 1996 for preservation. We all remember the Russian Roulette scene, but next time you watch this classic, take another look at the final scene when they're all gathered around singing "God Bless America." You'll never hear the song quite the same again.
9. 'Watership Down'
The first and only animated movie on this list, Watership Down is the story of a young rabbit named Fiver who has a vision that his village is in danger and goes on a quest to find a new home for his people—a place called "Watership Down." On the way, they encounter hunters, dogs, and other creatures that wish for nothing but their failure. And there's a lot of death along the way. One YouTube user created a video compilation of all the deaths in Watership Down—there's sixty-two! That's more deaths than the Chucky and the Halloween series combined.
A pretty staggering number for a movie you could find in the Blockbuster's Kids section. As you can imagine, the nightmarish landscape of this movie combined with the heartbreak of watching characters we resonated with die in sad and tragic ways is a recipe for misery. In 2004, Total Film magazine ranked Watership Down #15 on the list of "100 Greatest Tearjerkers"— another sad, but must-watch on the list.
10. 'One Flew Over the Cuckoo's Nest'
Similar to The Deer Hunter, One Flew Over the Cuckoo's Nest holds the distinguished honor of being one of the tensest and heartbreaking movies ever made. The movie is about Randall McMurphy, a patient at a mental institution who, along with others, is brutalized and abused by the ruthless Nurse Ratched. Without giving too much away, it's one of those films where you're clenching your fists the entire time, just screaming in your head about how unfair and ridiculous the situation is—especially when you reach the end and see Randall's fate.
Jack Nicholson and Louise Fletcher's iconic performances as Randall McMurphy and Nurse Ratched helped elevate the film to be the first movie in 41 years to win all "Big Five" Oscars: Best Picture, Best Director, Best Actor, Best Actress, and Best Screenplay. It remains one of the longest theatrical runs in movie history. It ran regularly in Swedish theaters until 1987—11 years after its initial release. I guess Swedish people really like to cry. And I certainly did cry at the ending scene!
Well there it is, How many of these have you seen? Did any of them make you cry? What sad '70s flick did we leave off? Let us know down in the comments, we could always make a round 2!