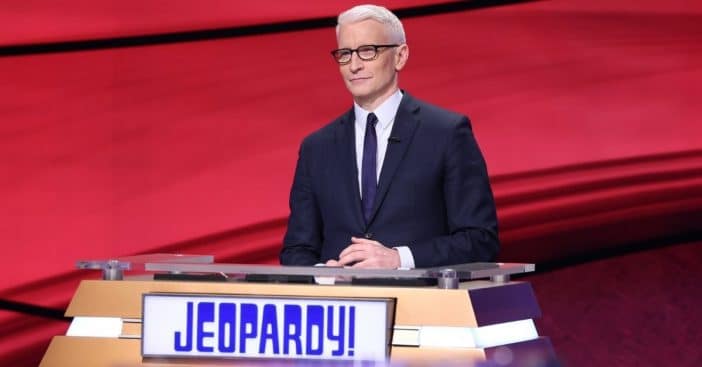 Since the final taped episode of Jeopardy! with Alex Trebek, the show has cycled through various guest hosts before a permanent replacement is chosen. Anderson Cooper's first week now has some ratings in and so far, they're the lowest the show has seen when run by guest hosts.
One popular indicator has the program behind Family Feud, backed by a Nielsen rating of 5.1. His week came during an eventful time for news coverage, which means a syndicated show like Jeopardy! would be affected by that. However, this is part of an overall trend visible since Trebek's death and Ken Jennings ended his cycle as guest host.
The ratings are in for Anderson Cooper's first week with 'Jeopardy!'
A total of $118,000 has been raised for @HASHaiti during @andersoncooper's first week as guest host. pic.twitter.com/dskJwJNgJY

— Jeopardy! (@Jeopardy) April 23, 2021
Jeopardy! executives anticipate announcing a permanent host before the show's next season starts taping in July or August. Until then, it's cycled through various TV, entertainment, and even sports personalities. That recently included CNN host Anderson Cooper, host of Anderson Cooper 360.
RELATED: 'Jeopardy!' Producer Addresses Continuing Question Of Who Will Be The Permanent Host
For all his experience on that network and show, however, The Wrap reported ratings reaching the lowest in the history of Jeopardy! guest hosting. These conclusions are based on rating information obtained by the news outlet. Entertainment Weekly noted that because the game show is syndicated, it airs at different times for different markets across the country. When the 24-hour news cycle focused entirely on breaking news updates from late April, that might tarnish ratings for any show. Indeed, some comments on YouTube show users admitting they missed the show because local stations were covering national breaking news at the time.
Sorting out the future
All this week while I am guest hosting, @Jeopardy is matching contestants' winnings and donating the money to @HASHaiti. The Hospital Albert Schweitzer is in a remote part of #Haiti and serves people who might not get treatment otherwise. Thanks Jeopardy! https://t.co/bK5u0Ipjuu pic.twitter.com/CkL5pFoxIe

— Anderson Cooper (@andersoncooper) April 21, 2021
Even so, Jeopardy! is still in second place behind Family Feud, a ranking that seemed locked in place with the controversial appointment of Dr. Oz as another guest host. Dr. Oz's ratings had been 5.2; before Anderson, those had been the lowest ratings Jeopardy! had seen in history.
The Wrap further reported that Ken Jennings is so far the highest-ranked guest host; his first week drew a score of 6.2 and his second week a score of 5.9. The only other close contenders were Aaron Rodgers of the Green Bay Packers and former Jeopardy! executive producer Mike Richards. On the week that ended on April 25, Anderson's host time made the show's rating fall 7%. Who have you enjoyed most as guest host?