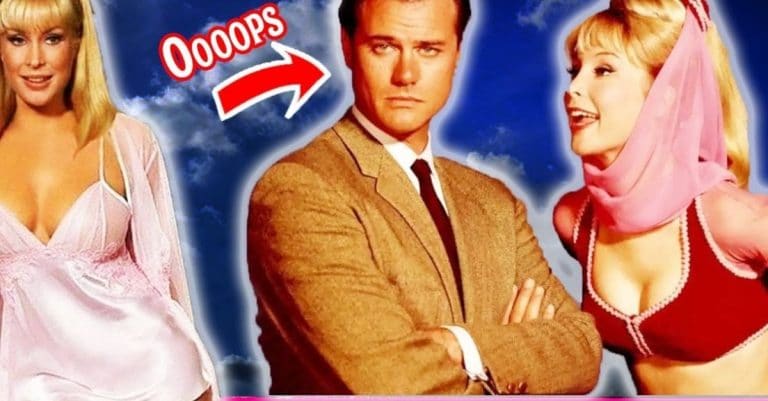 Ever wonder how all the magic happened in I Dream of Jeannie, or just what went on behind the scenes? "All I do is think and blink." But there's gotta be more than that, right?
This hit sitcom ran for five years from 1965 to 1970. Jeannie and the gang stole America's hearts from their first few episodes and left a hefty impact on sitcom culture. While fans may think they know all they need to about I Dream of Jeannie, there are a few secrets they won't believe.
Magical Inspiration
Everyone wants to find a wish-granting genie someday, but is it enough to make an entire show out of it? The inspiration behind I Dream of Jeannie can be attributed to the 1964 film, The Brass Bottle. In the film, an architect played by the odd Tony Randall buys an antique that just so happens to house a genie.
The genie wants nothing more than to thank his savior by doing favors, usually causing more harm than help. Sound familiar? Reviews of the film were not kind, but incredibly, Randalls' fiance in the film is played by the soon-to-be Jeannie, the lovely Barbara Eden. 
RELATED: 'I Dream Of Jeannie' Cast Then And Now 2021
The show's title was inspired by the 1854 parlor song Jeanie with the Light Brown Hair. Note, it is Jeanie with only one "n" and the song doesn't explicitly say anything about a magical wish-granter. However, the song does feature the line, "I dream of Jeanie with the light brown hair."
Here and Gone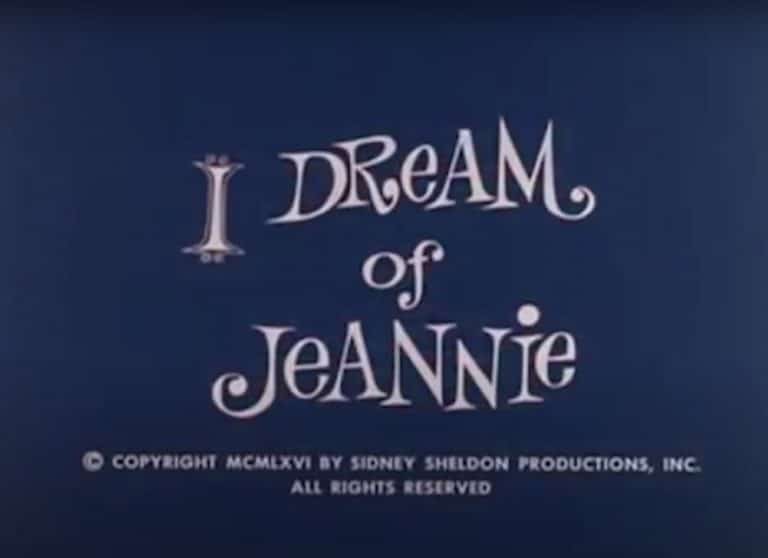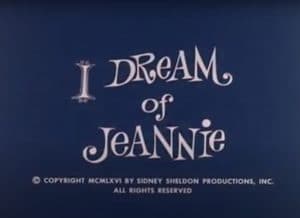 It only takes a few notes before you start humming that famous Jeannie opening theme song. But for however catchy that happy jingle is, it actually wasn't part of the show until season 2. For the first season, the intro floated between songs while the producers argued which one they liked best. 
While the theme song will live on forever, the set itself suffered a very definite conclusion— it was all burned to the ground. As dramatic as that sounds, it was actually pretty common. It cost too much money to support something that quite possibly would never be used again, so scorched earth made easy work of that. Although, don't look for any of its ashy remains in the Panhandle State. 1020 Palm Drive, Cocoa Beach was actually shot in Los Angeles, even the window views from Heally's office.
Cast Conflict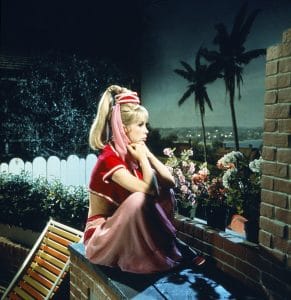 To avoid being confused with the already popular Samantha Stephens of Bewitched, I Dream of Jeannie producers really wanted their magical star to be a brunette. Lucky for us, no one stood out as Jeannie in auditions and they couldn't deny Barbara Eden was the best for the role. 
The studio brought her on and begged her to dye her hair but Eden refused. However, they did sort of get their wish when Eden played Jeannie's evil twin, complete with a green outfit and brown hair.
But Eden wasn't the only one facing an uphill battle. It's hard to believe, but master of slapstick and comedic timing Bill Daily had a hard time learning his lines. That's because he was actually dyslexic. Daily did find a perfect way to get around that though: by just making brilliant stuff up. Daily memorized what he could and winged the rest. 
Sadly, Larry Hagman had the worst battle of all. Behind the scenes, the actor battled anxiety, and his cure-all was alcohol. Hagman had big dreams, so playing a secondary character in a series was actually a nightmare for him. Eden revealed in her memoir that Hagman's day started with champagne, then a midday break to his trailer for marijuana and more champagne. 
With all he had going on, it was no surprise that Hagman needed a liver transplant in the '90s. He was reportedly often difficult to work with, voicing his criticism of the scripts, escalating to a near-nervous breakdown where he was simultaneously crying, vomiting, and defecating, all at the same time. Hagman said, "Even the wax from my ears was coming out. I was exploding." Therapy and experimental LSD were all vital in gaining control of his anxiety and drinking problem. 
The Genie's Out of the Bottle
Jeannie's bottle was originally an old Jim Beam whiskey decanter. At first, it didn't have much color or ornamentation on it, since the show was in black-and-white. But once it went to color, producers glammed the bottle up.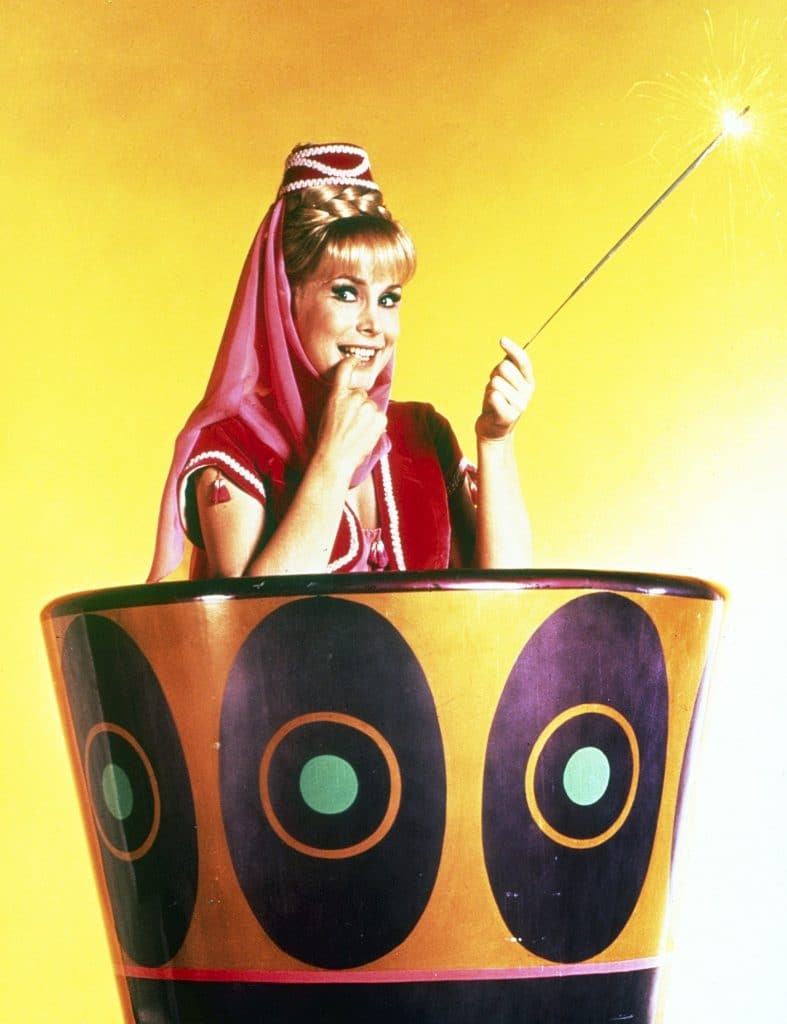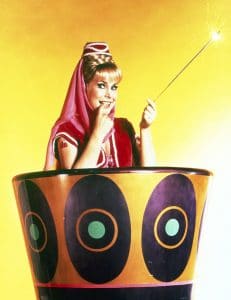 Barbara Eden actually owned the original genie bottle for several years. At first, she displayed it in her office, as you do, I have several genie bottles on my mantle. But once someone pointed out how it was the only one in existence, she stored it in a bank vault. She's since calmed on the paranoia and actually donated it as a piece of TV history to the Smithsonian. 
As for the interior of the bottle itself was made up of purple-pink velvet upholstery, brocade, satin, and glass jewels. Jeannie makes it look easy as 1-2-3 to get in it, but it actually took a lot of work It was built on a soundstage only reachable with an 8-foot ladder!
Mind the Censors
Jump back to the '60s, and a lot of things were no-gos for the precious eyes of the world. Not many people knew Barbara Eden was pregnant during most of season one. And the show couldn't have a magical, otherworldly genie with a baby bump, but even if she were human, they'd have to hide that stomach.
Even after the pregnancy, the show still had to be careful how they composed the shots. Because her outfit often revealed her midriff and that's all fine and dandy, but what is that? Is that a belly button? Absolutely not! So That's why Jeannie's pants were always hiked up just enough to cover her navel.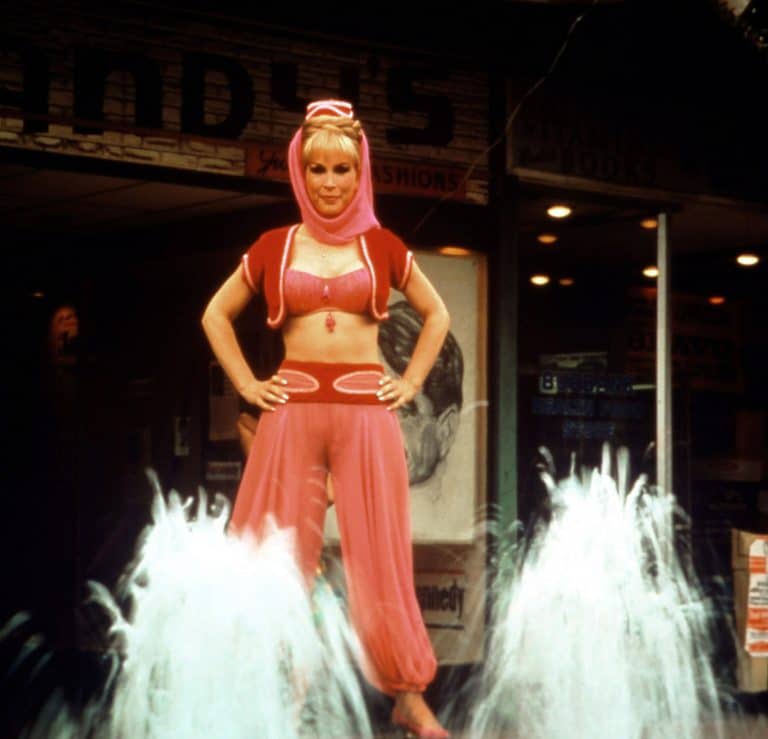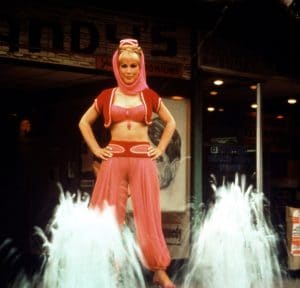 And don't expect to ever see any hint of how Tony and Jeannie would make a baby. They were barely allowed to be seen in their bedroom at all. The couple never sits on the bed together. In fact, the show usually adhered to restrictions by having Jeannie leave as soon as possible. Oh, the '60s.
Jeannie vs. Bewitched
Okay, let's talk about the elephant in the room. Samantha vs. Jeannie. Witch vs… well, genie. Jeannie had the misfortune of being released a year after, and the Bewitched team used this to often accuse the Jeannie showrunners of stealing ideas, plots, and even characters.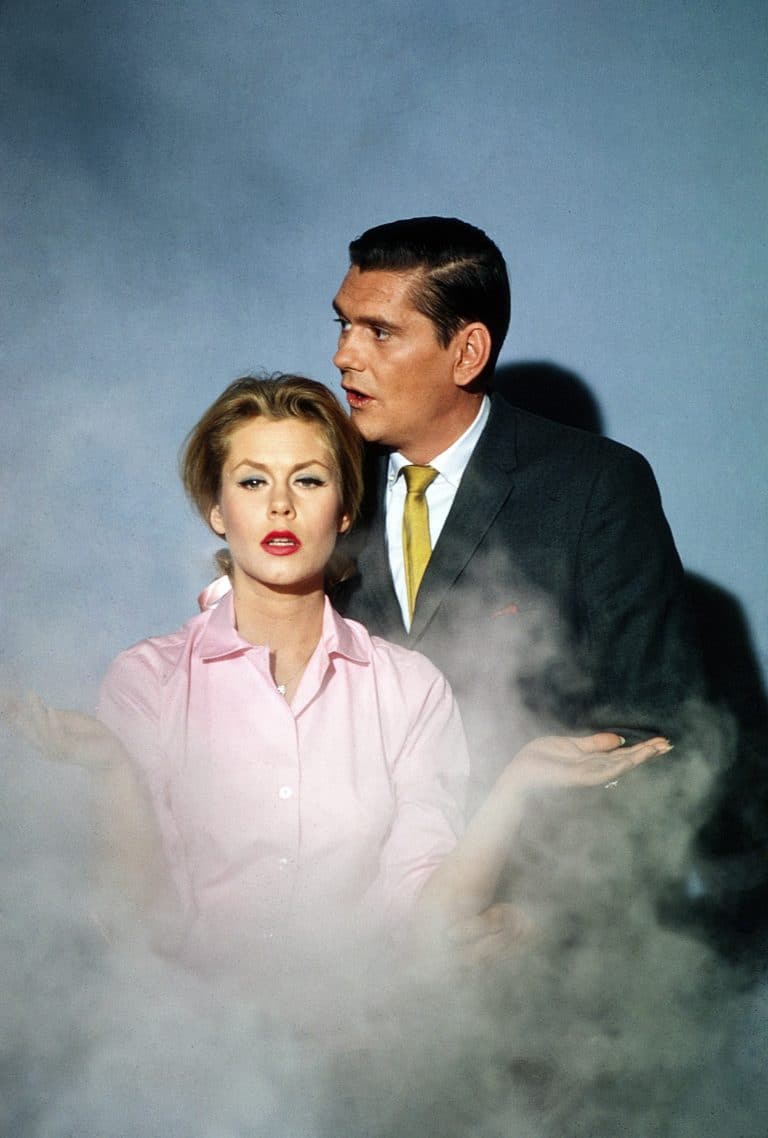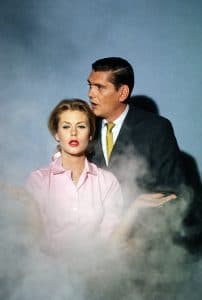 However, there was cause for concern. TV writer James S. Henerson was double-dipping, writing for both rival shows on rival networks at the same time. When the news broke, the I Dream of Jeannie staff fired him immediately.
There are plenty of similarities fans could point out. But one that fans always found funny was how both leading ladies had evil counterparts in a different color palette, and both times, the actresses just played that evil twin or cousin herself. 
Then, of course, there's the infamous Jeannie episode with a very special guest star. A chimpanzee, whose name was Sam—short for Samantha. Now, that's an act of war!
Making the Magic Happen
Let's start with the signature Jeannie entrance or exit smoke. When the show was black and white, they used dry ice and a fan to direct the plumes where they wanted. Working without color made things easy for the team, and that's why I Dream of Jeannie would be the last show broadcast in black and white.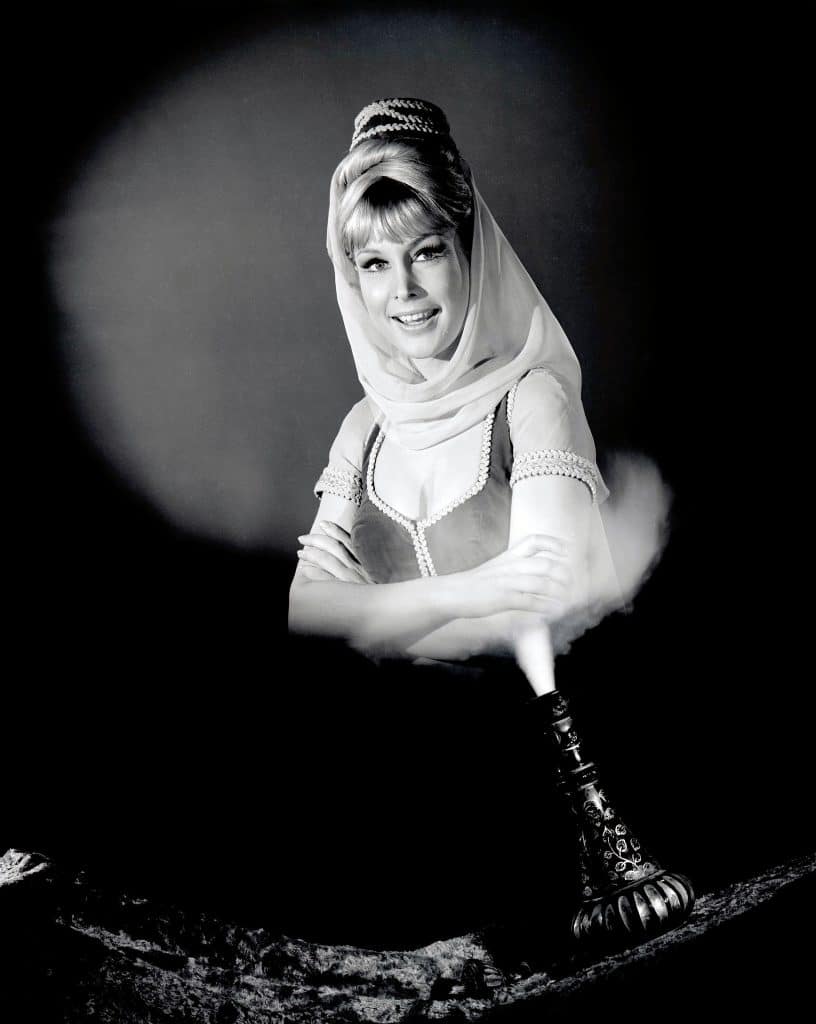 And the team figured out a new trick for Jeannie's smoke too, they started using colored lights to tint the dry ice. As for scenes when laundry folds itself, those shots were secured by attaching the clothes to puppet wire while an experienced handler moved around a catwalk above the set.
The Honeymoon's Over
One of the most divisive decisions in TV history is the marriage between Jeannie and Tony. The cast and fans both liked their relationship how it was. Leave it to network execs to intervene.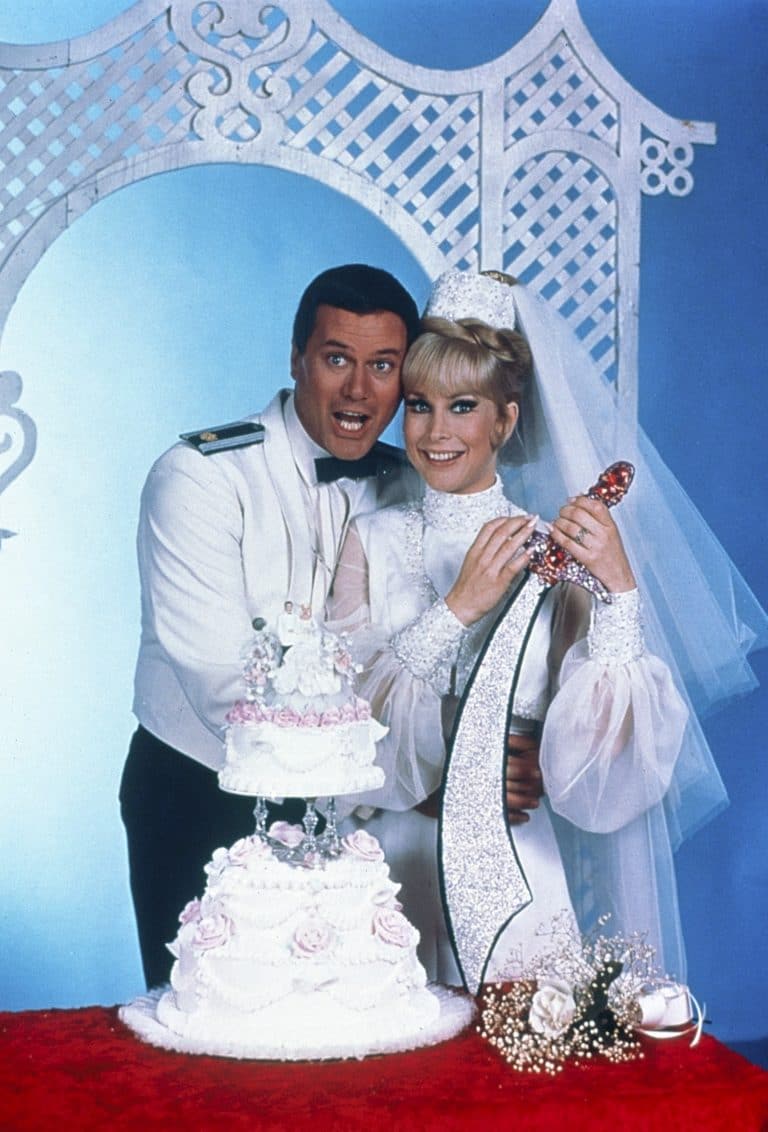 NBC launched a publicity stunt by hosting a fake wedding for Eden and Hagman, scheduled for one week before an actual wedding episode aired. TV writers from all over attended as guests at what was supposed to be a packed event. Instead, it ended as one of the most hated plot points of any show in the '60s.
One of the wedding's biggest opponents was Barbara Eden herself, who sensed that much of the show's attraction was the romantic tension between Tony and Jeannie. The show even broke its own lore by having a photographer take pictures of a genie who's supposed to be impossible to photograph. And right on cue after the wedding bells stilled, the show was canceled.
Magical Meetings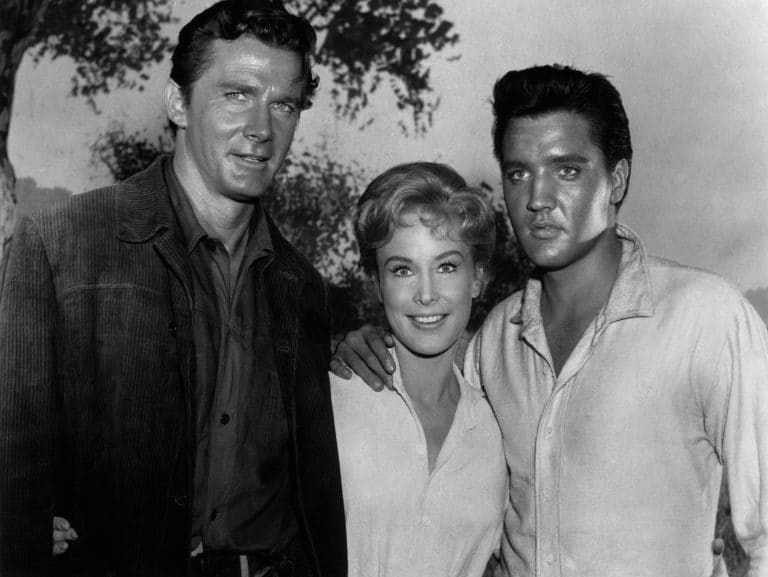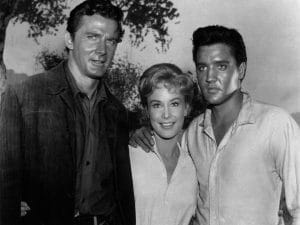 A genie and a king walk into a bar…oh, wait this is no joke, it actually happened! As Barbara Eden and Elvis Presley were both climbing the rungs of their own careers, they found themselves co-starring in 1960's Flaming Star. Eden first saw him on the Ed Sullivan Show and knew right away he was something special.
Flaming Star was one of Elvis's first projects after returning stateside from the Army. Eden was impressed by the King's ability to express what she called "emotional truth." He was fully transparent and the two bonded and became friends, even confidants. They both wrestled with body image issues and Eden even gave Elvis advice about this girl that he had eyes on. This was Priscilla.  
Additionally, the partnership between Eden and Hagman briefly parted ways before meeting again in Dallas. There, Hagman was the cunning, hateful J.R. Ewing. Hagman actually missed the I Dream of Jeannie reunion movie, busy with his despicable oil baron JR, but Eden was free long enough to have a brief arc with his character as Leann de la Vega. And, just for the fans, Ewing tells de la Vega, "You look familiar…" 
The show also owes a lot to NASA, as Tony is an astronaut. The cast actually went down to Florida and Eden helped launch a weather rocket while totally in costume. Then, they got to meet Buzz Aldrin for dinner, right before the Apollo 11 mission to the moon. Eden even kissed Aldrin on the cheek. Nothing like a little genie magic for good luck.
Fit as a Fiddle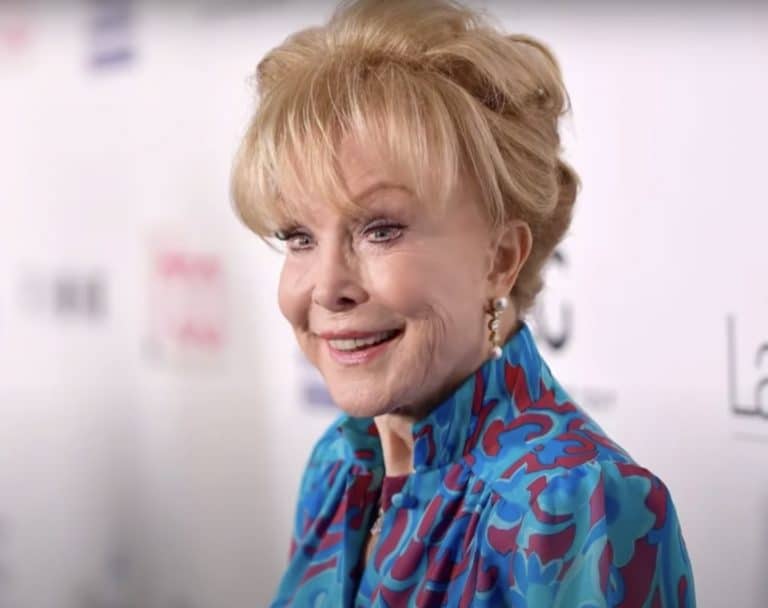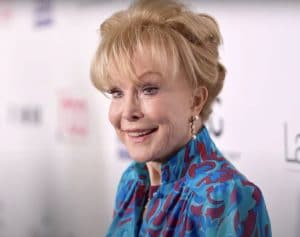 Today, Barbara Eden is 89, but really it could still be the '60s because not much has changed. She's still the beautiful genie we fell in love with— with the clothes to match. To this day, Eden can still fit into her original genie costume. Eden maintains her figure through a combination of weights, sit-ups, and cycling. She used to do spin classes, but a knee replacement surgery has put a damper on that.
While Eden can fit into her costume, there are just not many of those left. Firstly, Jeannie wore very sharp heels, and those heels caught the excess pant fabric quite frequently. The heels would tear through it like tissue paper. And if the costumes weren't shredded, they were shriveled. All that magic smoke made the pants shrink right up to her knee, so you can add that to all the things the camera couldn't show. 
That final fun fact set me free! There's a whole wide world of nostalgic shows outside my bottle. What's another favorite sitcom that we should dive into next? Is there any Jeannie Trivia that we may have missed?