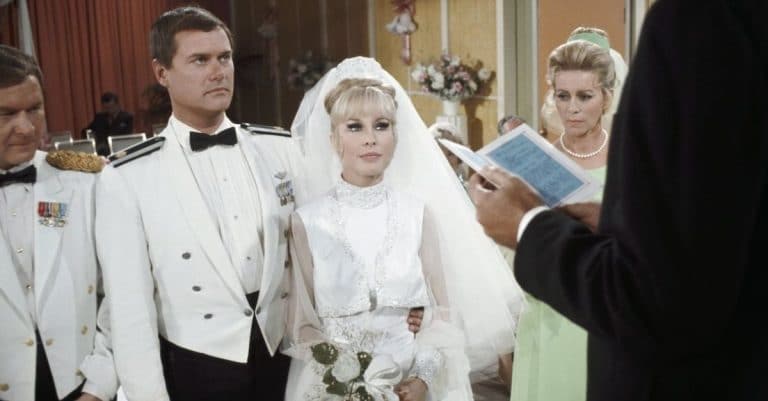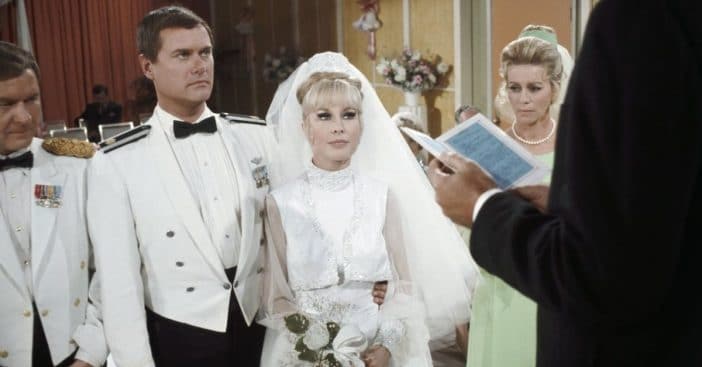 To this day, the in-show marriage between the genie Jeannie and her "master" Tony Nelson remains a divisive moment in the otherwise beloved sitcom's history. Even the actors disapproved of the move. Unfortunately, the network was very excited about the upcoming plotpoint, and so planned a publicity stunt in the form of a fake wedding between the actors Eden and Hagman.
Fake and real weddings ended up backfiring and yielding none of the support the executives anticipated or felt for the events. If anything, the choice made the plot point more disliked among critics; not only did they get married, they did so twice for I Dream of Jeannie.
The relationship between Jeannie and Tony
I Dream of Jeannie drew fans through multiple traits. It offered another fun blonde woman capable of actual magic, juxtaposed against a straight man as the supernatural causes all sorts of shenanigans. Jeannie is immediately portrayed as feeling indebted to Tony after he sets her free from her bottle. But having a genie isn't all it's cracked up to be, and magic ends up throwing things out of whack for Tony more often than not.
RELATED: Nine Details From 'I Dream Of Jeannie' That Fans Might Have Completely Missed
However, the two also fueled viewership ratings thanks to their "will they, won't they" dynamic throughout the show. Eden would later call this one of the show's greatest strengths. However, execs wanted something more. So, in season five, Tony has a realization he can't live without Jeannie and the two wed.
A failed publicity stunt so not nice, why do it twice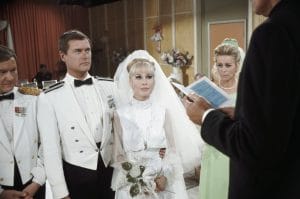 Marriage between Tony and Jeannie certainly had fans who had always seen them as being on equal footing, and thought marriage was the natural next step. But show creator Sidney Sheldon wanted to be on the record saying he hated the idea. "That would destroy the show, Mort," he'd assert to NBC's Mort Werner. "The fun of Jeannie is the sexual tension between Jeannie and her master. Once you marry them, that's gone. You have nothing to work with."
However, the network had its mind made up so much, it planned a publicity stunt in the form of a fake wedding between Hagman and Eden – or rather, their characters – a whole week before the actual planned wedding episode. TV writers from across the country were to flock to what was supposed to be a packed event. Instead, many reviews expressed hatred for both events, and the marriage decision overall.
On a sidenote, it also broke the show's own lore. A professional photographer arrives to take pictures of the happy couple, but genies aren't supposed to be able to show up on film. This would also be the episode that helped end I Dream of Jeannie, a fate Eden and Sheldon both reportedly predicted. Country Music Family attributes it to fans sensing the fake wedding was insincere. There would be no more tuning in, and the show was canceled shortly thereafter.