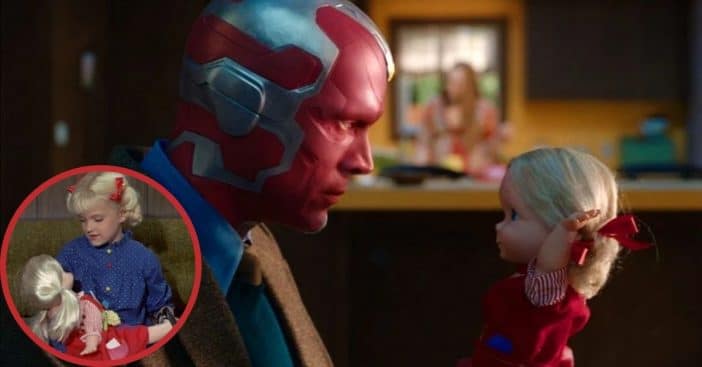 When a piece of media becomes a cornerstone of culture, it's easy to make clever references at varying levels of discretion. Other media doesn't even need to jump the shark to make a grand statement about past shows. See that? Marvel's latest installment into its sprawling connected universe, WandaVision, took this fact and ran with it with a very important item: Kitty Karry-All.
Just what is Kitty Karry-All from The Brady Bunch doing in the MCU? Well, even superheroes lead super lives in domestic ways. Potential fatherhood has one character, Vision, requiring some training. He takes a leaf from old home-ec classes and uses a training device rather than practice on a real baby. It just so happens that Kitty Karry-All comes with a lot of history behind her.
Rescuing Kitty Karry-All
In the first season of The Brady Bunch, Cindy owns a beloved children's doll. With her bright golden pigtails and colorful dress, Kitty really looked like part of the Brady family. Unfortunately, this member ended up spirited away. All suspicions fell on Bobby, a very vocal suspect who made sure everyone knew his disdain for the doll because, in an argument of unparalleled logic, he asserted her presence interfered with him playing the kazoo.
RELATED: Is The New Show 'WandaVision' Inspired By 'I Love Lucy?'
Bobby does get a trial, though. However, the Brady court system proves flawed as, later in the episode, the true perpetrator ends up being Tiger, the family dog. Tiger tries to take the second Kitty Karry-All (bought by Bobby) to his dog pen, and very nearly succeeds. But the Bradys, in hot pursuit, find the hiding place, where they unearth the original Kitty and Bobby's missing kazoo.
Rising from the ashes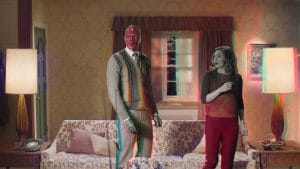 That could have been the last we'd see of Kitty Karry-All as Cindy gets the chance to once again tuck the baby doll into bed. But other people also appreciate the doll as a parenting tool. As a couple on Marvel's WandaVision, streaming on Disney+, Vision and Wanda end up as expecting parents. Episode three ends up making several references to The Brady Bunch right off the bat; in fact, much of the early stages of the show has a retro feel.
Viewers can spot overt ones like the colors of people's outfits and, most famously, a particular staircase. But CBR paid special attention to the blonde doll that becomes so essential to not only a visual gag but Vision's quest for fatherly competence. When it comes to stopping Thanos from snapping half of humanity, he had some valuable solutions on hand already. But changing a diaper? That required a bit more training. Meanwhile, Wanda echoes other older TV shows like Bewitched and I Love Lucy by conveniently standing behind objects strategically placed to hide her baby bump. Decades ago, women simply did not appear on TV overtly pregnant. What other references can be found in this surprise hit?