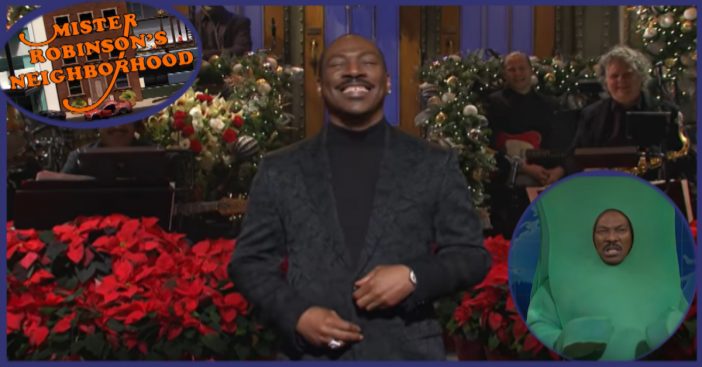 Eddie Murphy hosts and graces the Saturday Night Live stage for the first time since 1984. It was the first time since 1983 that you could've seen a Star Wars movie on Friday night and follow it up with an Eddie Murphy-led SNL on Saturday! His presence definitely had an impact, as the show seemed to sparkle with energy missing in the more recent seasons. The famed actor and former SNL cast member, returned to peak form after a 35 year hiatus from the Lorne Michaels' created comedy show.
Eddie Murphy's opening monologue was forced to address the changing of the times and stark contrasts in how he and his SNL characters have 'aged'. Specifically, he's speaking about Bill Cosby. "It's great to be back here finally hosting 'Saturday Night Live' for Christmas," Murphy exclaimed. "This is the last episode of 2019, but if you're black this is the first episode since I left back in 1984."
Some friends stopped by Eddie Murphy's monologue. #SNL pic.twitter.com/zUR8nnh3NJ

— Saturday Night Live – SNL (@nbcsnl) December 22, 2019

Murphy continues, "If you would have told me 30 years ago that I would be this boring, stay-at-home house dad and Bill Cosby would be in jail … I would have took that bet."
RELATED: Adam Sandler Honors Chris Farley With A Touching Song On 'SNL'
Eddie Murphy thankfully revived some of our favorite sketches of all-time, given life by his brilliant character-work. 'Mr. Robinson's Neighborhood 2019′ was perhaps the highlight, as Murphy revives his play on Mr. Rogers.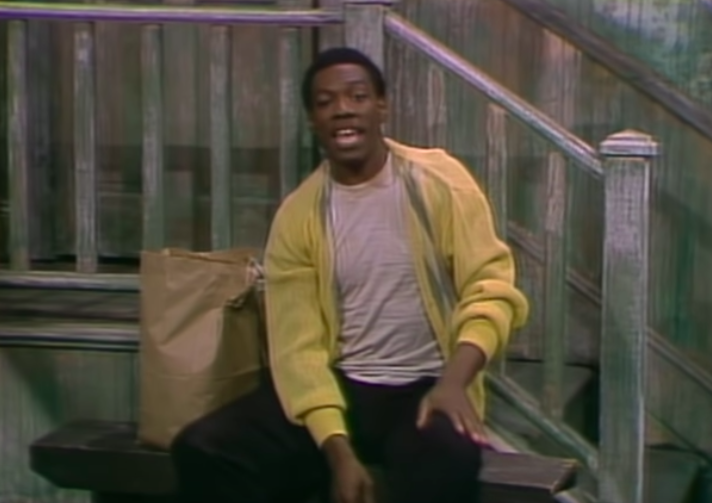 The character seemed to lose no allure over the years, Mr. Robinson is still a gift to the SNL stage. 
Other highlights from Murphy's Host of SNL
"I'm Gumby, damn it," Murphy as Gumby yelled. Of course Eddie couldn't return to SNL without tackling everyone's favorite green character, no not Shrek, Gumby! During the 'Weekend Update' segment of the show, Gumby made his appearance.
"What am I doing here? The question, Michael Che, is how the hell are you going to put on a show and not have me in the show until now," Gumby yelled. "I should've been in every damn sketch!" We agree, Gumby, we agree.
Another one of our favorites from the 1980's SNL realm, is Eddie Murphy as Buckwheat, the popular character from The Little Rascals. The skit below may or may not feature Buckwheat.
You'll see what I mean when you watch it!
One Holiday Sketch to Round it Out
As this was the Christmas Episode, I was glad to see a quality Christmas Sketch in the mix. 'Home For The Holidays' deserves a watch as it is quite funny. This entire episode seemed to harness a little bit of '80s magic that was prevalent in those solid years.
RELATED: Actor Bill Murray Reveals He Applied For A Job At P.F. Chang's