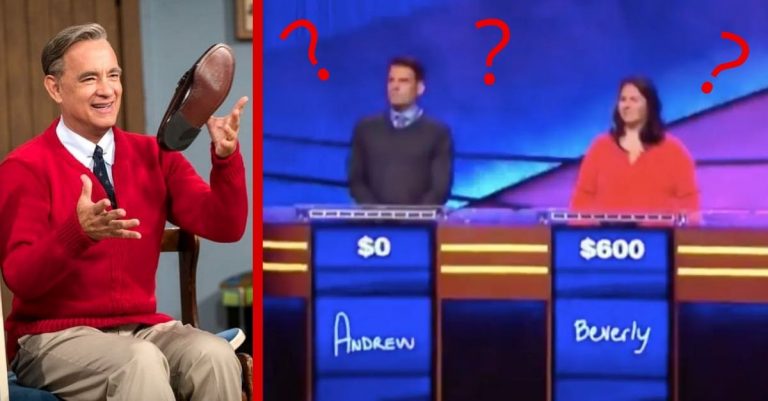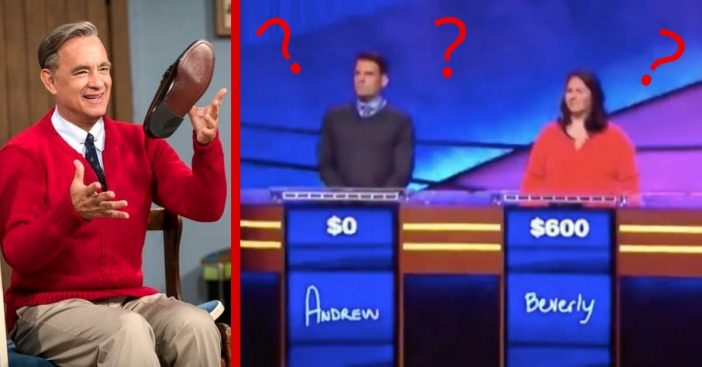 When you're in as many classic, eternally beloved movies as Tom Hanks, you get used to seeing yourself on TV. So when Jimmy Kimmel showed him a Jeopardy! clip involving Tom Hanks as Mr. Rogers, Hanks was not surprised. What did surprise him, however, was when Jeopardy! contestant Beverly could not identify Hanks as the actor starring in the latest Hanks movie.
The 63-year-old actor sat down on Jimmy Kimmel Live!, where he got to see contestants show off their movie trivia knowledge. In this case, though, the answer to that particular question eluded the contestant. Hanks watched as a clip of him played for Beverly to guess the actor. He witnessed his latest performance be met with no recognition. Tom Hanks took it in stride, though appeared stunned and feigned indignation.
A Jeopardy! question about Tom Hanks never got an answer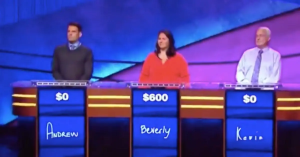 Beverly selected the "Biopics" category. Alex Trebek showed the contestants a clip of Tom Hanks in A Beautiful Day in the Neighborhood. That job done, Trebek then asked, "In A Beautiful Day in the Neighborhood, beloved children's TV show host Mr. Rogers is played by this beloved actor…"
RELATED: 'A Beautiful Day In The Neighborhood' Survey Says
Nobody but Beverly buzzed in. But when she did buzz in, she had no answer. Alex Trebek allowed a moment to pass with no answer before moving on. "The film opens Friday. That's Tom Hanks. Not quickly enough, Beverly," Trebek told her. The Jeopardy! host, already met with renewed attention because of his cancer battle, continued on after that shocking hiccup.
Some concerns were eased, while others were raised
Hanks, after seeing the clip, was quick to get in some witty comments about the incident. "They didn't even have any wrong suggestions? Bing, Woody Harrelson? Bing, Mahershala Ali?" he joked. He added, "What was the name of the category? Washed up career choices for 800? Bad casting for 1000, Alex?" Kimmel offered some support that is consistent with speculation about why Hanks' career is just too good for more awards. "I look at it as you inhabited that character so beautifully," Kimmel explained, "that even they were absorbed instantaneously."
Hanks accepted that explanation, adding, "I think actually they were blinded by the red sweater. They couldn't make anything out." He did, however, have more feedback from the clip. "I disliked that when it got announced it was characterized as [a biopic]. It's really not," Hanks previously said of the flick. "It's a movie that's largely focused on a reporter and [Mr. Rogers'] relationship to his life, and how [the reporter's] whole world changes when coming in contact with Fred Rogers."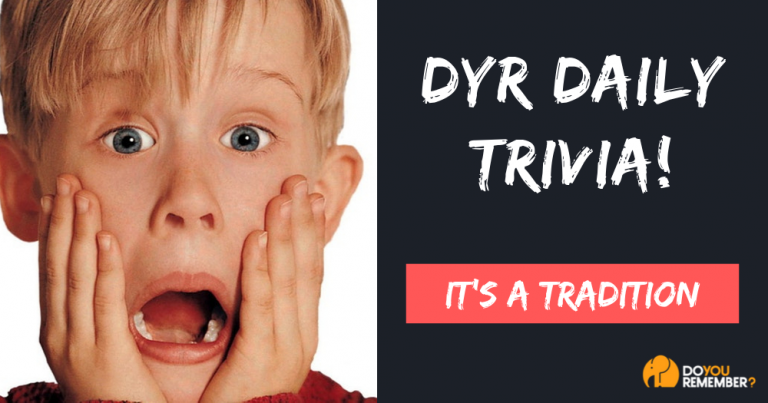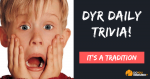 [dyr on_similar slug="stories"]