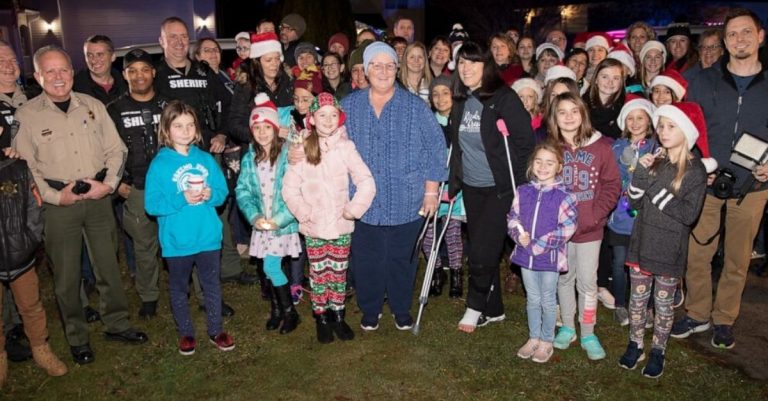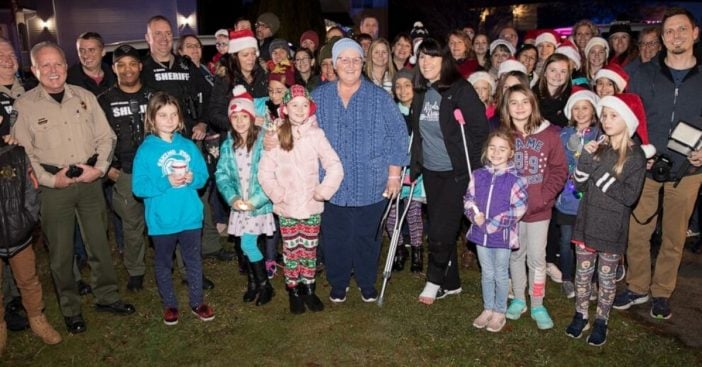 Laurie Burpee is a 2nd-grade teacher in Vancouver, Washington. Laurie receives a diagnosis of cancer earlier this year, which doctors originally think is breast cancer. It is actually a rare salivary gland cancer located in one of her breasts. Well, recently, one night she was resting up before chemotherapy treatment. That was when she saw a light and "little Santa hats" in her front yard.
"I thought there are kids out there and then I thought, there are a lot of kids out there," she tells Good Morning America. "When I went to the door and saw they were kids from school, the tears started to flow." On Laurie's lawn, there were about 30 kids from the school singing Christmas carols for their teacher. She had been on medical leave since October.
Laurie Burpee is a source of inspiration for everyone around her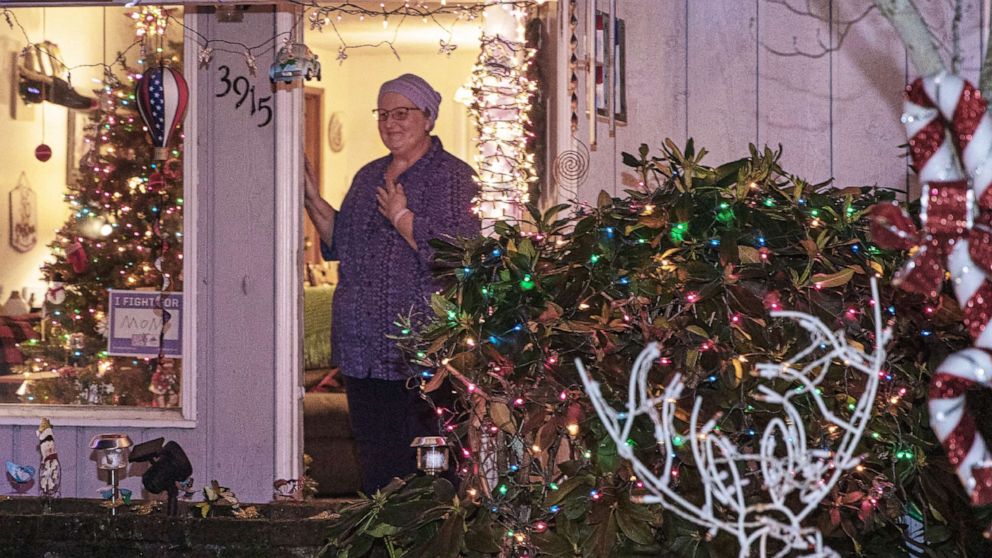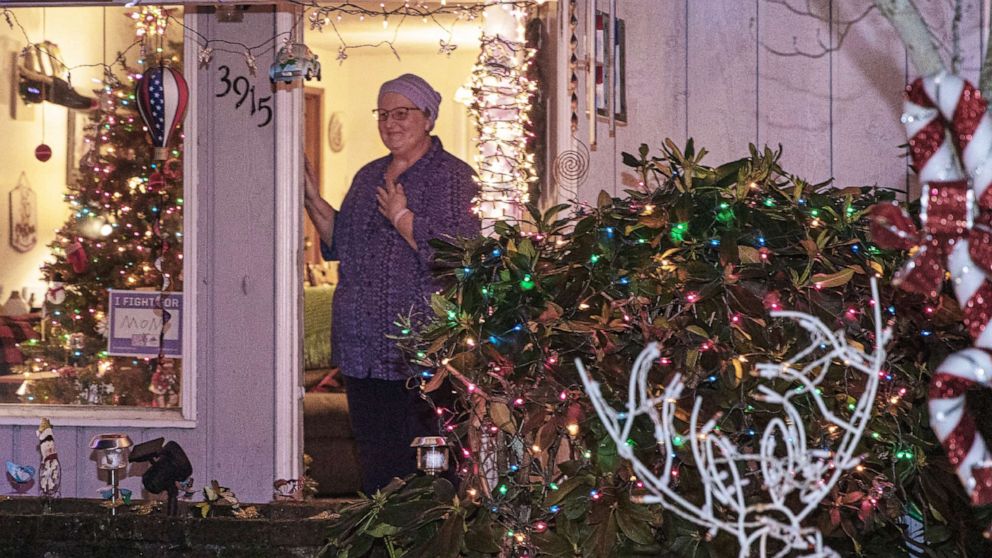 Following Laurie's cancer diagnosis, she would undergo six rounds of radiation. She just completed her third round of chemo and says that she is still hopeful to beat this cancer which has metastasized to her lungs. Upon going on medical leave, she would leave behind 20 of her 2nd-grade students. But, she is remembered there for her kindness and compassion.
RELATED: Teen Will Come Home Cancer-Free For Christmas After Being In Hospital For 500+ Days
The elementary school has launched a kindness project in Laurie's honor. The project was inspired by Laurie's own tradition of organizing a day of random acts of kindness for her birthday each year. One of the parents would create a Facebook page for people to share random acts of kindness. Additionally, the York Elementary classrooms also have signs where both teachers and students can keep a tally of their acts of kindness. This also gives way to inspiration and ideas that others can use for their own acts of kindness, like a domino effect.
Issuing a 'Kindness 911' citation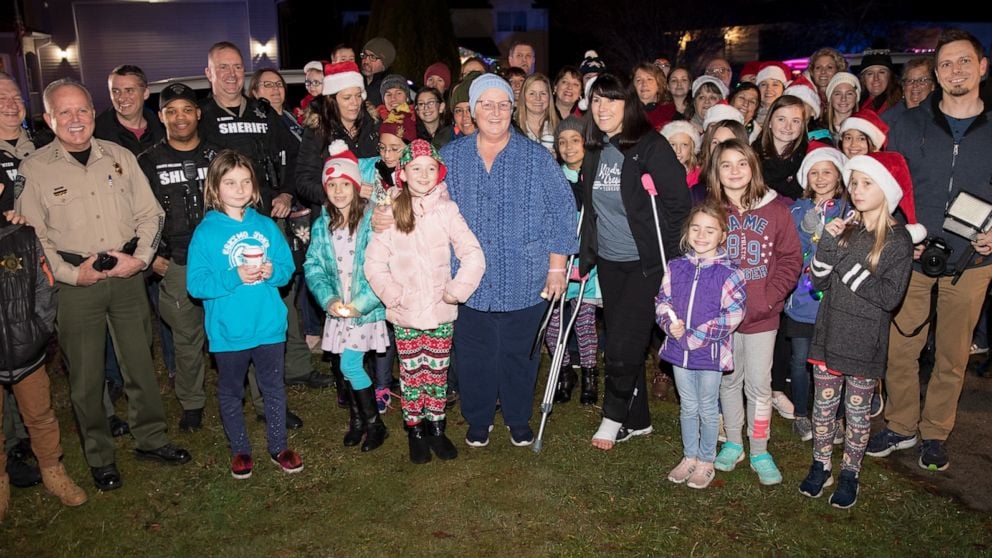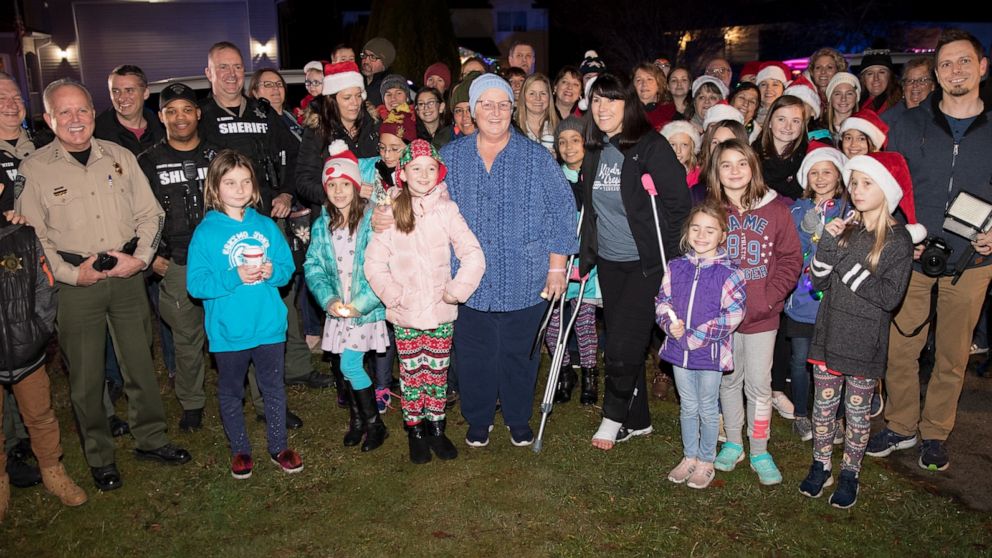 York Elementary principal Dawn Harris speaks very fondly of Laurie. "She's just this loving heart," Dawn says. "She reminds us that we need to show kindness every day … and we're continuing to live that in our building because of her." Dawn actually helped in organizing this Christmas caroling event. As Laurie walks out of her house to witness the kids singing to her, police cars began racing down her street. She had no idea what was going to happen!
"I went into teacher mode, thinking, oh no, something is happening and I'm going to need to put all these kids in my house," Laurie says. Police were actually arriving to hand Laurie a 'kindness 911 citation.'
The citation read:
"You are the embodiment of kindness and have a positive impact on every person you know … and many you don't know. Thank you for being an example of kindness, compassion and goodwill. Even when faced with overwhelming circumstances you are a light. Thank you for your commitment to your students and your York Elementary family. May this night remind you that you are never alone and we look forward to walking with you through your metamorphosis where you will most definitely be a beautiful butterfly."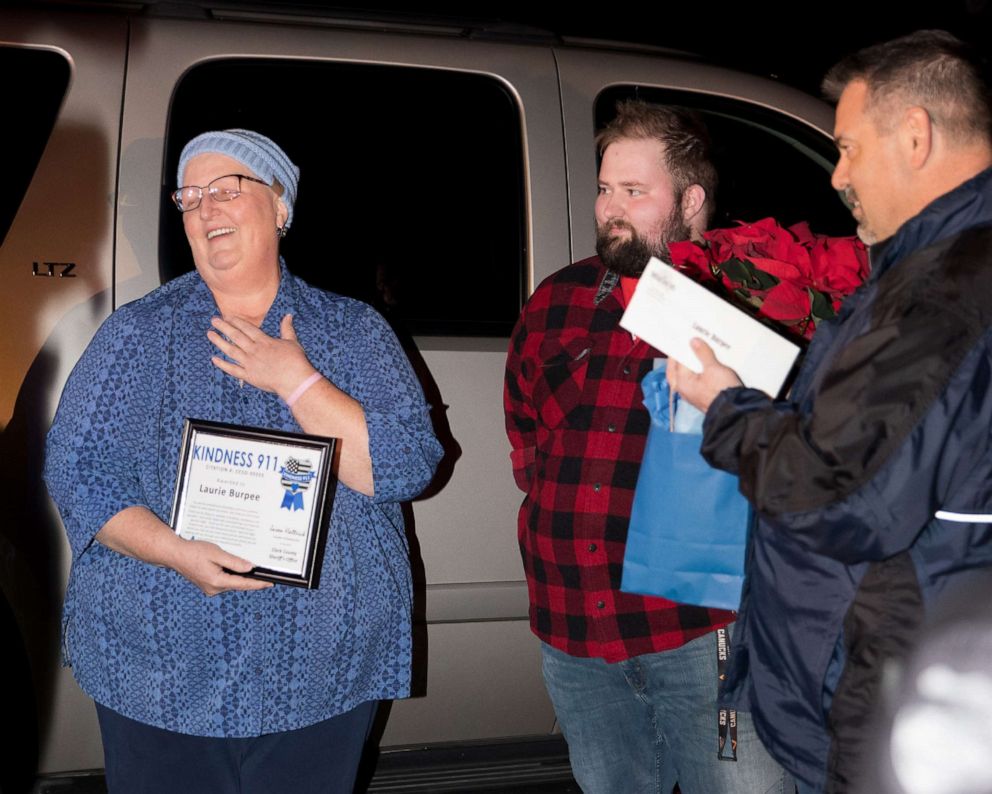 Kindness 911 is a nonprofit organization that partners with police departments in order to recognize the kind people in their communities. About five police officers, including the county sheriff, showed up to issue the kindness citation. They also gifted her VIP tickets to a Seattle Mariners game and tickets to a nearby concert venue. "It was just overwhelming but what a wonderful, wonderful, surprise," Laurie says. But, she needs to lend credit where it's due. "The best part was the kids. I miss those kids so much and I miss my colleagues."
What an absolutely beautiful story. Check out some footage below from the event!