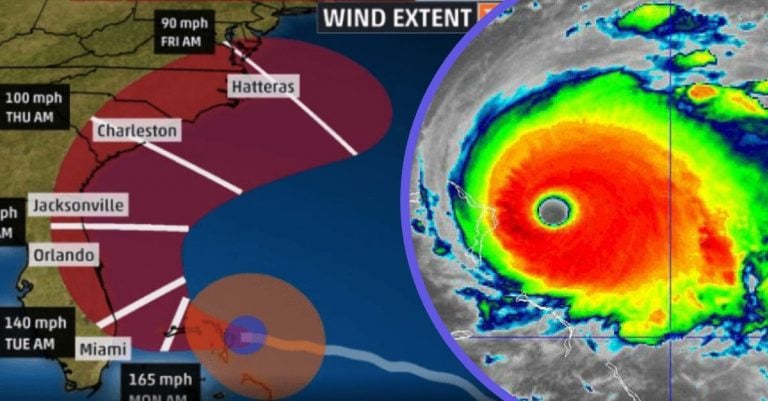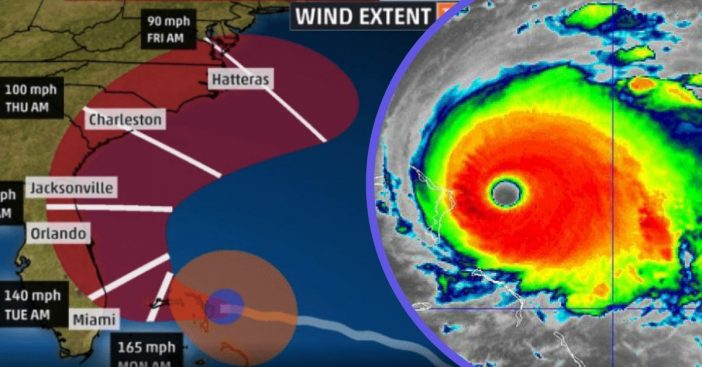 NHC 5 AM EDT: Outlook "Hurricane will move dangerously close to the Florida east coast tonight through Wednesday evening"

National Hurricane Center Issues Update 4 AM EDT September 2nd: "Dorian Drifting Westward" The Category 5 storm hits the Bahamas with devastating force.

Dorian is impacting is pathway with winds of 185 mph and gusts up to 220 mph.

It has become a historic storm as part of hurricane history, as it is now the strongest hurricane on record for the northwestern Bahamas. 
The National Hurricane Center issued an update at 4 AM EDT early this morning of September 2nd. Along with news on Hurricane Dorian's direction, the NHC states, "PARTS OF GRAND BAHAMA ISLAND BEING LASHED INCESSANTLY WITH DESTRUCTIVE HURRICANE-FORCE WINDS" and further warns "This is a life-threatening situation. Residents on Grand Bahama Island should not leave their shelter when the eye passes over, as winds will rapidly increase on the other side of the eye. Residents in the Abacos should continue to stay in their shelter until conditions subside later today.". Visit the NHC website for more coverage and we will continue to keep you updated on this massive storm.
Massive Destruction In The Bahamas
Weather experts have been keeping a very close eye on Hurricane Dorian. Well, the unpredictable storm has truly exceeded the expectations of those weather experts. Dorian has become a massive Category 5 storm, with maximum sustained winds of 185 mph and gusts up to 220 mph.
This is the strongest hurricane on record for the northwestern Bahamas, who are experiencing the life-threatening effects of Dorian as we speak. While the path for Dorian has changed many times, Florida is not out of the dark yet.
Dorian Updated To Catastrophic Category 5 storm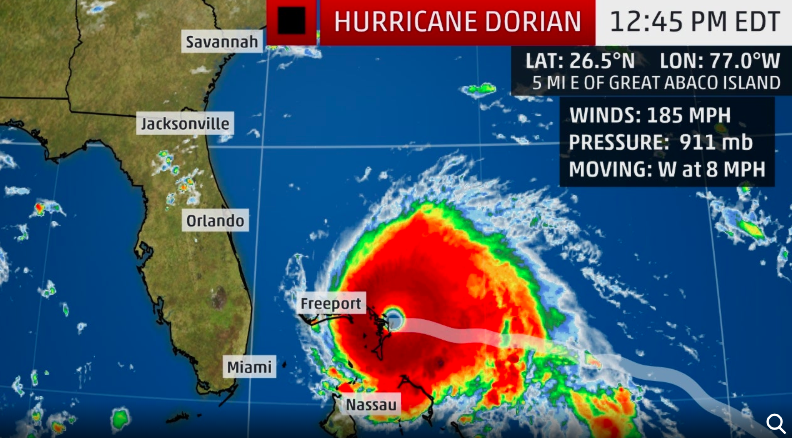 According to The Weather Channel, hurricane watches are now being issued for portions of Florida's eastern coastline. Meanwhile, warnings are already out for much of the northwestern Bahamas, including Freeport, Grand Bahama, and Nassau, New Providence Island.
Portions of eastern Florida are under tropical storm warnings (in contrast to hurricane watches or warnings). However, many parts of the coastline and inland may experience hurricane-force winds and storm surge.
Watches and warnings are out now; Know Your Zone!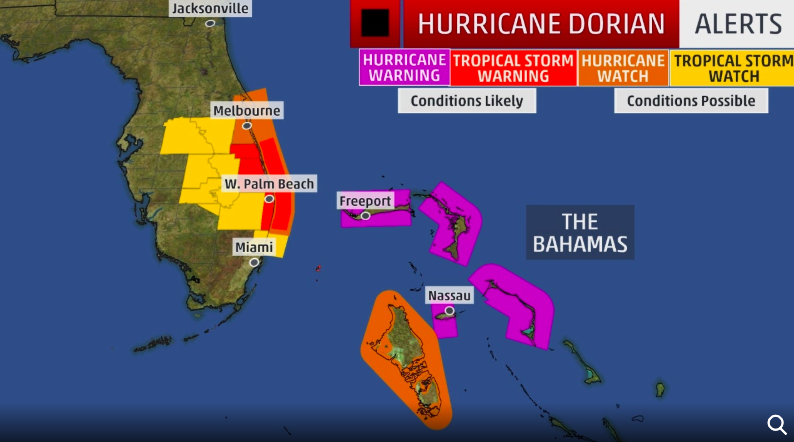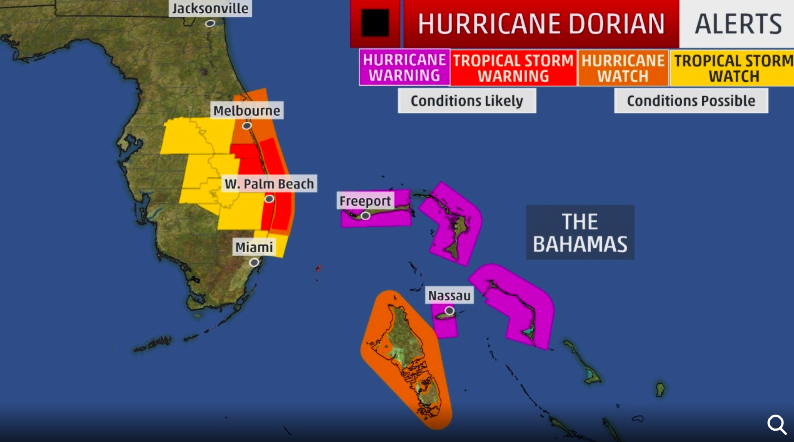 The reason why this storm is so historic is because of how unpredictable its path has been. What started as a small tropical invest in the far Atlantic basin has transformed into an absolute behemoth. At the very least, weather experts were predicting Dorian would slam into Florida as a Category 1. For reference, a Category 1 is 2 notches down from a major hurricane.
As a result, it's evident that meteorologists were not expecting Dorian to transform into a Category 5 with such destructive wind power.
Dorian is already making disastrous landfall – Watch The Video Below
https://twitter.com/BNONews/status/1168211742960365569
As mentioned previously, Florida is not out of the dark yet. Storm experts highly urge Floridians to not let their guard down. For instance, when Dorian strikes the sunshine state, it is still likely to be a massive Category 3 or 4 storm. Those who are being affected by the storm's path should heed safety precautions or evacuations.
All areas as of right now that have a high-risk of experiencing the life-threatening hurricane include Florida, Georgia, South Carolina, North Carolina, and southeast Virginia.
Check your local weather for more updates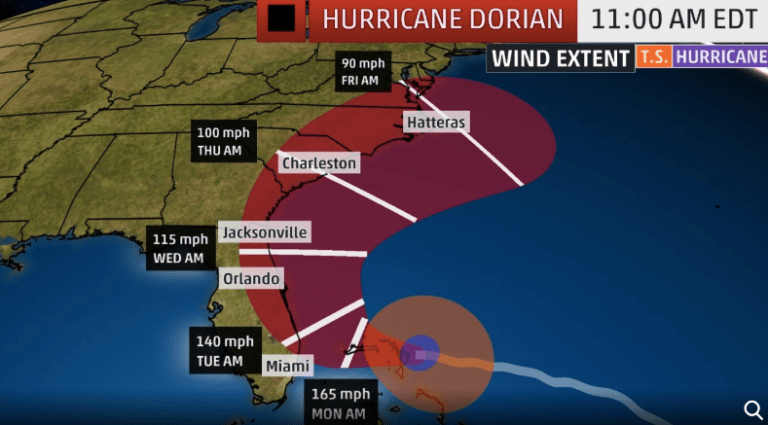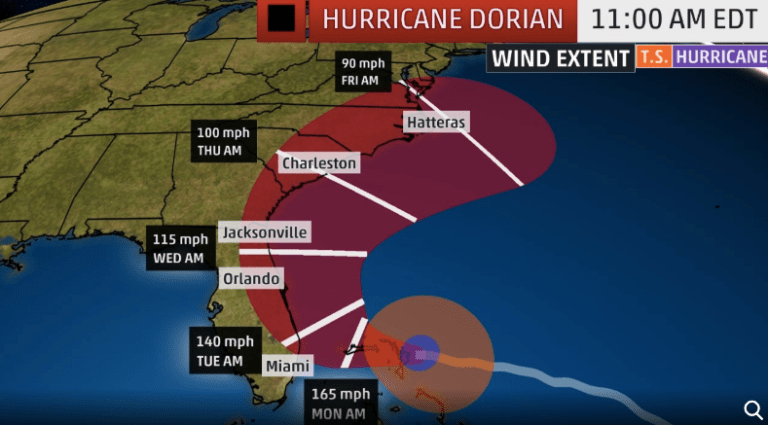 In conclusion, if you are set to experience the effects of this storm, please do not take it lightly. Moreover, if you have evacuation notices, please make the best decision for yourself and your safety. Lastly, check your local weather listings for the latest updates in your area, and stay safe!
Stay up to date with everything Hurricane Dorian in this live stream coverage below.