We recently reported that Hurricane Florence, whose path was uncertain at the start, had grown from a tropical storm to a Category 1 hurricane. Meteorologists were toying with different pathways for Florence, stating that while the southeastern panhandle was likely, it was also possible that Florence could curve upwards and hit the northeast or just move back into the Atlantic basin and dissolve there.
It has now been reported by The National Weather Service that Florence has become a Major Category 4 Hurricane, with winds in excess of 130 mph. It is moving west at about 13 mph. It appears that winds may decrease to about 100 mph by landfall, but much of the southern coast is still at great risk for storm surge and flooding.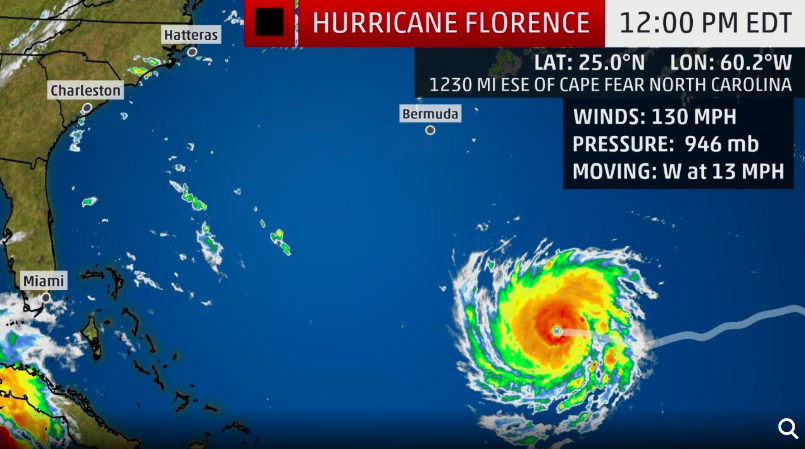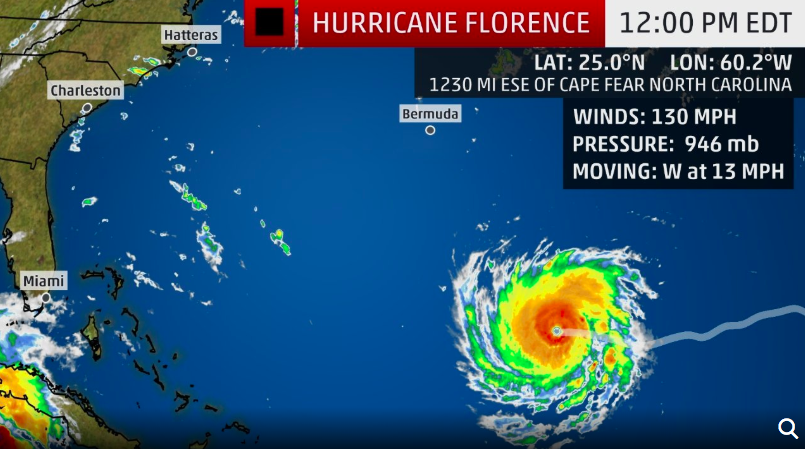 The Weather Channel has just reported that Florence had intensified from a Category 2 to a Category 4 within mere hours, proving the severity of this storm. With the onset of Florence, much of the Carolinas are under a state of emergency and will be under a mandatory evacuation beginning today. Residents have been taking to supermarkets and home improvement stores to prepare, but managers at these locations have claimed their shelves are already wiped clean.
"We're out of generators, out of gas cans, almost out of water," says Gretchen Sankovich, operations manager at one of the Home Depot locations in South Carolina, "Plywood and particle board are flying off the shelves."
Graphic and take away points from @NWSWakefieldVA
#Florence pic.twitter.com/gaM8JA6CRf

— Jim Cantore (@JimCantore) September 10, 2018
One of the biggest life-threatening issues that the southeastern coast will experience is flooding provoked by massive rainfall amounts. Hawaii experienced this with the onset of Hurricane Norman. The rainfall total potential is nearing a foot of rain or more, according to WRAL. While large amounts of rainfall are expected towards the coastline, the rain is actually predicted to linger on inland.
@weatherchannel The bread is gone at Sam's club in Wake Forest as folks are gearing up for Hurricane Florence. pic.twitter.com/d4Cy5L47kj

— Matthew Daniel (@matthewdaniel34) September 9, 2018
The areas of primary impact include all areas along the southeastern coast in addition to upwards of the mid-Atlantic areas. It is recommended that residents avoid beach areas as wave heights could amount to 30′ high. With this being said, downed trees and power outages are highly likely with this storm. Furthermore, a powerfully destructive storm surge potential is high among the areas to the north of the center of the eye.
All evacuation notices must be followed.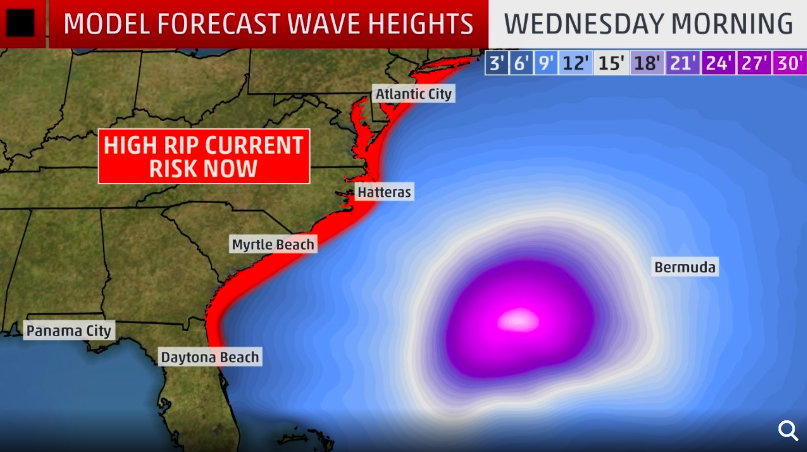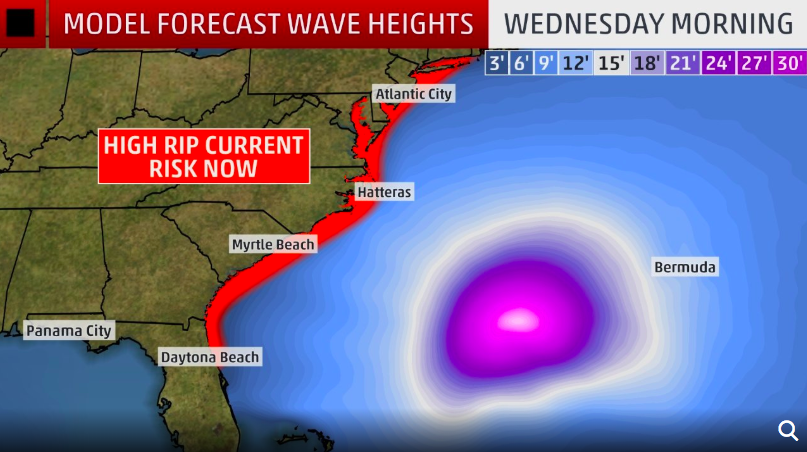 It is expected to make landfall on Thursday, September 13th. There will be more updates to follow as Florence continues its path towards the southeastern coast.
For those wondering which states will be impacted by Hurricane Florence, it is predicted that the hurricane will first hit North Carolina and South Carolina. Those states in the Southeast, such as Florida and Georgia will see some form of impact from the storm. Maryland and Virginia are also expected to be hit and even Northeast states like New Jersey, Pennsylvania, and New York are being warned to prepare for heavier rainfalls.
Follow more updates on the impending hurricane on the next page…