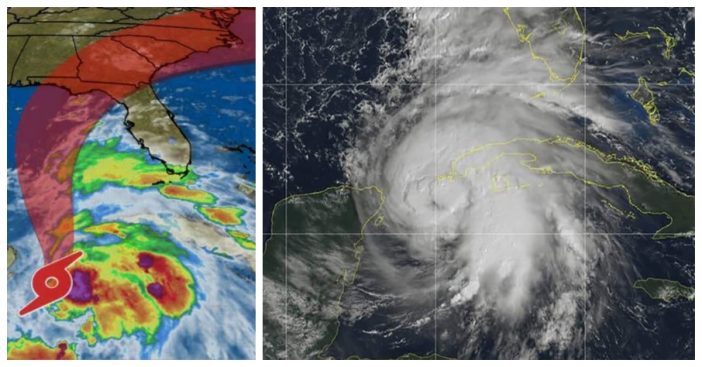 As we began reporting on this storm Monday morning, the Tropical Storm Michael has strengthened from a Category 1 storm with winds in excess of 75 mph to now a Catagory 3 Hurricane. It is expected to make landfall Wednesday morning, October 10th as the strongest tropical storm to reach the Continental US in more than a year.
UPDATE: Wednesday, 10:20 am EST
In an unprecedented turn of events, it appears that Michael has intensified into a Major Category 4 Hurricane overnight with winds in excess of 145mph. Michael will now be deemed the strongest hurricane to ever hit the Florida Panhandle in records dating back to 1851. According to The Weather Channel, Florida's Gulf Coast has never experienced a Category 4+ hurricane.
#Hurricane #Michael is now forecast by the National Hurricane Center to reach Category 4 strength as it heads towards the Florida Panhandle. 0 Category 4-5 hurricanes on record (since 1851) have made landfall in the Florida Panhandle. pic.twitter.com/WwKSWY8FHf

— Philip Klotzbach (@philklotzbach) October 10, 2018
Catastrophic storm-surge flooding is highly likely with this storm, in addition to power outages and destructive winds. Rainfall has already moved into the Florida Panhandle with full impact expected to be sometime mid to late Wednesday.
The National Weather Service in Tallahassee has urged residents late last night to get out or seek proper shelter while they still can, as the storm is just hours away from making landfall.
If you live along the coast and were told to evacuate…this is YOUR LAST CHANCE. Hurricane Michael is an unprecedented event and cannot be compared to any of our previous events. Do not risk your life, leave NOW if you were told to do so. pic.twitter.com/Ns6XoH6Thz

— NWS Tallahassee (@NWSTallahassee) October 10, 2018
UPDATE: Tuesday 9 pm EST
The National Weather Service has provided the following warning in light of Michael's impending landfall: "Major Hurricane Michael is forecast to make landfall in the FL Panhandle on Wednesday. Life-threatening storm surge expected along the Panhandle, Big Bend and Nature Coast. Very dangerous winds are expected along the coast, and hurricane-force winds will be felt far inland, including parts of GA and AL. Heavy rainfall is likely to cause inland flash flooding. Tornadoes are also possible." Check back here for continued updates from the National Weather Service.
Hurricane #Michael Advisory 14: Dangerous Hurricane Michael Continues to Strengthen. Life-Threatening Storm Surge. https://t.co/VqHn0uj6EM

— National Hurricane Center (@NHC_Atlantic) October 10, 2018
UPDATE: Tuesday Morning with Florida Gov. Rick Scott
"The potential of 12 feet of storm surge in some areas is just deadly," Florida Gov. Rick Scott tells @RobinRoberts on @GMA as #HurricaneMichael continues to strengthen. https://t.co/9eCMTA3krl pic.twitter.com/KG3T0HdEU1

— ABC News (@ABC) October 9, 2018
——————————————————————————————
As of Monday morning, Tropical Storm Michael has strengthened into a Category 1 storm with winds in excess of 75 mph. It is now moving north at 7 mph as a slow-moving storm at the current moment. Its current path is expected to slam into the northern Gulf Coast of Florida and is expected to move into other parts of the Southeast and possibly up into the Northeastern part of the United States.
Hurricane watches and storm surge watches have been issued along the Gulf Coast of Florida. Additionally, mandatory evacuations have been issued by Governor Rick Scott. It is expected to make landfall as a major Category 3 storm.
#Hurricane #Michael is strengthening as it sets its sights on the northeast Gulf Coast. Dangerous wind, storm surge, and rainfall are expected with landfall. We have crews LIVE in the field and studio all day with everything you need to know to prepare. pic.twitter.com/uXdltsRCQI

— The Weather Channel (@weatherchannel) October 8, 2018
The outer rainbands from Hurricane Michael are already affecting the Florida Keys with epic rainfall amounts and flooding. Rainfall totals of 2 to 4 inches are expected through Tuesday in that area. Some localized spots to expect up to 6 inches of rainfall.
Hurricane watches have been posted for the northeastern Gulf Coast from the Alabama/Florida border to Suwanee River, Florida, including Pensacola, Panama City, and Tallahassee. The watch does extend inland as well to southwestern Georgia. Tropical storm watches have been placed for the Suwanee River, Florida, to Anna Maria Island, Florida, Tampa Bay, and more. Storm surge watches extend from Pensacola all the way down to Cedar Key and towards Tampa.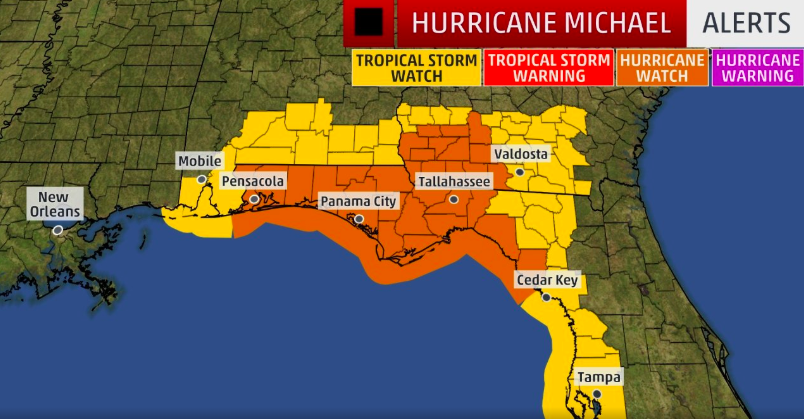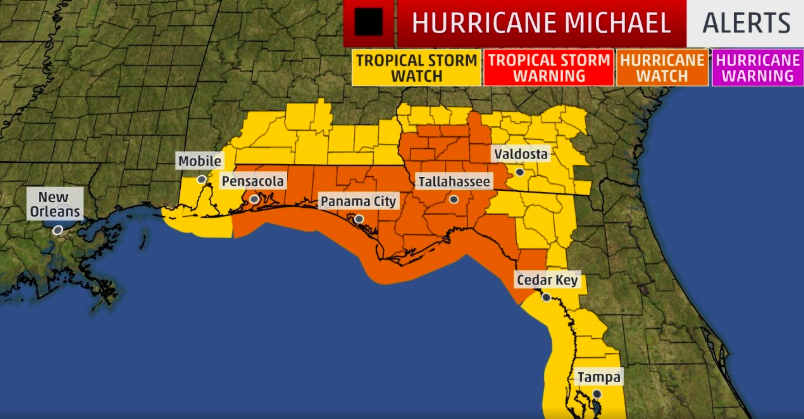 Mandatory evacuations were ordered Monday afternoon by Governor Rick Scott, which will affect Florida's Panhandle and parts of Panama City. State officials are urging Florida residents to prepare appropriately and to take the storm very seriously. Additionally, they have urged residents to evacuate by as early as tomorrow morning.
The official Bay County Florida Twitter account has linked to a map detailing evacuation zones throughout the Florida panhandle. The evacuation zone map is detailed by four zones, A, B, C, and D. "Zone A is along the water and would typically be the first zone considered for evacuation.  Depending on the storm scenario and surge expected, Zone B would be next, then C, and finally Zone D," the website details.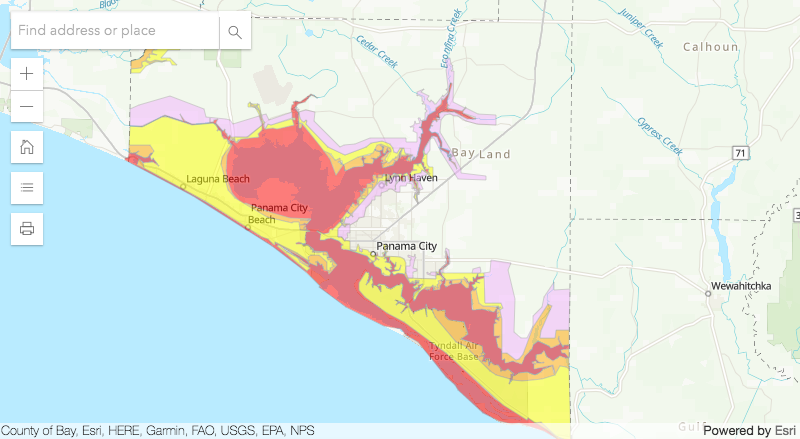 Governor Rick Scott has described Hurricane Michael as a "life-threatening and extremely dangerous" major hurricane.
"If any Florida family doesn't have an emergency preparedness plan, now is the time to act. Floridians also know just how quickly the path of a storm can change and that's why we all must be vigilant and get prepared today," Scott said in his statement.
Quite busy at Costco in Tallahassee this afternoon. pic.twitter.com/sHeOtNTfpl

— Cameron Young (@wx_cam) October 7, 2018
Scott has also noted that about 500 National Guard members are prepared to help for the incoming storm. All bridge tolls have been lifted as well. Despite the evacuations, many are flocking to retail stores like Costco to prepare and stock up on food and water.
In light of hurricane preparation, don't forget to take a look into how the cup and quarter trick can help you prepare for any incoming storm!
#HurricaneMichael
•Cat 1
•20 miles southwest of western tip of Cuba
•Max sustained winds of 75 mph
•State of emergency for 26 counties in Panhandle, Big Bend coastal region
•500 FL National Guard troops assisting
•Last Oct landfall in FL Panhandle: Opal in 1995 (Cat 3) pic.twitter.com/NP6ltDZTzp

— Fox News Research (@FoxNewsResearch) October 8, 2018
Be sure to SHARE this article to spread awareness about the impending Hurricane Michael!