Hurricane Dorian is now forecast to make landfall in the U.S. as a Major Category 4 storm.

Dorian starts out as a small tropical depression in the Atlantic. Soon grows to be a behemoth of a storm.

Here's everything you need to know about this potentially life-threatening storm.
It started out as a very quiet hurricane season for the Atlantic this year… but now it's definitely waking up a bit! Hurricane Dorian is expected to make U.S. landfall as a monster Category 4 storm. This comes after weather predictions that claimed mid-to-late August, we would see a ramp-up of tropical activity.
Dorian's path has been unprecedented, to say the least. Citizens of Puerto Rico and the Virgin Islands were preparing for a direct hit, when Dorian simply swept by them. However, it looks like most of Florida (mostly the coastline) are preparing for a direct hit now!
When to expect Hurricane Dorian to hit
Hurricane #Dorian Intermediate Advisory 24A: Hurricane Hunters find Dorian a little stronger. https://t.co/CSOdLLF50S? pic.twitter.com/w5pn0XzFu0

— National Hurricane Center (@NHC_Atlantic) August 30, 2019
With a Category 4 storm, this means winds could reach in excess of 130-140 mph. Moreover, the storm is extremely widespread (as you can see by the map above), meaning that this could affect Georgia all the way down to the Florida Keys. Hurricane watches are now in effect for The Bahamas. Watches and warnings are expected for Florida within the next day.
With the severity of this storm, Florida could begin facing its effects as early as Friday, August 31st. Forecast models predict that the onset of the storm will truly arrive on Sunday, September 1st, and continue into Monday, Labor Day.
Gov. officials already have a safety plan in motion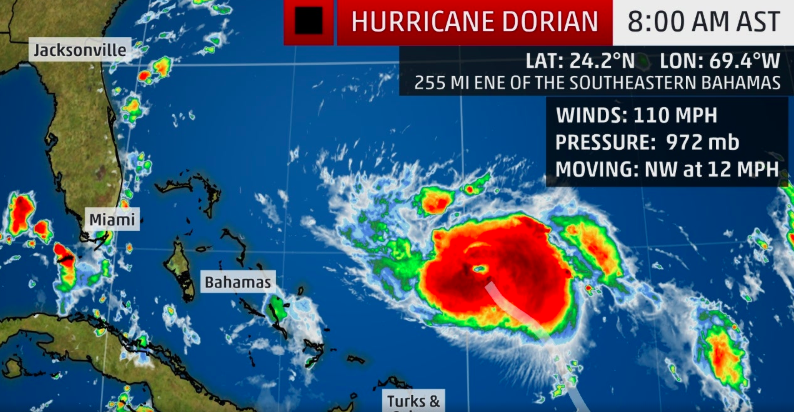 The National Hurricane Center releases a statement on the upcoming storm.
"The risk of life-threatening storm surge and hurricane-force winds this weekend continues to increase in the northwestern Bahamas, and hurricane watches could be issued there tonight or Friday," the statement says. "Residents should have their hurricane plan in place and listen to advice given by local emergency officials."
How did this small-starting storm become such a gigantic disaster?
Hurricane Dorian is forming an eye. Check out this satellite loop. Next advisory at 11 AM. pic.twitter.com/AiEmK4gjhD

— Joel Franco (@OfficialJoelF) August 30, 2019
Additionally, Florida Gov. Ron DeSantis speaks during a news conference Thursday, August 29th about the storm. He mentions safety precautions are necessary. NBC News reports that DeSantis says "all Floridians really need to monitor Hurricane Dorian and make the necessary preparations." Florida is now under a state of emergency.
The National Oceanic and Atmospheric Administration talks about just how long Dorian has the potential to go on for. It also explains why this measly tropical depression became so strong over time. "The warmer the water, the more moisture is in the air. And that could mean bigger and stronger hurricanes.''
Please Stay Safe!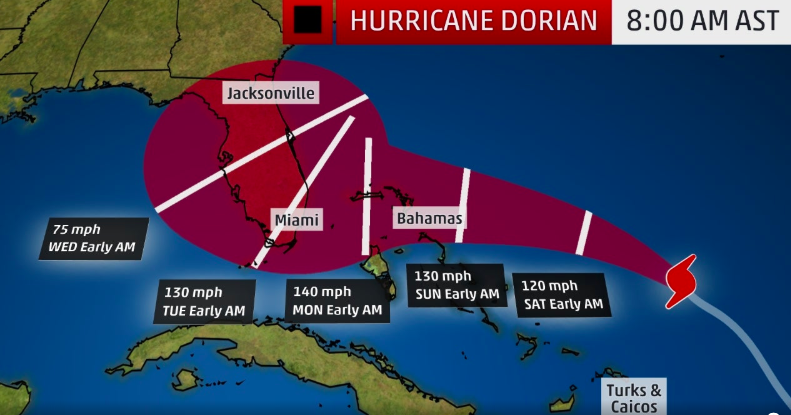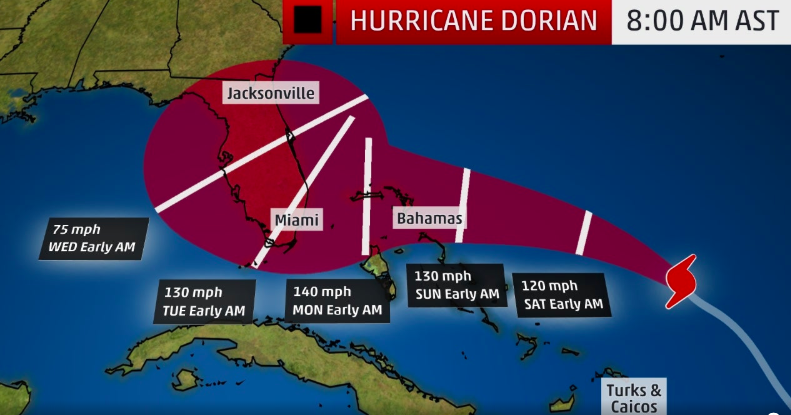 The main concern of this storm as that once Dorian reaches the coastline, it will slow down in its path. While this would decrease this storm, this also prolongs heavy rainfall, high winds, and storm surge.
If you live in any of the areas in Dorian's way, please continue to check all local weather listings. Furthermore, please adhere by all safety precautions or necessary evacuations!
Fox News is tracking Hurricane Dorian LIVE right now. Watch here: