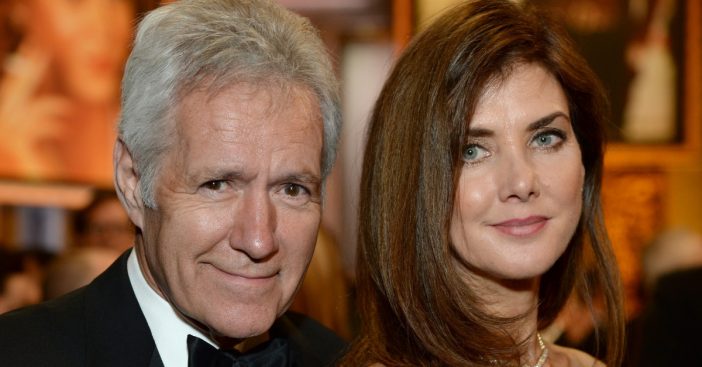 Earlier this year, long-time Jeopardy! host Alex Trebek shared that he was diagnosed with stage-4 pancreatic cancer. Despite rough odds, Alex seems to be pulling through. His wife, Jean has finally opened up about the toll his cancer diagnosis has taken on her, but why she is still feeling at peace with everything.
Jean and Alex have been married for 29 years and have two children, Emily and Matthew. Jean is the founder of an online magazine called Inside Wink. She opened up in a blog post on the website called "Inner Peace," where she talks about remaining positive. For instance, she doesn't mention Alex or his cancer directly, the post shares her outlook on life.
Read Jean's blog post
In addition, she opens up about her family and how she wasn't really allowed to talk about her feelings growing up. As she matured, she realized that talking about your emotions is the only way to move through them and find peace.
In addition, she writes, "What's helped me the most in becoming truly peaceful within, is allowing myself to have my feelings without judgment. I no longer try to suppress them. That's the first step…and it is huge. From there, I am on high alert – whenever I don't feel good inside, I ask; is this discordant feeling coming from my own thoughts or feelings? And are these thoughts "true" in this instance?"
View this post on Instagram
She continues, "When something happens, I can now experience it and realize that it is bringing up an old habitual thought or feeling that upsets me. I pause and, in that moment, take the first steps to healing and releasing that old thought. I really question the thought that I am believing. When I take the time to do this it brings me back to a state of peace."
View this post on Instagram

In a previous interview with PEOPLE, Alex also talked about how Jean is handling his diagnosis. He said, "Jeannie is wonderful. She cried, of course, this morning when she got the [good] news [about my tumors shrinking]. But it's been a lot. It's a lot of pressure."
View this post on Instagram
Alex shared some good news
Alex has shared that his tumors have shrunk by a record of 50 percent. We hope that Alex continues to heal and beats his cancer!
Alex and Jean are very thankful for all of the fans. He also said in the interview, "I've got a couple million people out there who have expressed their good thoughts, their positive energy directed towards me and their prayers. I've got a lot of love out there headed in my direction and a lot of prayer, and I will never ever minimize the value of that."
In conclusion, you can read Jean's entire blog post here.
Alex and his family recently celebrated his 79th birthday!