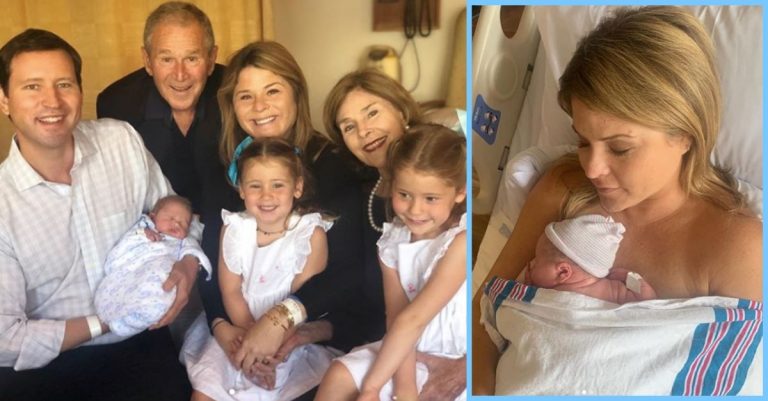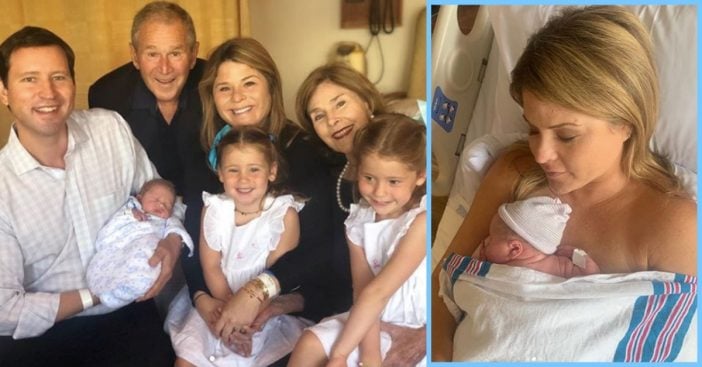 Jenna Bush Hager recently gave birth to her newborn son, Henry Harold "Hal" Hager. The TODAY show co-anchor is 37 years old and welcomes her newborn bundle of joy on Friday morning, August 2, at 9:02 a.m. He weighed in at a very healthy 7 lbs. 5 oz. and measured 19.29 inches.
Hager says to PEOPLE, "We are overcome with joy to welcome Henry Harold 'Hal' Hager into this world!" Here are all the adorable photos of "Hal" that we have so far. Be sure to scroll through the photo collages by clicking on the arrows.
All the photos we have of Jenna Bush Hager's newborn son
https://www.instagram.com/p/B0yM-aAg-eG/?utm_source=ig_embed
Former U.S. President George W. Bush posts photos with the whole family crowding around the newborn and new parents (for the third time). "We thank God that mom and baby are healthy, and we look forward to many years of loving the boy known as Hal," he writes in his Instagram post.
https://www.instagram.com/p/B0yFAp7hYTQ/?utm_source=ig_embed
We can imagine this photo was probably ta
wrapped up in that familiar receiving blanket
while mom and dad are just in awe. "Hal came into the world Friday, August 2, 2019 at 9:02am and our life has never been sweeter," Hager says on her Instagram post.
https://www.instagram.com/p/B0ywdRUgjvc/?utm_source=ig_embed
The photo above shows Hager's little girls, Poppy and Mila, meeting their baby brother for the first time. They're already head over heels in love and so happy to have a new addition to the family!
https://www.instagram.com/p/B0ygm4JhoLm/?utm_source=ig_embed
Baby Hal meets Savannah Guthrie, a great friend of Hager's and TODAY co-host. "Welcome to the world, dearest Hal Hager! I am here to love you and squeeze you and hold you tight forever!!" Guthrie writes on her own Instagram.
Hal's sisters are really excited to have him home!
https://www.instagram.com/p/B0yFcV0BClU/?utm_source=ig_embed
As mentioned previously, Mila and Poppy are super excited to have a new baby brother around. They're already so curious! "And our world made even sweeter when our girls met their baby brother," Hager writes alongside the sweet photo.
https://www.instagram.com/p/B002I69hr4U/?utm_source=ig_embed
Mila and Poppy posing with a very sleepy Hal. In the Instagram caption, Jenna confirms that the whole family is now home!
https://www.instagram.com/p/B0ylPoxnSks/?utm_source=ig_embed
A sweet photo of Hal with his grandparents, George W. Bush and Laura Bush. We bet they couldn't be any happier for their daughter and to have another grandchild!
We are so happy for the Bush-Hager family on their newest little addition! Hopefully, there are more adorable photos to come.