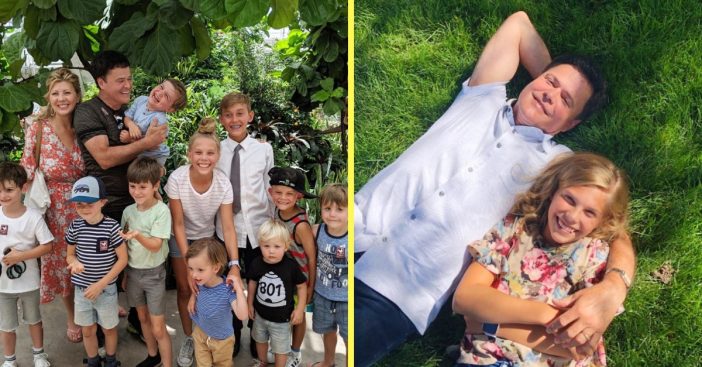 Donny Osmond is a proud father and grandfather. While he has five children and ten grandchildren, there is only one girl in the mix!  Emy is the only granddaughter and Donny calls her his "sweet princess." Donny shared an adorable photo of himself and Emy on Instagram the other day.
In the photo, Donny and Emy are laying on the grass together and they appear to be laughing. He captioned the photo, "Out of our 5 children and 10 grandchildren, Emy is the only girl. She's my sweet princess. This girl is as radiant on the inside as she is on the outside, and she's growing up so fast. I look at her and feel an immense sense of pride in the strong woman she's becoming. Bapa loves you, Emy."
See the adorable photo of Donny and Emy
https://www.instagram.com/p/B0y5Ah9HHAu/
He ended the post with a red heart emoji. Fans always love to see Donny as a parent and now grandparent. They loved the photo of Donny and Emy and wrote things like, "Memories are forever. She's beautiful."
https://www.instagram.com/p/B0YjE_gHWHu/
Donny's children are Donald Osmond, Jr., 40, Jeremy Osmond, 38, Brandon Osmond, 34, Christopher Osmond, 28, and Joshua Osmond, 21. Donny has been married to his wife Debbie since 1978. Donny has often credited Debbie for keeping their family strong.
https://www.instagram.com/p/BzyH7hrHCqF/
According to Closer Weekly, he wrote, "I am particularly grateful that my dear Debbie has been able to be home with our children and has been such a powerful and uplifting influence on each one of our family."
He continued, "Especially in her great support of me in my crazy career that takes me away from the home so much." He also said that Debbie and his sons "have always been the core of his life." Donny sure seems like a great family man!
https://www.instagram.com/p/B0hhpBQHPkC/
Donny posted another photo with almost all of his grandkids by the pool recently too. He captioned the post, "My grandkids just pushed me in the pool, so we celebrated by breaking out some #popsicles. Thanks @popsicle for sending the Osmond family the perfect treat for a hot summer's day in the pool. #SummerDays" The post appears to be sponsored by the Popsicle brand.
What do you think about Donny Osmond and the photos of his cute grandchildren? We hope he keeps sharing them!
An 11-year-old girl recently dressed up as Donny for a school fair.