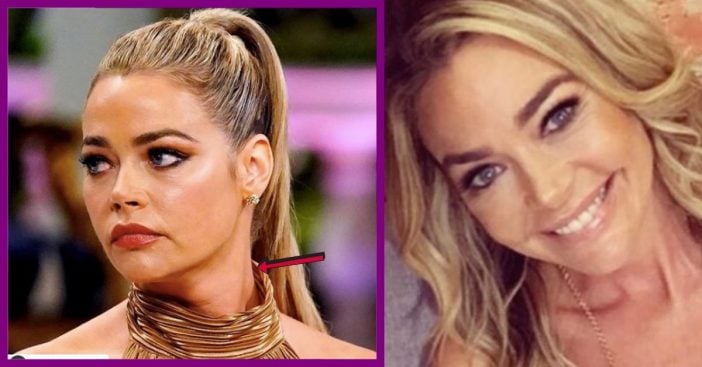 Denise Richards has her fans to thank after they noticed an enlarged thyroid on her, prompting her to change to a gluten-free diet. Fans say that they spot the thyroid enlargement on her neck during the Real Housewives of Beverly Hills reunion episodes. She takes to Instagram to notify fans of what happened.
"It's amazing to me in a short time eliminating gluten from my diet how much my thyroid has changed," she begins.
An enlarged thyroid can signify other health issues, too
https://www.instagram.com/p/B0wXSXyH5PZ/
"A few of you pointed out after the #RHOBH reunion that my thyroid was enlarged. You were right, it was something I ignored until pointed out," Richards continues. "I had no idea how much our diet really can affect our body and for me how toxic gluten really is … I thank all of you who sent me messages. #selfcare"
If you scroll through the photo collage above using the right arrow, you can see how enlarged her thyroid is in the second photo compared to the first. 
https://www.instagram.com/p/Bz_5jhwnPtz/
According to Mayo Clinic, an enlarged thyroid is known as a "goiter," which is generally harmless. However, they can be uncomfortable and cause discomfort when swallowing or coughing. Of course, an enlarged thyroid can also be a sign of underlying issues such as Graves' disease, Hashimoto's disease, or thyroid cancer.
At any time should someone notice the thyroid looking abnormally large, they should get it checked out right away! Preventive care is key.
https://www.instagram.com/p/By4bbamH_Ly/
Her fans are so happy to hear that the reality star is taking care of herself. One person in the comments section says, "Going gluten-free completely changed my life. Cleared up my skin, more energy etc. best thing you can do."
Another person inquires about her diet in the comments. "What does the diet consist of? I've been battling with my thyroid for years and I don't believe the medicine works so I'm trying to find different alternatives so I can just get it under control!" Definitely a great conversation starter for preventive care and health!
https://www.instagram.com/p/B0hESyOnP-I/
This isn't the first of its kind to occur. Back in 2013, a nurse sends an email to the Flip or Flop production company after spotting a lump on host Tarek El Moussa's neck. This turns out to be stage 3 thyroid cancer!
So, fans, if you spot something out of the ordinary, never feel bad about speaking up. You may be saving a life!
https://www.instagram.com/p/Bztc8l_HWiS/