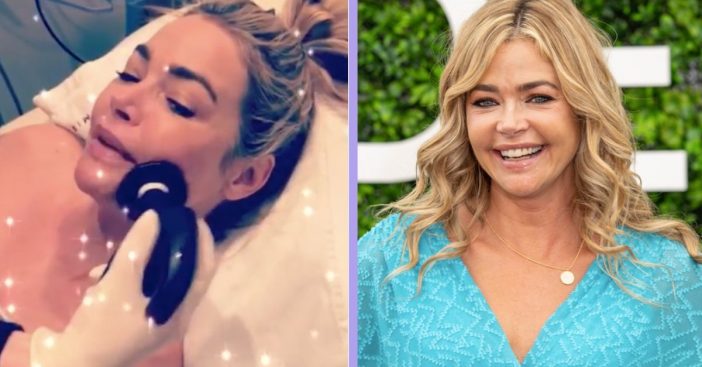 Denise Richards, 48, recently documents a non-invasive 'cosmetic surgery' she had done to do some skin-tightening. In a video she posts to Instagram, The Real Housewives of Beverly Hills star is seen getting a device rubbed against her cheek by a nurse in a non-invasive treatment.
This comes shortly after the reality star was slammed by fans for excessive cosmetic surgery. At least, that's how she appears to them! Fans claim that Richards doesn't need all of these additional procedures done and that she looks fine the way she is. One of the photos that she posted that sparked these comments from fans can be seen below.
Fans believe Richards excessively turns to cosmetic surgery
View this post on Instagram
"You didn't need the fillers. So sad you adjusted your gorgeous natural face. Let them expire you beautiful creature," one person says. Another person chimes in, "Almost unrecognizable..slow down on the fillers."
"You looking amazing, ease up on those fillers though, your face looks super round now compared to before," one fan says.
View this post on Instagram
Many fans have also commented that the star's face looks "puffy" from all of the procedures. According to a Bravo article from a few months ago, Richards has opened up on what cosmetic surgery she's gotten done. And she says that it's not as much as people think it is.
"I have only done my boobs and I am very open and honest about that. It is funny to me on social media people are saying I have had so much plastic surgery," she says. "I have had the same nose if people look it up, and the lips. I don't do Botox or fillers."
View this post on Instagram
Richards gushes over the non-invasive procedure and says that she looks and feels great doing it. In the video (posted above) she appears to be in very good spirits and very excited for her skin-tightening procedure. This seems to be a response to the fan's harsh comments accusing her of getting too much Botox and fillers, which she claims she does not do.
What do you think about cosmetic/plastic surgery? Do you think Denise Richards has gone too far, invasive procedure or not? Take a look at the video below of the most embarrassing plastic surgery botch jobs from well-known celebrities. It's shocking how some doctors can get away with this!
Denise Richards is certainly not the only person in Hollywood to catch the vanity bug of cosmetic surgery.