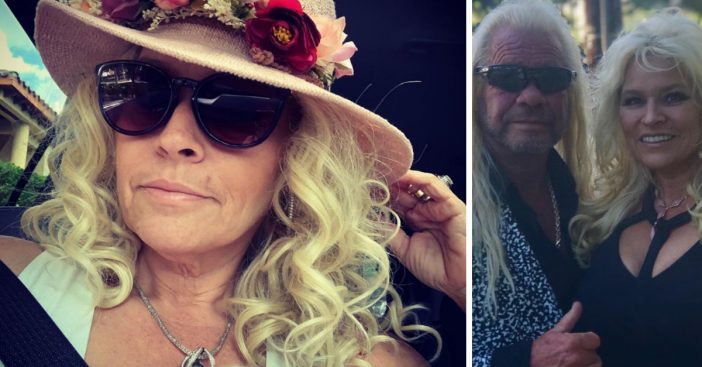 Beth Chapman sadly passed away on June 26th, 2019 after a battle with cancer.

Her husband Duane 'Dog' Chapman has revealed what her final words were.

Her final words reveal how much she truly loved her family.
We reported the sad news yesterday that Beth Chapman had passed away after a long battle with throat cancer. Her husband, Duane "Dog the Bounty Hunter" Chapman has told fans what his wife's final words were. True to her personality, they were based around making sure her beloved family would be okay.
Beth died in her home state of Hawaii. She was rushed to the hospital over the weekend and put in a medically induced coma. Duane said that when she was having an attack, he just kept saying "in Jesus name," and she kept telling him to say it again.
Learn what her final words were before she passed
https://www.instagram.com/p/Bnz9dxnD8xm/
According to Fox News, Duane said that her last words to him and their two daughters were, "I love you," and "Are you guys all OK? Don't worry."
"One of the last things she said [was], 'It's a test of my faith.' She had faith and that was it. Well, the last step when you're dying is to accept it, and she said to me the other day, 'Honey, that last step, I ain't taking…' So go Bethy."
Her family is holding a memorial in Hawaii open to fans
https://www.instagram.com/p/BzMDrSYA2wW/?utm_source=ig_embed
If you were a fan of Beth and her family's shows, you can visit her memorial to pay your respects. Her family has gathered together in Hawaii to remember this amazing woman. Her daughter posted a photo of a black and white photo of Beth, with flower and Hawaiian leis all around it. She said that anyone can come and leave flowers.
Beth posted this eerie photo last month
https://www.instagram.com/p/Bxr1Jx7n6wk/
We are sending love to her family who is grieving right now. Duane and Beth were supposed to be filming for a new WGN show called Dog's Most Wanted. The project is likely halted for now, but we hope to be able to see Beth on our television screens once again from footage they already filmed. The network WGN shared their condolences for the Chapman family on Twitter yesterday as well.
We are still so sad over Beth's passing. She was taken way too soon. She was only 51 years old.