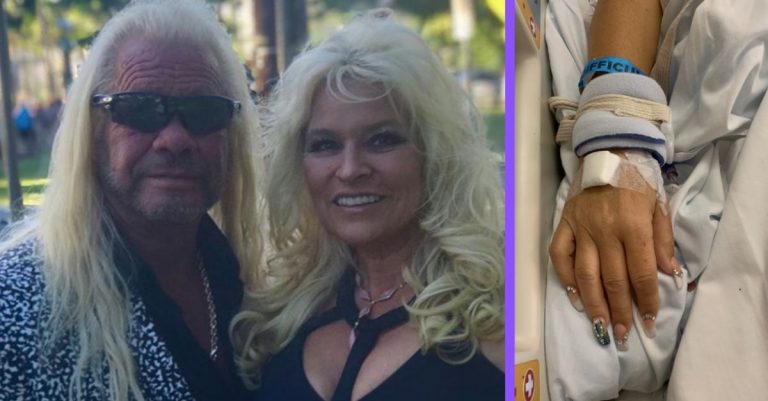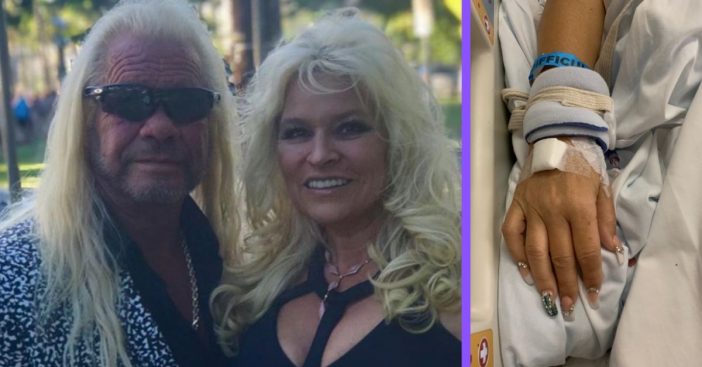 Beth Chapman remains in a medically-induced coma, but her husband Duane 'Dog' Chapman has a small update for everyone. It definitely earns a few laughs out of us at DYR! He posted a photo of his wife's nails looking as bedazzled as ever with the caption "You all know how she is about HER NAILS!!" Yes, Dog, we do!
The whole family is remaining hopeful right now as they stand by her side at the hospital. Chapman's lawyer, Andrew Brettler, tells USA Today that Chapman is in "very serious" condition, although we don't know specific details.
More insider information about Beth's condition
You all know how she is about HER NAILS !! pic.twitter.com/w8iWMYrWZd

— Duane Dog Chapman (@DogBountyHunter) June 25, 2019
Reports are now saying that Chapman was placed in a medically-induced coma because she was "difficult to treat." Chapman allegedly began ripping out tubes and IVs that the hospital was giving her, so they gave her a mild sedative. However, she was still extremely agitated, so they placed her in a medically-induced coma.
Her daughter, Bonnie, has been posting publicly on social media giving updates on her mother's condition. She has posted a photo that appears to be by her mother's bedside in the hospital. According to her Instagram, she flew all the way to Hawaii to be with her mom.
The photo from inside the hospital also comes with a text overlay. It says, "There's not much of an update I can give, I can say she's getting good care. I know you guys wanted more but yknow it's a coma. Much much can be updated."
TMZ reports that the cause of being rushed to the hospital was due to a choking incident after experiencing breathing problems. This may or may not be in association with Beth's throat cancer.
https://www.instagram.com/p/BvzViYLlrBR/?utm_source=ig_embed
The Chapmans have been open to different types of treatment for Beth's cancer. She is reportedly not undergoing chemotherapy but has also shown a great deal of interest in cannabidiol (CBD) and tetrahydrocannabinol (THC).
She even posted a photo at a cannabis expo while in Hawaii, showing her massive following the new healing treatments she may be taking up for her cancer. "The real medicine behind the plant is very interesting, the healing qualities are vast," she wrote in the caption, "We need to all be far more open-minded to new treatments. Israel is leading the world in these studies. We no longer need to poison patients to get them well."
Scroll through the photos in this collage by pressing the right arrow.
https://www.instagram.com/p/Bttva6VHnYu/?utm_source=ig_embed
We certainly hope that Beth recovers from this awful incident and we'll continue to update you all with more information as it comes.